Camping and caravanning have become more popular than ever before. About 137.5 million overnight stays and day trips by camping tourists are counted in Germany every year* – and the trend is rising. As a result of the increasing demand, campsites are facing new challenges and have to react to the campers' needs. That is because their expectations of their campsite have also changed over time. Which developments can be seen in the camping industry and how should hosts react to them?
Camping boom calls for new concepts
Camping in nature and just relax and unwind – this type of holiday has never been so popular as today. And the interest in camping is growing steadily. This also benefits the economy:  According to a study by dwif*, campers generated gross sales across a wide range of economic sectors of around 12.6 million euros in Germany 2017. The increasing demand underlines the economic relevance of caravanning tourism. This also means that the conditions for camping holidays must be improved to react to the developments of the industry. Campsite owners should, therefore, ask themselves the following questions:
How do I react to the increasing demand? Which investments and optimizations are useful/necessary?
What do my camping guests want? In which ways have their needs changed?
How do I optimise my service and which additional services would be useful?
Which chances does digitalisation open up? And which tools will support me in this?
How can I market offers and services more effectively?
How do I keep my guests up to date?
What do I know about the activities, motives and (information) behaviour of my camping guests?
Where do I position my brand and which mission statements are important to me?
How far do laws affect me and am I legally up to date?
Are my employees sufficiently trained? And how can I relieve them?
The Digital Camper
In order to meet the expectations and needs of the campers, it is important to have a modern and all-embracing service – from the equipment to the care of the campers on site. After all, campers are as complex as the holiday form itself: They are often self-sufficient, self-determined and freedom-oriented. They take care of themselves, often decide spontaneously and prefer to inform themselves independently and via their mobile phone, regardless of whether they are on the road or on their campsite. That makes contact and communication between campsite operators and campers more difficult than in a hotel.
Fortunately, we all have something in common these days: We take our digital companions – our smartphones, tablets and laptops – for granted and search the Internet for quick answers. Thus, digital offers are becoming more and more important and create key contact points between hosts and guests. No matter if hotel guests or campers, today's guests want to get in touch with their hosts digitally. To communicate with them, to retrieve bundled information, to be looked after personally and to book additional offers online. A few fingertips, a short message and everything important at a glance – instead of several phone calls and online researches.

Therefore, it makes a lot of sense to add digital services to the personal service. With digital tools that improve guest service, generate additional sales and also relieve the burden on hosts and their team.
Digital guest service in the camping industry
Where once the notice board and the campsite reception were the only places to go to get information, the cloud-based platform from Guestfriend now provides flexible communication and digital guest support around the clock. It includes four tools so far: the Digital Guest Directory, the Wi-Fi Landing Page, the Info Channel for monitors and TVs, as well as the online assistant for creating an individual Newspaper. All connected by a central editorial system. Especially the combination of Digital Guest Directory and Wi-Fi Landing Page optimally meets the needs of campers and campsite operators in the digital age: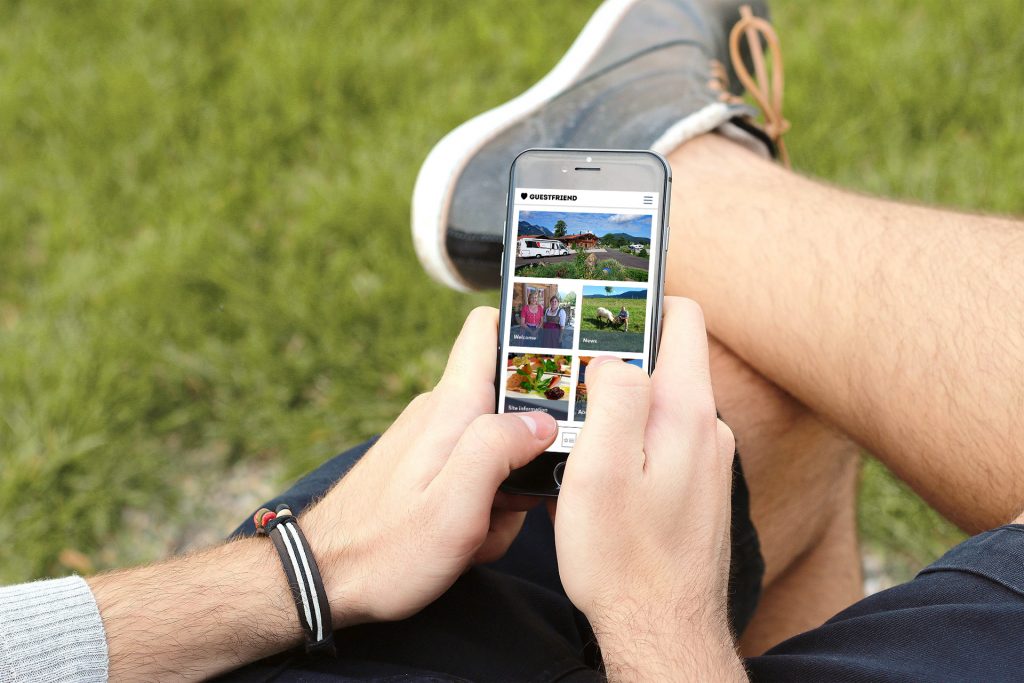 In the Digital Guest Directory, campers find, for example, the Guest ABC, the campsite regulations, information about facilities and offers of the campsite as well as tips about the surroundings, such as leisure activities or shopping possibilities. They use the Digital Guest Directory as an app or via the web on their own smartphone, tablet or laptop and receive information on current activities and offers by push message. In short, the Digital Guest Directory facilitates the flow of information between the campsite and its campers. The ideal add-on is the Wi-Fi Landing Page. It provides guests with initial information directly after logging into the Wi-Fi and refers them to detailed contents of the Digital Guest Directory.
This way, camping guests will always be well informed, book additional services and offers on the move and be in direct contact with their hosts – all according to their own needs, of course. There are also some impressive advantages for campsite operators: The digital guest service bundles all information worth knowing, helps the operators to make more additional sales and follow-up bookings and raises the guest service to a new level. At the same time, it reduces the workload and relieves the team through digital processes and uncomplicated handling.
Your campers already use digital technologies – digitize your service too!
We are happy to support you in upgrading your guest service digitally with Guestfriend.
www.guestfriend.com | info@guestfriend.com | +49 831 930 657-0
---
*Source: dwif 2017, Daten Qualitätsmonitor Deutschland Tourismus 2018
This text has been translated automatically.