In our section "5 questions to", employees of Guestfriend, customers, partners or industry experts give insights into their work and business. This time we interviewed Matthias Trenkwalder, Co-Founder and Managing Director of RateBoard, about "Revenue Management".
How important are online sales and dynamic pricing today?
Online distribution is very important these days. Thus hotels gain more visibility in the market. And at the same time, it offers completely new opportunities for sales management, such as revenue management.
What are the reasons why hosts should work with a revenue management system?
The huge amount of information required for a professional revenue management strategy can no longer be evaluated manually. A software solution for revenue management processes all important data and gives clear analyses and price recommendations. That really saves a lot of time and increases the efficiency of the hosts.
Which factors influence the pricing?
On one hand, external data such as availability and prices on the OTAs, but also weather data, holiday seasons and events affect the price. On the other hand, hotel internal key figures such as occupancy, pickup (the dynamics of booking development, i.e. the pickup records the bookings and cancellations for the future), average prices and a few more must be considered.
Expense vs. revenue: Who can benefit from revenue management at all?
Every hotel. There is only one technical requirement to ensure that the software can calculate and transmit daily updated prices: The hotel must use hotel software to which we can connect our software. However, such software has also become standard in everyday hotel life and is usually no exclusion Criterion for hoteliers who want to increase their turnover in long-term through intelligent price calculations.
What characterizes a successful pricing strategy?
Acceptance among guests that goes along with maximum rate.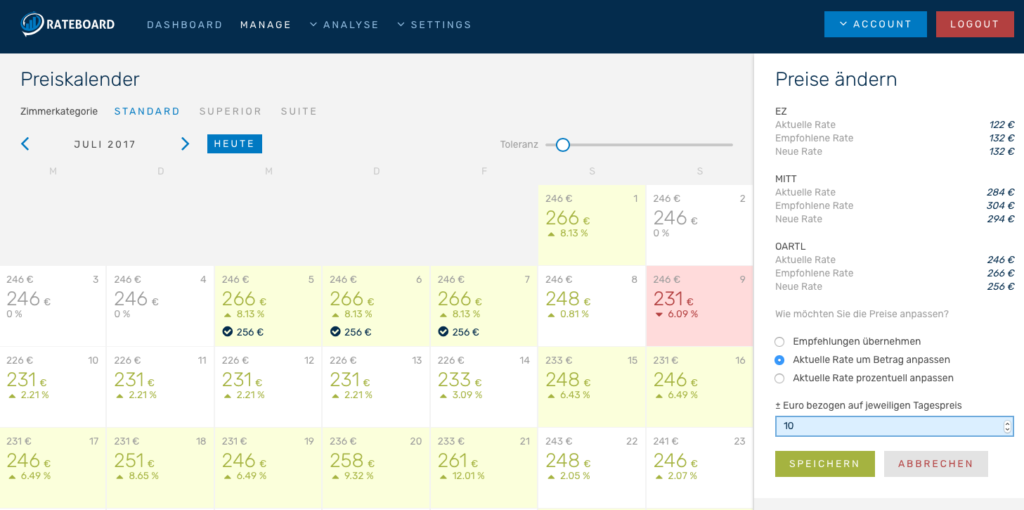 Matthias Trenkwalder in conervsation with Sandra Schneider, Gastfreund GmbH
You can find out more about hotel revenue management in our last article.
---
Image: © RateBoard GmbH
Others also read:
This text has been translated automatically.