We have summarised the most important hotel industry trends in times of digitalisation. After all, digital technologies are no longer future fantasies but have become important components of the hospitality industry.
Established hospitality trends and rising stars
1. Mobile First
It's all about "mobile first"! The use of smartphones & co. continues growing and influences the way we search, book, buy and travel. As a result, Google is pushing mobile-optimized websites that are user-friendly and ranks them better in its search than those that are not.
By the way, it's worth taking a look at the latest technology: the progressive web app (PWA). The PWA is available via a link directly on the internet on all devices (smartphone, tablet, laptop, computer, etc.) and without any download. In addition, the PWA scores with a high range, thanks to its visibility in the World Wide Web. PWAs are characterized by fast loading times, good usability and great functions, which were only available in native apps until now. Thus it is possible to receive push messages directly in the internet browser, for example.
But what does it mean for the hotel industry?
Guests are constantly "online" during holiday and expect digital hotel services that are available on their own mobile devices. The PWA technology now enables hoteliers to reach their guests via an additional channel. As a result, Digital Guest Directories are now available as both native apps and progressive web apps. This means that guests decide on their own how they want to use the Digital Guest Directory of their accommodation. In addition, it is important to take another look at the hotel's website: Is it still up-to-date? Would a chat function encourage direct bookings? Is the booking system easy to use on every device? And that leads us to our second point of the hospitality trends 2019.
2. Direct Bookings & Revenue Management
To increase the conversion rate for direct bookings for mobile devices, hoteliers should optimize their entire online presence for mobile bookings, plan marketing campaigns and dynamically adjust their prices through intelligent revenue management. And if these prices are more attractive than those offered by third-party providers, travellers will have no choice than booking directly on the hotel website. Intelligent revenue management tools with recommended prices and daily optimised bids support hosts to save time and money. This could soon mean: moving away from OTA prices and getting back to more direct bookings without commission!
3. Digital Guest Care
Once a guest has booked, outstanding guest service, attractive communication between hotel and guest and all-around care are the most important criteria for a happy guest. Therefore, it is essentially building up a permanent contact with the guests during the entire customer journey. In other words, from inspiration and booking through the stay up to departure and beyond.
Must-have for accommodations
A website, booking platforms, rating platforms and the like have been part of a hotelier's standard repertoire for a long time. But they do not cover the entire customer journey so far. Therefore, digital tools for guest communication belong to the must-haves of the hotel industry by 2019 at the latest. That´s because they enable hosts to easily reach their guests with their offers and information for their stay at any time of the customer journey. The idea is not to flood guests with information around the clock, but to provide them with the right information at the right time and in the right place. Guests would like to be inspired before their arrival. They want to receive up-to-date offers or excursion tips and to book additional offers during their stay. And after the stay, they will probably leave their hotel ratings or even book the next stay.
Thanks to digital guest communication, hosts are able to use a wide variety of contact points such as smartphones, WLAN or television to reach their guests. With the help of a smart system, all the information and offers of the accommodation are bundled and presented to its guests in an appealing way via the appropriate channel. The advantages: Firstly, the guest service is improved. Secondly, offers are noticed more consciously and booked more frequently. And since many questions are already answered in advance, the reception is also relieved.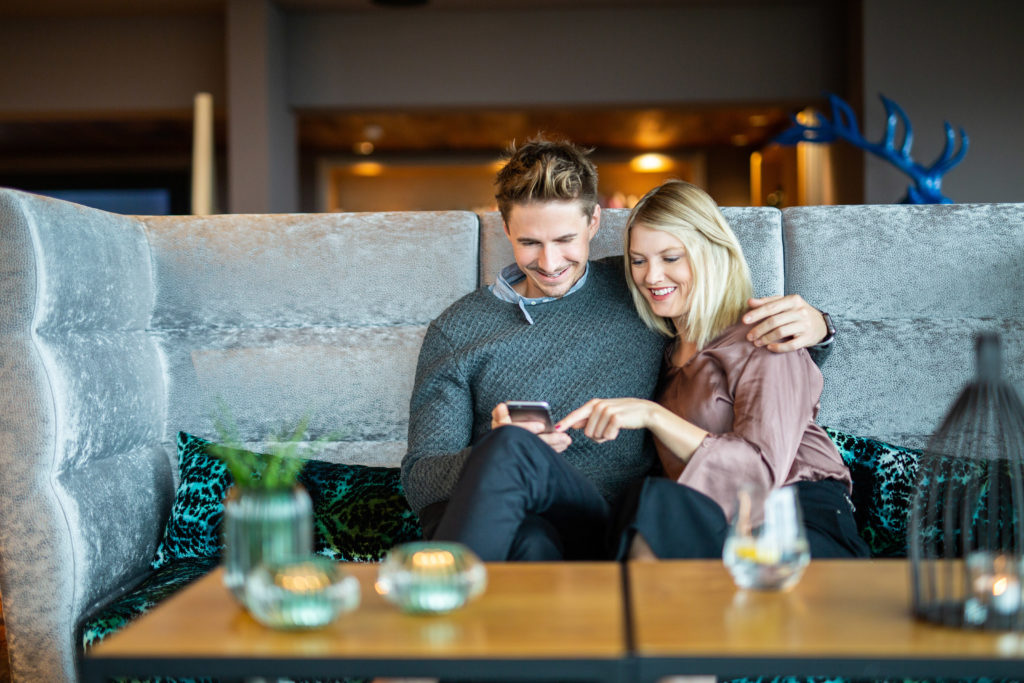 4. Virtual Reality, Augmented Reality & Artificial Intelligence
Furthermore, virtual reality (VR), augmented reality (AR) and artificial intelligence (AI) have great potential among hospitality trends. Especially in case of personnel bottlenecks or limited service times, artificial intelligence, such as chatbots, is very helpful. They react more quickly to requests, for example, answer questions and, thanks to programmed algorithms, learn how to treat people courteously. Moreover, VR and AR are increasingly used to give travellers a three-dimensional impression of hotel rooms and holiday regions, to create virtual golf courses on site, for example, or to provide guests with additional information about things they are currently seeing through their smartphone camera or special glasses.
5. The Digital Influence
Online reputation management is still essential for hosts. This is due to the fact that social media, rating platforms, online travel agencies (OTAs) and the like are gaining more and more influence. After all, they shape the opinion of travellers, have an impact on their booking decisions, control further hotel ratings and thus, conclusively, the revenue of the hotel. A similar situation exists with so-called influencers, who use social media to significantly influence the opinion of their followers. As influencer marketing grows in popularity, it should not be underestimated, especially with regard to millennials and subsequent generations. And therefore it requires a uniform hotel strategy.
6. Personalisation vs. Data Protection
In hospitality, personal data of guests are extremely valuable and have to be protected very well. It is the only way for the hosts to personalize their guests' stays and to create them as individually as possible. After all, each guest wants to feel special and be treated that way. The more personal the stay, the more likely they will book further services and come back again. But since the introduction of the GDPR, hosts have to find the right balance of stored data. They must guarantee their security and obtain the permission of their guests in order to enable them a personalised stay.
Mobile first, digital guest care, personalisation – and what's next? In our second part, we'll focus on the newcomers among the hospitality trends such as voice control, coworking spaces, wearables and mobile payment, but also on hotel industry trends that couldn't quite assert themselves yet. Be curious about the next hospitality trends!
---
Others also read:
This text has been translated automatically.