Spot on: Upgrade your room folder and put your information and offers in the spotlight! The digital version of your room folder provides your guests with the information they need and attracts their attention to your offers and services anytime and anywhere. What makes your Digital Guest Directory unmistakable and what should not be missing to make you and your guests happy and to generate more turnover!
First impression
Pictures say more than a thousand words. Exactly! They enliven the content, create trust, attract glances and trigger emotions. Beautiful, high-quality pictures are therefore an absolute must for every hotel and every accommodation – and as a digital version, they can be exchanged at any time!
Greet your guests, encourage them to browse through your Digital Guest Directory and make everything they need to know available at a glance, including your guests A to Z.
Culinary delights
Provide an overview of your culinary offerings or make restaurant and shopping recommendations. For example, integrate table reservations into the Digital Guest Directory or optimise your bread roll service. Direct bookings mean more income and less effort for you and your employees.
Offers and mobile bookings
Do you offer further services? Perfect! The Digital Guest Directory is interactive and your guests request and book your offers there – no matter whether wellness treatments, vouchers, room service, late check-out or airport transfer. Our tip: Allow your guests to cancel the daily room cleaning. That way, you will be doing the environment a favour and reducing cleaning keeping costs at the same time. This means for all hosts: everything is handled via the Digital Guest Directory, thus relieving the workload of the staff.
Personal Communication
A wellness appointment has become available at short notice? Simply send a push notification to the smartphones and tablets of your guests and draw their attention to your offer. This also applies to the daily programme as well as own products, events or recommendations. Or inform departed hotel guests about special offers for their next stay. This way, you make your guests aware of your offers and news, promote further sales and strengthen guest loyalty.
Communicate with your guests and exchange messages via your Digital Guest Directory. Guests will see these messages like a chat, but you answer comfortably and as usual via e-mail.
Tip: Kill two birds with one stone and integrate your Hotel Newspaper as an e-paper into the Digital Guest Directory.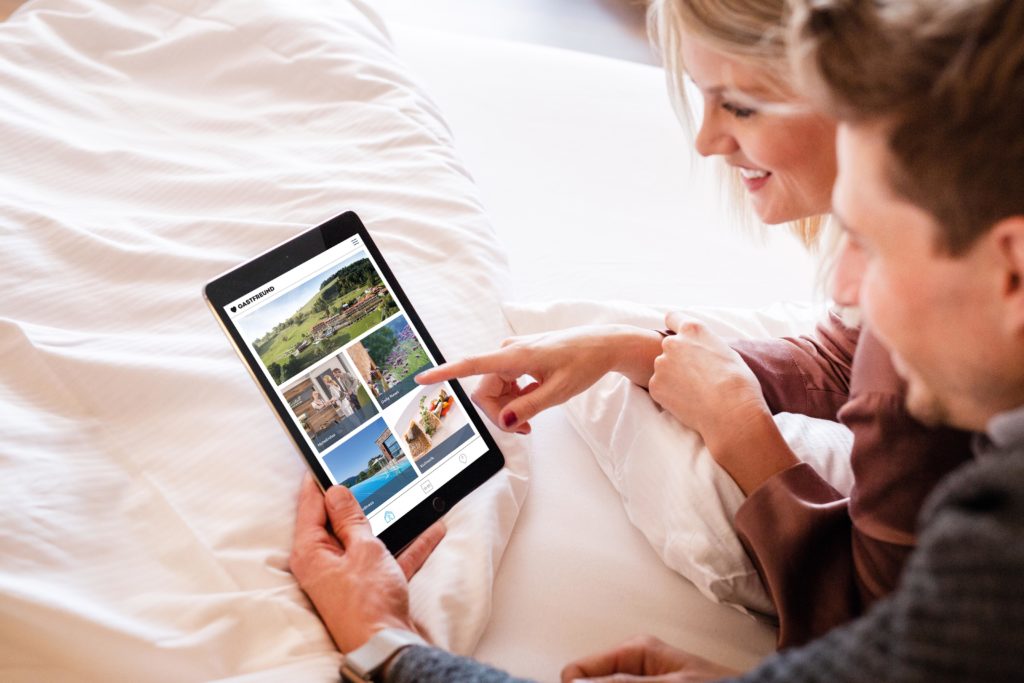 Travel guide
Everything at a glance instead of countless flyers and brochures, this is what your guests need! Show what your holiday region is all about. Guestfriend provides you with numerous travel guides with sights, events, tours, weather and Co. free of charge! And your guests will automatically see the best tips and experiences in their area, depending on position and weather.
Ratings
Especially these days, travellers attach great importance to online reviews and trust the opinions of others. Integrate guest questionnaires, rating portals or social media channels into the Digital Guest Directory. And your guests will give you feedback during their stay. The big advantage: hoteliers can react even better to the feedback and increase the satisfaction of their guests.
Would you like anything more?
Turn your guests into repeat offenders! Make it possible to book the next stay or sell vouchers via the new digital assistant. Your possibilities are very diverse: link the regional guest card or create an encoded area especially for participants of events and conferences.
The absolute must-have: BYOD
Offer a Digital Guest Directory, which your guests access at any time, no matter where they are, 24 hours a day. Therefore, use a Digital Guest Directory that your guests can use via their own smartphones, tablets or laptops and no stationary solution is required (BYOD= Bring Your Own Device). Then set special eye-catchers with tablets or touchscreen kiosks at the reception of your hotel or in the rooms.
Consider the shown must-haves and you will generate more turnover through less work. You don't even have to do much: As you have learned in our last article, we take over the complete creation of your Digital Guest Directory – depending on your wishes and needs.
Don't be too late and digitize your Guest Directory now!
info@guestfriend.com | +49 831 930 657-0 | www.guestfriend.com
This text has been translated automatically.