Everybody has a morning ritual. Many people read newspapers in the morning. They get information about the news of the day, while others browse the Internet. Hoteliers should take up these habits and surprise their guests with their own Hotel Newspaper right at the beginning of the day. Printed out in the hotel room, during breakfast or on the way as e-paper: News, tips, service and current offers of the hotel are perfectly staged.
Easy. Nice. Worth Reading.
A personal newspaper is something special, provided that the creation would not be so complicated! But stubborn text programs are a thing of the past! Thanks to the simple online assistant of Guestfriend: Ready-made modules and templates make designing a professional hotel newspaper as easy as pie for hosts. With just a few clicks and without any previous knowledge, they create an attractive and professional newspaper. It is also possible to create digital menus, daily programmes, recommendations, personal greetings for guests and staff newspapers in a few minutes. The possibilities are great!
With the Guiestfriend online editor, hosts simply place text and image blocks on a virtual paper and fill them with important guest information. From excursion tips and breakfast service to events and free appointments – all offers and services will find their place.
You can combine your own content with entertaining elements from a large data pool without long research: Excursion tips, tour recommendations, weather, puzzles, horoscopes etc. give your own Hotel Newspaper that certain something. The creative icing on the cake are a logo, corporate colours and high-quality images, which create an unmistakable look. After all, the look is also decisive for whether the guests read the newspaper at all and what impression they get of the hotel – professional or rather amateurish.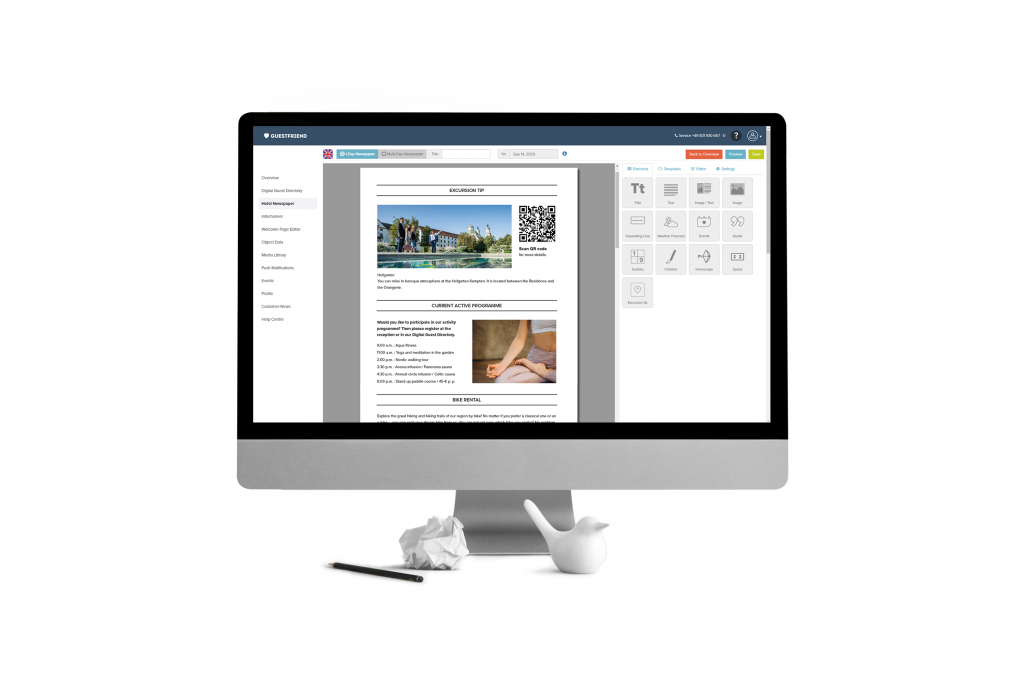 Many ways to your own Hotel Newspaper
Intuitively and time-saving, hosts use existing system templates, create their own drafts or update past newspaper issues with new content.
SIn this way, the personal morning post, daily or weekly newspaper is created step by step, printed out for guests and made available online. With the help of an individual link, hotels store their Hotel Newspaper on their own website, in the e-mail signature or simply as an e-paper in their Digital Guest Directory.
As you can see, designing your own Hotel Newspaper is child's play thanks to the simple modular principle of Guestfriend. So kill two birds with one stone: provide your guests with information about your accommodation and the region, while highlighting your offers, products and more.
Even our customers are enthusiastic: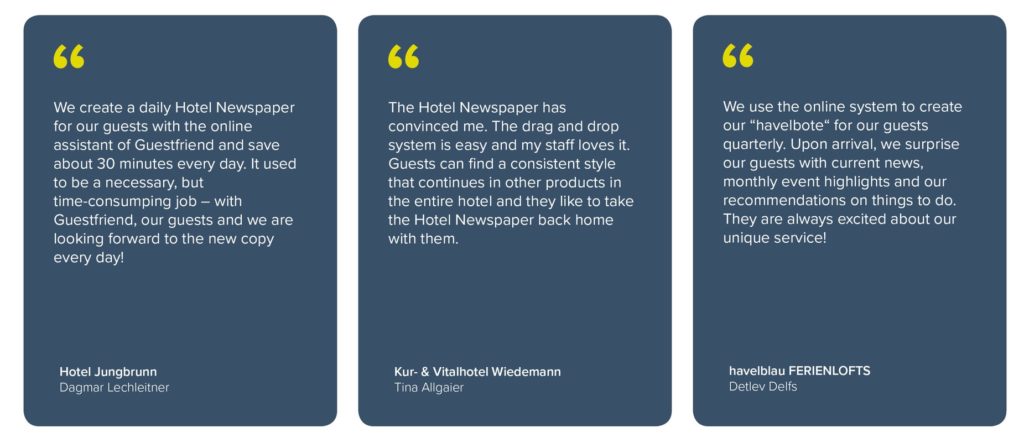 Start creating your new guest reading right now and become a professional newspaper designer!
Find more information about our Hotel Newspaper on our website www.guestfriend.com/hotel-newspaper. We would be pleased to present to you our product personally!
info@guestfriend.com | +49 831 930 657-0
---
This text has been translated automatically.