In our section "5 questions to", employees of Guestfriend, customers, partners or industry experts give insights into their work and business. Julia Warnecke, Marketing Manager at Ferienhausmiete.de shares her experiences with us about booking portals and how even smaller hosts are able to get more bookings.
How can hosts generate more bookings?
First, holidaymakers need to become aware of the accommodation. Usually, this is achieved by a high visibility and attractive presentation on booking platforms. This includes: expressive photos, complete descriptions of the accommodation and surroundings, current occupancy calendars and guest reviews.
Hosts should be aware that they sell much more than just overnight stays. They create holiday experiences. So it's about arousing emotions and fulfilling dreams.
For this purpose, they have to define their target groups precisely and know their expectations. That is the only way they can tailor their offer to the needs of their target group. And if the prices are right, the bookings will come automatically.
If you want to market your holiday home nowadays, you have to keep up with the times. How can landlords stand out from the competition?
In principle, competitive advantages can be created in two ways: either through a more attractive price compared to the competition or through better quality. This applies to holiday homes and apartments as well as to large hotels.
With the aid of search engines and comparison portals, travellers can compare prices and co. at any time. Therefore the dynamic pricing – even in the holiday home industry – gains more and more importance.
Moreover, their expectations are also rising in terms of quality. WiFi, contemporary, tasteful furnishings and smart TV are already part of the expected standard. Hosts have to offer their guests a relevant added value and, of course, highlight it in descriptive texts or pictures. Such services can be digital offers and tools, such as a digital guest directory, but also a concierge, driver service, baby equipment, barrier-free or dog-friendly offers.
How can hosts improve the ranking of their advertisements on booking portals?
Booking portals are very interested in offering holidaymakers relevant deals, meaning offers with a high booking probability, in the top positions. Usually, algorithms are used to do this today.
At Ferienhausmiete.de, for example, the criteria timeliness and completeness are influencing the rankings. If season prices are indicated at least one year in advance, the occupancy calendar is up-to-date, the maximum number of pictures is set in good quality and all text fields are filled, it will have a positive effect. Another decisive factor are ratings.
The portal Ferienhausmiete.de is specialized in bookings of holiday homes and holiday apartments. In your opinion, why should landlords use smaller booking portals instead of large online travel agencies (OTAs) such as Booking?
First and foremost it depends on the right mix. The point is to position yourself in a broad way in order to gain reach and attract the guest exactly where he starts his search query. Ferienhausmiete.de invests a lot into this area and achieves top rankings in the search engines.
On the other hand, smaller booking portals usually cost less. Because large OTAs demand high proportional commissions per reservation. In contrast, advertisements at a fixed and fair annual price, as it is possible with us, are often worthwhile already starting from the first booking, since no further commissions become due.
A further point is the more personal customer service. For instance, our customer service takes care of every single host with full commitment.
What marketing measures do you recommend to landlords, apart from booking platforms?
Hosts should invest time and effort in recommendation marketing and actively ask their guests for feedback. Because only three positive ratings for a holiday home increase the number of requests by up to 28%.
Just as important are guest loyalty programs. The higher the percentage of regular guests and the recommendation rate, the fewer hosts have to invest in winning new guests. Guests become regular guests and recommend gladly further if their expectations were not only fulfilled but even exceeded. The personal restaurant tip, suggestions for the vacation organization or even classical christmas or birthday greetings can already cause some.
An own website, an active Facebook and Instagram profile or regular newsletters with current offers can bring additional reach and strengthen customer loyalty.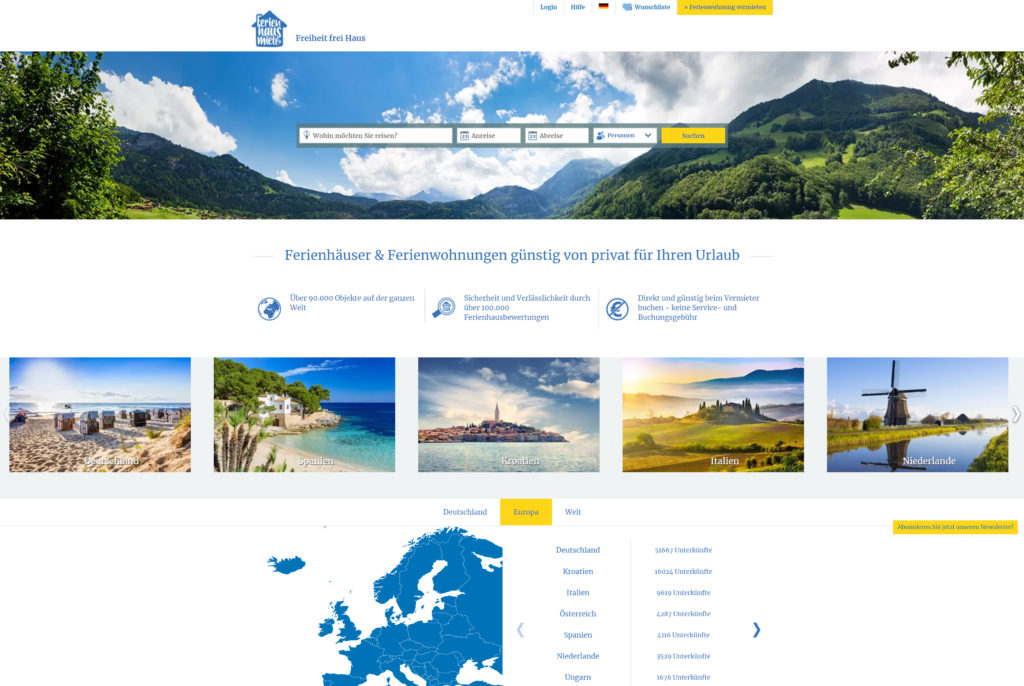 Booking portal tourist-paradise.com by Ferienhausmiete.de © Ferienhausmiete.de / resido GmbH
Julia Warnecke in conversation with Sandra Schneider, Gastfreund GmbH
---
Image: © Ferienhausmiete.de_resido GmbH
Others also read:
This text has been translated automatically.