An exciting year with great moments and lots of new stuff! We have rewound the year once again and collected all our milestones of 2019 in a small end-of-year review:
MORE GUESTFRIENDS!

… who are communicating and interacting more and more via the Digital Guest Directory:

PS: The high score of page views of a Digital Guest Directory was 173,637 in one month. And one of our stand-alone hotel apps (white label solution) performed excellently with over 89,000 views. Hats off!

That is why our developers tinker day after day and continuously improve our products. A small intermediate step on our way forward and a big one this year: The Digital Guest Directories of our customers – and also the Guestfriend app – got a new look!
But that wasn't enough! We published many new functions for our products Digital Guest Directory, Hotel App, Hotel Newspaper, Wi-Fi Landing Page and Info Channel. For the Digital Guest Directory, for example, it was a total of…
17 new functions in 25 updates!
The Digital Guest Directory and some of its new features:
improved search function
automatic translation of travel guides into many languages
highlights with excursion tips depending on the weather and position of the user as well as fast access to inquiry and booking forms
quick feedback function for querying satisfaction, for surveys, etc.
live chat between guests and hosts
push messaging to checked-in and checked-out guests
overview of all orders/bookings of the day in one collected mail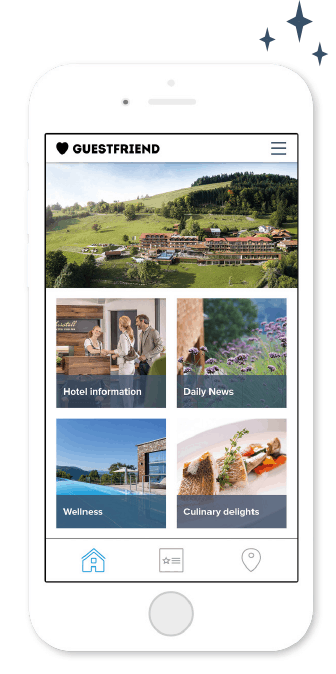 Apropos concierge:
This year, the top sellers of enquiry and booking forms were in addition to classics such as wellness appointments and bread roll service, the so-called Green Option for cancelling room cleaning as well as pre-filling the registration form via the Digital Guest Directory!
Things have also changed in the online editor for creating an own hotel newspaper: new pictures, new icons and updated templates for morning post, menu and active program.
GOOD TO KNOW
Twice as fast: More and more hoteliers are using our Wi-Fi Landing Page, which pops up directly after logging in to the Wi-Fi. Guests are thus able to access the Digital Guest Directory twice as fast.
In addition, the Touchscreen Kiosk is becoming more and more popular, learn more on our website!
ALWAYS UP TO DATE
In order to keep you up to date, we regularly report on our blog, Facebook, Twitter und Co. about topics that move hoteliers and hosts.
The most popular blog posts this year were:
On top of that, we have informed our customers in sixteen newsletters about important news and provided tips and tricks for the use of our products.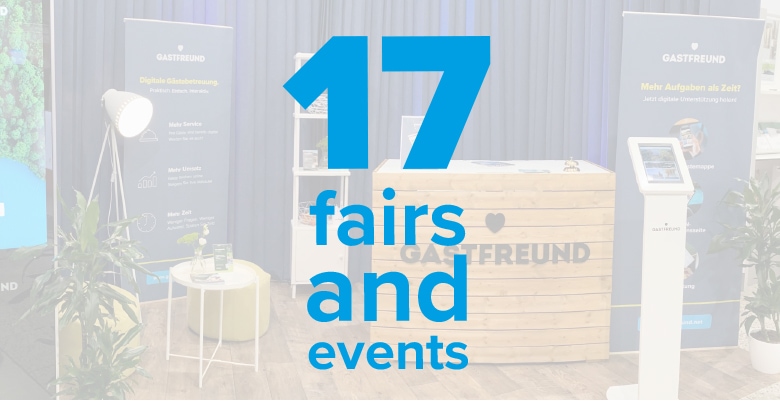 THAT WE HAVE CHECKED OUT,
WHERE WE SHOWED OUR PRODUCTS AND MET YOU PERSONALLY.
2019 WAS AWESOME!
Many thanks to all customers, interested people, partners, supporters, followers, colleagues and friends!
We are sure: 2020 will be even more exciting! We wish you and your family a Merry Christmas, relaxing holidays and a good start into a healthy and successful new year!
Your Guestfriend team

This text has been translated automatically.