The Digital Guest Directory of Guestfriend does not only contain hotel information and suitable travel guides for the region, but it offers even more! It impresses with its many practical functions, which on the one hand increase the hotel's revenue, reduce the workload of employees and improve the quality of service. On the other hand, it motivates guests to act proactively, improves contact and fulfils their wishes in no time at all. But what makes the Digital Guest Directory of Guestfriend unique compared to others? What is the secret of its success?
Live chat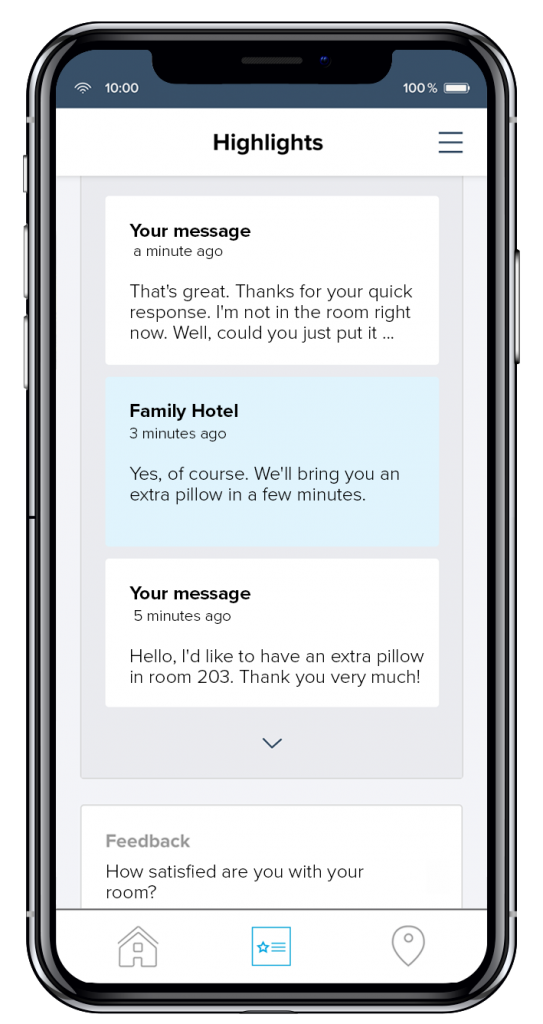 Sometimes the simplest things are the best. Using your smartphone to quickly send messages to friends, family and colleagues via Messenger – that's what everyone is doing these days. So how about chatting with the hotel as well? And that' s why Guestfriend integrated a live chat into the Digital Guest Directory. Via chat, guests write their questions, wishes or other concerns to their hosts or the reception team. The practical thing about it is that hoteliers do not need to monitor any extra chat software, because they simply reply to their guests by e-mail. While the chat in the Digital Guest Directory looks like a normal chat to guests, hosts use their usual e-mail program.
Push messages
Push notifications are marketing talents. A WhatsApp alert, a message from a news portal or a shopping deal, everyone knows examples of push messages from everyday life. The reason why they are so popular is that they appear directly on the smartphone display, even if the corresponding app or browser is not currently open. They signal "attention, important information", arouse curiosity and lead to a quick reaction. And the quick reaction ultimately leads to more sales.
Push notifications sent from hoteliers to guests
Push messages are extremely effective if they provide the right information at the right time: information on local offers, free wellness treatments, individual excursion tips, the evening menu, news or special offers for follow-up bookings. Of course, guests who are staying at the hotel right now want to know different things than guests who are at home. Therefore, it makes sense to send different push notifications to checked-in guests than to guests who have left. With the Digital Guest Directory of Guestfriend, this is no problem at all: Write a push message, select the target group, send it immediately or plan it in advance, that's it. This is information and upselling at its best!
Inquiries and bookings
However, all of this is only effective if guests can request or book the offers and services directly with their own mobile devices. A Digital Guest Directory should therefore definitely contain request and booking forms. Depending on which services the hotel wants to advertise, which offers it wants to sell or which working processes it wants to simplify – Guestfriend integrates almost any type of forms into the Digital Guest Directory.
Tip 1: Book offers and services
Most guests book additional offers during their stay. But how do they actually know about all the things there are? Do they have to ask at the reception desk and wait until someone picks up the booking? Not with the Digital Guest Directory! There they will find all the important information including prices at any time and will request the desired offers by mobile phone. This way guests simply book a wellness massage, reserve a table in the restaurant, order room or bread roll service, ask for a second pillow or book the late check-out. It couldn't be any faster.
The easier it is for guests to find offers and book them, the higher the chances of selling. This naturally leads to more sales.
Tip 2: Cancel room cleaning
Another fantastic feature is the so-called "Green Option", which allows guests to cancel the room cleaning service. This means that not only guests act in an environmentally friendly manner, but also hosts. After all, sustainability and environmental protection are everyone's business and are now given high priority. And besides, it also has a positive effect on the hotel's image. A further advantage: hoteliers reduce their running costs for room cleaning and save valuable working time in housekeeping.
Tip 3: Let your guests fill out the registration form digitally
Another important point is the registration form, which must be filled out and archived. Unfortunately, the topic of the "digital registration form" is not yet fully developed and the law-conform implementation extremely complicated. For these reasons, the electronic registration form is still the simplest, fastest and most cost-effective option. Our recommendation: Let your guests fill out the registration form via the Digital Guest Directory and only sign the printed registration form on site.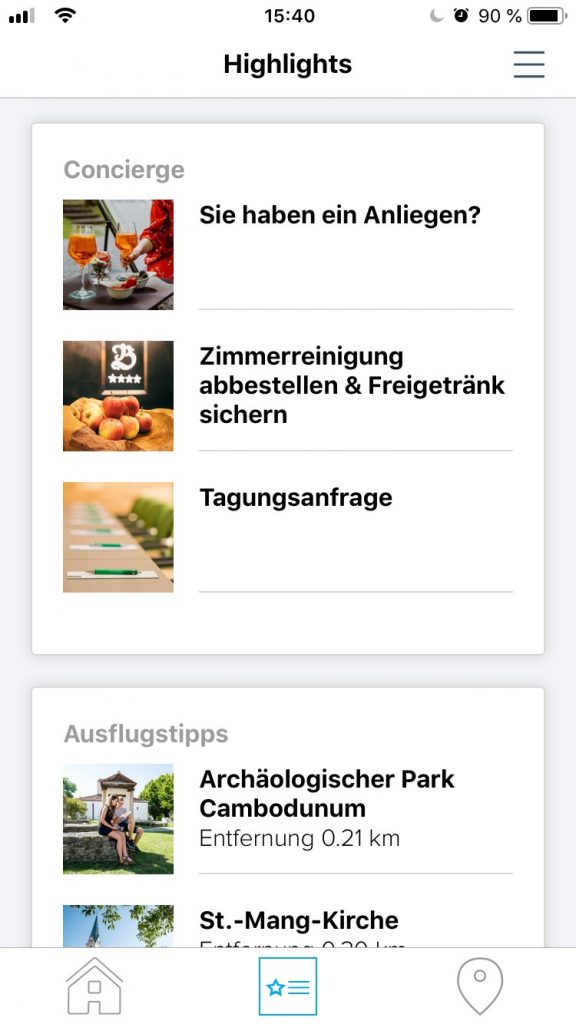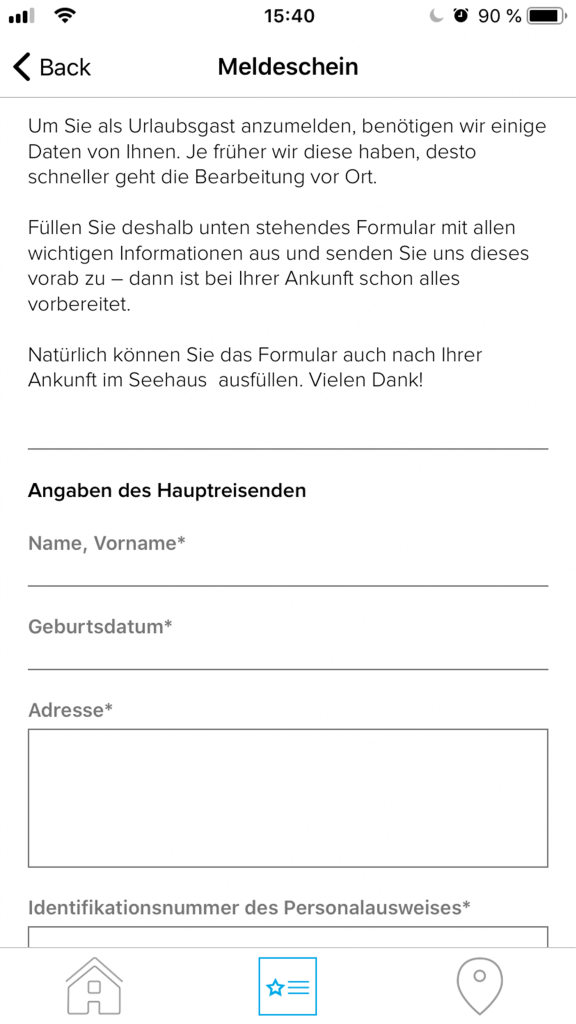 Hotel services, offers, things to do depending on the weather (left) and registration form (right) integrated into the Digital Guest Directory of Guestfriend.
Excursion tips depending on weather forecasts
And every day the marmot greets: What are the sights here? What can I do today? How will the weather be today? And which things can I do if the weather is bad? Questions that every host knows. After all, many activities depend on the weather but are decisive in determining whether guests remember positive or negative experiences. But nobody can change the weather. It is just the way it is. But you can prepare your guests in the best possible way and give them the right tips. This is exactly why Guestfriend suggests the right excursion tips to guests based on the weather forecast. Tailored to their location and the weather, they receive concrete suggestions for activities in the region. Ingenious or?
Feedback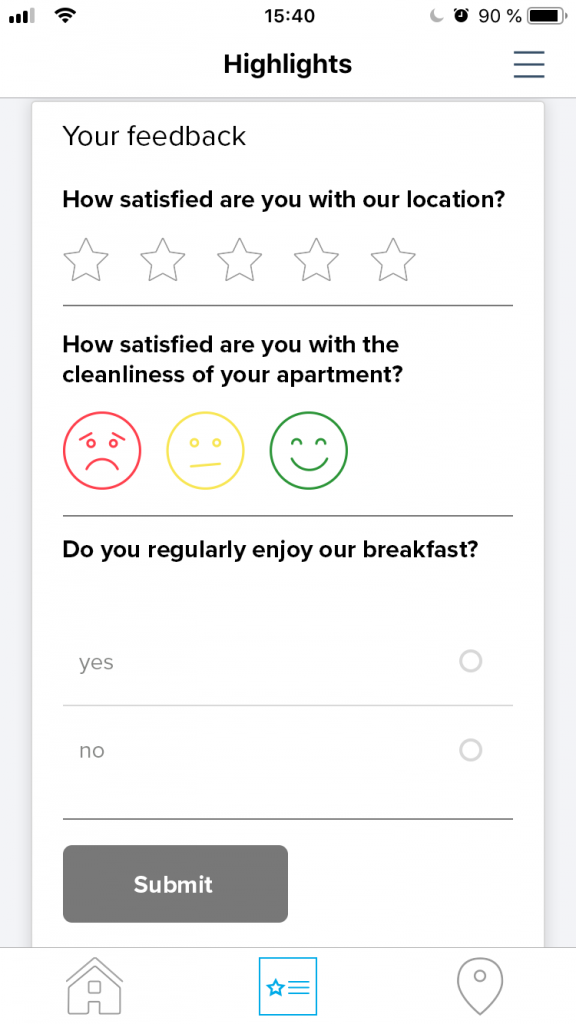 Millions of travellers browse and compare hotel reviews before booking. Good reviews are crucial for booking today and for this reason extremely important for every host. If hoteliers use the Digital Guest Directory to collect feedback from their guests on site (e.g. via guest questionnaires, rating portals, "quick feedback" for quick enquiries about satisfaction, surveys, etc.), they can respond to their suggestions more quickly or even compensate negative experiences. This creates a positive impression, systematically improves guest satisfaction and thus the guest ratings.
And best of all: Guests will find all these useful functions compiled in the highlights of the Digital Guest Directory. This means even more visibility, attention and interaction.
Use the Digital Guest Directory of Guestfriend and increase service, productivity and turnover with its unique features!
You would like to know more about your possibilities? Our experts will be happy to advise you!
info@guestfriend.com | +49 831 930 657-0
Others also read:
This text has been translated automatically.