Hygiene regulations, social distancing and worker protection – the hotel industry is falling on hard times. This is because the Corona pandemic (COVID-19) limits our possibilities of domestic and international travel and entails a tightening of regulations for the whole industry.
Even though establishments in the fields of tourism, catering and hospitality are now allowed to resume business step by step and private trips are possible again – the virus still remains. And what also remains is the fear of infection. We won't go back to normal all too soon. The industry expects the restrictions to be eased gradually, but social distancing, hygiene regulations and safety measures will stick around for a long time. That is because the tourism industry inherently involves a lot of personal contact.
Now, this does sound like major efforts will be necessary – and they will. Hygiene measures are the only way for hotels, holiday homes, guesthouses and campsites to be able to reopen. The good news for hoteliers is: They are not on your own, because our digital aids will support you during these trying times. They inform, help, communicate and push your sales – in a contactless and hygienic way, and no matter when or where.
What arrangements do hoteliers have to make at this point, and how are they best communicated?
In collaboration with experts and in line with the local governments' regulations, the hotel and tourism associations of Germany, Austria and Switzerland have set up a range of safety and hygiene regulations.* One thing's for sure: The hygiene and distancing rules must be respected at all times. The risk of infection must be reduced by avoiding or significantly reducing publicly accessible facilities and by cleaning and disinfecting public areas regularly. A coherent and well-communicated hygiene concept stills the fears of guests and employees and guards against infections.
Contactless and hygienic guest services
Until recently, contactless services weren't really considered a must-have in the hotel and tourism industry – well, times have changed. Digital aids such as the Digital Guest Directory by Guestfriend support you in every possible way: Tasks that would usually require meeting the guests in person can now be "outsourced", and information can be made available on digital platforms.
Our Digital Guest Directory's big moment – easy, versatile and hygienic
In order to enable hotels, restaurants, bed & breakfasts, apartments and campsites to resume business in times of Corona, contactless and hygienic services are key. And this is where the Digital Guest Directory by Guestfriend comes in. The major benefit: The guests can access and use it on their very own mobile devices (Bring Your Own Device, aka: BYOD). This makes the Digital Guest Directory a hygienic means of communication for employees and guests – and all distancing regulations can be complied with. Therefore, hotel associations recommend doing without public touchscreens on site and fixed tablets in the rooms, if possible.
Here's how the Digital Guest Directory supports you during Corona: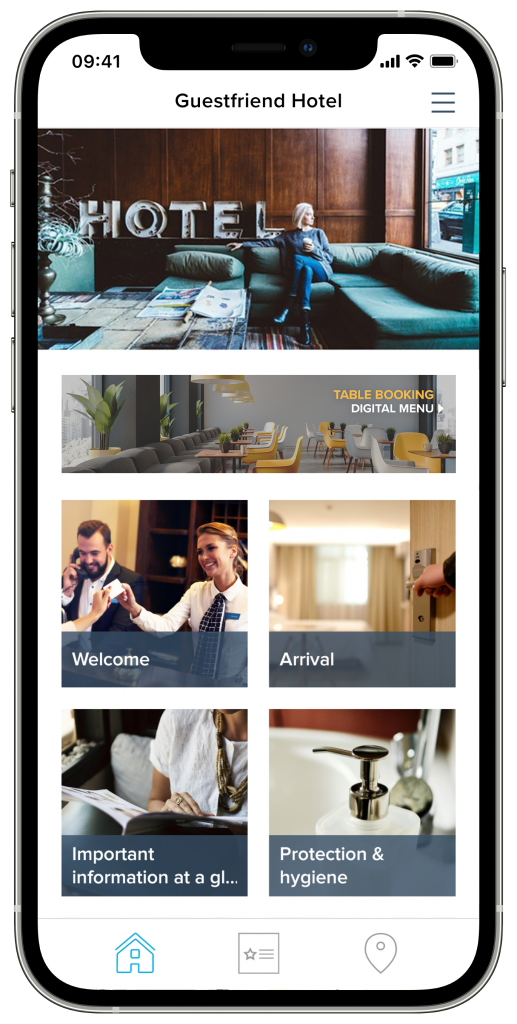 Inform
all the information about the accommodation
all hygiene measures at a glance
tips for exploring the region: sights, tour suggestions and much more
Changes quickly, digitally and in real time
Communicate
always in personal contact via chat despite distance
up-to-date push messages about tips, promotions, events, news, changes, offers etc.
Digital services and sales
Labour saving
no need to wipe menus, room folders etc.
no need to print and laminate brochures, notes, pamphlets etc.
outsourcing of services as the digital complement to the front desk

Digital reception and safe check-in
Digital aids also allow hoteliers to make sure the front desk staff is safe and the check-in/-out can be carried out smoothly. If you don't want to purchase an expensive check-in machine, which would have to be disinfected after each use, you can bank on the Digital Guest Directory. The guests enter the necessary details for the registration form through the DGD on their very own smartphones. All they need to do afterwards is sign it on site. Suitable distancing rules, floor markings, acrylic glass screens and cloth face masks make this a hassle-free task and reduce the required amount of time significantly. Simply draw your guests' attention to the Digital Guest Directory, which includes everything they need to know. They can request and book services and offers digitally and on the go. That way, your guests won't have to stop by at reception again and again.

The trend to cashless payments, well known in retail, is a development that has been fuelled by the Coronavirus in particular. Cash changes hands quickly and often transmits bacteria and viruses. That is why you should offer your guests the possibility of contact- and, above all, cashless payment.
Communication – as important as never before!
The hygiene measures are well and good, but communication is a whole new ball game. Make sure to let your guests know about the measures you implement to comply with the hygiene regulations. This creates trust and confidence among your guests and helps them respect the code of conduct. Use as many means of communication as possible, such as social media, newsletters, e-mails, e-papers, the Digital Guest Directory, hotel TVs on site and of course your website. Basically, hygiene regulations are based on three pillars: the hygiene rules for your guests, the behaviour of your employees and all measures and arrangements made by you – that includes the removal of as many haptic items as possible, since these are most likely to transmit bacteria and viruses.
You want to get detailed insights into the Digital Guest Directory and the hygiene measures? Check out part 2.
Kick off your digital services now!
We'll be happy to support you.

info@guestfriend.com | +49 831 930 657-0
---
* https://www.oehv.at/hygieneleitfaden/
* https://www.hotelleriesuisse.ch/de/leistungen-und-support/coronavirus/hotelbetrieb/hygiene-und-schutz
Image: ©detailfoto – stock.adobe.com
This text has been translated automatically.