The Coronavirus presents the hotel and catering industry with major challenges. There's a vast range of new rules, regulations and requirements that hotels, holiday homes, apartments and campsites must follow in order to resume business. Make sure to collect information from trusted sources and associations, because the regulations and rules differ from state to state and also depend on the type of accommodation. Without new hygiene concepts, distancing rules and safety measures, hosts won't be able go back to "normal".
In order to ensure a successful restart after the crisis, hoteliers will have to develop new concepts for their establishments. How to attend to your guests in spite of distancing rules? How to avoid long waiting times at the front desk but still communicate personally? How to reduce contact between employees and guests without your service being negatively affected? How to facilitate workflow and reduce your staff's workload in spite of new processes being required? And how to collect the required traveller's details in a contactless way?
Implementing hygiene and distancing regulations with the Digital Guest Directory
In part 1 of this series, we explained why digital solutions such as the Digital Guest Directory are most suitable to attend to your guests' wishes in a hygienic way in times of Corona. They help you support your guests in a hygienic way, provide essential information, reduce the internal workload and carry out tasks automatically that usually require face-to-face contact with your guests.
The Digital Guest Directory by Guestfriend is a channel of information, communication, support and sales – in a contactless and hygienic way. The major benefit: The guests can access and use it on their very own mobile devices (Bring Your Own Device, aka: BYOD). They get current news and information, fill out the electronic registration form, book services and offers directly, get in touch with their hosts thanks to the chat feature and a lot more.
From table booking to digital menus through to guest registration
Especially hosts who have in-house catering facilities, such as restaurants, breakfast rooms, cafés and bars benefit greatly from the Digital Guest Directory by Guestfriend. They can discard infectious items such as menus and paper forms and opt for digital menus, collect required traveller details digitally and keep track of table bookings and meal orders. Accordingly, guests benefit from the possibility of requesting services in a contactless and convenient way on their own mobile devices, .without having to worry about infections or rule violations. Details on this can be read in part 3.
Hygienic, easy and versatile – the Digital Guest Directory by Guestfriend
Let's have a closer look at the Digital Guest Directory by Guestfriend. With regard to Covid-19, what possibilities does your very own and individual Digital Guest Directory bring along, and how does it support you in your everyday work?
Sales and services
Requirements: contactless services, avoiding waiting queues, respecting distancing rules, no buffets or the like, removing haptic items (e. g. menus), guest registration
Solution: straightforward digital forms to book and order services and offers:
Table booking with time slots and personal data fields
Room service (breakfast, meals, drinks)
Delivery and pick-up service for meals and drinks
Fill out electronic registration form
Request intermediate cleaning
Delivery service (meals and drinks)
Laundry service
Order disposable remote controls
Order masks, disinfectant, pillows etc.
Request vouchers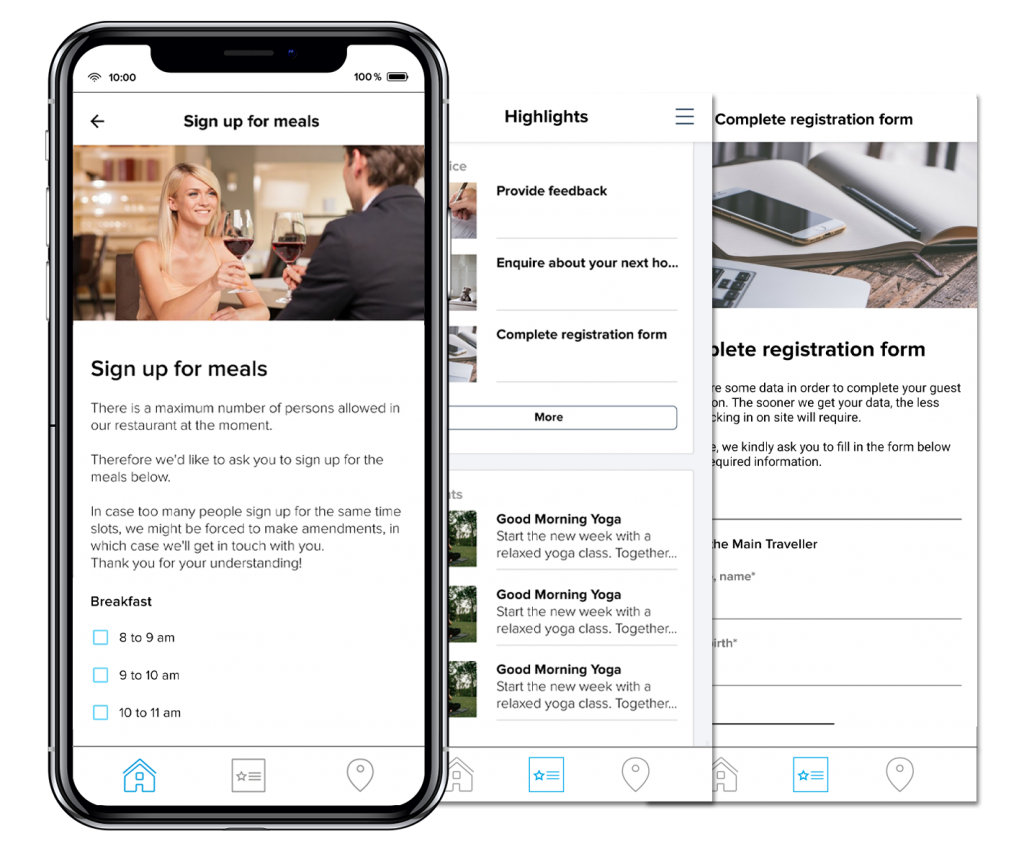 Information
Requirements: Complying with distancing regulations, avoiding "haptic" items in all public areas and rooms due to the increased risk of infection.
Solution: Make information available digitally, announce hygiene measures in advance and remove "risky" objects, such as menus, room folder, flyers, touchscreens, tablets etc., from the rooms.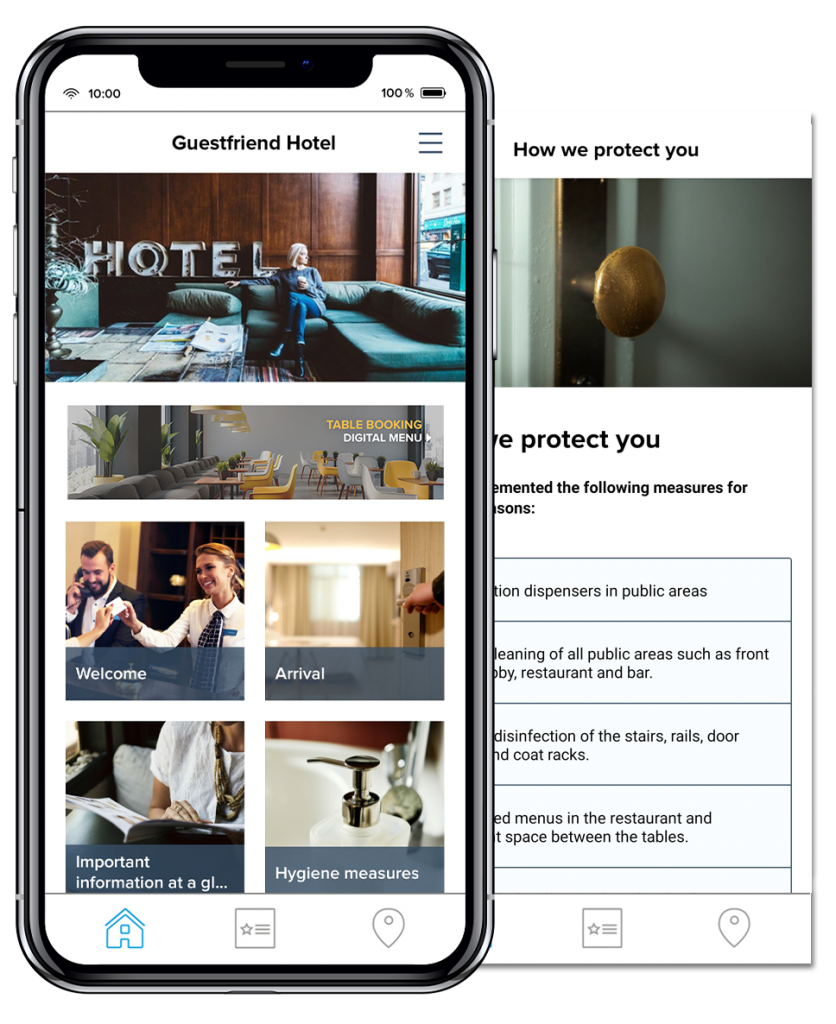 Examples:
information about the accommodation, A-Z
lists and descriptions of in-house services and offers
all hygiene measures at a glance
all postings, news, pieces of information etc. available digitally
e-paper of your very own hotel newspaper
weather forecast
weather-based recommendations on what to do in the region: sights and attractions, tours and trips and a lot more
FAQs
These pieces of information are often asked for at the front desk and take up a good amount of your precious time. The Digital Guest Directory has all the answers to your guests' questions. As a result, you can avoid waiting queues, time-consuming consultations and reduce the time required for check-in.
Communication
Requirements: contactless support, up-to-date communication of hygiene regulations, services, restaurant and breakfast area management, social distancing
Solution: hygienic, contactless and quick communication via built-in chat feature, up-to-date push notifications and an uncomplicated feedback and rating system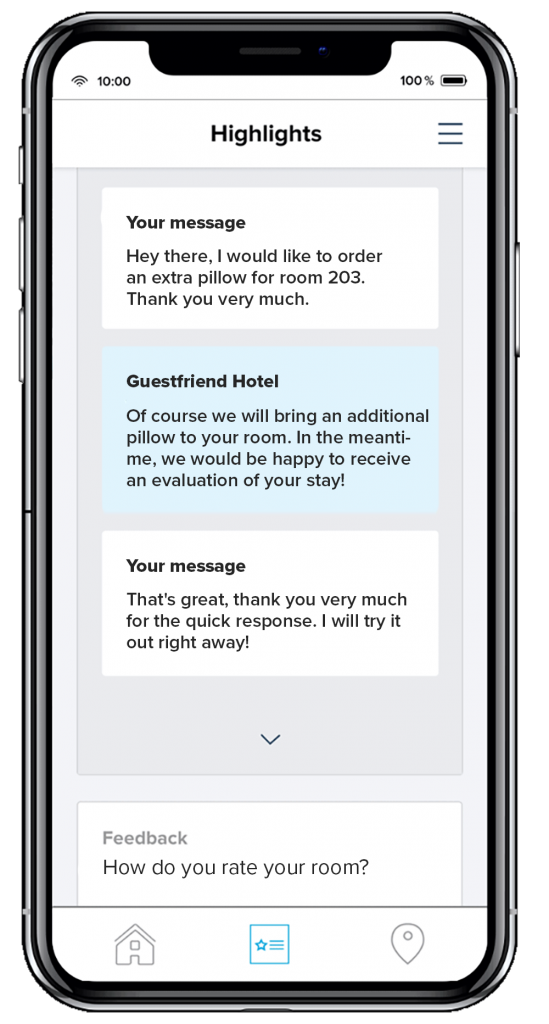 Chat: Thanks to the chat feature, hosts and guests can keep in touch and communicate effectively in times of social distancing. Did you know? Hoteliers don't have to monitor a third-party program but can simply use their e-mail application. Guests can use the handy chat feature in the Digital Guest Directory.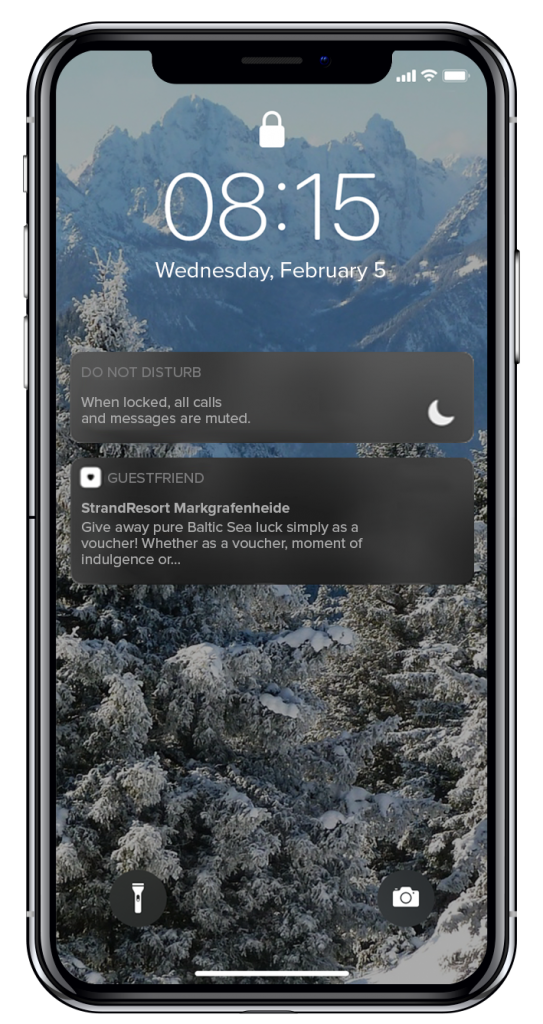 Push notifications: send current news and information to your guests on a regular basis:
hygiene regulations
safety measures reminder
offers and services
amendments
updates on the cleaning status
area X can't be accessed due to disinfection works
excursion tips
promote services and offers (e. g. breakfast in the room etc.)
status quo of table bookings, restaurant occupancy rate, breakfast hours
as soon as allowed: events and happenings
follow-up offers
gift vouchers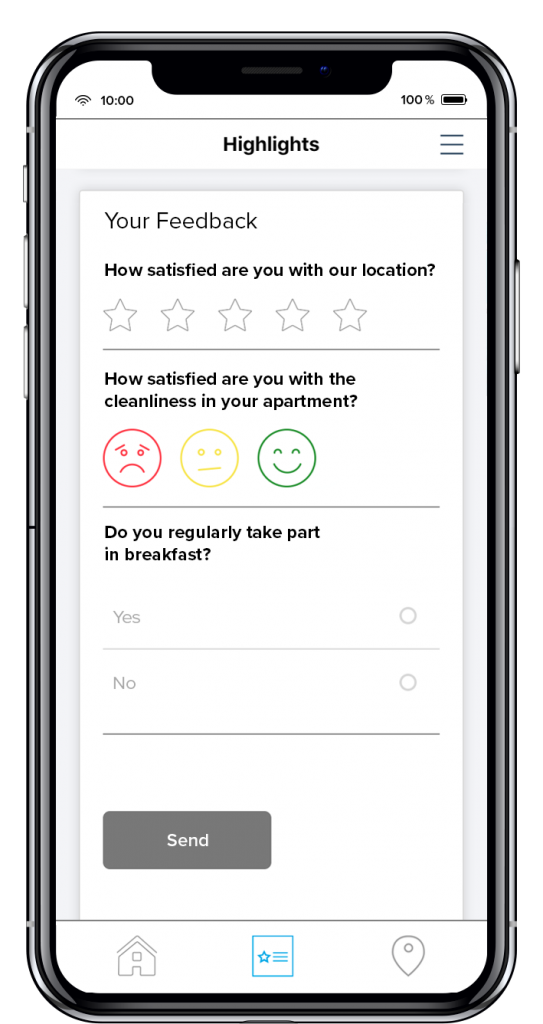 Feedback: calling up feedback from guests and more quickly and easily:
cleanliness
hygiene regulations
cleaning intervals
service
facilities
meal times
Feel free to browse the web version of our Digital Guest Directory and watch the contents live.
Our tip: Check out our blog post "Basic or all-rounder – What is the secret of a successful digital guest directory?" in which we explain the entire range of features and characteristics of our Digital Guest Directory – here we've just compiled the most important functionalities in times of Corona.
Use your unique Digital Guest Directory to implement and comply with the new hygiene regulations and social distancing rules.
---
Image: ©bongkarn – stock.adobe.com
This text has been translated automatically.