Digital guest service is the topic on everyone's lips these days. The Corona crisis has increased the desire for a contactless, hygienic and yet personal service in the hotel industry. In order to meet these expectations, both we and hotel associations recommend digitalising paper room folders, menus and flyers. This not only improves the satisfaction of guests but also increases your bookings and sales and even simplifies internal workflows. From now on, your guests only need to know about your outstanding service! We show you how to draw your guests' attention to your Digital Guest Directory.
What is a Digital Guest Directory?
Imagine that your guests can access your A-Z, get excursion tips, book a wellness treatment, order room service and get their questions answered quickly via chat message – at any time and any place. All this is made possible by the Digital Guest Directory on your guests' own smartphones and tablets. It can be accessed both via app and on the web and is therefore independent of the guests' devices.
It informs: The Digital Guest Directory not only contains all your A-Z, your contact details and your digital menu, but also a travel guide for the region. You easily keep all your guest information up-to-date by yourself – using the content management system from Guestfriend.
It communicates: Thanks to the chat function, your guests communicate with you or your employees directly through the Digital Guest Directory and give feedback. And if you ever have an important piece of information, an offer or a tip for your guests, you can quickly send push messages to their smartphones.
It sells: Your Digital Guest Directory is the perfect place to advertise your offers. This could be the daily bread roll delivery service, your restaurant or wellness treatment. All your guests have to do is fill out the digital booking form. This way the Digital Guest Directory also helps to complete guest registration, fill out the registration card or to cancel room cleaning. In other words, you relieve your staff and increase your turnover at the same time.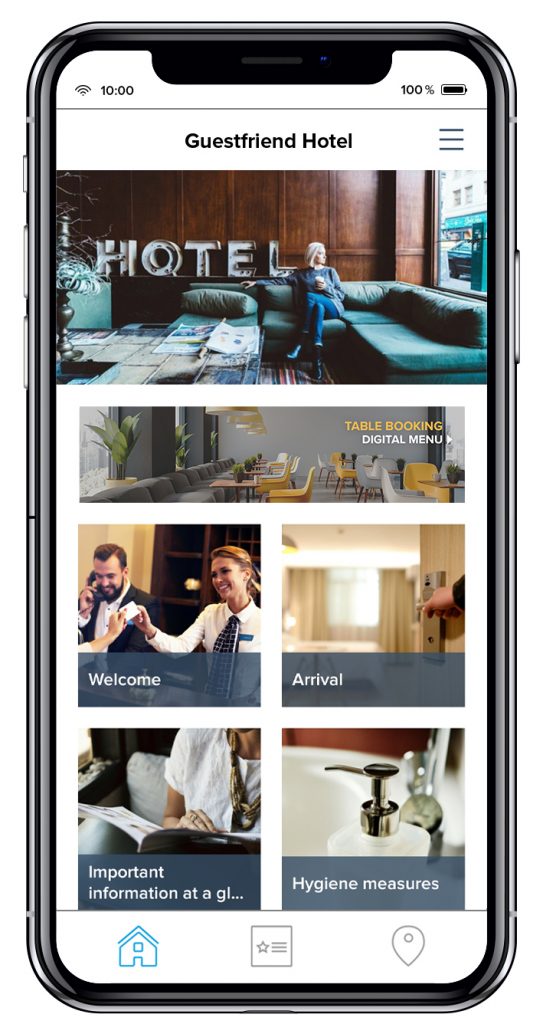 Find out more about all the handy features of the Digital Guest Directory in our article "Corona and hygiene in hotels: Benefits of the Digital Guest Directory".
You don't have a Digital Guest Directory yet?
Attention for your Digital Guest Directory
You have already taken the first step and are offering a Digital Guest Directory for your hotel, pension, holiday flat or campsite? Great! Now point out your digital service – preferably at every stage of the guest journey, so that you are sure to reach all your guests.
Before arrival
Most travellers gather information about their accommodation and its surroundings several weeks before their trip.[1] For this reason, we recommend that you include a link to your Digital Guest Directory in the booking confirmation in a short sentence or on a banner in your email signature. The lovingly designed Digital Guest Directory increases your guests' anticipation and makes them aware of your latest news, services and offers in advance. Your guests thus fill out the registration form at home and already request a wellness appointment or breakfast.
On arrival
No later than on their arrival, guests should learn about your Digital Guest Directory. Make sure to include it in the check-in process and hand out flyers that give your guests insights into the contents and functions of the Guest Directory. With the help of a QR code, guests simply access the Digital Guest Directory with their smartphone.
During the stay
In addition to flyers, room stands with QR codes refer to your Digital Guest Directory and your digital services. Placed in the restaurant, in the wellness area or in the lobby, they point directly to your digital menu, guest registration form, wellness treatments or your hotel's activity programme, if desired.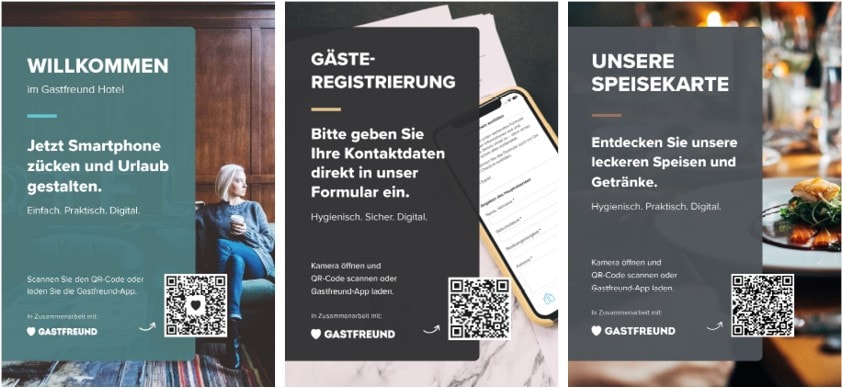 We are happy to design room stands for you that refer to your Digital Guest Directory or to a specific service.
With additional info points at the reception or in the hotel lobby, such as a stationary tablet or a Touchscreen Kiosk, your Digital Guest Directory will be even more present. Even guests who do not have their smartphone with them at the moment can access your digital services. Do you hand out a Hotel Newspaper or morning post? Just place a note or a QR code here that leads to your Digital Guest Directory with further details.
Most guests use the hotel Wi-Fi. Redirect to the Wi-Fi Landing Page of Guestfriend directly after login. With just one click users will then also enter your Guest A-Z, the travel guide or book one of your offers.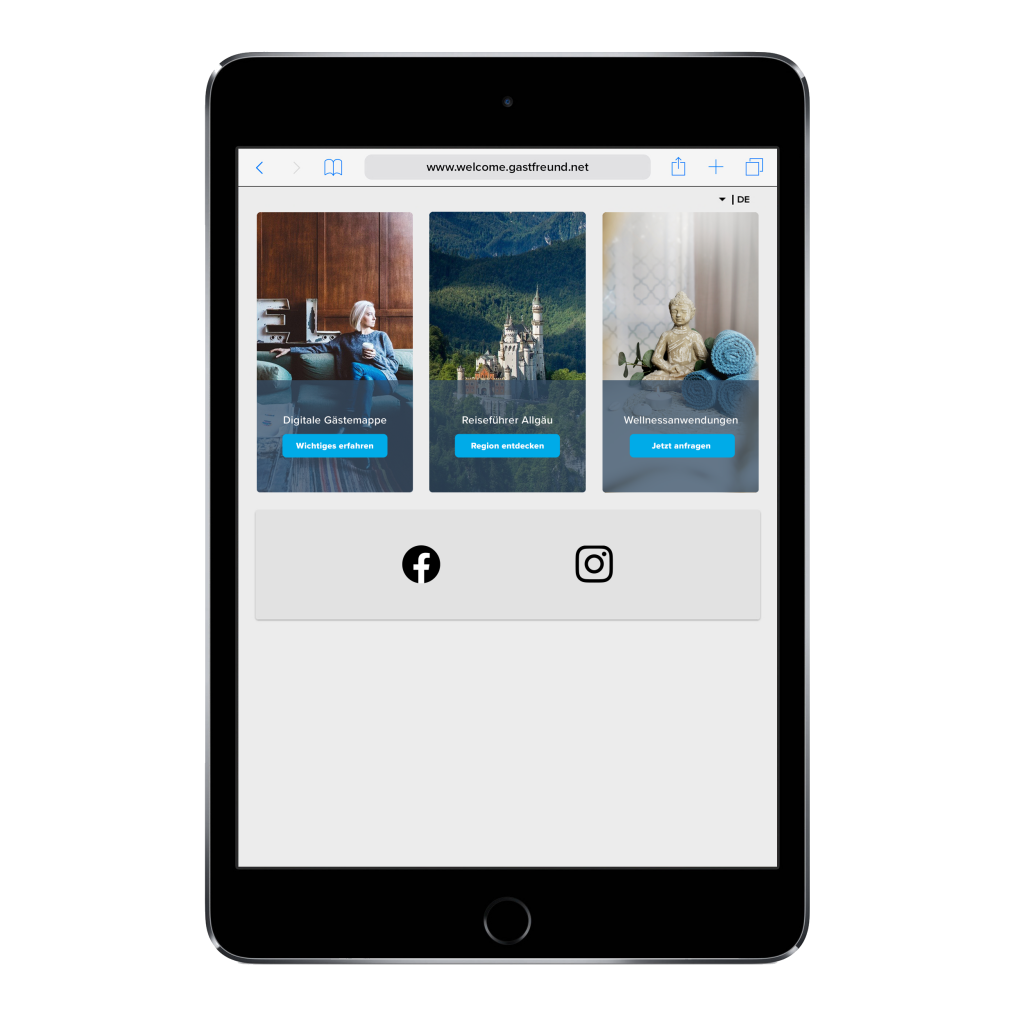 The Wi-Fi Landing Page of Guestfriend.
At any time
Your website is often the first touchpoint that guests have with your hotel, guesthouse, holiday home or campsite. Set a link to your Digital Guest Directory on your website. Explain in a few short sentences what it is all about and how your guests benefit from it. This will certainly convince a few other potential customers to book.
If your hotel has a blog or a Facebook, Twitter or Instagram account, also promote your digital service there. Via your social media channels, you will reach exactly those guests who are looking for information and travel inspiration online. Take photos of your Guest Directory and include screenshots or short videos. Round off the post with a few explaining sentences.
Even after their departure, you can still reach your guests via the Digital Guest Directory. Send push messages especially to checked-out guests with the invitation to review their stay or an offer for the next booking.
We are happy to advise you on how you reach your guests in the best possible way. Ask your personal consultant from Guestfriend or contact us:
info@guestfriend.com | +49 831 930 657-0
---
[1] Tripadvisor TripBarometer 2016, https://mk0tainsightsjao4bom.kinstacdn.com/wp-content/uploads/2018/01/TripBarometer-2016-Traveler-Trends-Motivations-Global-Findings.pdf
This text has been translated automatically.