No question, 2020 was challenging, full of ups and downs. The hotel industry and catering trade in particular will have to deal with the effects of the Corona pandemic for a long time to come. Demands for contactless services, guest care at a distance and new hygiene regulations have presented many hosts with major challenges and at the same time triggered a veritable digitalisation push. Simplified work processes, carefree and happy guests, increasing additional sales and uninterrupted contact with guests are just a few more benefits that digital services bring.
We are very pleased that we were able to support so many hotels, holiday flats, guesthouses, campsites & Co. with our products for digital guest services – thank you very much for this impressive cooperation! And one thing is certain: we are already working on many more exciting projects for our customers!
Online and offline: We are always there for you
Trade fairs and webinars
At the beginning of the year, we were fortunately able to meet you in person at the "Intergastra" trade fair in Stuttgart. After that, things moved quickly and, due to new Corona regulations, we had to reduce personal contact and resort to digital tools. Fortunately, this is not a problem for us hospitality professionals, after all, this is exactly our field of expertise.
So in a very short time, we bundled our know-how in a total of ten webinars and passed them on free of charge to hoteliers, hosts and anyone else interested under the motto #gemeinsamstark . With only one online seminar, we were able to reach three times as many people as offline. Nevertheless, we eagerly wish for the personal exchange with you back!

Until that time comes, we will of course continue to support you by phone and via online meetings.
PS: By the way, our online meetings have tripled this year!
Blog, social media and press
With Guestfriend you are sure to stay up to date! We have written a whole of 18 new articles for you about Guestfriend and trend topics in the hotel industry, such as the digital registration form, Corona and hygiene in the hotel or the new criteria for star classification. Of course, we also provided you with fresh news, further links as well as useful tips and tricks for digital guest communication via our social media channels Facebook and Twitter throughout the year, with a total of 317 posts.
But also the press reported diligently about Guestfriend: you could read 17 articles about Guestfriend and our digital solutions this year.
Top priority: the further development of our products
Contactless services
Our customers are the best! Even in difficult times, they give everything for their guests and work closely with us. Together we have spiced up their digital guest directories with ready-made content on protection and hygiene, incorporated digital forms for contactless guest data entry, table reservations and a digital menu, or set up a delivery and pick-up service with an online order form in no time at all.
And the feedback from guests was great: in a wellness hotel in the Rhineland-Palatinate, for example, 6,279 enquiry and booking forms were sent despite the two lockdowns in spring and winter! What would have been possible with a year-round opening?
New functions
Of course, we did not miss the opportunity to add many new features to our products this year, e.g.:
Online Reservation Tool: With the online reservation tool, you receive automated reservations for restaurant or wellness, set quotas and manage your reservations in real time.
Push messages: Since then, you have the choice whether they send your push messages to all, current or departed guests.
Events: You can set up recurring events in the Guestfriend system even more easily using the new serial event function.
Digital reading circle: In the blink of an eye, you can provide your guests in the hotel with a selection of 500 well-known journals and magazines as e-papers.
Hotel newspaper: As of this year, you can also integrate ready-made excursion tips and tour recommendations. We have also expanded our large data pool with new templates, images, puzzles and more.
In addition to a whole host of digital guest directories accessible via the Guestfriend app and the progressive web app, this year we have also launched lots of standalone Hotel Apps and Clinic Apps released in the App Stores for Android and iOS!
Our customers are happy – are you, too?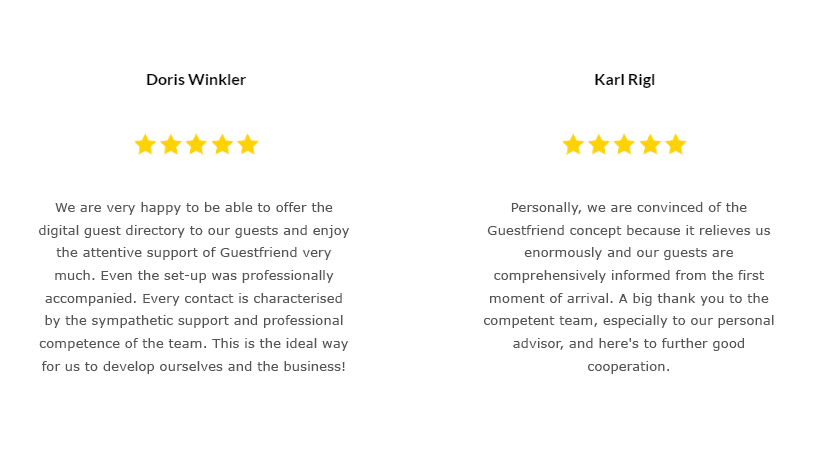 Here you can find even more reviews on Google.
Last but not least, something big has been created this year in cooperation with Swisscom: The new Info Channel!
It impresses with its modern design and an editor with which you can change the content and layout independently and in real time. But we won't reveal more about it until 2021!
And until then:
Stay positive, keep up the good work and have a healthy new year – we are here for you!
The Guestfriend team
www.guestfriend.com | info@guestfriend.com | +49 831 930 657-0
This text has been translated automatically.