The Corona crisis is not over yet and the hotel industry is eagerly awaiting the day when hotels and restaurants are allowed to welcome leisure guests again. The protection of guests and staff is the number one priority, without exceptions. Therefore, meeting the applicable hygiene regulations is an important precondition for reopening. Contactless, digital services offer many advantages in these times. We have already addressed some of them in the first part of this two-part series. In this article, we will look at the second half of the checklist and show how hotels can prepare for the future with digital services.
Cleaning? – Yes, but contact-free please!
New hygiene and cleaning concepts
As part of a new hygiene concept, many hotels have reviewed the cleaning of their facilities. For example, staff clean and disinfect surfaces and objects in the lobby, at the reception, in the wellness area and in the restaurant more frequently . Where disposable gloves and face masks were not already in use before, they are now mandatory.
In restaurants, too, there are fewer buffets, less tactile objects on the tables and fewer printed menus. Because these would have to be disinfected all the time. Instead, the staff serves the food at the table or in the room and offers digital menus for drinks and food. Guests simply use their own smartphones to access them.
Flexibility in room cleaning – with digital services
The new buzzword in hygiene concepts is "low-contact cleaning", especially with regard to the guest rooms. While some hotel guests avoid daily room cleaning and linen changes for environmental reasons, a new motivation has been added to the list recently: Many guests currently feel uncomfortable when strangers such as cleaning staff enter their room and worry that they might be infected with COVID-19.
Hosts should definitely care for their guests' well-being and let them decide whether they want to cancel or book additional room cleaning. With the Digital Guest Directory by Guestfriend this is a cinch. Thanks to this digital service, more guests choose to skip the daily housekeeping and thus not only reduce personal contact with staff, but also save the hotel cleaning costs.
To avoid contact, many hotels currently change the linen and clean the rooms less frequently by default. Guests who want regular cleaning and a bed made every day simply request additional room cleaning from the hotel – also via the Digital Guest Directory. When cleaning is finally due, guests should leave the room during this time and clear the bed of personal items beforehand so that the cleaning staff do not come into contact with them.
The new guest communication: quick information is everything
86% of travellers prefer a hotel that actively takes hygiene measures and makes its guests feel safe. This is according to a recent survey by HRS.[1] Hoteliers must therefore inform their guests sufficiently about the currently valid measures before and during their stay. These include, for example, the obligation to wear face masks, temporarily closed areas of the hotel and the room cleaning regulations.
Apart from printed signs and distance markings in front of the reception, digital communication is particularly effective. The Digital Guest Directory has plenty of space for all information and tips about protection and hygiene, including pictures and video material for visualisation. The decisive advantage over paper posters and signposts is its clarity, timeliness and quickness. Hoteliers avoid an overwhelming forest of signs in the lobby, while guests intuitively navigate through the Digital Guest Directory. There they receive all current information and discover the contactless, digital services of the hotel. All they need to get started is a QR code on a flyer or a WiFi Landing Page. This links directly to the Digital Guest Directory when logging into the hotel WiFi.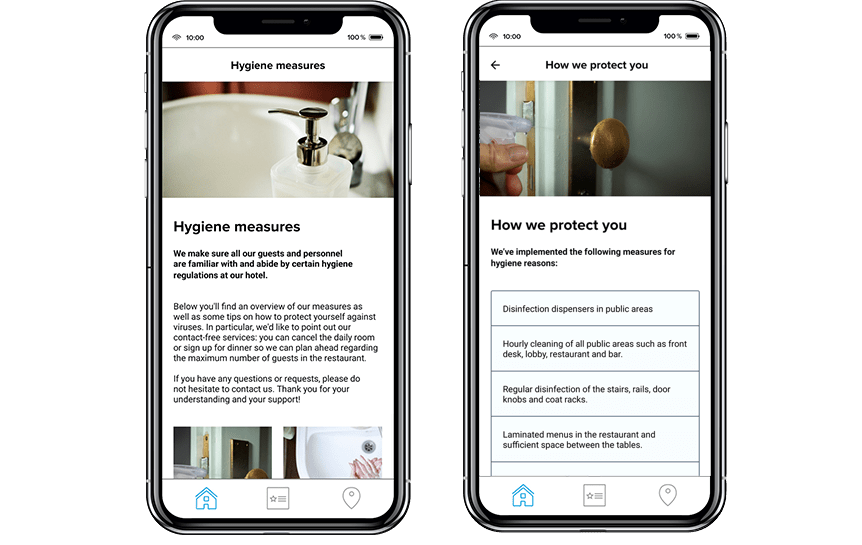 All information about hygiene and protection measures can be found in the Digital Guest Directory.
Even before arrival, guests want to know what to expect. Forward-thinking hotels thus already point out the most important hygiene measures and restrictions on their website and in the booking confirmation. A link to the Digital Guest Directory is the easiest way to do this. It summarises important hygiene measures as well as useful information and offers about the accommodation and the region.
The quickest way for hoteliers to spread news or particularly important information during their guests' stay is to send push notifications directly to their smartphones. This way, no one misses any information!
Feedback and reviews as a basis of trust
Especially because hygiene concepts and cleanliness are becoming more and more decisive for the selection of an accommodation, travellers inform themselves in detail about the current measures of the hotel before booking. As a rule, reviews from former guests are considered reliable. Hoteliers, holiday apartment owners and campsite operators should therefore ask their guests for feedback during their stay. At the latest after departure, it is worth actively asking for a review.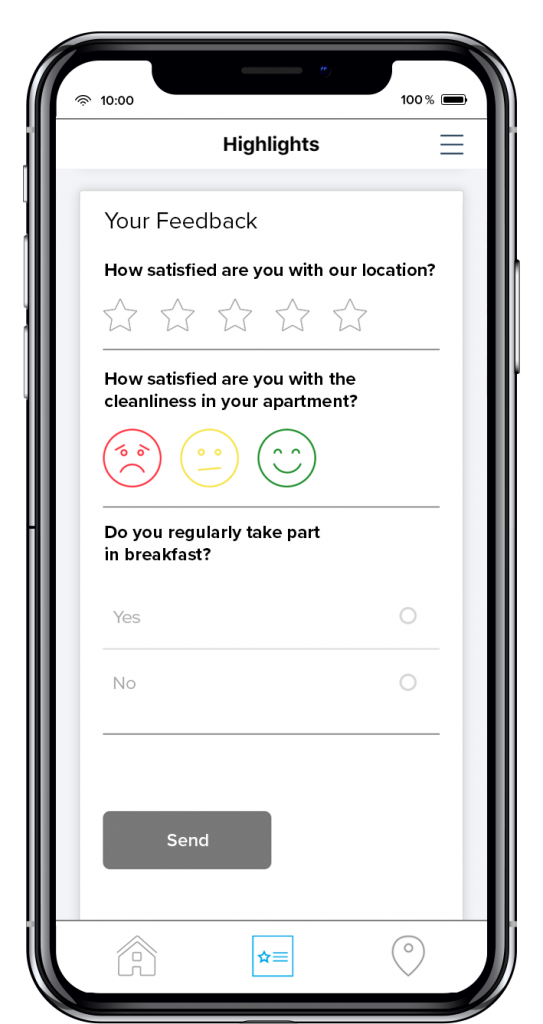 In conclusion: Personal service at a distance is possible!
As both parts of this article show, "social distancing", "contactless" and "obligatory face masks" do not mean the end of personal guest services. Digital services allow for a hygienic and at the same time modern way of communication. Currently, the focus is on the health protection of guests. But even after the crisis, efficiency, increased turnover and guest comfort remain as clear advantages of digital guest services.
You want to offer your guests a hygienic, digital service?
---
[1] ­https://www.hrs.de/hotel/presse/hrs-und-sgs-etablieren-neues-hygieneprotokoll-fuer-hotellerie-weltweit/
Image: ©flowertiare – stock.adobe.com
This text has been translated automatically.