In our section "5 questions to …", employees of Guestfriend, customers, partners or industry experts give insights into their work and business. Marta Matwijow, Senior Marketing Manager at Swisscom talks to us about modern TV solutions for hotels and care homes.
Swisscom is primarily known as a leading telecommunications and IT company in Switzerland. How did it come to offer special TV systems for the hotel, catering and care industry?
With blue TV, Swisscom has been very successful in the market for years with a TV product for residential customers. For a long time, Swisscom had also wanted to offer the TV solution to business customers and gain market share in this segment. However, a technical limitation made it impossible to provide the service for more than five TV boxes. Therefore, we could not serve target groups such as hotels or care homes from the business customer segment at first.
Since Swisscom has overcome this hurdle, hotels or nursing homes as well as companies from other business sectors with a great need for TV solutions have also benefited from the best entertainment TV in Switzerland.
Swisscom recently added new functions to the blue TV Host package for hotels and care homes. What is included in blue TV Host and what are the most important new features?
blue TV Host is a modern and high-performance communication service for hotels and care homes. Guests or residents have access to over 300 international channels, up to five pre-programmable channel lists and voice search. The handling of the TV guide and the voice search feature is really simple and intuitive. For example, only one remote control is needed for the TV box and the television set.
With the all-in-one package blue TV Host advanced, guest Wi-Fi is also included. This has the great advantage that customers have only one contact partner for all their communication services: TV, internet and network infrastructure. As an option, we also integrate telephone services for our customers. And of course, fast and competent support is included. This saves our customers time, money and, most importantly, a lot of energy, because they benefit from a well-coordinated overall solution.
Since autumn 2020, blue TV Host is much more than just TV. Thanks to the info channel by Guestfriend the TV also functions as a central source of information for guests and residents – digital and contactless. In this way, hotels and care homes provide their guests and residents with news and highlights around the clock. In other words: the best infotainment directly in their rooms. From weather forecasts and information on events to digital menus and special offers, clients can adjust the content and language themselves at any time.

"blue TV Host has become much more than just TV."
The second important innovation is the In-house channel. This is an additional TV channel that allows customers to live broadcast their own events, such as conferences, church services or other functions. Guests and residents can then comfortably watch the broadcast in their rooms via a TV screen. Just like the info channel, the In-house channel is included in the price for blue TV Host.
In addition, blue TV Host customers can now obtain TV sets as part of a leasing model. With this, Swisscom wants to make it easier for its customers to get the latest, high-performance TVs and contribute to an even better customer experience.
What role does Guestfriend's info channel as an infotainment solution play in the blue TV Host package?
The info channel is very important in the blue TV Host context — it completes the blue TV Host proposition. We were able to integrate it into the overall package without any additional costs for our customers. At the same time, we offer them important benefits with the help of the info channel: easier guest communication as well as time and cost savings thanks to the central management of content. Many customers also use the info channel as an advertising platform for third parties and thereby generate additional revenue.
Time and again, discussions with our sales staff and customers show that the info channel is an important unique selling point for Swisscom blue TV Host: It has long become a decisive purchasing argument for hotels and care homes and clearly sets Swisscom blue TV Host apart from the competition on the market.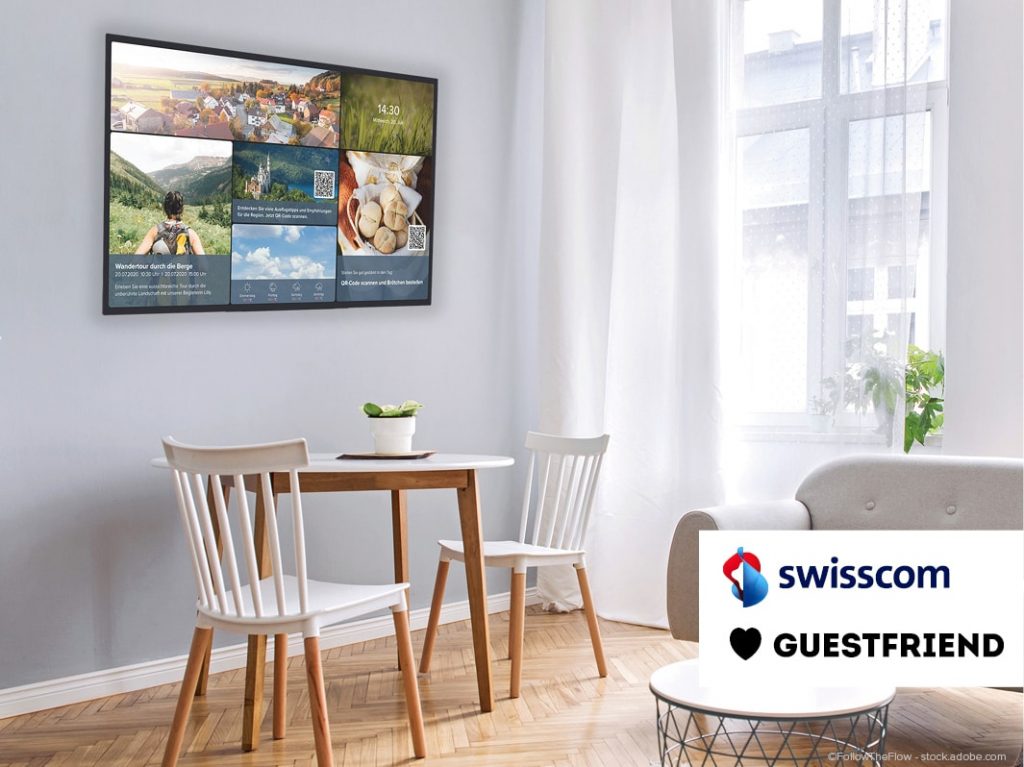 Guestfriend's info channel informs hotel guests and care home residents about offers, events, the weather forecast and much more!
What technical preconditions and what know-how should hotels and care homes have if they want to use blue TV Host?
The requirements for blue TV Host are a Business Internet Services access from Swisscom and sufficient bandwidth. The bandwidth needed depends on the size of the overall infrastructure – in other words, on the number of TV boxes. Blue TV Host is based on so-called multicast streams: A stream can be shared by several users who watch the same channel at the same time. The system does not need a stream for each user, but only for each channel that is currently being watched. A stream always requires 10 Mbit/s, regardless of the number of guests or residents who are currently watching that channel.
It is interesting to note that in hotels, depending on where the guests are from, experience shows that the number of different channels watched at the same time is higher than in care homes. For example, if three guests watch SRF zwei, one guest ZDF and one guest ARD at the same time, a total of only 30 Mbit/s bandwidth is needed. On top of that, there is the bandwidth requirement for Business Internet Services.
In addition, the use of blue TV Host demands universal communication cabling (UCT) or modern LAN cabling. A single type of cable and standardised connector system are sufficient for the operation of all services. A UCT enables managed solutions. It is also necessary for many of today's and certainly all future services (IP telephony, IP TV, etc.).
Of course, no Swisscom customer is on their own. An IT partner is always involved in the installation of blue TV Host and remains the primary point of contact for the customer afterwards. Our customers can always rely on their partners and do not need to have any specialist knowledge themselves. With blue TV Host, their infrastructure is in good hands.
How important is on-demand streaming in the hotel industry? And how is Swisscom responding to the growing trend towards streaming by hotel guests?
As mentioned earlier, with blue TV Host advanced, Swisscom also offers guest Wi-Fi in the room in addition to the TV component. Thanks to access points in each room, maximum bandwidth is guaranteed at all times. With this service, Swisscom meets the desire for on-demand streaming on the guests' own devices such as smartphones, tablets or laptops. The next step would be to bring this customer experience to the big TV screen as well. Swisscom is currently evaluating various options for this.
Marta Matwijow in conversation with Sandra Schneider, Gastfreund GmbH
Find out more about blue TV Host and the Info Channel at swisscom.ch or on the Guestfriend website.
---
Images: ©Marta Matwijow, ©FollowTheFlow – stock.adobe.com
This text has been translated automatically.