Currently, hotels and restaurants are preparing for the long-awaited opening. Many hoteliers are now informing themselves about the applicable requirements and are introducing innovative solutions for a smooth start. In this context, one clear trend is emerging: digital forms and online tools for the reservation of services and offers are having a real boom. We explain what opportunities digital bookings offer during the stay and how hotel owners use them effectively.
Around 70 percent of German-speaking travellers now book their hotel rooms online.[1] This is uncomplicated and quick. Since the Corona pandemic, however, expectations of hotels have changed further: Guests have an increased need for hygiene and specifically ask for contactless services during their stay. This includes, for example, online table reservations for the hotel restaurant or the digital booking of wellness treatments. More and more hoteliers are following this trend and offering digital alternatives to the personal booking at reception. After all, this not only fulfills the guests' wishes, but also protects their staff at the same time.
Why digital bookings are so important to guests
Travellers are used to being constantly online. Almost every smartphone owner has the mobile device with them permanently, even on holiday. [2] For business travellers, the mobile phone is also an important work tool. As a result, hardly any accommodation today can do without digital services. The minimum requirement is free Wi-Fi throughout the hotel, guesthouse or campsite. But for hosts who want to stand out and make their guests happy, free Wi-Fi is no longer enough.
A really good service starts with guest care! In addition to personal contact, the Digital Guest Directory is playing an increasingly important role in the hotel industry. Because it contains all relevant information about the stay, enables direct communication with guests and includes digital services such as booking forms. Guests use digital forms to order food to their room, book a massage appointment or cancel room cleaning, for example. The convenient thing about it: They download the Digital Guest Directory from the app stores, access the web version of it using a QR code or open it on their own smartphones and tablets directly after logging into the Wi-Fi network. In this way, the Digital Guest Directory is available to them around the clock and saves them a visit of the reception desk, picking up the phone or researching on the internet.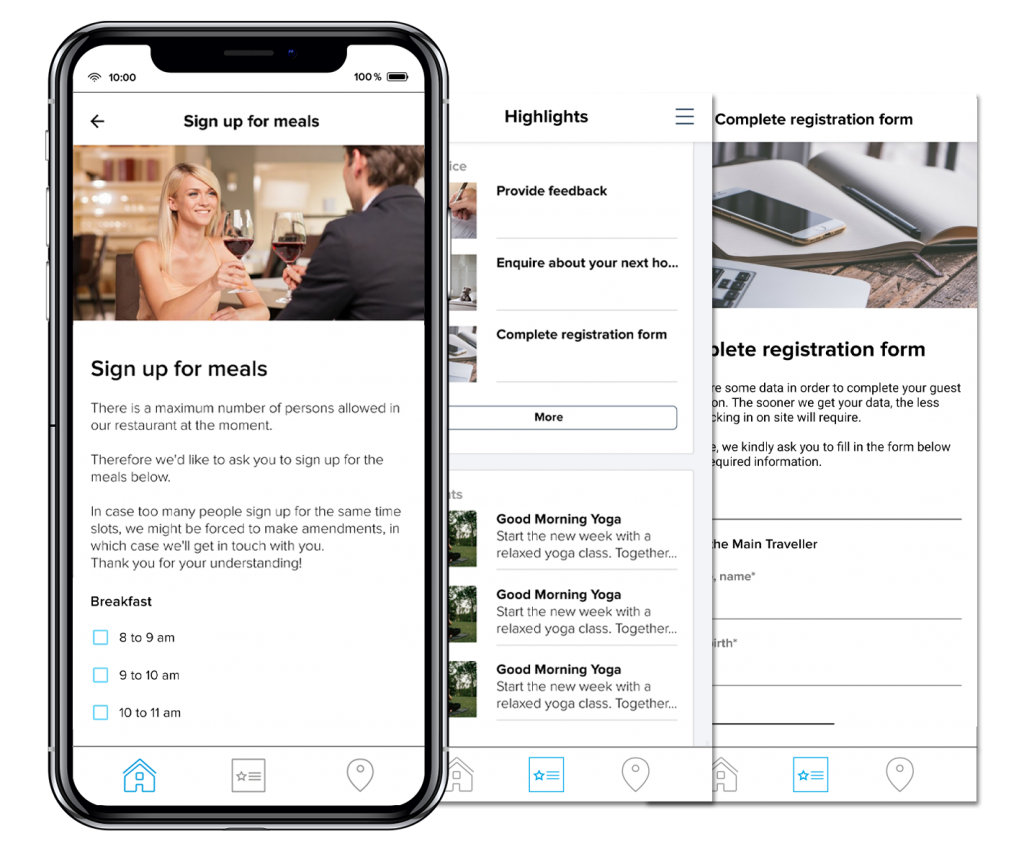 Thanks to digital forms, hotel guests quickly book a table at the restaurant or fill out the tourist registration form contactlessly in the Digital Guest Directory.
How hotel owners benefit from digital services
With the Digital Guest Directory, hoteliers not only inform their guests, but also gain a platform for the upselling and cross-selling of their offers. More specifically, this means that guests can, for example, extend their hotel stay via the digital forms (upselling) or spontaneously book additional offers such as a wellness treatment (cross-selling). And they do so 24 hours a day, regardless of where they are or whether the reception is still open.
Push messages directly to the guests' smartphones attract even more attention, e.g. for an upcoming event, a yoga class or the bike rental. If a guest cancels a massage appointment on short notice, all it takes is a push message via the Digital Guest Directory with a last-minute offer. The appointment will be immediately booked again, with very little effort for the staff.
With the Digital Guest Directory by Guestfriend, hotels therefore kill several birds with one stone: They ensure guest satisfaction, relieve their employees, reduce costs through optimised processes and increase turnover with additional sales! Furthermore, there are some ecological advantages of digital bookings and services. Since room folders, registration forms, feedback questionnaires and order slips for the bread roll service are available in digital form, hotels save large amounts of paper and printing costs. When guests cancel the daily room cleaning digitally, this reduces valuable working time and saves water and cleaning agents at the same time.
Nothing could be more hygienic – contactless booking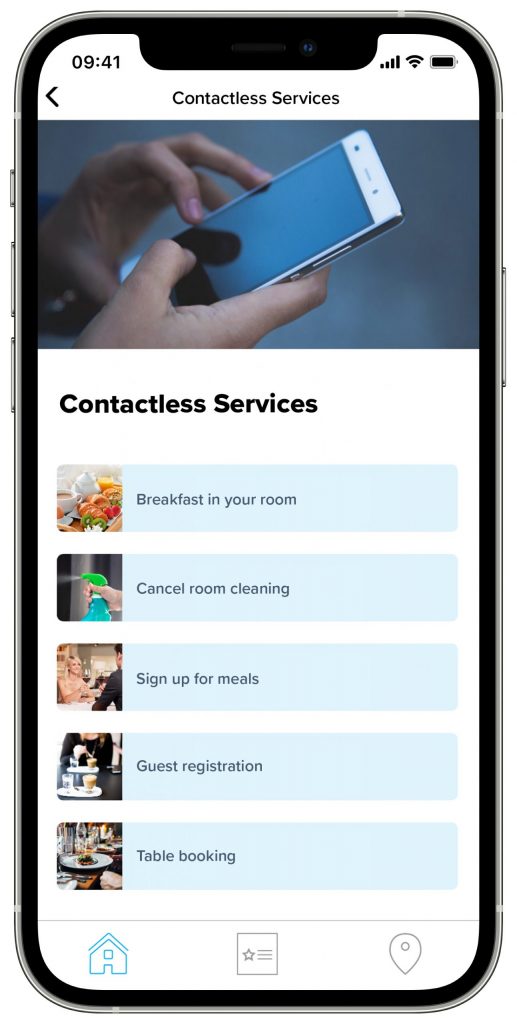 Another reason for the high demand for digital booking and reservation forms is the hygiene aspect. Without physical contact with the reception team, guests simply book the desired offer digitally. Ordering breakfast, requesting extra cleaning or registering for dinner is now possible at any time without contact and regardless of where the guests are.
Should there be any questions, guests can also contact a staff member via the chat function in the Digital Guest Directory. The best thing about this is that guests use their own smartphone, tablet or laptop. Thanks to this BYOD concept, the hoteliers do not need expensive hardware. They also avoid the constant cleaning and disinfecting of stationary devices in the rooms. The Digital Guest Directory, which can be accessed either in the Guestfriend app or as a web version (progressive web app), thus becomes a real helper in the Corona time and contributes significantly to the hotel's hygiene concept.
How hotels use digital forms and online reservations
Whether it is a holiday resort, an urban business hotel, a campsite or a holiday flat – there are suitable digital booking and reservation forms for every type of accommodation.
Here is a small selection of possible use cases:
Or something a little more special?
Buy a gift voucher
Reserve sauna time
Request wine tasting
Register for a hike
Book sports and fitness classes
Request personal training
Use the guest laundry
Hosts who want to like to limit appointments or vacant slots to a certain number, can do so easily in the Digital Guest Directory by Guestfriend: They enter available contingents (e.g. of massage appointments) in advance via an online reservation tool and manage all requests there in real time. Hoteliers also define opening hours, time intervals, cancellation options and notifications here. To make the reservation management even easier, hosts might have reservation confirmations sent to their guests completely automatically. This way, they avoid overbookings, plan resources more efficiently (e.g. employees in the wellness area) and keep an eye on their vacant slots!
How our clients already benefit from digital bookings:
At the Romantik Hotel Bären Dürrenroth, thanks to the digital concierge guests order food and drinks from the garden or from their own room. The hotel generates over 2,500 euros in additional turnover per month through this service in the restaurant alone. Because of that, the Digital Guest Directory including digital forms has been a great relief for the staff.
Since host Veronika Ennemoser has been using the Digital Guest Directory by Guestfriend for the bread roll service in her holiday flats, she saves up to 1.5 hours of time every day. She no longer has to personally collect the order slips from her guests every night. This way, she enjoys her end of work much earlier and also reduces the paper consumption of the Ennemoser apartments. The guests are also delighted with this simple service.

Read the the success stories of our customers here.
You would also like to offer the services of your accommodation digitally? We are happy to personally advise you.
Also read our two-part blog series on the topic of Re-opening the hotel industry: "How hotels kick off with digital services".
---
[1] VIR DATEN & FAKTEN ZUM ONLINE-REISEMARKT, https://v-i-r.de/df/2021/, p. 31
[2] Survey by Bitkom 2020: https://www.bitkom-research.de/de/pressemitteilung/so-nutzten-urlauber-ihr-smartphone-sorglos-im-ausland
This text has been translated automatically.