Digitalization in the hotel industry is making further progress. This is also reflected in the guest communication: hosts are increasingly using digital guest directories, digital menus, infotainment TVs, Wi-Fi solutions and hotel newspapers in the form of e-papers. Because since the Corona crisis, the need for contactless alternatives to personal service has been rising sharply throughout the industry. Even hosts who previously hesitated to invest in digitalization or did not think there was a need for digital services are now taking the next step. To their own pleasure and that of their guests! We explain why digital guest services are important for any accommodation.
Digital guest care for any type of accommodation
As we are serving more than 5,000 hosts, we know: Digitalization affects each and every accommodation business. Whether it is a hotelier, an owner of a guesthouse, a holiday home owner, a campsite operator or the manager of a holiday resort – Guestfriend knows the different needs of every accommodation and therefore responds individually to each customer. What all customers have in common, however, is the desire for satisfied guests, a higher turnover, efficient processes and relief of their staff's workload. And this is exactly what Guestfriend's digital tools are there to help with.
"Everyone benefits from digital guest services, often in different ways. Big wellness hotels just have different needs than holiday apartments."

Melike Yapici, Sales Expert at Guestfriend
A Digital Guest Directory for the guests' smartphones and tablets is a must-have when it comes to digitalization in the hotel industry. It contains all the important information about the accommodation, a travel guide for the region, a chat function to contact the host and digital forms for online bookings. With push messages hosts also send news, tips and offers directly to their guests' smartphones. In addition, there are other functions that are customised to the respective accommodation, for example:
various request and booking forms for services and offers
online table booking and digital menus for the restaurant
guest registration for contact tracing
digital registration form
hotel reviews and quick feedback from guests
Hotel Newspaper in electronic form
digital daily newspapers, magazines and journals
sustainable cancellation of room cleaning
and many more
Excursus:
Especially in combination with the Info Channel the Digital Guest Directory also offers hoteliers an efficient platform for the Cross- and Upselling of their services. This includes, for example, wellness treatments, a dinner in the restaurant or the option for late check-out. On monitors and TVs in the hotel, the Info Channel informs about important news, events & Co. and promotes the hotel's offers. Using QR codes, it guides interested guests directly to the booking in the Digital Guest Directory. Information, entertainment and sales on point!
How the different accommodations benefit from digital guest care
Hotel
B&B or guesthouse
Holiday flat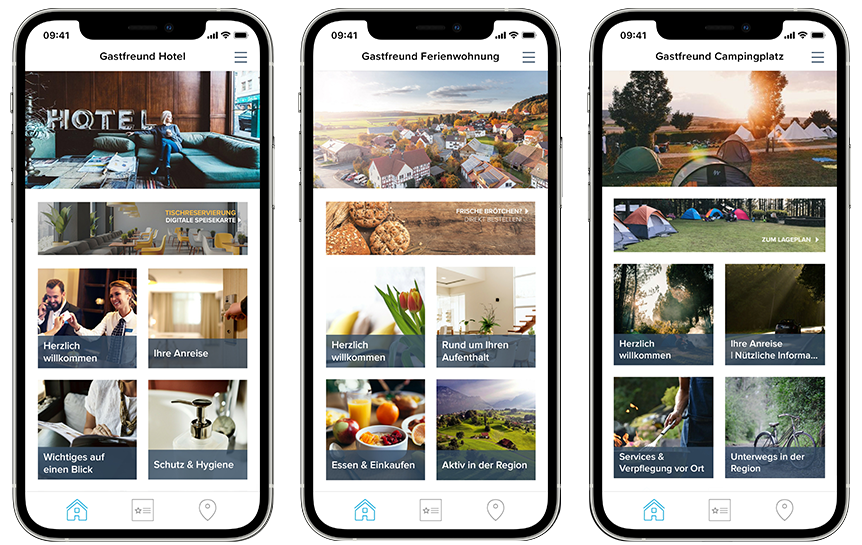 Not only suitable for the typical hotel: The Digital Guest Directories by Guestfriend are as diverse as the accommodations themselves.
Campsite
Hotel chain or hotel group
City Hotel
Conclusion: More time for the guests thanks to digitalization
Despite differing needs and guest structures, all hosts notice one thing: Thanks to digital support, there is more time for guests and their concerns. Digital Guest Directories, Hotel Newspapers, Info Channels and Co. relieve their staff, improve processes and increase turnover at the same time. A modern, hygienic service ensures satisfied guests, regardless of the size or type of accommodation.
Digital guest care is multifaceted. Find the right services for your accommodation! We are happy to help you at any time.
---
This text has been translated automatically.