International city travellers, conference and congress visitors, artists on tour or business people: Business and city hotels have very different guests who often stay only a few days. Accordingly, their expectations are also different. Meeting them requires adaptability. More and more hoteliers therefore turn to digital support to optimise their processes. We show how business and city hotels are now getting back on track and how the Digital Guest Directory helps them with that.
The Digital Guest Directory – perfect for city hotels
Business travellers are usually considered demanding guests. To avoid losing valuable time, business guests want a smooth guest journey from booking to departure without long waiting times. After all, they want to be able to concentrate fully on work during their stay. [1]
This includes, for example, processing check-in and check-out as quickly as possible. Many hoteliers therefore let guests fill out the registration form digitally in advance and deliberately keep the conversations at check-in short. Meanwhile, they provide them with all the information about their stay in their Digital Guest Directory, so that the guests can access the guest information from A to Z, tips and offers as needed. And that's not all: they use the hotel's digital services and, for example, book breakfast directly via their own smartphones. The Digital Guest Directory makes paper room folders, countless flyers and various individual solutions such as messengers, digital booking forms or apps for capturing data redundant: it enables the seamless travel experience that business guests want.
Guest expectations of business and city hotels
Flexibility
Business travellers and short break guests are usually not in the hotel for long. They have little time and want fast, efficient processes during their stay. The guest has forgotten the charging cable for his laptop? The departure flight is delayed and he spontaneously wants to check out later? In situations like these, flexibility is in demand. No problem for tried and tested business hotels: their guests reach them in person, by phone, but also via chat at any time. With the Digital Guest Directory, guests also have a mobile concierge service at their disposal around the clock. With that they can handle their requests completely digitally. It doesn't get more flexible than this!
Because the Digital Guest Directory can be accessed from one's own smartphone at any time via app or progressive web app, it does not matter where a guest is at the moment. This BYOD solution ("Bring Your Own Device") is also convenient for city travellers who only spend little time in the hotel. They find information about the surroundings, excursion tips and a digital travel guide in the Digital Guest Directory – no matter when and how far they are from the hotel.
Note
Guests from all countries meet in city hotels – language barriers and misunderstandings are not far away. Fortunately, with the Digital Guest Directory by Guestfriend, this is a thing of the past: Because on request, the Digital Guest Directory is available in several languages on request, so that guests can simply reread all the important information in their own time.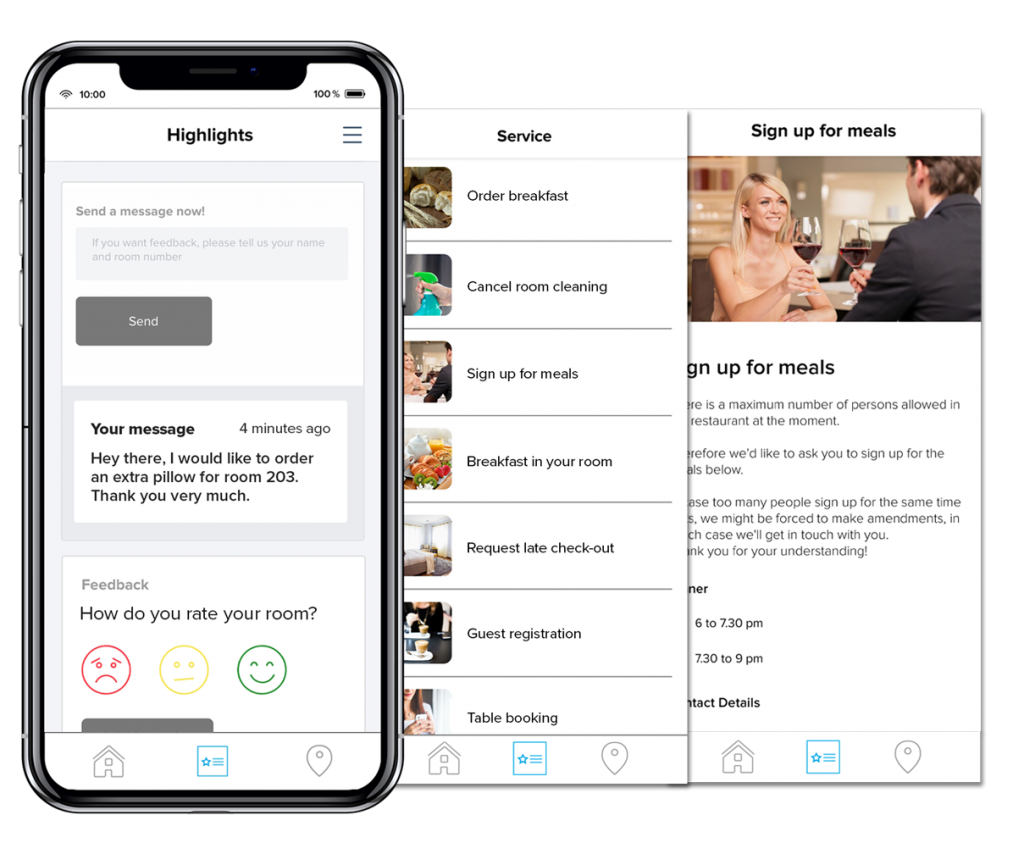 With the chat function and many different reservation and booking forms, the Digital Guest Directory is the perfect helper for a flexible service.
Digital service in city hotels: Makes work easier…
It goes without saying that most business travellers need a stable internet connection for work. In their private lives, too, they are constantly online with their own smartphone, tablet or laptop. Free Wi-Fi throughout the hotel is therefore part of the basic amenities of business and city hotels.
In addition, guests expect more and more digital services that make their stay more pleasant. In addition to guest information, hygiene regulations and tips for the region, the Digital Guest Directory contains digital forms for table reservations, room service, cancelling the daily room cleaning etc. Busy business guests appreciate this quick and uncomplicated service. They like to come back on their next business trip, become regular guests and recommend the hotel to their colleagues.
… and allows you to take a break from your daily life.
As a counterbalance to stressful work, meetings and the like, more and more business travellers also attach importance to their work-life balance. They are happy to make use of additional services in the hotel or leisure activities – provided they do not have to spend a lot of time researching and can act flexibly.
After work, many guests decide to visit the sauna, have a massage or exercise in the gym. Hotels with such facilities should therefore actively offer them to business guests, e.g. via push messages in the Digital Guest Directory.

Guests who prefer to spend their free time reading will also find what they are looking for in the Digital Guest Directory. There, the hotel newspaper with news and offers of the hotel as well as well-known daily newspapers, magazines and journals are available as e-papers.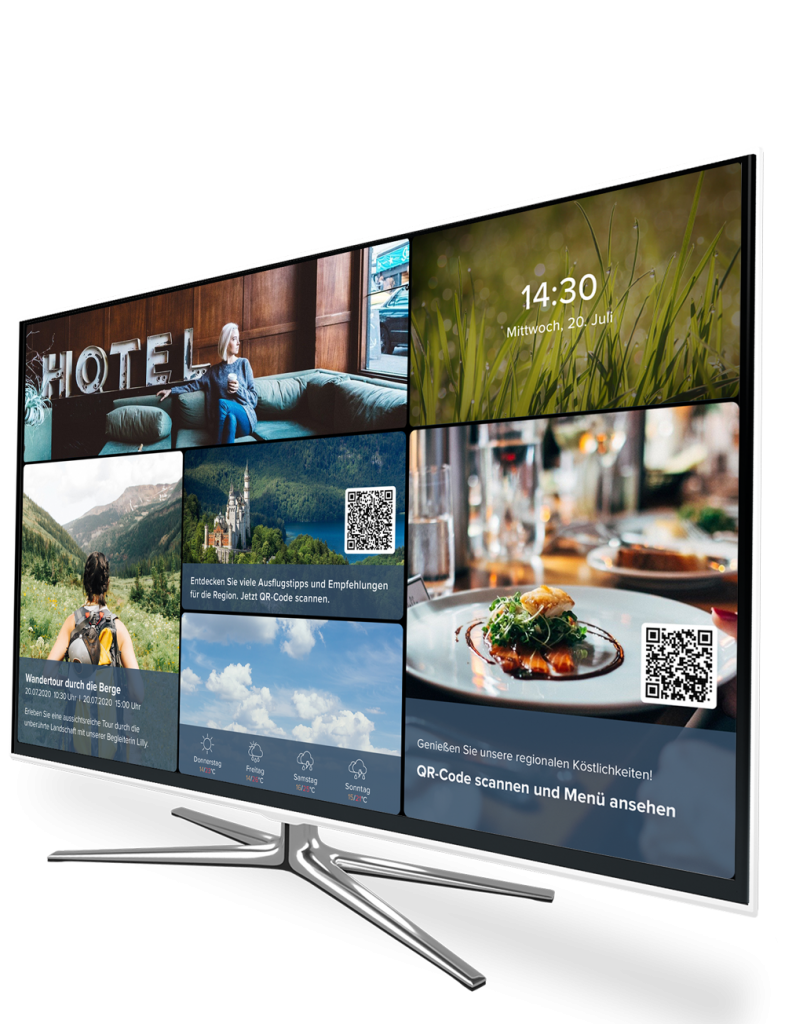 In the evening, guests like to relax in front of the hotel TV. With the Info Channel as a modern infotainment solution, this offers yet another presentation surface for the hotel's information and offers. If the host advertises breakfast in the hotel room on the Info Channel, for example, the guest simply scans the corresponding QR code with the smartphone and fills out the order in the Digital Guest Directory. The next day, the guest is happy about the quiet breakfast and the hotel benefits from additional turnover.
Checklist: How business and city hotels get back on track after the crisis
During the Corona crisis, travel restrictions led to a sharp drop in business travel. So alternatives like viedeocalls and webinars had to be found. While the situation has calmed down in the meantime, some hoteliers fear that companies will rely more on digital meetings instead of business trips in the long run. According to the German Travel Management Association. (VDR), this concern is unfounded: It expects that the number and structure of business trips will change, but that "personal contact [will] remain an important part of business activity […] even after the Corona pandemic." [2]
With this checklist, business and city hotels are prepared for the future in any case:
Install reliable free Wi-Fi throughout the hotel and use it with a Wi-Fi Landing Page use it as a point of contact with the guests
Digitise your room folders and make all important information, offers and tips available in the Digital Guest Directory
Be available to guests at all times (e.g. via telephone, e-mail or chat in the Digital Guest Directory)
Bundle all your services in the Digital Guest Directory and make them bookable online
Introduceup-selling and cross-selling measures to increase turnover
Be flexible: e.g. with payment methods, check-in and check-out times, solutions for individual problems, Digital Guest Directory as app and web version for all mobile devices (smartphone, tablet, laptop, …)
Digitise check-in and check-out processes and thus relieve your staff
Provide offers to balance everyday life: e.g. sports courses, wellness applications, leisure programme, etc.
Offer multilingual information for international guests

Would you like to get started digitally with your hotel? We will be happy to advise you.
---
[1] VDR-Geschäftsreiseanalyse 2020, p. 6: https://www.vdr-service.de/fileadmin/services-leistungen/fachmedien/geschaeftsreiseanalyse/VDR-Geschaeftsreiseanalyse-2020.pdf
[2] VDR-Geschäftsreiseanalyse 2020 , p. 27
Image: ©LIGHTFIELD STUDIOS – stock.adobe.com
This text has been translated automatically.