Every third person now prefers sustainable hotels. [1] By offering environmentally friendly services such as the so-called Green Option, accommodation simply stands out from the competition. Guests waive the daily cleaning of the room and thus reduce the consumption of resources such as water and cleaning agents. You too can contribute to environmental protection together with your guests and benefit yourself. We will show you how to make your hotel operation greener with digital tools and what advantages result for you as a host.
Especially in the last few years, the consequences of climate change have been brought home to us: Extreme temperature differences and floods. But also environmental pollution such as plastic waste in the sea, excessive CO2 pollution and so on are issues that concern each and every one of us. Today, the sustainable behaviour of an accommodation is an important decision criterion for an average of 70% of travellers when booking and a decisive factor for the future of the hotel and host industry.[2]
What does sustainability mean in a hotel?
For companies, the three pillars of sustainability are a practical model for orientation. Accordingly, sustainable action combines environmental (ecological), economic (economical) and social goals in equal measure, whereby these are mutually dependent. [3] In the hotel industry, this means, for example, the conscious use of limited raw materials such as water and energy, economic growth and fair working conditions. Cooperation with regional partners and the avoidance of waste and plastic are of course also part of this.
No wonder cancelling room cleaning is such a popular option! Hotel operators thus save water, electricity, cleaning and washing agents, working time and at the same time relieve the staff. With modern solutions such as the digital guest directory, implementation is easy.
The Green Option – this is how it works
The digital guest directory is a true sustainability talent. It is the contemporary version of the paper room folder and not only replaces countless flyers and brochures, but also combines many interactive functions, such as digital forms. So without the folders with laminated slips of paper and transparent sheets, you reduce both paper and plastic consumption. At the same time, you save printing costs and simplify internal processes. Because digital enquiry and booking forms are the easiest way to cancel room cleaning.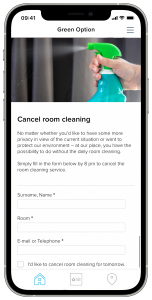 First and foremost, you can point out your environmentally friendly service in person upon arrival or via chat and push message via the digital guest directory. QR codes on a display at the reception lead directly to a form in the digital guest directory, where your guests can select the Green Option.
Many hoteliers offer their guests free drinks, vouchers or bonus points in return. This increases usage and promotes sustainable behaviour. You save resources, reduce environmental impact and, on top of that, stimulate additional sales – an absolute win-win situation.
Of course, this sustainable service also works the other way round: Rarely does a room get so dirty in a short period of time that daily cleaning is really necessary. Therefore, do without it from the outset, as is usual in holiday flats, for example. Only if necessary do your guests request a towel change or intermediate cleaning online via the digital guest directory and you will be conveniently notified by e-mail.
The Green Option makes sense not only for ecological reasons: since the Corona pandemic, awareness of hygiene and one's own privacy is stronger than it was two years ago. Some guests therefore prefer that no unknown person enters the room every day during their stay.
Advantages of environmentally friendly services at a glance:
Saving resources and thus costs
Motivation for additional purchases and thus more turnover
Prospect of positive ROI (return on investment) when using digital tools
Opportunity for better star rating
Cultivation of a nature-friendly image
Support of the regional economy
Attracting new guests who attach great importance to sustainability
Act even more sustainably and optimise existing processes
Would you like to make your accommodation fit for the future?
We will be happy to advise you and find the right digital solution.
This text has been translated automatically.