From the online booking of the room to the digital registration form to reviews on the internet – there are many different aspects of digitalization in the hotel industry. In this blog article, we look at one fundamental part of it: How do hotels digitize all their paper documents, brochures, room folders and newspapers? What are the advantages of Digital Guest Directories, e-papers etc. for hoteliers and their guests?
Say goodbye to paper! Alternatives for printed room folders, flyers, magazines and newspapers
Hoteliers know it well: they would like to inform their guests about everything important as early as possible, such as meal times, reception times, things worth knowing about the region and of course the hotel's offers. But in printed room folders, various brochures and collections of loose notes, guests quickly lose track. Often, they spend a lot of time leafing through in search of the right information or have to rely on the hotel staff for information. This is particularly inconvenient for guests who are currently outside the hotel or who have little time to spare.
Instead, more and more hosts are compiling all important information, tips and offers in a Digital Guest Directory. Documents such as the digital tourist registration form, menus and booking forms for the hotel offers also find a place there. For the bookworms among their guests, many hoteliers also provide a large selection of daily newspapers and magazines digitally. In this way, they are keeping up with the trend, as e-papers and e-magazines are becoming more and more popular! [1]
Digital Guest Directories, e-papers and digital forms offer decisive advantages
Environmetal friendliness
Hosts often print out stacks of pages for a detailed guest directory in every hotel room. Add to that the display of brochures, flyers and daily newspapers, and you have quite a bit of paper. As soon as one piece of information becomes outdated, it all ends up in the waste paper. Those who value sustainability therefore prefer to go paperless.
Simple and fast updating
Whether it's the new menu, the weekly changing activity programme or a price change in the wellness offers – digitally, hosts adapt everything in a few minutes. This way, they always provide guests with the latest information in real time. In contrast, paper room folders, flyers and program overviews have to be exchanged manually by staff throughout the hotel. This costs valuable time that the team would better invest in the personal care of guests.
Clarity
Compared to a printed room folder, a newspaper or a collection of brochures and flyers, a Digital Guest Directory is far better organized. Thanks to logically structured sub-pages, links to further content and appropriate illustrations, guests can navigate intuitively through all the content. In this way, they quickly reach their destination without lengthy research.
Hygiene
This point turns out to be a real advantage of Digital Guest Directories, e-papers and digital forms, especially during the Corona time. But even apart from the current situation: who likes to pick up worn-out documents with coffee stains and dog-ears? With the BYOD solution of Guestfriend (Bring Your Own Device), guests use their own smartphone or tablet to access the content. This eliminates the need to constantly clean and disinfect folders and laminated slips of paper. An additional advantage of this concept is its user-friendliness. Because everyone knows their own device, the handling is clear from the start. Guests therefore do not even have to familiarise themselves with stationary tablets or touch screens and hoteliers avoid any comprehension problems.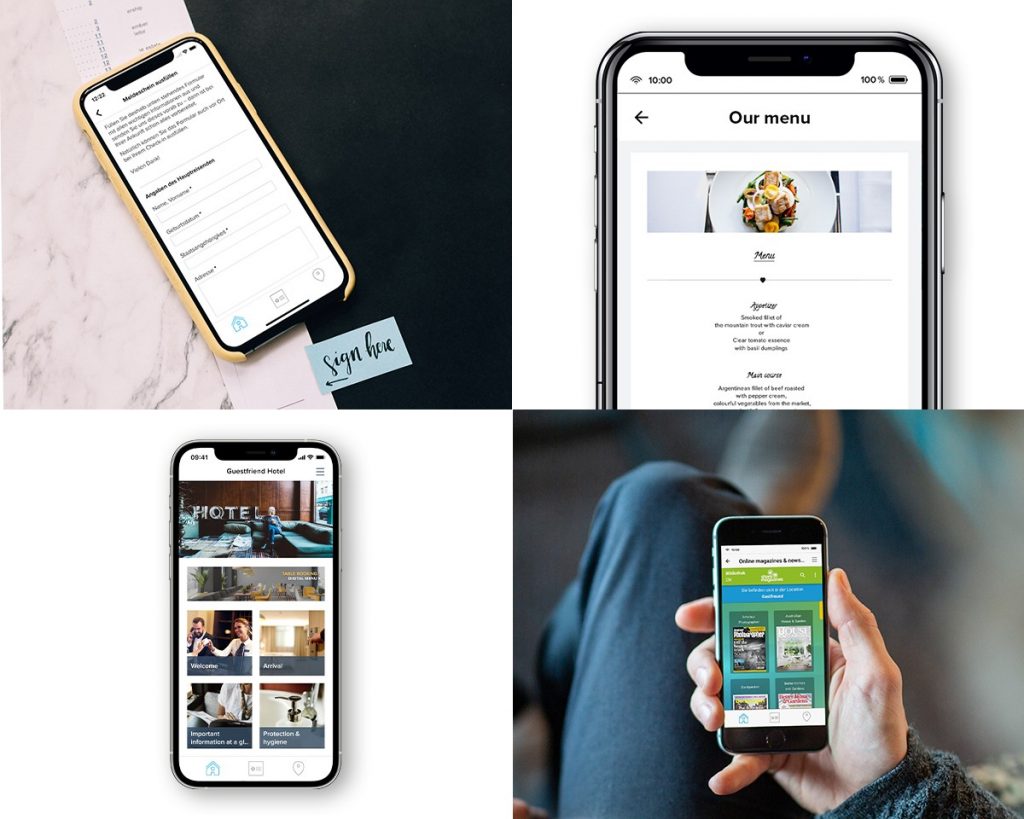 Fill out the registration form, check the menu, find information or read newspapers and magazines online: Thanks to the BYOD concept, guests can access digital services contactlessly with their own smartphone, tablet or laptop.
Independence from the location
Guests use most digital offers from anywhere. Even those who are currently away from the hotel have access to digital information, travel guides and the like in the Digital Guest Directory. Future guests fill in the registration form even before their stay and browse through the hotel's information and offers. And after the stay? With the push message function of the Digital Guest Directory, hosts explicitly reach out to those who have recently left and ask them for a review or promote further bookings.
Unlimited availability
Unlike printed documents, Digital Guest Directories, e-papers and magazines are available to an unlimited number of people at the same time. So every guest reads what really interests them and doesn't have to settle for the magazine that's just left over.
Positive image
Hoteliers who move with the times and promote digitalisation in everyday hotel life benefit from a modern image. In particular, they inspire the "digital natives" or guests of the "Generation Z". Because by now, especially people under 30 access news, newspaper articles and magazines predominantly online and are used to digital reading from everyday life. [2] Regardless of age, more and more guests expect a digital service in the hotel and prefer accommodation with digital offers when booking a hotel. [3]
Trend: less paper, more digitalization
All these reasons clearly show that the future is digital. Many modern hotels now completely dispense with traditional room folders, brochures and printed newspapers. In this way, they not only reduce paper consumption, but also their printing costs. In a user-friendly app or web app, guests can quickly find the information they are looking for at any time, read newspapers online and book offers conveniently from their own smartphone. As studies show, digital offers also promote guest satisfaction [4] and are a decisive booking criterion for almost one in four people when choosing accommodation. [3]
On the other hand, even employee satisfaction increases thanks to digital helpers. Services such as the Digital Guest Directory relieve the staff and simplify hotel processes. On the other hand, hoteliers generate higher revenue with additional bookings of offers in the Digital Guest Directory.
Digitise your Guest Directory now, replace print newspapers and magazines with e-papers and delight your guests!
In part 2 of our blog post, we show you how to significantly reduce your hotel's paper consumption in just a few steps. Read now!
---
[1] Bundesverband Digitalpublisher und Zeitungsverleger (BDZV), ZMG E-Paper-Studie 2020: https://www.bdzv.de/service/presse/pressemitteilungen/2020/e-paper-studie-2020
[2] ARD/ZDF-Massenkommunikation 2020: Mediennutzung im Intermediavergleich, p. 399f.: https://www.ard-werbung.de/fileadmin/user_upload/media-perspektiven/pdf/2020/070820_Kupferschmitt_Mueller.pdf
[3] IMWF & Scandic Hotels 2019: "Wachstumstrends im Deutschen Hotelmarkt", p. 55: https://www.scandichotels.de/press-room#/pressreleases/studie-jeder-dritte-deutsche-bevorzugt-nachhaltige-hotels-2832631
[4] Digitalisierungsindex Mittelstand 2020/2021 Der digitale Status quo im deutschen Gastgewerbe, p. 6ff.: https://www.digitalisierungsindex.de/wp-content/uploads/2021/02/Telekom_Digitalisierungsindex_2020_BRANCHENBERICHT_GASTGEWERBE-1.pdf
Image: ©blacksalmon – stock.adobe.com
This text has been translated automatically.