Printed room folders, brochures and newspapers have become a thing of the past. Instead, hotels use digital tools more and more often to inform and entertain their guests. As the first part of our blog article illustrates, digital guest directories and e-papers have clear advantages over the paper versions. Surely you can think of documents in your accommodation that you would like to digitise, as well. But where should one start? We show you how to get to a paperless hotel step by step and how to establish a sustainable, hygienic and modern service for your guests.
Step 1: Present all information and tips about the accommodation in your Digital Guest Directory
Worn-out room folders in the hotel room, brochure racks full of flyers in the lobby, daily newspapers with coffee stains in the breakfast room: all these things are neither nice to look at nor hygienic. Together with the – often still printed – booking confirmations, they usually account for the largest share of paper consumption in the daily hotel business. Instead, combine all important information about the hotel, the digital registration form, menus, etc. in a Digital Guest Directory. This is the first big step on the way to a paperless hotel.
A QR code, a link or a Wi-Fi Landing Page is all your guests need to get started. After that they have everything important at their fingertips on their own smartphone. Guests even have a digital travel guide with various excursion and tour tips with them at all times — as an app or on the web (Progressive Web App). In addition, the Digital Guest Directory has interactive functions that a paper room folder simply cannot offer. Thanks to digital forms, guests can book your hotel's offers quickly and easily, and via chat you communicate directly with your guests anytime.
Sounds complicated? With Guestfriend you get your Digital Guest Directory fast and easy! We know that you have a lot of work. That's why we take care of the setup for you. Even after that, we will still be at your side with support and advice.
Step 2: Digitise frequently changing documents, such as the weekly programme, menus and daily specials
Recently, since Corona at the latest, hoteliers have increasingly used digital alternatives for menu cards or weekly programmes. For a hygienic service, make these documents available to your guests digitally, e.g. in the form of a PDF in the Digital Guest Directory. The big advantage: If there are changes in the activity programme or if you have a daily changing food recommendation, you only have to update the corresponding file once and upload it again in the online editor of the Digital Guest Directory. This not only saves you printing costs and paper, but also working time!
Tip:
Present your recommendations not only in the Digital Guest Directory, where guests access them with their own smartphone or tablet, but
also use your screens everywhere in the hotel
. Perfect for this:
the Info Channel for hotel TVs.
In the lobby, at the reception, in the rooms and everywhere else where there are monitors, you can use it to show your guests the
current menu, activities and offers
. You manage the content yourself in the online editor. Since it uses the same files and pictures as the Digital Guest Directory, you
update it with just a few clicks
.
Step 3: Offer magazines and newspapers as e-papers
For almost a quarter of the guests, a free offer of magazines and newspapers is a decisive factor when choosing a hotel. [1] Online newspapers and magazines offer several advantages: With a collection of digital reading material such as the one sharemagazines offers, your guests can choose from more than 500 different daily newspapers and magazines. Depending on the demand, any number of people can access a medium at the same time. That's why the e-papers are literally never out of stock and everyone can read whatever they like. This means unlimited reading material for all your guests on site! Because the regional, national and international newspapers and magazines are available at all times throughout the hotel and in the surrounding outdoor area. Your guests can, for example, read the daily newspaper in bed in the morning or browse through their favourite magazine by the hotel pool.
Since the latest issue is always automatically available online, the service is environmentally friendly in two ways: with the digital newspapers, you reduce your paper consumption and at the same time avoid the delivery of numerous printed magazines and newspapers by post. And for the subscription you even pay less than for all the printed versions!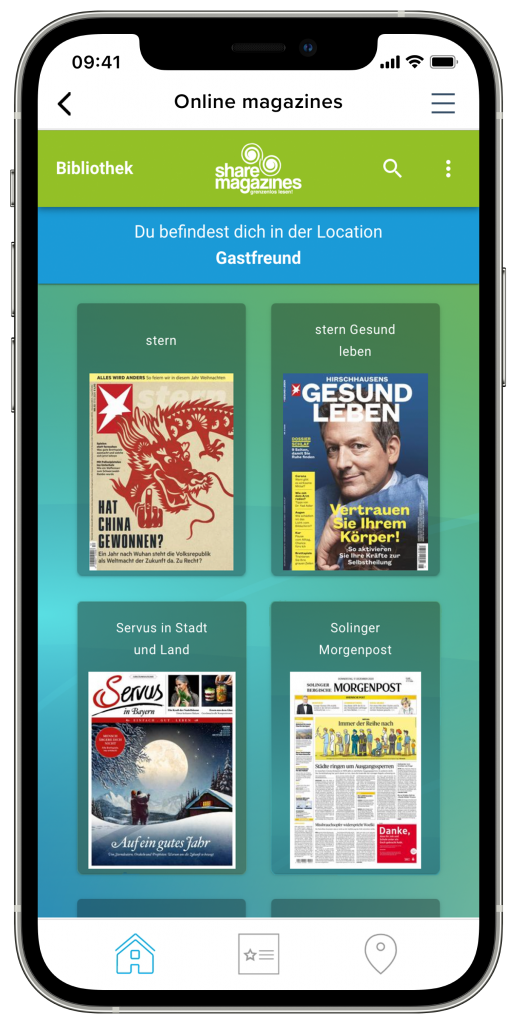 By the way:
The service of sharemagazines can be easily integrated into the Digital Guest Directory by Guestfriend. Without downloading an additional app, guests read their desired daily newspapers and magazines on their own smartphone or tablet. Just talk to your contact person at Guestfriend about it!
Step 4: Share your hotel newspaper online
In addition to the well-known daily newspapers and magazines, you would like to serve your guests your own content at the breakfast table? With the online-editor for hotel newspapers by Guestfriend, this is very easy. Using the drag-and-drop function, you can create a professional hotel newspaper in no time. Print it out if you like, but make it also available to your guests digitally.
In this way, you can inform your guests first thing in the morning about your activity programme, excursion tips, events in the surrounding area and the menu recommendation of the day. Guests access the paperless version at any time in the Digital Guest Directory or via a link. Even if they leave the hotel during the day. But the hotel newspaper is also part of the entertainment for young and old: with riddles, colouring-in templates for children, horoscopes, jokes and quotes, it entertains all of your guests. These elements are available ready-to-use in the Guestfrind online editor and perfectly fill every empty space in your hotel newspaper.
Tip:
With the hotel newspaper editor you can also easily create a menu or an inhouse newspaper for your employees following the same procedure. Just be creative!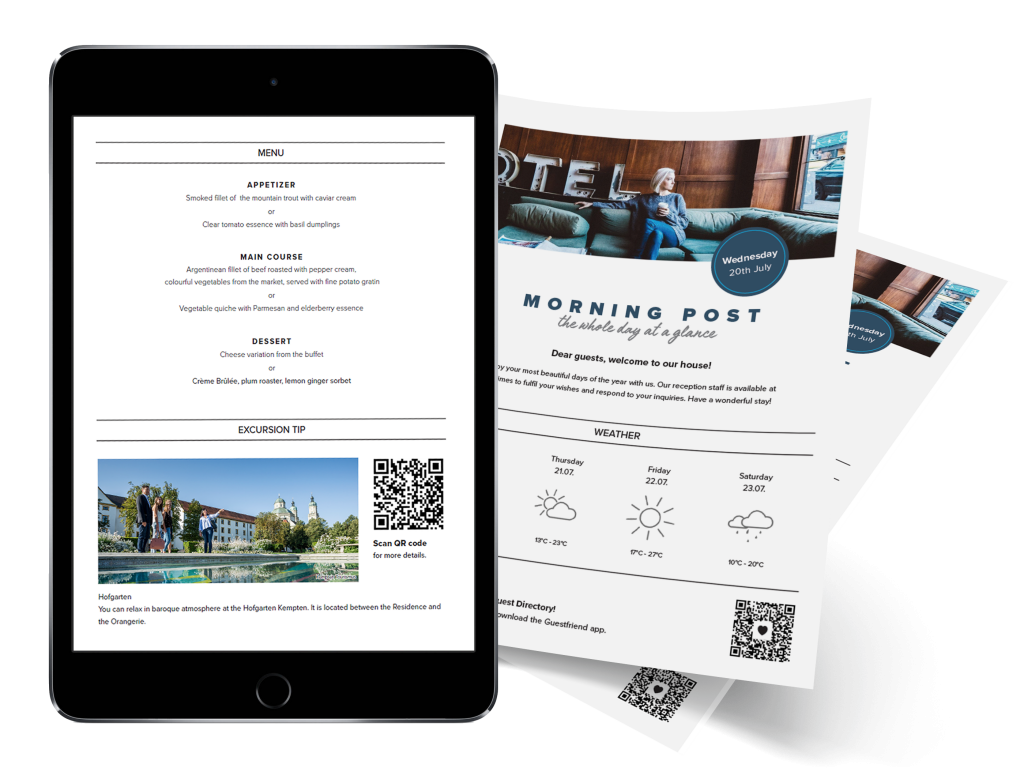 As an e-paper or printed out: The hotel newspaper provides up-to-date information. It presents the hotel's offers and entertains guests with quotes, jokes and riddles.
Conclusion: The easy way to a paperless hotel
As you can see, you can save a lot of paper with just a few measures: The Digital Guest Directory replaces flyers, brochures, travel guides and registration forms. It also offers space for digital menus and programme overviews, which you probably used to print out on paper and display at reception. The digital reading material covers newspapers and magazines – paperless and for an unlimited number of guests. Finally, your selfmade digital hotel newspaper complements the offer with your own content. And what's best about all of that: with the Digital Guest Directory you combine everything in one single tool!
Get started digitally and reduce paper consumption in your hotel to a minimum!
Do you have any more questions about the paperless hotel? We will be happy to answer them:
info@guestfriend.com | +49 831 930 657 0
---
[1] Scandic-Report-Bevoelkerungsbefragung-Wachstumstrends-im-deutscher-Hotelmarkt-2018, p. 55 https://www.scandichotels.de/press-room#/pressreleases/studie-jeder-dritte-deutsche-bevorzugt-nachhaltige-hotels-2832631
Image: ©Tierney – stock.adobe.com
This text has been translated automatically.