Staff shortages are currently a concern for almost all businesses in the hotel and catering industry. Temporary closures and short-time work in the Corona period further reinforce this. Hoteliers now clearly feel the the consequences now: the hotels are allowed to open, but the remaining employees hardly have a breather. In the long run, this is not sustainable for any team! Hosts are therefore looking for solutions that relieve the hotel staff long term. We show how digital tools can help with this.
Staff shortage in the hotel industry: effects on everyday hotel life
In 2020, one in six employees moved from the hospitality industry to another sector. [1] Now that the guests are back, these employees are missing. For the remaining team at reception, in administration, in the kitchen, in housekeeping or the restaurant, this means even more work. After all, guest care should not suffer from the shortage.
However, too much work puts the staff's resilience to the test: stressed employees make more mistakes, tend to be less satisfied and are sick more often. [2] Hoteliers naturally want to avoid that more colleagues leave or are permanently absent. Moreover, they can only counteract the staff shortage by making the work in the hotel more attractive for junior staff and trainees. Therefore, employers in the hospitality industry are specifically looking for ways to reducing stress in everyday hotel life.
Relieving hotel staff – but how?
The equation is simple: if increasing the team seems almost impossible, the workload must decrease instead. This means that hoteliers have to focus on more efficient processes and automate certain tasks. We have summarised how this works in the different parts of a hotel:
Reception and Front Office
The reception is the first and most important point of contact for guests on site. Check-in, information on breakfast times, activities and Co., special requests from guests and finally the check-out – there is a lot to do at the reception desk!
But fortunately, there are some tasks that digital tools – like those from Guestfriend – take over and thus significantly relieve the staff. Above all, this applies to the processes that are the same for most guests: For example, filling out the mandatory registration form. Using a form in the Digital Guest Directory, travellers already fill in their personal data before arrival. This saves several steps at check-in and the reception team stores the completed registration forms digitally in the system – so no form gets lost in the rush.
In addition, the reception or front office often functions as the central information point: the employees there answer the typical questions about the hotel and its surroundings several times a day. They know all the answers by heart. So it only makes sense for hotels to compile everything important in a guest directory: digital and available to all guests at any time on their own smartphone or at a stationary info point. In addition to basic information such as arrival and departure formalities, WiFi password and breakfast times, they will find digital forms to book hotel offers themselves and a mobile travel guide with excursion tips. This not only relieves the reception team, but is also convenient for the hotel guests. If guests still have a question, they can reach the front office via chat in the Digital Guest Directory. Regardless of whether they are in the hotel or out and about, they can get quick help and information at any time. The staff answers these requests in the usual e-mail programme.
The employees update all information and offers online in a matter of seconds and no longer have to exchange each individual room folder when changes are made. Once created, they can also use their content with one click for other channels such as their own Hotel Newspaper or the Guestfriend Info Channel.
Housekeeping
Cleanliness is a very important evaluation criterion for many hotel guests. Sufficient staff as well as simple processes in room cleaning are therefore essential. There is a really easy way for hoteliers to relieve housekeeping: the Green Option. Guests who choose not to have their room cleaned can cancel the cleaining for the respective day. This can be done with a few clicks in the Digital Guest Directory. The number of rooms that the staff have to clean in one day is thus reduced automatically. At the same time, hotels save water and cleaning costs and offer their guests an environmentally friendly option during their stay.
Thanks to the Digital Guest Directory, room folders and flyers are no longer necessary. Housekeeping therefore saves valuable time because they no longer have to disinfect the information material lying around and check it for traces of usage. Cleaning staff also no longer have to distribute or collect magazines and newspapers in the lobby: Guests can access more than 500 well-known daily newspapers and magazines online at any time via Digital Guest Directory by Guestfriend so they don't miss out on their favourite newspaper even on holiday.
Food and Beverage
When the service and kitchen staff in a restaurant can no longer keep up, this often results in long waiting times, cold food and dissatisfied guests. But with just a few measures, hosts can simplify the processes and relax the situation:
Digital menu
Selection form for breakfast and meal times
Table reservation, food ordering and room service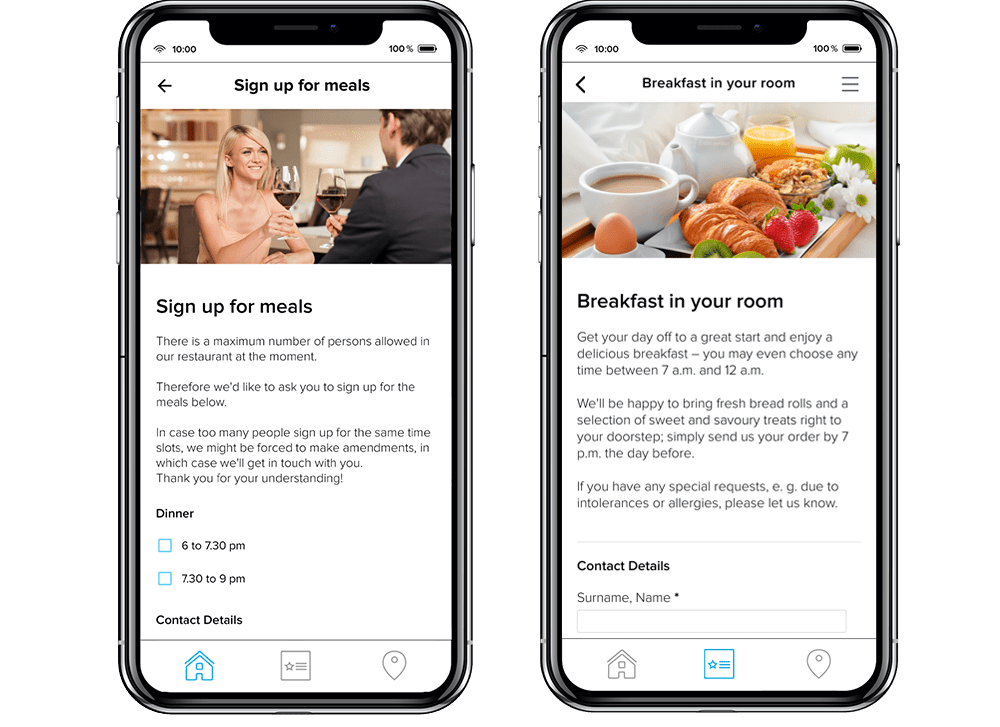 In the Digital Guest Directory, guests register in advance for dinner or breakfast at the desired time or order food and drinks straight to their room. Digital forms offer many possibilities!
Sales and marketing
Sales and marketing tasks are often neglected in hotels. After all, they are only indirectly related to the care of the guests on site. Right now, however, additional revenues from hotel offers are more important than ever! Because many hosts are still feeling the loss of revenue during Corona time. Hotels should therefore actively advertise their offers and specifically point them out to their guests. This includes, for example, wellness treatments, bicycle rental, products in the hotel shop or restaurant visits.
This is very easy with digital helpers. For example, hoteliers send their current offers directly to their guests' smartphones via push message. To do so, they enter the respective message in the online editor by Guestfriend and select the desired sending time. In this way, hotels can draw attention to excursion tips or offer a n available wellness appointment at short notice. Guests then then secure via a digital booking form in the Guest Directory. A real opportunity to increase sales without much effort! And even before or after the guests' stay, the Digital Guest Directory is an important channel for the upselling and cross-selling of offers. For example, hoteliers can convince guests who have just left the hotel to book another stay with a discount. Guests who are about to arrive can book offers already from home and thus increase the anticipation of their stay.
In addition to push messages, the hotel's own newspaper also helps promoting the offers. As a daily morning post or weekly information journal, it informs guests about the latest news, entertains with riddles, jokes and quotes and presents offers. Thanks to the user-friendly online editor by Guestfriend including its large data pool with ready-made content, the creation effort is low. In just a few minutes, the hotel newspaper is available online as a PDF for printing or publication.
Other points of contact with guests:
The Info Channel: Screens catch the eyes and draw attention to the information and offers like no other medium. The Info Channel is therefore the ideal platform to advertise menu recommendations, massage appointments, bike rental and much more. Read more about the Guestfriend Info Channel here.
The Wi-Fi Landing Page: This page opens directly after logging into the hotel Wi-Fi. But hotels not only welcome their guests with it. They also link the Digital Guest Directory as well as the most important booking forms on the page. The Wi-Fi Landing Page thus provides a quick access to the hotel's digital services. Read more here.
How hoteliers benefit from relieving their hotel staff
Now one thing is clear: tools such as the Digital Guest Directory and the Hotel Newspaper Editor ensure more efficient processes and take over tasks in many ways. So if you want to relieve the hotel staff even with a shortage of skilled workers it's best to rely on digitalisation. Hoteliers primarily increase the satisfaction of their employees. That means that they are then more motivated and have more time for personal guest care. At the same time, there are other positive effects such as happier guests, increases in turnover and cost savings through better resource planning. In addition, the hotel benefits from a more modern image and better guest reviews.
What are you waiting for? Use digital helpers and give your staff time to breathe!
---
[1] NGG press release 06.07.2021, Gewerkschaft NGG fordert bessere Arbeitsbedingungen in Hotels und Gaststätten: https://www.ngg.net/presse/pressemitteilungen/2021/jeder-sechste-beschaeftigte-hat-das-gastgewerbe-im-corona-jahr-verlassen/
[2] Süddeutsche Zeitung 2016, Wer im Job unzufrieden ist, wird häufiger krank: https://www.sueddeutsche.de/karriere/fehlzeiten-report-wer-im-job-unzufrieden-ist-wird-haeufiger-krank-1.3158011
Image: © Flamingo Images – stock.adobe.com
This text has been translated automatically.