Holiday homes and self-catering accommodations are booming! Especially since the "Corona year" 2020, when social distancing, mandatory face masks and other safety measures have shaped the hospitality industry, more and more guests appreciate the privacy and independence in accommodations where they are on their own. This also applies to serviced apartments, which are usually designed for longer stays. But how do hosts take care of guests, some of whom they never meet in person? We summarise the characteristics of guest services in holiday homes and serviced apartments and show which digital helpers support you in the process.
Holiday homes and serviced apartments – differences and similarities
Both holiday properties and serviced apartments belong to the non-hotel accommodation (German: "Parahotellerie" [1]). This means that compared to classic hotels, there are fewer services, such as catering, daily room cleaning and a reception. The guests take care of the catering themselves – they usually have a kitchen or kitchenette at their disposal.
Holiday home or holiday flat
Holiday homes and holiday flats are often located in touristic areas, e.g. in a city, by the sea, in a mountain region or by a lake. Among the owners of holiday properties there are both full-time hosts and those who secure a secondary income by renting out their properties. Just like the hosts, the accommodations are diverse: from cosy one-room flats to luxurious villas, everything is possible. When booking, usually only the accommodation and the final cleaning are included in the price.
However, hosts of holiday homes often offer additional services. These include, for example:
Extra cleaning
Fresh towels
Bike rental
Guided tours
Pony riding
Sauna use
Extending your stay
and much more
Serviced Apartment
In contrast to holiday homes, serviced apartments are much closer to classic hotels on the accommodation spectrum. The providers are often well-known hotel chains or companies specialising in serviced apartments. As the name suggests, certain services are already included in the booking price, such as weekly cleaning of the flat or laundry service.
Serviced apartments are often located in large cities in places with good access to public transport. There they serve as a "temporary home" for business travellers who spend several weeks or months in one place for work reasons. Similar to holiday homes, guests can choose from a variety of services in serviced apartments:
Refrigerator refill
Room service
Extra cleaning
Fresh towels
Cancellation of the weekly cleaning
Car sharing
Gym use
Extending your stay
and much more
Looking after guests in holiday homes and serviced apartments: How much care would you like?
Self-determination: This is exactly what guests want when they book a holiday home or serviced apartment. More and more often, hosts also handle the handover of keys without personal contact, e.g. via key safe or with an access code. This way, it is possible that the owners of the house or flat are not on site themselves and organise the whole rental remotely.
Because there is no reception staff in holiday homes and serviced apartments, unlike in hotels, hosts themselves have to clarify all questions before, during and after the stay. The Digital Guest Directory helps them significantly with this. There, hosts summarise all information and answers to frequently asked questions in their "Things to know from A to Z". Guests access it with their own smartphone or tablet and find the information they are looking for with just a few clicks , such as the house rules, check-in and check-out times, instruction manuals and much more. In addition, they also book the host's offers via booking or reservation forms directly in the Digital Guest Directory. Guests ask their host any questions that aren't answered in the "A to Z" openly at any time via the chat function. In this way, guests and hosts always remain in personal contact despite the distance.
The chat as well as booking forms in the Digital Guest Directory make contactless communication between guests and hosts easy.
Advantages of the Digital Guest Directory for hosts
Compared to a printed information folder, the Digital Guest Directory has some decisive advantages: With all its contents and offers, guests themselves choose how much service they want. More digital service therefore means more independence for guests and increases guest satisfaction.
Moreover, it is not tied to the accommodation in terms of time or location. Guests access it from home before their stay or when they leave the accommodation during the day. Even after departure, they continue to use the host's digital services and, for example, book their next stay or give feedback.
Furthermore, the Digital Guest Directory is more hygienic than the analogue version: cleaning and disinfection of a printed folder is no longer necessary. Since guests use their own device (bring-your-own-device concept), there is no risk of infection from the Guest Directory. Another positive effect: dog-eared, faded or stained information folders are a thing of the past.
Last but not least, hosts can easily keep the Digital Guest Directory up to date. Via the online editor by Guestfriend, they exchange outdated documents and information and update them in real time. Because there is no need for printing and physical exchange at the accommodation, they save valuable time as well as printing and travel costs.
More tips for guest care in holiday homes and serviced apartments:
1. Attention for the Digital Guest Directory
2. Upselling and increasing sales with the TV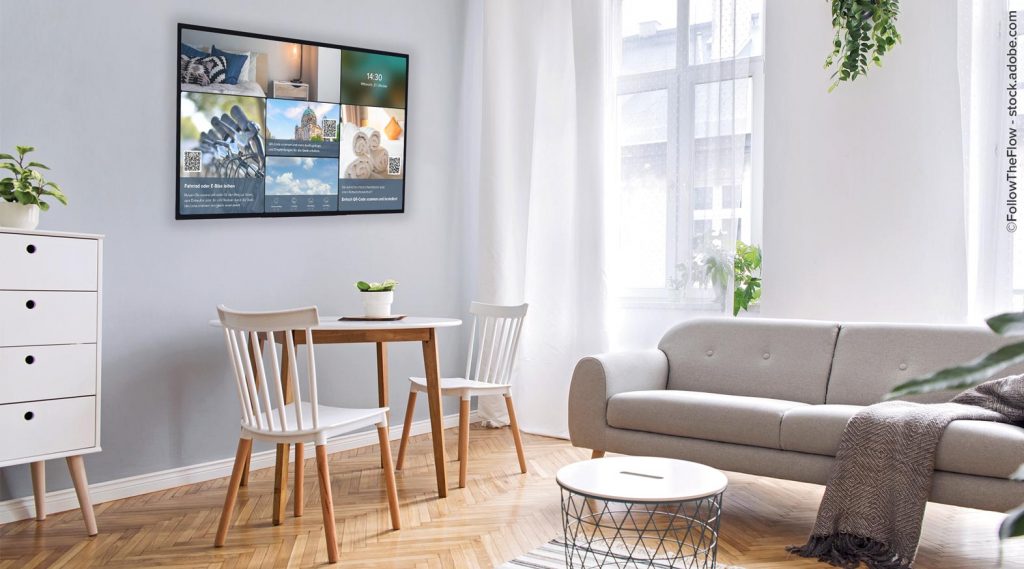 Hosts use the info channel by Guestfriend on the existing screens in their holiday home or serviced apartment. There is no need to invest in new hardware.
You own a holiday flat, holiday home or offer serviced apartments? Take care of your guests contactlessly and still personally! We show you how it works.
---
[1] Südostschweiz.ch – Parahotellerie – Powerbranche mit viel Potential: https://www.suedostschweiz.ch/blogs/studentenfutter/2021-09-28/parahotellerie-powerbranche-mit-viel-potential
Images: ©fotofabrika – stock.adobe.com, ©FollowTheFlow – stock.adobe.com
This text has been translated automatically.