In most accommodations, the reception staff take on the tasks of a tour guide in addition to their typical tasks such as check-in, check-out and payment processing. They provide city maps and flyers on various sights, give excursion tips, distribute tourist tickets, plan trips and advise guests depending on the weather. It is not uncommon for guests to forget some details a short time later due to the abundance of information. You can do better! We show how hosts give their guests orientation with a digital travel guide and relieve their team at once.
Relief for hotel staff and comfort for guests
More and more hosts are struggling with staff shortages and therefore often have not enough employees at reception. If a guest then wants comprehensive leisure advice including excursion tips and directions, this quickly leads to long queues at reception and increasing dissatisfaction among waiting hotel guests. Therefore, hosts seek relief in the form of digital helpers such as Digital Guest Directories or travel guides for their guests' mobile devices. The big advantage here is that the smartphone is already a constant holiday companion for the majority of travellers:

Source: Allianz Partners, Travel 2019 [1]
Perfect match: digital travel guide and Digital Guest Directory by Guestfriend
Digital travel guide
Long waiting times at the tourist information, communication problems in a foreign country and dozens of flyers for sights and activities in the backpack – travellers know the struggle. That's why hosts who offer information digitally clearly score points in terms of guest convenience. With the digital travel guide by Guestfriend, they provide guests with information and tips for sights, activities and excursion destinations in the region around the clock. The practical thing about it: the travel guide is neither bound to a place nor to a time. That's why guests can access it at any time before their stay, during excursions on holiday or after their departure.
Digital Guest Directory
Hosts summarise all information and offers of the accommodation itself in the Digital Guest Directory. This answers the most frequently asked questions from A to Z even before arrival. Just like the digital travel guide, it is available to guests around the clock on their smartphone. Thanks to chat and push messages, hosts communicate with their guests at a distance, but still personally. Contact does not break off even after departure. Additionally, guests fill out the registration form digitally and book offers contactlessly. That could be a wellness treatment or the bread roll service. In short, the Digital Guest Directory simplifies processes and reduces the workload of the staff. In addition, worn-out, unhygienic and outdated room folders are finally a thing of the past.
Everything from one source – everything in one app
Guests do not need an additional app to access over 300 travel guides for cities and regions across Europe. If their host uses the Digital Guest Directory by Guestfriend, they land in the travel guide register with one click. This immediately suggests the right travel guide for their place of stay. It is just as easy for guests to navigate back to the Digital Guest Directory of their accommodation. There they, for example, quickly check the dining times of the hotel restaurant or book a massage after an exhausting excursion day.
All the important things at a glance: This is what you find in a digital travel guide by Guestfriend
All travel guides are unique. That is because the Guestfriend editorial team writes all texts themselves, carefully selects pictures and adapts topics to the respective destination. But with the following sections every travel guide is guaranteed to offer the perfect mix of information and entertainment: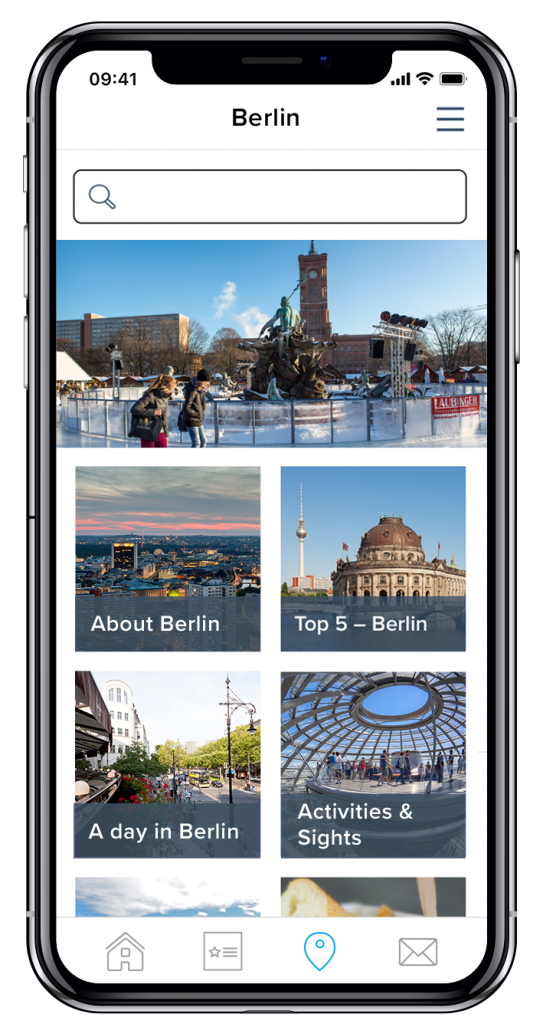 Our tip: Take a look around our travel guide portal and get an idea of the different contents for yourself. Maybe you'll discover a region you've always wanted to travel to?
Digital travel guide: advantages for hosts
With all the content mentioned, the travel guide is a real help for guests when planning their holidays. But there are also some advantages for hosts, because the digital travel guide by Guestfriend is …
Up to date: We regularly update all digital travel guides and adapt image material to the season.
Reliable: We work together with many local tourism associations in the production process and only use routes and tours from authors with local knowledge.
Relieving: You no longer lose time replacing outdated flyers or information brochures. Because in the digital travel guide by Guestfriend all information is automatically up to date. The advice you give your guests is limited to a short, but all the more cordial conversation, because they can read all the dry details in the digital travel guide.
Free of charge: Hosts who use a Digital Guest Directory by Guestfriend get the digital travel guide on top for free!
Sustainable: You save countless paper flyers that would otherwise end up in the trash after a few days. This helps to protect the environment.
Consistent: The digital travel guide resembles your Digital Guest Directory in its appearance and navigation. This way, both services together form a consistent image and your guests can easily switch back and forth between the two.
Flexible: You are the specialist for your region! If you are missing a point of interest or an insider tip in the respective travel guide, we are always open for suggestions.
Offer your guests information about your accommodation and your region digitally around the clock and relieve your team! Do you have questions about the Digital Guest Directory or the digital travel guide by Guestfriend? We will be happy to advise you.
info@gastfreund.net | +49 831 930 657 0
---
[1] Allianz Partners, Travel 2019, p. 19ff.: https://www.allianz-partners.de/content/dam/onemarketing/awp/allianz-partners-de/pressetexte/studien/Ergebnisbericht_Allianz_Partners_Reisen_Dezember_2019.pdf
This text has been translated automatically.