In our last blog post we have presented our latest product – the Hotelboard: The new Hotel Operations Platform not only supports you in communicating with your guests and team members, but also facilitates the completion of daily to-dos and knowledge management in the hotel. Thus, Guestfriend's hotel software supports numerous processes in front of and behind the reception desk. The heart of this hotel software are the Digital Guest Directory and the Hotelboard: If hosts want to relieve their employees and increase guest satisfaction at the same time, this duo is unbeatable. We want to show you why.
A strong duo for your everyday hotel life: This is how the Hotelboard and the Digital Guest Directory support you together
"Teamwork makes the dream work."

John C. Maxwell
It is a well-known fact that teamwork is more effective than working alone. This applies to the cooperation between employees as well as to the interaction between the Digital Guest Directory and the Hotelboard. Every solution in the modular system by Guestfriend facilitates the daily work of you and your team at a different point in the hotel. As a host, you use the software that best suits your individual needs. However, Guestfriend's helpers unfold their greatest potential when being used together.
? Note: Here we have summarised the functions of the Digital Guest Directory and the Hotelboard for you in detail.
Seamless workflow: Guest care and team communication united
Whether for questions, requests or bookings – guests communicate with you conveniently via a chat or digital booking and reservation forms in the Digital Guest Directory. For example, they book a wellness appointment, cancel the room cleaning or request an additional pillow. All these completed forms and chat messages then automatically appear in your Hotelboard waiting to be processed. After all, guest requests usually entail further tasks and often affect several departments in the hotel.
Example: A guest informs your team via chat in the Digital Guest Directory about a defective shower in their hotel room (1). This is an urgent repair request for the caretaker! The team member who processes the request first creates a task from it. In doing so, the person simply describes what needs to be done and assigns the task to the responsible colleague (2). A due date or a suitable label, for example "urgent!", show the importance. With the help of the status, for example "in progress" or "done", the responsible colleague documents the current progress transparently for all team members. Thanks to statuses and smart filters, you as a hotelier keep track of all open and completed tasks. This guarantees that no request gets overlooked!
Of course, you should also answer your guests' requests quickly (3). To do this, simply type the answer under the respective request and send it via the Hotelboard. Your message appears immediately on your guest's smartphones – via push notification or chat in the Digital Guest Directory.
Together, the Hotelboard and the Digital Guest Directory map all daily information flows in your accommodation.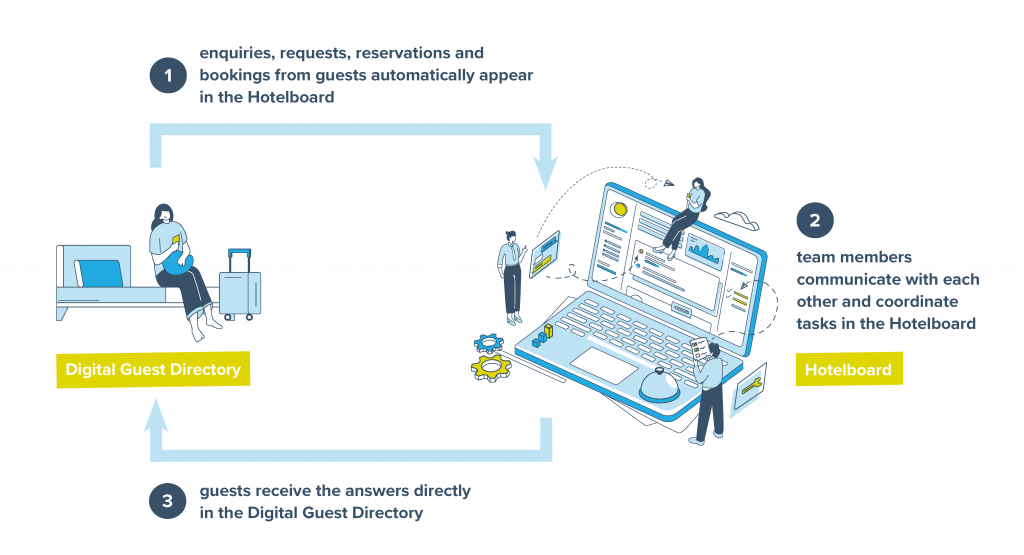 Hotelboard plus Digital Guest Directory: Benefits for you and your team
The direct link between the Hotelboard and the Digital Guest Directory enables fast and transparent communication channels in your hotel. Furthermore, it ensures that no information is lost. Instead of multiple emails, phone calls and handwritten notes, your team handles all work steps seamlessly in one system. This way you..

… process guest requests smarter and more efficiently.
… inspire your guests with your professional service.
… relieve your staff in their daily work thanks to time savings.
… increase the quality of work and employee satisfaction.
… increase your turnover and reduce your costs.
… save paper and act more environmentally friendly.
Hotelboard and Digital Guest Directory at a glance
Digital Guest Directory – The well-proven helper for modern guest care, promotion of offers and hygienic service
The Digital Guest Directory is a true all-rounder: it informs your guests before, during and after their stay about everything they need to know, such as arrival and departure details, meal times, news and leisure tips about your accommodation. But not only that! It also markets your offers and services, such as wellness treatments, breakfast in the room, the bread roll service or the bicycle rental and makes them bookable 24/7 for your guests. Last but not least, it facilitates communication with your guests with the help of push messages and an integrated chat. And all this digitally and personally at the same time!
Thanks to the BYOD concept, all your guests can access the Digital Guest Directory at any time with their own smartphone, tablet or laptop – either via app or on the web with the Progressive Web App. Depending on your needs, you can also create digital info points in the form of touchscreen kiosks or stationary tablets.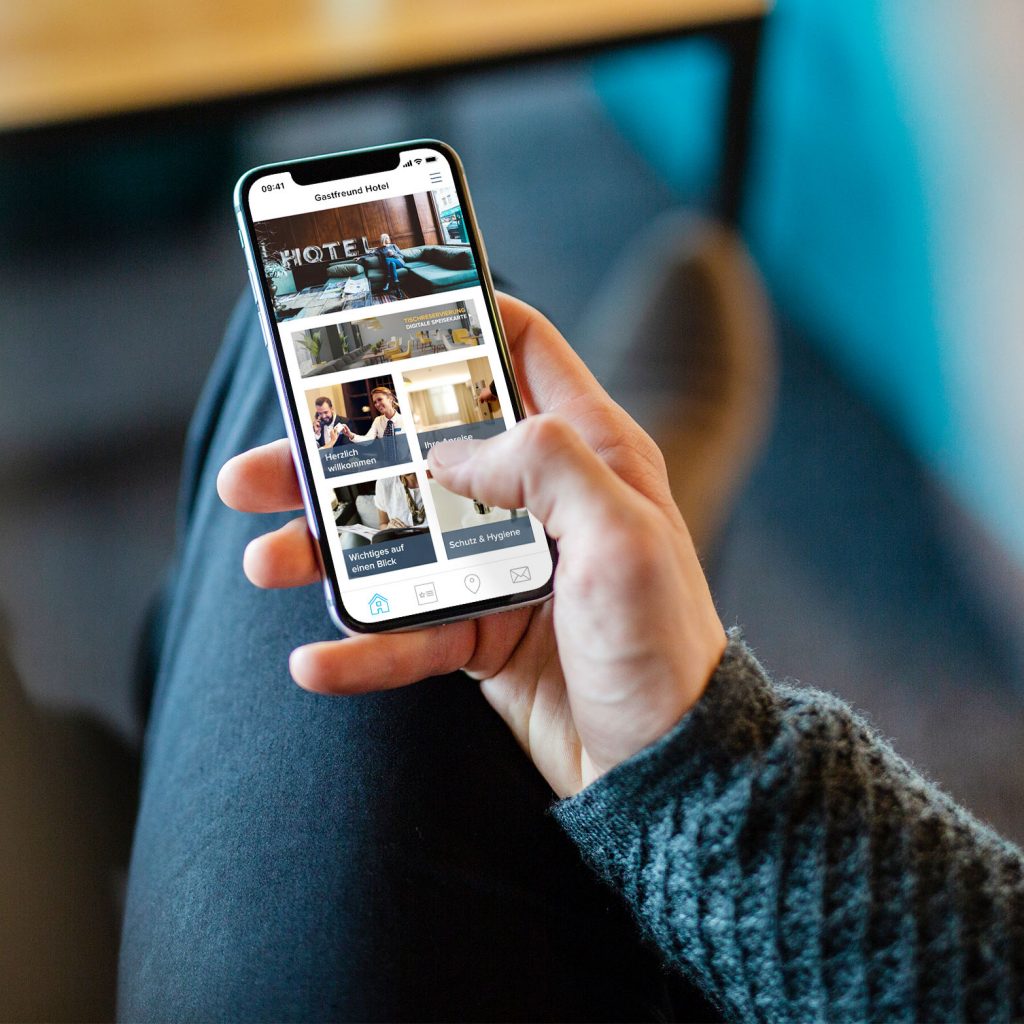 Hotelboard – The new Hotel Operations Platform for communication, organisation and coordination in your daily hotel business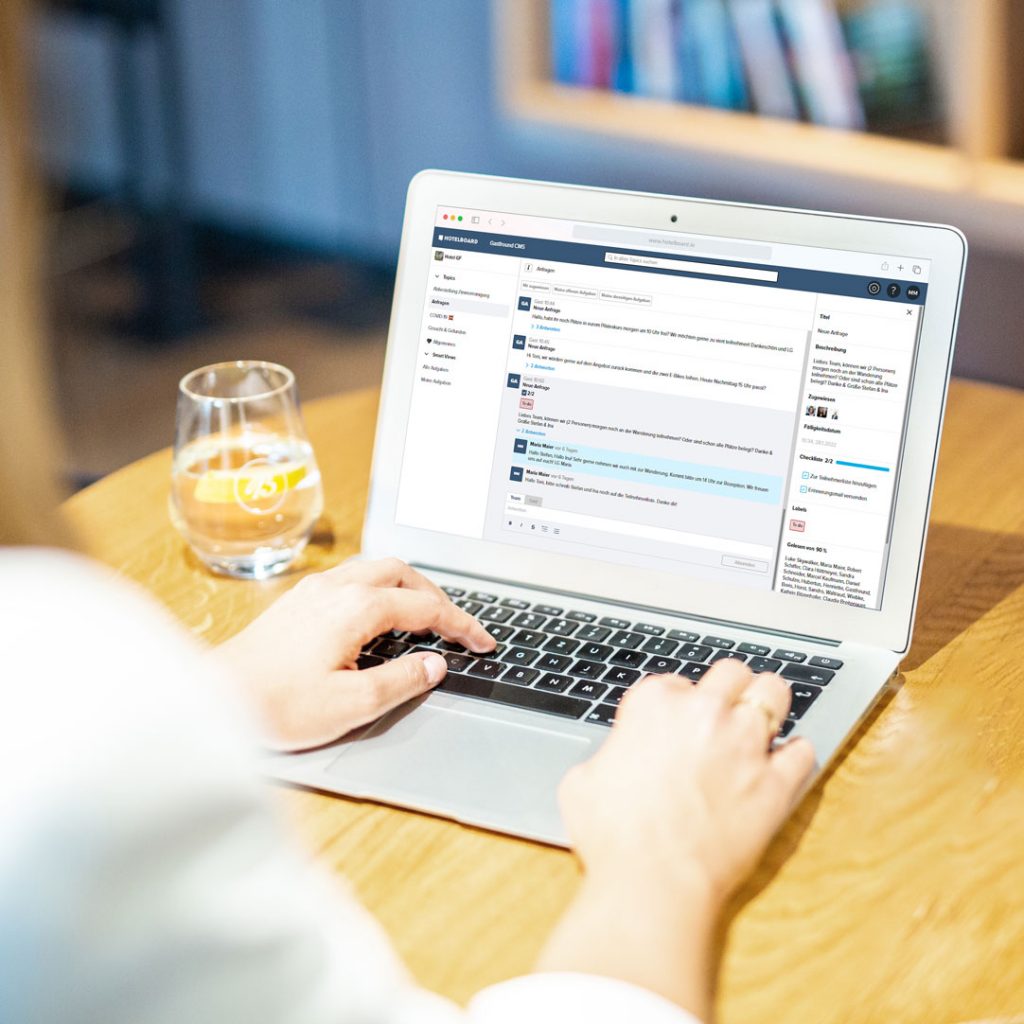 The Hotelboard connects all departments in your hotel: here, all team members communicate transparently with each other – individually, in groups or across departments. Since the Hotelboard is available both in the browser and as an app, employees without a fixed workplace, such as housekeeping or caretakers, always stay up to date.
But not only smooth internal consultations, but also the efficient completion of daily tasks is one of the core competences of the Hotelboard. Here you create tasks, assign them to the responsible team members and complete them with checklists and deadlines. Shift changes, lost and found management and the organisation of guest requests become a child's play. On top of that, you can save team-internal knowledge, such as responsibilities, employee manuals and processes, paperlessly in the Hotelboard, making it easier to train new team members.
You want to take your hotel workflow to a new level? We would be happy to give you a personal presentation of the Hotelboard and the Digital Guest Directory.
---
Image: ©panitan – stock.adobe.com
This text has been translated automatically.