In our last blog article, we discussed some important trends in the hotel industry. One of them is the relief of staff through digital processes. Nowadays there are numerous possibilities and software solutions on the market for the automation and digitalisation of processes in daily hotel business. Therefore, this topic definitely deserves a closer look! In this article, we will go into which tools belong to the must-haves for accommodations and how hosts benefit from digital helpers.
Digital processes in booking
→ Processing room bookings, updating availabilities, processing payments, etc.
The highest possible occupancy rate is the main goal of any accommodation – regardless of whether it is a hotel, guesthouse, inn, holiday flat or campsite. After all, an overnight stay cannot be sold afterwards. That is why hosts use several booking channels: for example, direct booking via their own website, search engines like Google and online booking portals like Booking.com, HRS or Ferienhausmiete.de. According to a SiteMinder study for 2021, online sales account for about 64 % of all bookings.[1] In addition, there are also bookings via phone, referrals via travel agencies or spontaneous walk-in guests.
Channel Manager
To ensure that room rates and availability are always up to date on all channels and to avoid overbooking, hosts use a so-called channel manager. This is linked to the property management system (PMS) of the accommodation and updates the relevant information in real time – across all booking channels. Compared to manual adjustments, this saves the host an enormous amount of time!
Booking software
Because so many guests make their bookings online, an easy-to-use booking system for the hotel's own website is essential. For an optimal overview, this is of course also linked to the channel manager and the PMS. It is particularly helpful if the system also includes an online payment function. This simplifies the booking process for both the hotelier and the guests.
Digital processes in guest services
→ Guest information and communication, upselling and cross-selling offers, entertaining guests, etc.
With the aforementioned helpers, the processing of bookings runs like clockwork. But of course a high occupancy rate is not everything! Satisfied guests and good ratings are of great importance so that this also remains at a good level in the long term. The guest satisfaction in turn depends on positive experiences before, during and after the guests' stay. Here, too, digital helpers speed up and simplify various processes.
Digital Guest Directory
When looking after guests, for example, the Digital Guest Directory is an invaluable support. It informs guests 24/7 about everything important concerning their stay: details on arrival and departure, meal times, excursion tips and much more.
Also the registration form guests simply fill out digitally before they arrive. Check-in is much faster this way and the reception staff do not flood the guests with countless different tips and pieces of information. The Digital Guest Directory also contains forms that guests can use to make table reservations, wellness appointment requests or book leisure activities themselves on their own smartphone or tablet. Should any questions remain, guests can clarify them with the hotel staff conveniently via chat.
Changes in the Digital Guest Directory are adjusted by the hotel staff once in the online editing system with just a few clicks, thus saving the manual updating of numerous paper room folders. All in all, the Digital Guest Directory saves valuable time every day and relieves the reception desk – without the personal service falling by the wayside.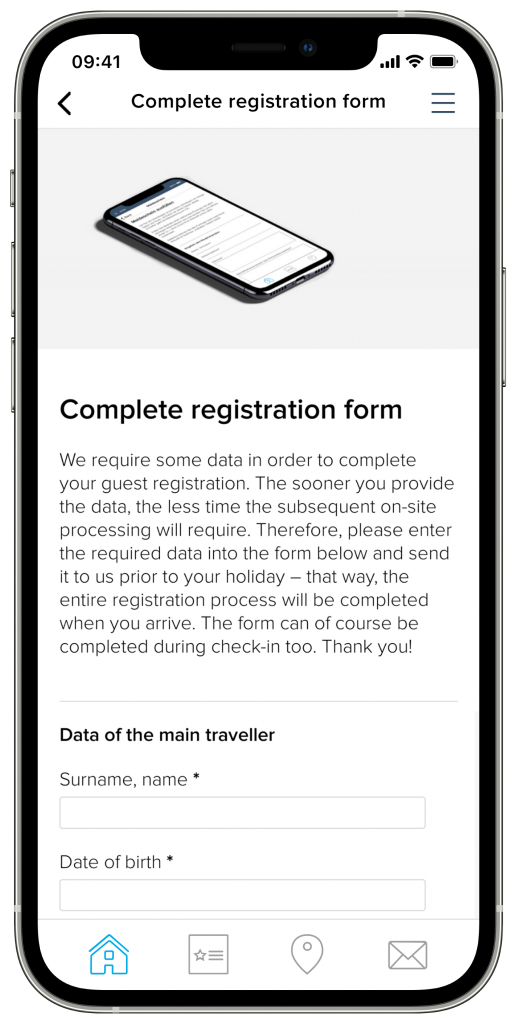 Info Channel
The Info Channel creates even more attention for all the information, tips and offers of the accommodation. On hotel TVs or monitors, it shows, for example, the current weather, restaurant opening hours, massage offers or the hotel's weekly programme. Via QR codes, guests can directly book the desired offer in the Digital Guest Directory. The host decides at any time which content he wants to display on the screens and adapts it himself in the online editor with just a few clicks. The upselling and cross-selling of offers thus runs virtually by itself.
? Reading tips:
The Hotel Keßler-Meyer Well & Wine saves about 54 hours of working time per month through digital processes. For this purpose, the hosts use the Info Channel and the Digital Guest Directory by Hotelcore. Read more about how the wellness hotel benefits from the digital helpers in everyday work in our success story.

In this article, you will find out in detail where else the Digital Guest Directory relieves staff in the hotel.
Digital processes in team collaboration
→ Team communication, fulfilling guest requests, task management, knowledge management, etc.
Not only in direct contact with the guests, but also behind the scenes, there are countless processes in the hotel that often take up more time in the employees' working day than necessary. Here, too, digital processes make everyday hotel life easier.
Hotelboard
A true all-rounder for the organisation of team-internal processes is, for example, the Hotelboard. Here, the hotel staff not only processes and answers the guests' enquiries and submitted forms sent via the Digital Guest Directory, but also coordinates their completion. The hotel operations platform connects the entire team: each employee accesses it at any time via app or web version, checks the pending to-dos, including deadlines and checklists, and communicates digitally with all their colleagues. Without post-its, notices on the notice board and long e-mail correspondences, the entire team communication runs transparently on the Hotelboard. This shortens communication channels and saves all hotel employees a lot of time, e.g. in shift handovers or with lost and found management.
On top of that, the platform functions as a knowledge database: The team stores internal information, employee manuals and process documentation here in the long term for everyone to access. This makes it easier to train new team members! The search function also ensures that all users can find information within seconds.
The example of Sportcamp Melchtal shows how the Hotelboard ensures simpler digital processes in everyday work:
With the Hotelboard, we can finally coordinate our group arrivals transparently across departments. All information is directly with the right person and we have a good overview of what still needs to be done. This way we ensure smooth arrangements and handovers. The Hotelboard is easy to use, so we were able to integrate it quickly into our daily work and simplify work processes.

Sarah Durrer, Sportcamp Melchtal
Conclusion: Digital processes in the hotel bring numerous opportunities
Nowadays, there are numerous software solutions that simplify and optimise the most diverse processes in the hotel. Each host decides for himself how far automation should go. The "basics" include, for example, a property management system, a booking system with channel manager and the Digital Guest Directory. A hotel operations platform such as the Hotelboard, which supports smooth team communication and efficient task management, is also helpful. In any case, digital processes in the hotel have certain advantages:
Higher productivity and faster completion of daily tasks
More turnover through better occupancy rates and more additional sales
Lower personnel costs due to more efficient work
Higher employee satisfaction thanks to less work for the staff
Paperless processes: resource-saving, hygienic and practical
More guest satisfaction thanks to uncomplicated processes and optimal support
Modern and professional appearance towards guests and as an employer
What are you waiting for? Check out your options now and digitalise processes in your accommodation!
info@hotelcore.io | +49 831 930 657-0



---
[1] SiteMinder's Changing Traveller Report 2021: German edition, p. 9: https://www.siteminder.com/de/r/changing-traveller-report-2021-germany/
Image source: ©denisismagilov – stock.adobe.com
This text has been translated automatically.