Qualified workers are currently scarce in the hospitality industry. With countless vacancies, applicants have the choice and are looking for the most attractive employers. In our last blog post, we told you how to make your company stand out in the battle for the best talents. But building a team is one thing – retaining good employees over the long term is another. The hospitality industry is one of the sectors with the highest fluctuation rates.[1] In part 2 of this blog series, we will therefore describe some measures you can take to retain your staff in the long term and reduce your costs.
Why is staff retention so important in hotels?
Employees come and go. This has always been the case in the hospitality industry. But did you know that it costs you an estimated 30-50 per cent of the annual salary of the respective position when you have to re-fill it? [2] This also includes the cost of job advertisements, training costs during onboarding and possibly double salaries when two employees fill a position on a transitional basis. So if you retain existing team members, you save a lot of money.
In addition, you also lose internal knowledge and work experience with each team member that leaves. Especially in a service industry, where so much depends on interpersonal relationships, good and experienced staff is worth its weight in gold! So make sure that your existing team is always satisfied. This is the only way to retain your staff.
Retain employees through progress and relief: Digital work makes everyday life easier
In 2019, the job portal Gronda surveyed employees in the hotel and catering industry about their working conditions. According to the survey, while most of the respondents consider the industry to be guest- and revenue-oriented, less than 20 per cent describe it as employee-oriented. Only a few also attribute the characteristics "digital" and "innovative" to the hotel industry. [3] Yet today, there are numerous technologies that relieve employees in their daily hotel routine and thus kill two birds with one stone: employee orientation and digitalisation. According to statistics, eight out of 10 employees think about changing jobs when they have had a bad day at work. [4] The companies that use modern technology in the workplace for relieve therefore often have fewer problems retaining their team members.
One of the most popular technical aids in the hotel industry, is the Digital Guest Directory. It informs guests about everything important, markets the hotel's offers and enables digital communication between guests and hotel staff via chats and push messages. With the help of enquiry and booking forms, guests book the offers directly in the Digital Guest Directory – easily and paperlessly. This is handy for the guests and relieves the staff members. Because they can keep the usual check-in conversation short and refer to the digital service. They receive fewer queries and can take better care of important guest concerns. All in all, thanks to the Digital Guest Directory, there is enough time – which is important for the satisfaction and health of your team members.
Tip: Read how else the Digital Guest Directory relieves staff in accommodations in this blog post.
Hosts achieve even more relief in the daily work routine through multifunctional tools, such as the Hotelboard by Hotelcore. Through efficient processes, it supports internal communication, the organisation of tasks, guest care and knowledge management at the same time.
Quote: The Sportcamp Melchtal accommodates up to 600 guests – Find out how the employees alwasy keep the overview of everything
"With the Hotelboard, we can finally coordinate our group arrivals transparently across departments. All information is directly with the right person and we have a good overview of what still needs to be done. This way we ensure smooth arrangements and handovers. The Hotelboard is easy to use, so we were able to integrate it quickly into our daily work and simplify work processes."

Sarah Durrer, Guest Administration at Sportcamp Melchtal in Switzerland
Positive working atmosphere: Appreciation, motivation and team building increase loyalty
But Gronda's study provides further interesting insights: it shows, for example, what factors employees measure the attractiveness of a job by. More than two-thirds want appreciation and motivated colleagues first and foremost. [3] It should therefore be self-evident that you always treat your employees with respect and try to motivate your team. But there is more to active employee retention!
For almost 75 per cent of professionals, treating employees with respect is the most important criterion for an attractive employer. Motivated colleagues and a sense of belonging follow closely behind. (Graphic: Gastfreund GmbH based on Gronda, Gastro Survey 2019 [3])
People are social beings. Especially when work is sometimes stressful, a particularly good sense of togetherness among colleagues and superiors often compensates for the stress. The understanding that one is not alone makes for a good feeling at the end of the day. And if this working atmosphere is right, your employees will if in doubt think twice about whether they really want to leave the team.
In concrete terms this means: create opportunities for your employees to get to know each other and build relationships, such as joint activities and team events. Give them spaces where they can exchange ideas – both about work-related and private during their breaks or after work.
Best practice example: How StrandResort Markgrafenheide keeps employees on board
Perhaps the sea air also contributes its share, but in the StrandResort Markgrafenheide directly on the Baltic Sea, employees rave about the outstanding working atmosphere: "The team welcomes you with open arms," says a trainee in the beach resort's YouTube video. The video is primarily intended to attract new employees and show applicants what they can expect as part of the crew. At the same time, it also provides insights into the measures the managers at StrandResort Markgrafenheide use to successfully retain employees: The resort scores with further training opportunities, varied tasks, staff flats and overall harmonious teamwork. "We offer our guests a lot of fun. And the fact that we have fun in the process is of course also very important," is how one team member sums up his work. To the career page of StrandResort Markgrafenheide.
Work-life balance: Flexible working time is beneficial for both sides
Respectful interaction with each other is standard for you and your staff is a real dream team anyway? Under certain circumstances, your employees will still quit. There are many possible reasons for this. The Gronda study shows which are the most common: In addition to a low salary and a lack of appreciation, low work-life balance is the main reason why employees in the hospitality industry change jobs. This means that working hours are not flexible enough and there is too little time for family, friends and hobbies.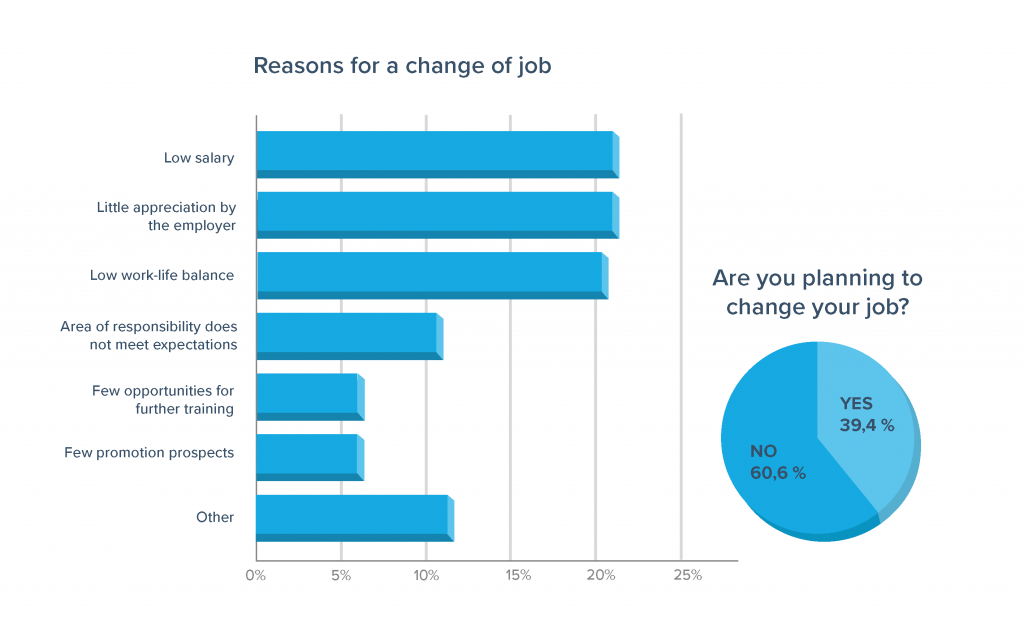 The main reasons why employees leave are low salary, lack of appreciation and a poor work-life balance. (Graphic: Gastfreund GmbH based on Gronda, Gastro Survey 2019 [3])
But is there any other way? After all, most hosts look after their guests around the clock. Therefore, shift and weekend work is part of everyday hotel life. The answer is yes! The following example shows how a hotel chain reconciles work in the hospitality industry with a good work-life balance.
Best practice example: 25hours Hotels successfully introduces the four-day week
"Necessity is the mother of invention", they say. And the hotel chain 25hours hotels is a good example of this. When staff shortages became acute after the second pandemic summer of 2021, the company offered its employees a four-day week for the first time. Employees who opted for this can now look forward to three guaranteed days off per week. In shift work, they then work nine hours a day. In the administrative areas, working hours are even more flexible. [5]
Fewer working hours even though staff are scarce? What at first seems counterproductive turns out to be an ingenious measure: The 25hours hotels now receive more qualified applications for vacancies and team members with the four-day week see the additional day off as a great added value. [6]
Attract new talents and retain employees – now you know how. We will help you to take off as a modern, digital employer!
---
Sources:
[1] Haufe – Personal, Employee turnover in Germany on the rise, https://www.haufe.de/personal/hr-management/fluktuation-wechselbereitschaft-der-arbeitnehmer-steigt_80_193940.html

[2] Stellenanzeigen.de, Was kostet eine Neueinstellung?, https://www.stellenanzeigen.de/arbeitgeber/wecruit/was-kostet-eine-neueinstellung/
[3] Gronda in cooperation with Hotel Adlon Kempinski Berlin: Die große Gastro-Umfrage, Was Arbeitnehmer in der Gastronomie & Hotellerie wirklich wollen, https://blog.gronda.eu/wp-content/uploads/2019/10/Gronda-Gastro-Umfrage-2019.pdf
[4] VantageCircle Blog, Top 26 Employee Retention Strategies for the "New" World of Work!, https://blog.vantagecircle.com/de/mitarbeiterbindungsstrategien/#10eyeopeningemployeeretentionstatisticsyoushouldtakenoteof
[5] www.personalwirtschaft.de, Hotel chain 25hours prepares for four-day week, https://www.personalwirtschaft.de/news/hr-organisation/hotelkette-25hours-bereitet-sich-auf-vier-tage-woche-vor-134236/
[6] ahgz.de, Interview: "The 4-day week was the ultimate means to attract employees", https://www.ahgz.de/hotellerie/news/4-tage-woche-die-4-tage-woche-war-das-ultimative-mittel-zur-mitarbeitergewinnung-304881
This text has been translated automatically.