Automatically understand all languages around the world: In the popular novel "The Hitchhiker's Guide to the Galaxy", this is possible thanks to the so-called "Babel fish" in the ear. You've probably wished for such a practical helper in your everyday work, haven't you? For example, when a Chinese hotel guest at check-in simply doesn't understand any of the languages you speak. Or when you want to explain something to your new Ukrainian colleague who only knows a few fragments of English. Fortunately, nowadays there are technologies that make multilingual communication in the hotel much easier. We present them to you.
Communication from hotel to guest: 24/7 information in all languages
Those arriving at a hotel for the first time usually have many questions: When and where is breakfast served? What sights are around the hotel? What is the Wi-Fi password? You and your team can probably recite the answers to these questions in your sleep. After all, you get these questions every day. But what does it sound like if you can't answer them in your native language or English because your counterpart speaks a completely different language?
For this situation, one helper is particularly practical: the Digital Guest Directory. It informs your guests about everything important about their stay and markets your hotel's offers. As a paperless, hygienic alternative, it has long since replaced the analogue room folder in hotels, holiday flats, guesthouses and campsites. The decisive advantage for your guests: whenever they are looking for information about your accommodation or excursion tips in the area, they will find it digitally. It doesn't matter where they are.
If you also offer your Digital Guest Directory in different languages, you will collect decisive plus points with your international guests. With just a few taps, they can select the language they want and find out everything they need to know! In this way, you welcome your guests in their native language without having to swot up on vocabulary yourself. You avoid misunderstandings right from the start and save your guests from having to go to the reception desk because they have fewer questions to ask. This increases overall guest satisfaction and relieves your staff of work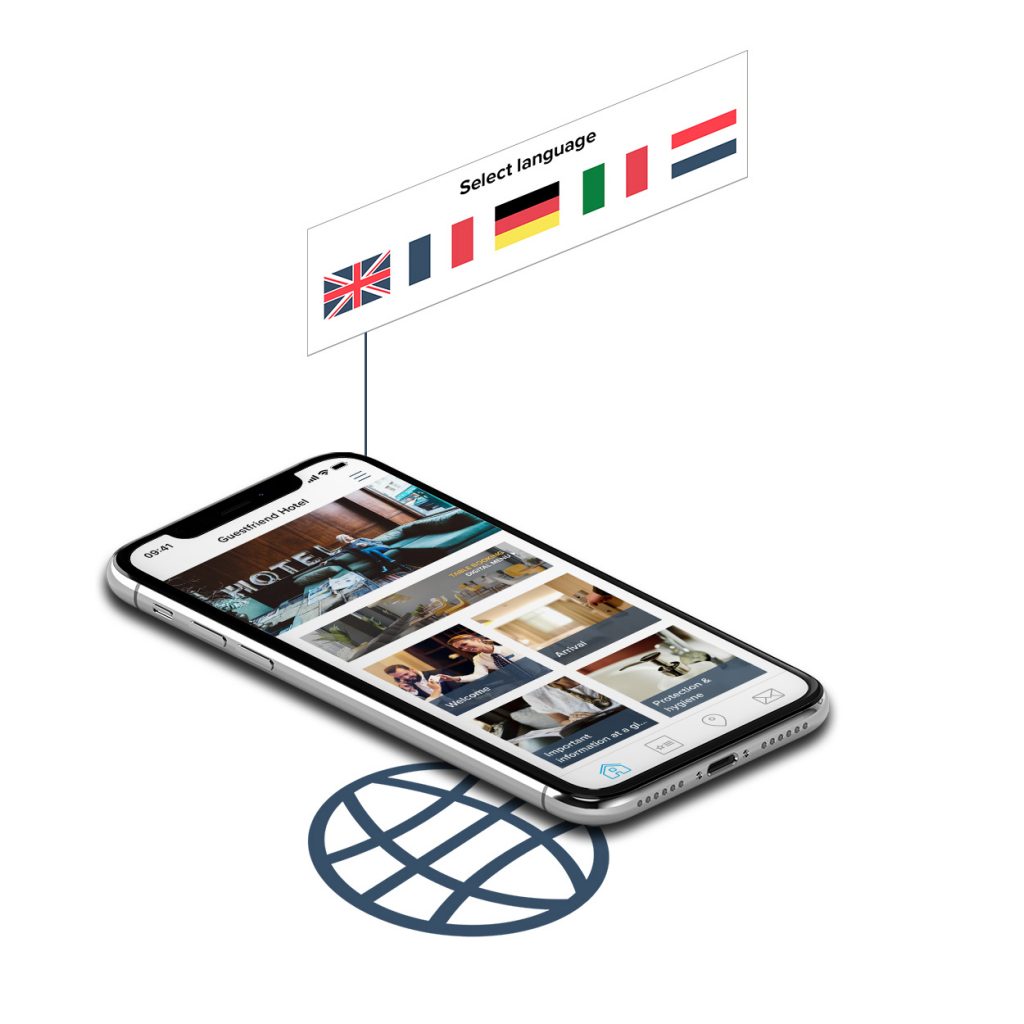 By the way: Of course, you don't have to laboriously translate the texts yourself. Upon request, at Hotelcore we create the content of your Digital Guest Directory multilingually from the start – in any language that is important to you. Hotelcore's online editorial system is also available in various languages. It doesn't matter whether your employees speak German, English, French, Dutch or Italian. There they simply update the content of the Digital Guest Directory themselves.
Internal communication in the hotel: teamwork without language barriers
It is not only the guests who speak different languages: When it comes to labour, the hotel industry is also more international than almost any other sector. [1] Especially now that hosts can hardly find skilled workers on the domestic labour market, more and more hoteliers are expanding their search to other countries. However, if the new employees speak a different language than the rest of the team, the result may often be misunderstandings and frustration. This in turn makes it difficult to integrate the new colleagues into the existing team. Yet this is precisely what is so important for team spirit, trust and good cooperation to develop.
Fortunately, there is intelligent technology that comes pretty close to the "Babel fish" in fiction. The Hotelboard by Hotelcore improves communication in the hotel in many ways: your employees write messages to each other and organise daily tasks in no time at all. It automatically translates the messages of your team members into more than 20 languages. The advantage: you don't need to worry about translations when writing down internal information. Because the Hotelboard takes care of that for you. Language barriers in your team are a thing of the past, you increase the quality of work and facilitate cooperation.
Communication from the guest to the hotel team: Understanding the wishes of your guests
The best thing about the Hotelboard and the Digital Guest Directory: the two tools complement each other perfectly. Enquiries, completed forms and chat messages that your guests send via the Digital Guest Directory automatically end up in the Hotelboard. But what if the guest writes in a language you don't speak? No problem. Once you have defined your desired target language in the Hotelboard, it translates the message for you at the click of a button.
How this looks in everyday practice is illustrated by an example: A guest sends a message in Russian and asks for an extra pillow. The receptionist Gerry receives the request in the Hotelboard: he does not speak Russian – so he has the message translated into German. He then assigns the task to his colleague Silvana from housekeeping. She speaks neither Russian nor German. But she too simply translates the request automatically into her desired language and knows immediately what to do. As soon as she has fulfilled the guest's request, she simply changes the status to "Done" so that her colleague Gerry is informed immediately.

Multilingual communication in the hotel: A chance in the fight against staff shortages?
Technology makes multilingual communication in hotels child's play. The Digital Guest Directory helps hoteliers to take care of international guests. And thanks to the automatic translation via Hotelboard, hotel teams understand even the most complex requests. On top of that, the Hotelboard not only simplifies the cooperation of existing team members. It also opens up completely new possibilities when recruiting staff. Because foreign language skills and mother tongues move into the background as a hiring criterion. As a result, many more workers from abroad come into consideration as applicants.
Currently, many hosts are hiring refugees from Ukraine, for example. [2] A lot of people see this as an opportunity: the refugees on the one hand, because they are looking for a job, and the hospitality industry on the other hand, because there are countless vacancies. However, if the new team members do not speak the language yet, the automatic translation is worth its weight in gold, especially during the onboarding. The new colleagues learn everything about the hotel's processes and acquire internal knowledge – in a language they understand.
You want to go international and are looking for the right technical support? We are happy to advise you.
---
Sources:
[1] Sueddeutsche.de, 4 July 2022, It won't work without foreign colleagues, https://www.sueddeutsche.de/wirtschaft/fachkraeftemangel-gastronomie-hotellerie-kommentar-1.5614656
[2] BR24, Jobs for Ukrainian refugees in hotels and gastronomy? https://www.br.de/nachrichten/bayern/jobs-fuer-ukrainische-gefluechtete-in-hotels-und-gastronomie,T72ODUd
This text has been translated automatically.