Travel apps are more popular than ever. In the third quarter of 2021, there were 120 million downloads of apps in the travel segment in Europe alone. [1] That's around 1.3 million app downloads every day. And this despite the fact that the tourism industry was still struggling with restrictions that summer due to the Corona crisis. The app stores are full of practical helpers for planning, organising and booking trips. From the accommodation to the leisure programme at the destination: travellers can now organise their entire holidays from their smartphone or tablet. But with so many different travel apps in the stores, it's easy to lose track. We present the must-haves and show you which apps you can use to cover your entire trip.
The travel apps at a glance:
Before your holiday: travel apps for planning and preparation
HolidayCheck: Get inspiration and book your accommodation
Numerous pictures of fantastic holiday regions, over 650,000 hotels and millions of reviews: The HolidayCheck app is definitely something for all undecideds who are still looking for the right holiday offer. Especially if you like reading reviews and comparing prices. Right on the start page of the app, HolidayCheck suggests popular destinations and offers the right package holiday to go with it. Have you decided on an offer? Booking via the app is simple. And if you would like personal advice beforehand, simply contact HolidayCheck's "travel experts".

HolidayCheck on Google Play or in the Apple App Store.
Sicher Reisen: Official travel app of the German Federal Foreign Office
Before travelling abroad, it is always a good idea to visit the website of the Federal Foreign Office. Especially since the Corona era, you can find warnings due to the political situation as well as information on the pandemic and possible travel restrictions in the respective country. Of course, it is even more practical to have the most important information with you when you are on the road. That is why you need "Sicher Reisen", the app of the Federal Foreign Office. With the help of checklists for entry, tips for emergencies and contact details of the German representations in each country, you are well equipped for all eventualities. What's more, you can send your relatives a sign of life with just one click, so they don't have to worry about you in the event of a crisis
Sicher Reisen on Google Play or in the Apple App Store.
PackPoint: The smart packing list
Phone charger, toothbrush or passport – you've probably forgotten something important when packing your suitcase. Or you packed for sunshine and ended up standing in the rain for days? With PackPoint, this no longer happens: the app creates a packing list based on your destination, the type and length of the trip and the weather forecast for that location. You can customise it, add to it and even send it to fellow travellers.
PackPoint on Google Play or in the Apple App Store.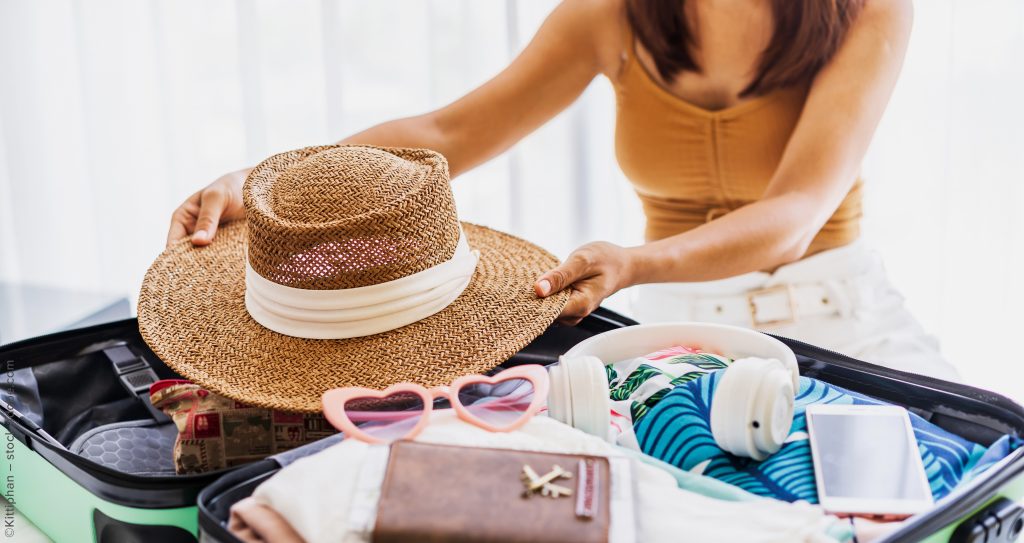 In the run-up to a trip, some apps are really helpful: For example, with a few taps on your smartphone, you can find out about the destination and get the best packing list.
During the holiday: digital support from arrival to departure
MAPS.ME: Offline maps for optimal orientation
Finding your way around in a foreign environment is often a matter of course: many people rely on the navigation of their maps app on their smartphone. But what if you don't have sufficient mobile network coverage locally? Or if you are in a country where data roaming is extremely expensive? MAPS.ME is a navigation app that also takes you to your destination offline: To do this, you simply download the relevant maps in advance. When you're on the road, you can leave your mobile data deactivated.
MAPS.ME on Google Play or in the Apple App Store.
Splitwise: Split expenses without a great deal of calculations
Do you like to travel with friends or your partner and share all the expenses? Sometimes the fair settlement can get really complicated in the end: Who owes whom how much now? Splitwise does the calculating for you. For each expense during the trip, you enter who paid the respective amount and for whom. The app automatically offsets the expenses against the existing debts. At the end, all you need to do is look at the Splitwise overview and it is immediately clear how everyone is getting even. By the way: the app is also practical outside of holidays – e.g. for settling group gifts or for roommates.
Splitwise on Google Play or in the Apple App Store.
DeepL Translator: Communicating with hand hand gestures is a thing of the past
If you used to travel abroad but didn't speak the local language, it was often a big challenge in the past. Signs, menus and information boards in museums: all this is usually only available in the local language. But since the advent of smartphones and translation apps like DeepL, foreign languages are no longer a major hurdle. Either type words or sentences into the app or – even easier – simply take a photo of the text. The app shows you the translation in seconds. This works for 28 languages and makes communication easy during your travels.
DeepL Translator on Google Play or in the Apple App Store.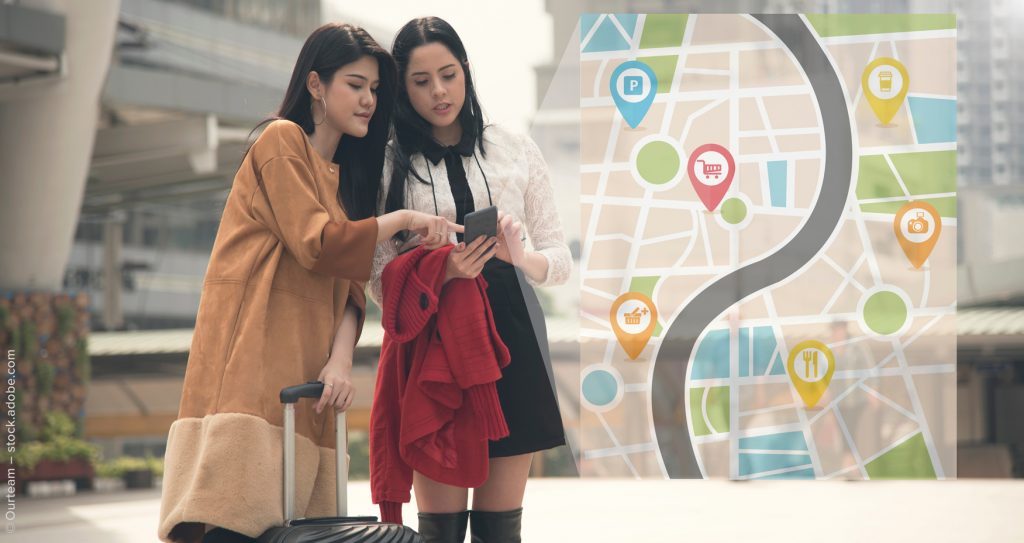 With the right apps for navigation and for translating information signs, for example, you can find your way around your holiday destination right away.
Uber: Getting from A to B comfortably
In many cities around the world, Uber has already become the standard for short distances. The app mediates between private drivers and travellers who want to get from A to B quickly and comfortably. Especially for airport transfers and on routes where bus and train are not an option, Uber drivers fill the gaps in the mobility offer. The difference to taxis is that you request the ride conveniently in the app and immediately start tracking live how far the driver is still away from you. You also receive an estimated price display in advance and can pay conveniently via the app.
Uber on Google Play or in the Apple App Store.
Outdooractive: Routes and tours for everyone
Walking, hiking, cycling, skiing and more – if you like to be active outdoors on holiday, Outdooractive is the right place for you. Detailed tour descriptions including altitude profiles, photos and information on how to get there ensure in this app that you can find your way around even in an unfamiliar region. There is something for everyone: ready-made routes in various degrees of difficulty as well as a tour planner with which you can plan your individual hiking, skiing or cycling trip. A must-have for outdoor fans!
Outdooractive on Google Play or in the Apple App Store.
GetYourGuide: Discover and experience the travel destination
If you prefer to explore the holiday region with a guided tour instead of on your own, it's worth taking a look at the GetYourGuide app: Here you will find tours and activities ranging from a museum tour in Paris and a harbour cruise in Hamburg to a helicopter flight over Manhattan. The travel app offers countless tickets and experiences at destinations around the world. Thanks to booking options via the app and the mobile tickets, GetYourGuide is just the right thing for last-minute travellers who don't think about the holiday programme until they get there.
GetYourGuide on Google Play or in the Apple App Store.
MyPostcard: Design unique postcards and send them worldwide
Have you also had enough of the typical cheesy postcards that the kiosks around the corner in holiday resorts often offer en masse? Wouldn't it be much nicer if you could design individual greeting cards from your own snapshots and send them to friends and family? With the MyPostcard postcard app, you can! Here you can conveniently select the desired card format from your holiday destination, upload your own photo and even add the text and the recipient's address right away. You can even pay the postage online. And your holiday greetings are on their way!
MyPostcard on Google Play or in the Apple App Store.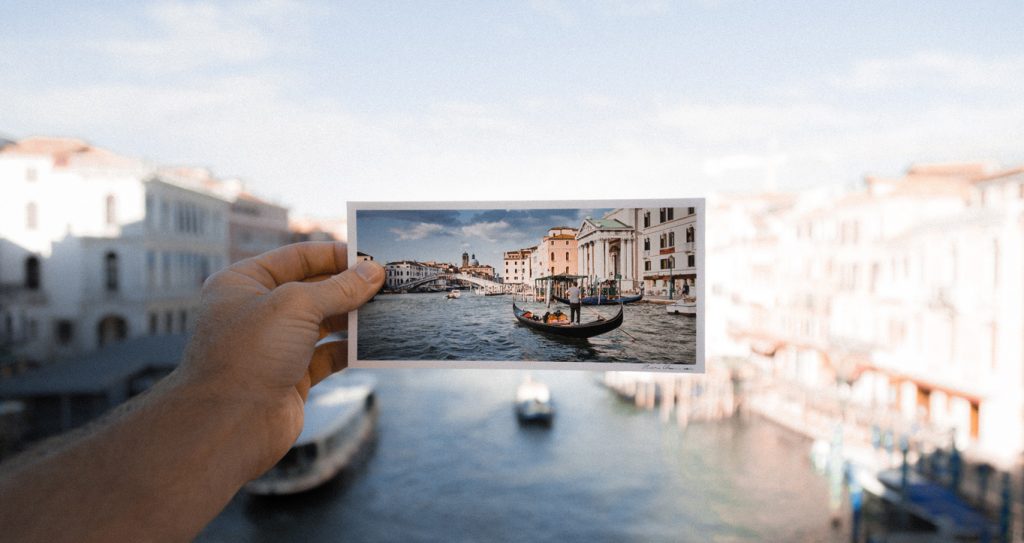 Create a postcard from your own holiday snapshots: Thanks to smartphones and apps like MyPostcard, it's a child's play.
Sharemagazines: reading material to switch off and stay up to date
Do you like to read the daily newspaper at breakfast and don't want to miss out on the daily news input while on holiday? It's a shame when the hotel doesn't offer your favourite newspaper or all the issues are out of print at the moment. The digital service by sharemagazines offers a simple solution. Numerous hotels and restaurants provide their guests with reading material around the clock: more than 650 regional, national and international newspapers and magazines. That is certainly more of a choice than the small newspaper kiosk in the nearest town. What's more, the digital newspapers and magazines are always up-to-date, hygienic and even more sustainable than the paper versions. All you need as a reader is the app and a corresponding verification that you are in a sharemagazines location, e.g. in a hotel. And then you can start reading!
Sharemagazines on Google Play or in the Apple App Store.
Guestfriend: Information about your stay, magazines, weather and travel guide all in one
Last but not least, we would like to introduce you to a real all-rounder among travel apps: Guestfriend. The app combines over 300 digital travel guides with information about your accommodation. Many different holiday flats, campsites or guesthouses already have a Digital Guest Directory in the Guestfriend app. This is a paperless and modern alternative to countless flyers and outdated information folders in the rooms. As a guest, you will find information from A to Z, all offers of the accommodation, events, news, the weather forecast and much more! Even before your arrival, you can find out all the details, e.g. fill out the obligatory registration form and reserve a table in the hotel restaurant online. You can also communicate with your hosts via chat at any time.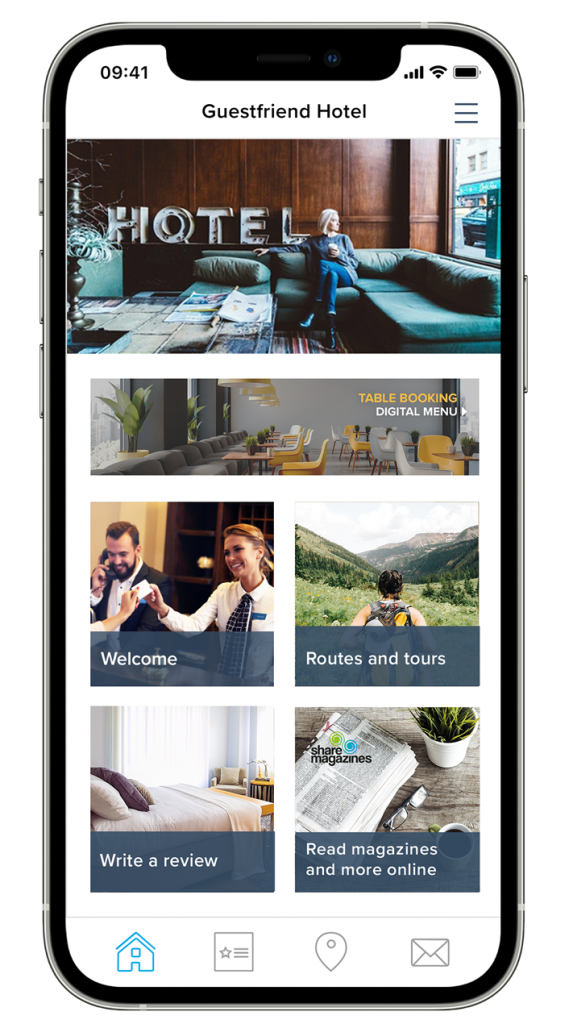 With this selection of practical travel apps, nothing stands in the way of a perfect holiday!
---
Sources:
[1] The State of Travel Apps in Europe 2022 – An Analysis of Mobile Travel App Market Trends in Europe, p.7, https://go.sensortower.com/state-of-travel-apps-europe-2022.html?utm_source=website&utm_medium=blog&utm_content=state-of-travel-apps-europe-2022&utm_campaign=st-2022-06-tech-ct-emea-travelapps
Image sources: ©Bojan – stock.adobe.com, ©Kittiphan – stock.adobe.com, ©Ourteam – stock.adobe.com
This text has been translated automatically.