Communicating with friends and family, checking the news, watching funny cat videos or quickly checking whether your train is late today: Privately, we use various apps every day. Some are more for entertainment, others are really practical. For example, the travel apps that we examined in our last article. This time, we're turning our attention to the people on the other side of the reception desk and taking a closer look at the top apps for hosts and hoteliers. How do they make the daily work in hotels, holiday flats and campsites easier?
Why do you need apps for hosts?
In the hotel business, several different software solutions are used every day: special systems for the easy management of bookings, email and chat programmes for communicating with guests and team members, website builders, payment software and many more. So as hoteliers and hotel staff, you spend a lot of your working time at your desk. Or do you?
There is an easier way: with the right apps, hosts can organise and manage their accommodation on the go via smartphone or tablet. Thanks to push notifications, you are always up to date and can respond to requests more quickly. This enables better occupancy and higher guest satisfaction. For example, apps are particularly handy for hosts in smaller accommodations who take on all management tasks alone. Of course, they always want to be reachable, but not permanently tied to their computer. This also applies to people who have another main job and rent out a few rooms or a holiday home on the side. But also as a manager of a larger hotel, apps give you flexibility and help you keep an overview at all times.
Overview of different apps for hosts
Complete tasks efficiently and communicate with the team
Hotelboard App
Staff is scarce and your to-do list is long. Sometimes you would like to be in more than one place at the same time. Because even when you are on the go, naturally you want to be sure everything is running smoothly in your accommodation. The Hotelboard by Hotelcore is a useful helper for your everyday work. It provides a platform for all daily tasks in the accommodation and all communication within your team. Here you efficiently coordinate guest requests, repair orders, shift handovers and other to-dos – via web or app. Thanks to smart filters and notifications, you cannot miss any task. Because so many daily processes can be carried out quickly and smoothly, the Hotelboard significantly reduces the workload for all team members.
Best together: Hotelboard App for your team, Guestfriend App for your guests:
In combination with your Digital Guest Directory, you also communicate directly with your guests. In this context, there is another app that makes life easier for you as a host: the Guestfriend App. However, it is not only helpful on your own smartphone, but especially on the mobile devices of your guests. They can use the app to call up your Digital Guest Directory anytime and anywhere, find out everything they need to know about their stay, book services all by themselves and contact you or your team. Instead of one-sided information, you create more opportunities for interaction and thus improve your personal service. In addition, you can update the Digital Guest Directory online in just a few minutes and therefore never have to manually replace old paper room folders again. This saves a lot of time in your daily work!
All requests and chat messages eventually end up in the Hotelboard, where you or your team answer them and take further steps if necessary. For example, a guest asks for the light bulb in his room to be replaced as soon as possible? With just a few clicks, you create a task for the caretaker, write a personal message about it, reply to the guest and later check whether the task is marked as completed. Your guests will be pleased with the quick service and you with the efficient communication. Particularly practical: The automatic translation in the Hotelboard helps when communicating with guests or team members who speak a different language than you.
? Read also: Everything important about the Hotelboard and its other use cases in this blog post.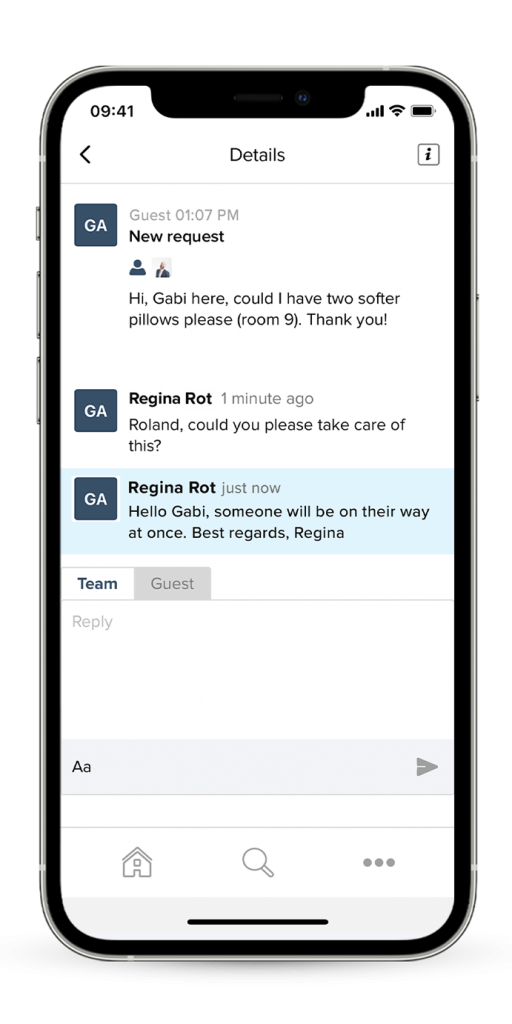 Manage bookings and adjust prices
eviivo App
With eviivo's booking software you organise and control several areas of your accommodation. The main modules are the Property Manager for managing guest data and bookings, the Channel Manager for an overview of all travel portals and the Website Manager for direct bookings on your own website. With the eviivo app, the tools are also available to you on your smartphone at any time. For example, you can confirm booking requests, adjust prices and availabilities and organise cleaning via smartphone.
Survey: Hosts want flexibility
For the market launch of the app, the software provider eviivo conducted a survey on this topic among its own customers. The result: With 91 percent, the clear majority of the hoteliers surveyed consider an app to be "extremely important" for the management of their accommodation. In addition, eviivo specifically asked what features of the app the users find most useful. For 84 percent, above all, it is the independence from place and time, i.e. that they can control and manage bookings, guests and travel portals at any time, even on the go. [1]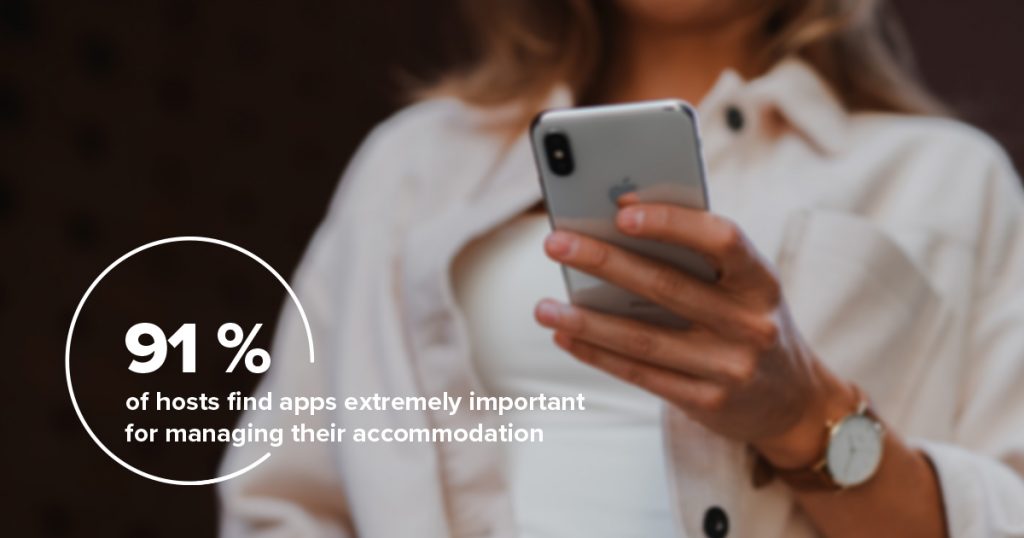 According to the survey by eviivo, a large proportion of hosts would like an app to manage their accommodation. [1]
Little Hotelier App
Little Hotelier's booking software is primarily aimed at the needs of operators in small accommodations. The tools adapt depending on whether you are new to the hospitality industry or already experienced but want more control for your existing business. For example, you check and manage all bookings in the Little Hotelier app. With just a few taps, you can assign the right rooms to your guests, make reservations and take care of check-in and check-out. You can even process payments or refunds digitally. The app is, so to speak, a small reception desk for your pocket.
It allows you to work from anywhere. For example, do you greet your guests directly at the bar and offer them a welcome drink? Or do you prefer to show them to their room straight away? With Little Hotelier, you simply check them in on the spot – without a diversion via reception.
Collect reviews and ensure guest satisfaction
TrustYou App
Guest satisfaction is extremely important for any accommodation. On the one hand, because particularly happy guests tend to come back. And on the other hand, because many guests publicly post reviews and thus in turn influence other people when booking – positively or negatively. This means: accommodations with better reviews on average usually get more bookings. Therefore, it is extremely important for you as a host to receive as many positive reviews as possible and to react quickly and well to negative feedback. This is exactly what TrustYou helps with.
With the TrustYou App, you can keep track of your guests' feedback at all times. TrustYou combines the various rating platforms such as Booking.com, Tripadvisor, Google or the accommodation's own Digital Guest Directory. You can reply to your guests directly in the app. For example, you can thank them for praise and suggestions and specifically address negative comments. With the help of key figures in the app, you also find out at a glance where the strengths and weaknesses of the accommodation lie. This way, you can work specifically on points of criticism.
With these apps, you coordinate your accommodation more easily than ever before.
Would you like to learn more about digital helpers for the hotel industry? Get in touch with us! We will be happy to help you.

+49 831 930 657-0 | info@gastfreund.net
---
Sources:
[1] eviivo.com: What holiday home hosts, property owners and hoteliers expect from a mobile app, blog post from 10 May 2022, https://eviivo.com/de/blog-de/industry-trends-de/was-gastgeber-von-ferienwohnungen-immobilienbesitzer-und-hoteliers-von-einer-mobilen-app-erwarten/
This text has been translated automatically.