Contactless camping is becoming more and more popular, not only in times of Corona. Sleeping in tents, caravans and mobile homes enables freedom-loving campers to enjoy a self-determined holiday. Modern service is also a decisive factor for campers when choosing a campsite – from the facilities to personal assistance on site. We give advice on how to easily upgrade your campsite digitally and stand out from your competitors.
Camping guests are often self-sufficient and make spontaneous decisions. Whether at home, on the road or on the pitch: in search of quick answers for holiday planning, they obtain information online and book predominantly via their own smartphones, tablets and laptops. So campers have long since gone digital. Have you too?
These three top tips will help you to meet the demands of your camping guests:
1. Website with direct booking tool
The website is and remains the number one marketing tool. Prior to booking, the website is the most important channel, along with online booking portals, through which travellers inform themselves about the facilities, location and surroundings of the campsite. Therefore, keep your website up to date and place nice pictures. Inspire them with emotional texts containing your keywords – terms that will help them find you when searching online.
Your website is also a decisive factor in the booking phase: having your own booking section increases direct bookings and reduces commission fees incurred when booking via external online booking portals. The easier your guests book, the faster they will decide in favour of your campsite.
If you have already installed a direct booking tool, check its functionality regularly. Also ensure secure payment and automate subsequent steps, such as sending reservation confirmations – it makes your daily work easier.
2. Area-wide Wi-Fi
Wireless internet access is now standard on campsites. Even outdoors, nobody wants to do without smartphones and internet. For mobile searches or movie streaming, campers naturally prefer WiFi hotspots to their own mobile network.
Make sure you check your options with your telephone and internet provider and offer your campers a wide-ranging, stable internet access.
3. Digital guest services
In addition to online bookings and fast WiFi, the digital support of your camping guests on site plays a significant role. Because this is where the greatest sales and service potential for you lies! With the Guestfriend-System you ensure comprehensive guest care on the cutting edge thanks to the Digital Guest Directory, Campsite Newspaper, Info Channel and co.
Inform, communicate, sell – with the Digital Guest Directory for your campers
Campers are able to access your Digital Guest Directory as an app or via web from anywhere. Using a link in the reservation confirmation, they will check out the facilities and surroundings and fill out the electronic registration form before they arrive. This way, guests arrive perfectly prepared, which will shorten the process on arrival.
Once they arrive at the campsite, they log into the WiFi network and use the WiFi Landing Page to access everything of relevance to their stay straight away. Thanks to your digital campsite map, they easily find their way around the site, learn about the opening hours of the kiosk or restaurant, waste disposal and the campsite rules. The campers explore the region with the integrated travel guide: Ready-made routes and tours, information on nearby sights and the current weather forecast now make planning their leisure time a breeze.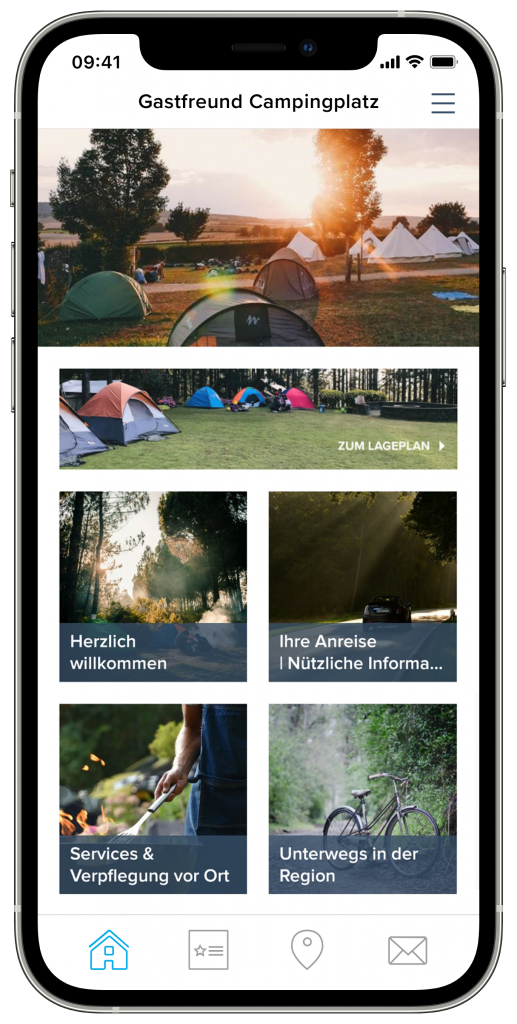 In your Digital Guest Directory, campers find everything they want to know:
excursion tips with routes and tours in the region, places of interest, weather forecast, etc.
the weekly programme
overview of your range of services
personal restaurant recommendations and shopping tips
important contact information and driving directions
the facilities on the campsite and in the mobile homes
opening hours of the kiosk and the assortment
the digital campsite map
information on waste disposal
things to know about the sanitary facilities
Beyond that, additional services can be booked easily on the move:
order bread rolls
rent a pedal boat
reserve an e-bike
request childcare
and much more
Should there still be any open questions, guests can use the chat function in the Digital Guest Directory – the easiest and fastest way to contact you. This complements your personal service perfectly.
As an interactive tool, the Digital Guest Directory is not a one-way street: inform your guests about news and offers via push messages. Ask actively for feedback on the cleanliness of the sanitary facilities and the offers on the pitch or link your Digital Guest Directory with relevant rating portals.
Less effort thanks to digital signage instead of a bulletin board
The updating of notices will take an enormous amount of time, depending on the size of the campsite. With digital helpers this is now a thing of the past! With just a few clicks, you can not only keep your Digital Guest Directory up to date:
Via a dedicated system, you publish all information about the site, events etc. in real-time on multiple channels – this increases the visibility of your offerings. For example, use the contents of your Digital Guest Directory for your own Campsite Newspaper. With the easy-to-use online editor, you can create your own newspaper edition, breakfast menu or welcome brochure in no time at all as a print version or e-paper.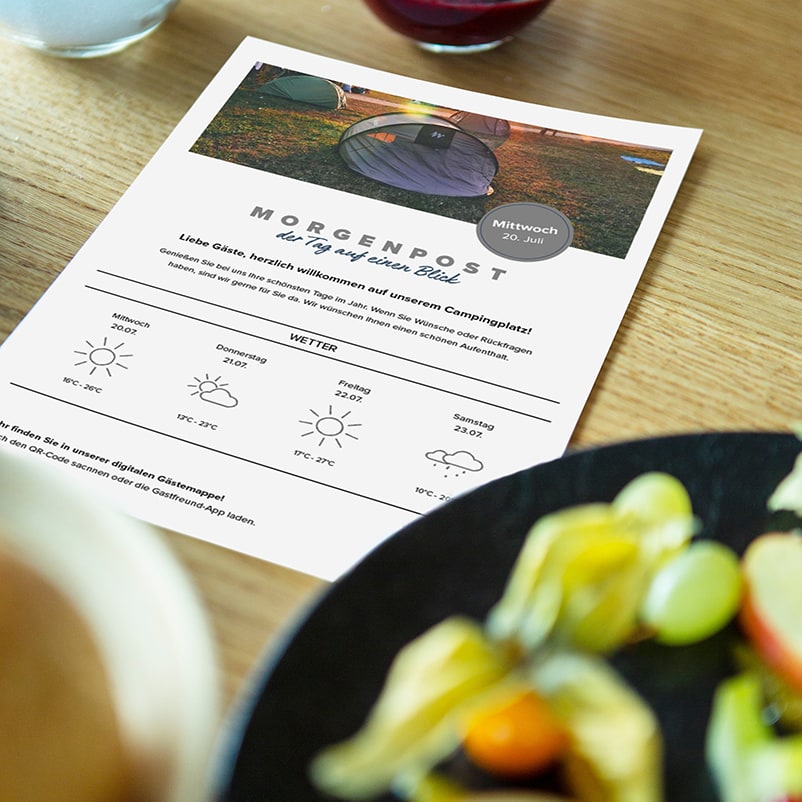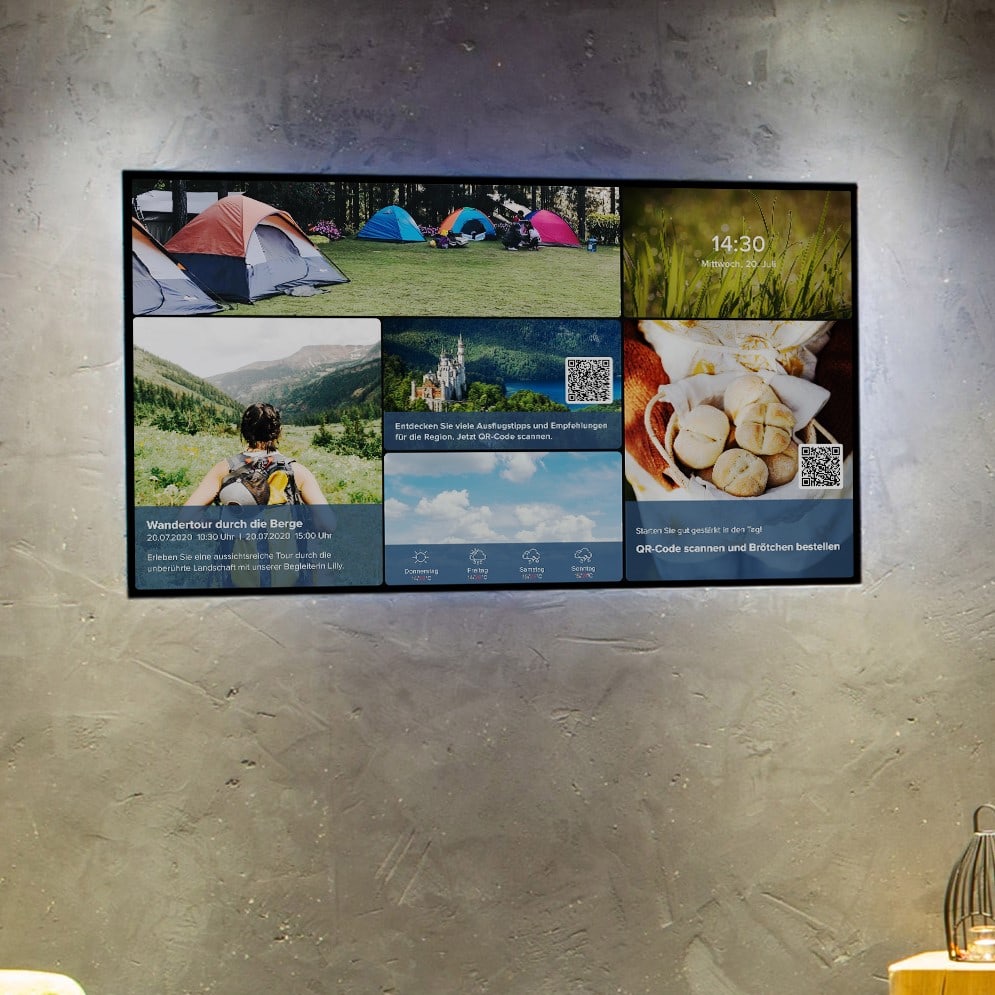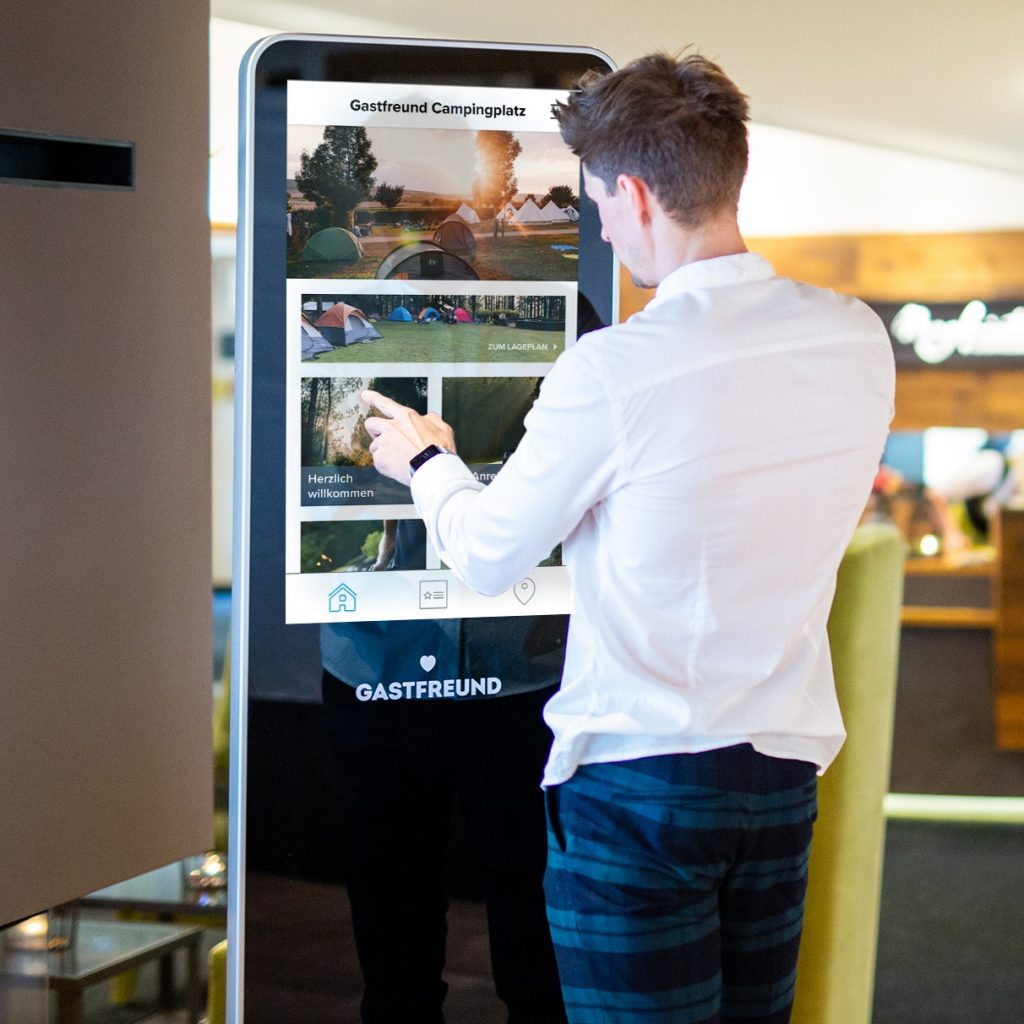 At highly frequented locations, such as the reception, you should also rely on digital signage. Touchscreen Kiosks, tablets and monitors attract attention and enable the self-sufficient information around the clock.
Put the finishing touches on your campsite and rely on digital communication.
We will support you with this!
info@guestfriend.com | +49 831 930 657-0 | www.guestfriend.com
---
Image: ©emilijamanevska – stock.adobe.com
This text has been translated automatically.