The hotel newspaper: In some hotels it belongs on the breakfast table every day, in other accommodations it is available at the reception or in the rooms. Some hosts put a lot of time and effort into a varied guest newspaper. They always formulate new excursion tips, painstakingly enter every single event and research quotes. But there's an easier way! We show you how to design your guest or staff newspapers in just a few minutes thanks to the right templates.
The most important contents of a hotel newspaper
What should a good hotel newspaper really contain? Of course, this varies depending on the accommodation and the place; where the newspaper is used. If you want to create a classic daily or weekly newspaper for your guests, a good mix of personal recommendations for the region and your own services is a good idea. This way you offer your guests added value and at the same time generate more turnover with your offers. Typical contents can be, for example, the following:
Excursion tips, routes and tours for the region
Weather forecast
Events in the region
Events, courses or programmes in your accommodation
Opening hours of the restaurant, wellness and pool area, fitness room, etc.
Offers, promotions and discounts
Menu of the day or food recommendations of the restaurant
Pictures of your accommodation
If applicable, reference to your Digital Guest Directory, ideally with an QR code
In addition, fill the hotel newspaper with entertaining content, such as
Riddles and Sudokus
Interesting quotes
Jokes
Colouring templates for children
Horoscopes
Depending on who your guests are and what goal you are pursuing with your newspaper, the balance of information vs. entertainment will certainly look different. As a family hotel, you might focus more on entertainment for children, while a business hotel is more likely to promote the hotel restaurant, wellness offers and the cocktail of the month at the hotel bar. The personal touch in your hotel newspaper is the most important thing.
With a few clicks to your hotel newspaper thanks to the right software
Anyone who has ever had to deal with writer's block knows: there is nothing worse than an empty, white space that needs to be filled. This phenomenon also applies to hotel newspapers. But fortunately, there is software that fills empty pages virtually by itself. Hotelcore's Hotel Newspaper editor therefore has a large data pool of ready-made building blocks waiting for you. For example, the weather forecast, events, tour tips with pictures and route descriptions as well as complete horoscopes are only a mouse click away. Quotes, jokes, colouring pictures and puzzles are also already available, so you don't have to search the Internet. You can intuitively drag and drop the various elements into your newspaper edition and then add your personal tips and pictures if necessary.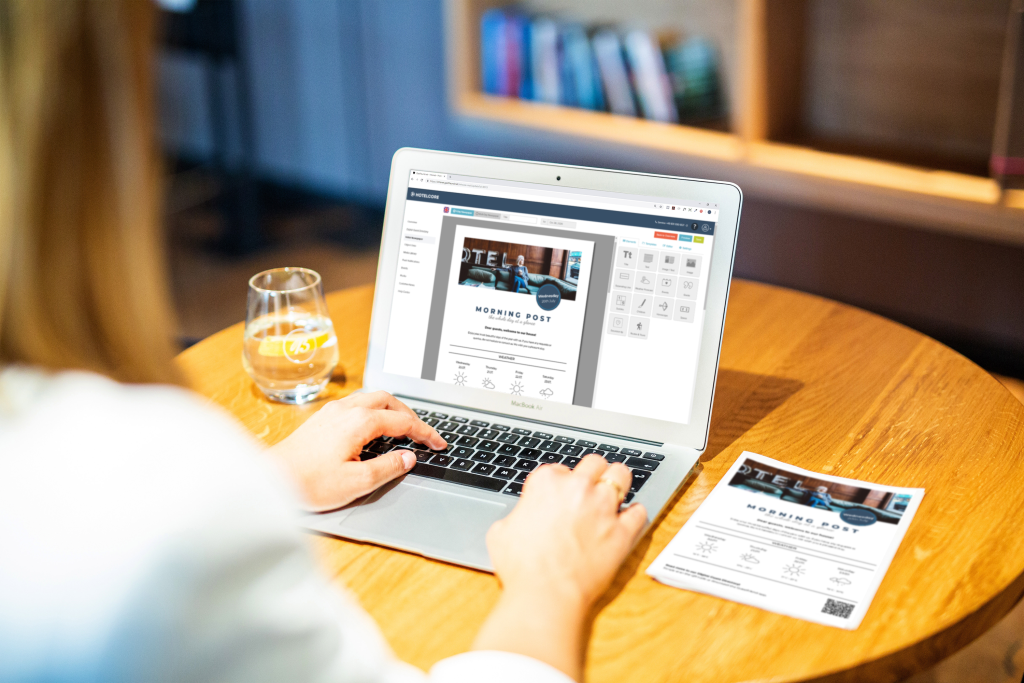 When developing the online editor for the Hotel Newspaper, Hotelcore placed great emphasis on simple and intuitive handling.
"Work smart, not hard" – templates and automatic e-papers
You can create your newspaper even faster in the Hotelcore editorial system with the help of templates: You simply create your Hotel Newspaper once and then save it as a template. The next time, you only replace the old information with new information and exchange pictures, for example. Then just print it out quickly – and you're done. It couldn't be more efficient!
By the way: With Hotelcore's Hotel Newspaper you not only have a print version, but also the digital version of your newspaper without any extra effort. You will receive a link, which you can include in your Digital Guest Directory, in your newsletter or on your website, for example, and simply set the validity date for each finished newspaper. The hotel newspaper is then automatically available as an e-paper on the selected date wherever you have inserted the link.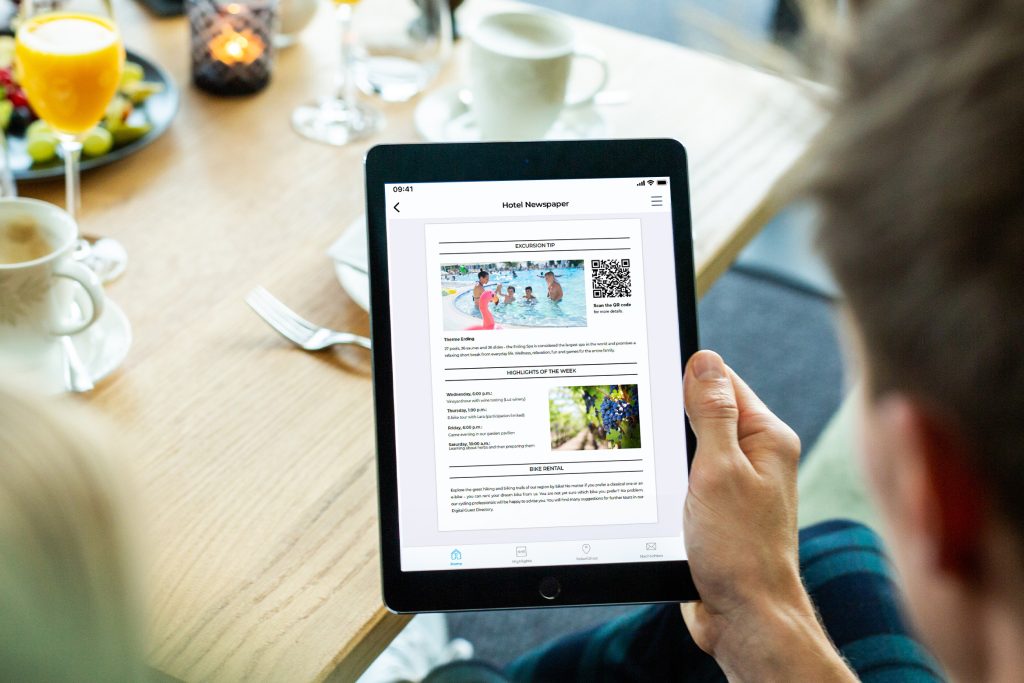 Printed or digital: With Hotelcore both versions of the Hotel Newspaper are available to you without any additional effort.
Even more is possible: staff newspaper, menu card and co.
Apart from your daily, weekly or monthly guest newspaper, you can create other documents just as easily with the Hotelcore online editor. How about a staff newspaper, for example, in which you introduce new team members, announce upcoming birthdays as well as internal news? Or you can use the tool for documents such as food and drinks menus, a children's menu or the weekly programme. No matter what you use the tool for: Your templates, images and the prefabricated contents of the system are of course also available to you here. This way, you can create these documents in no time at all.
Examples: From staff newspaper to entertainment for kids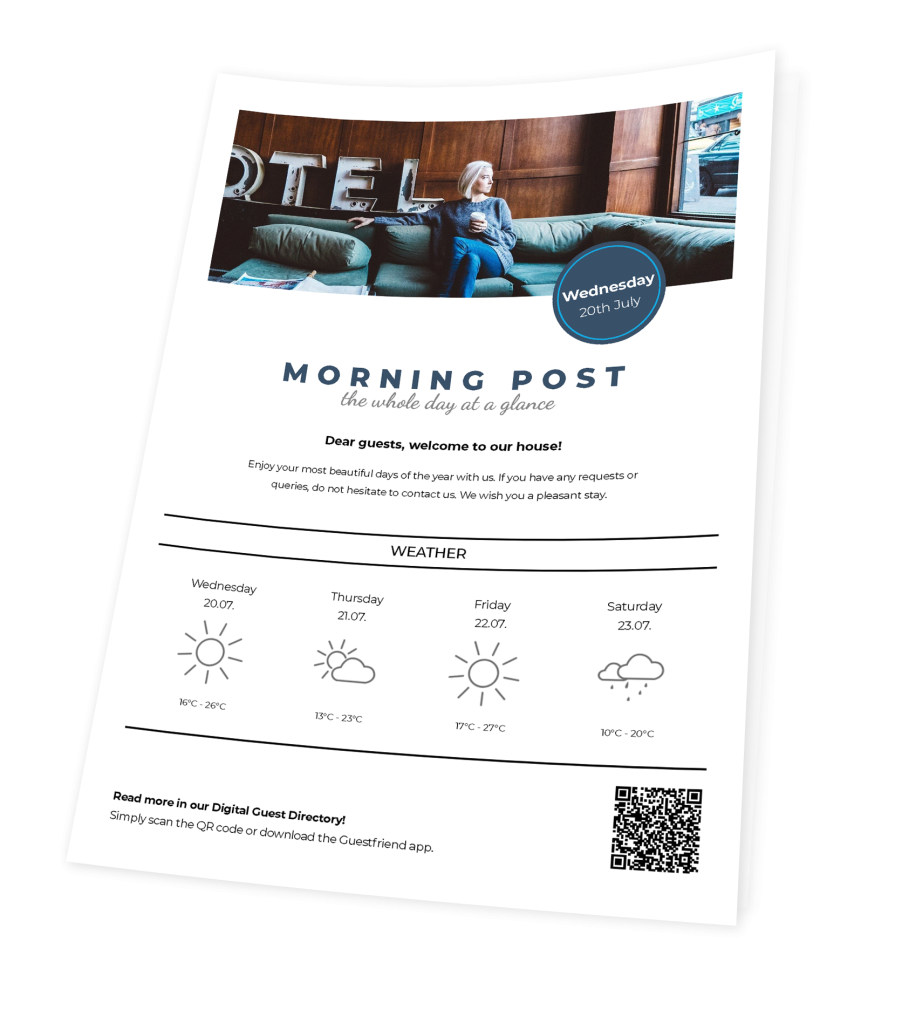 Hotel newspaper as morning post
View entire example as PDF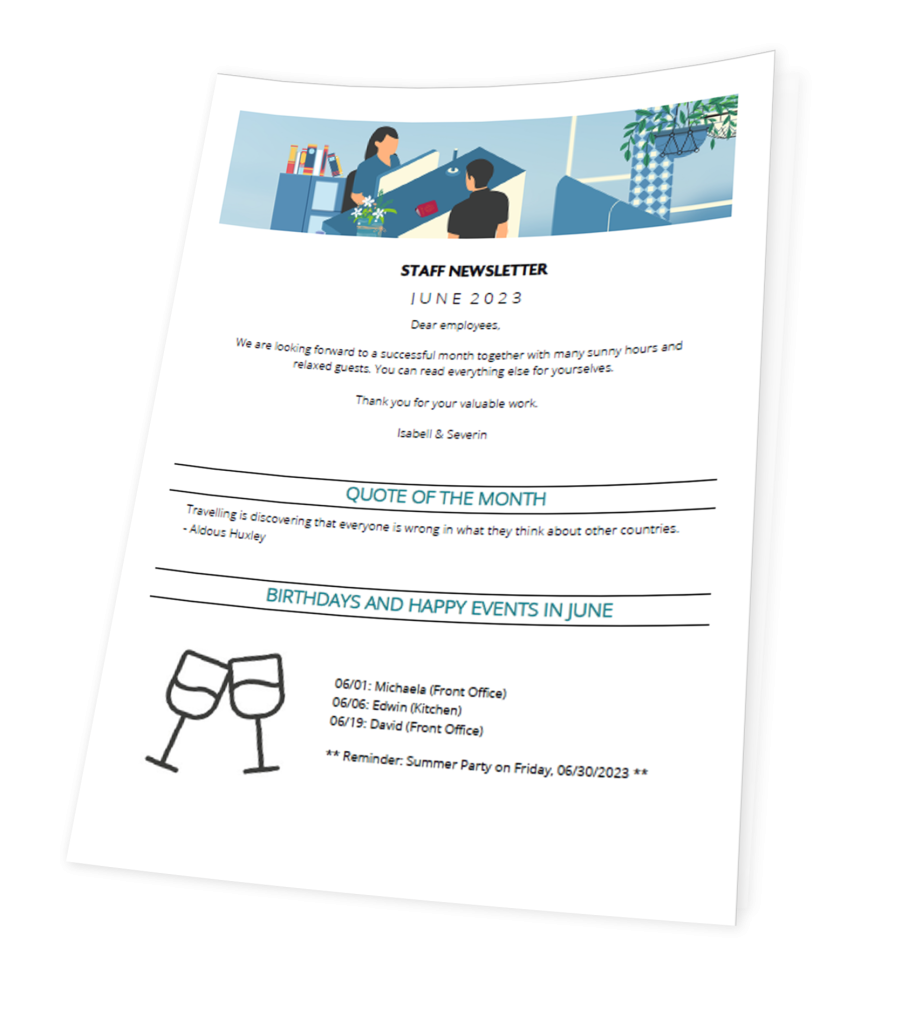 Staff newspaper
View entire example as PDF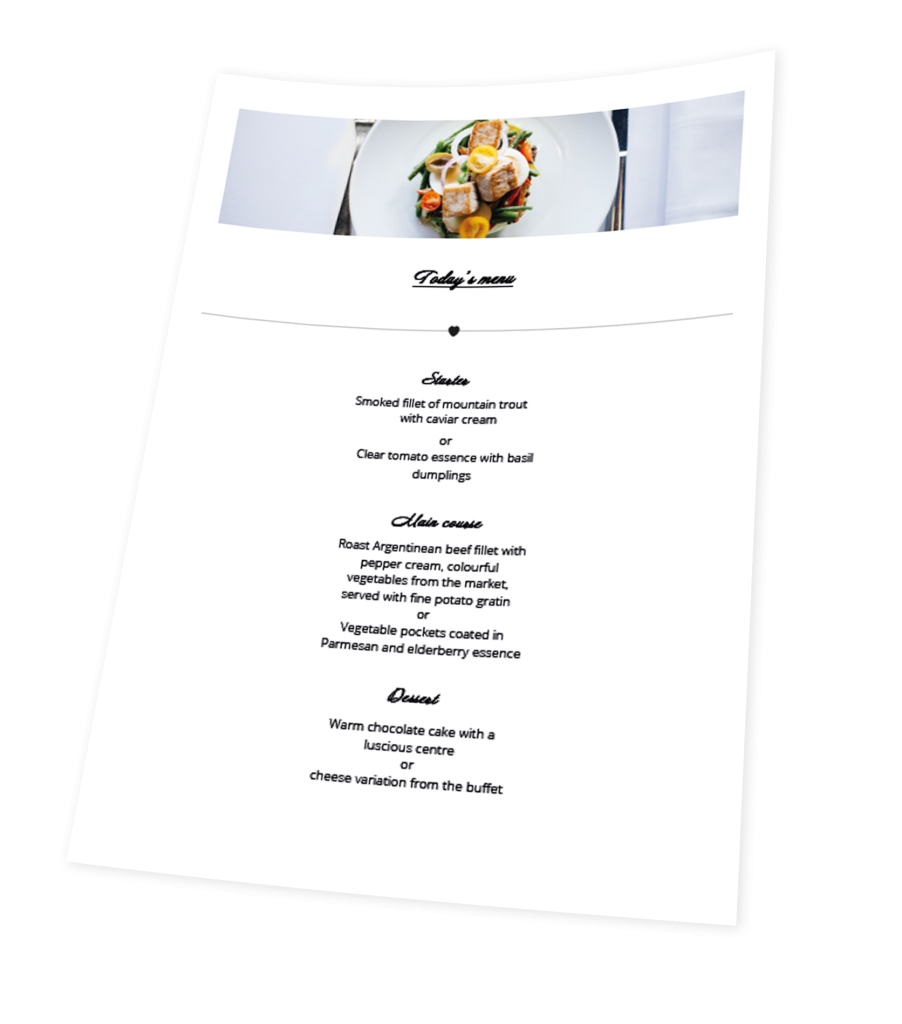 Menu card and wine recommendation
View complete example as PDF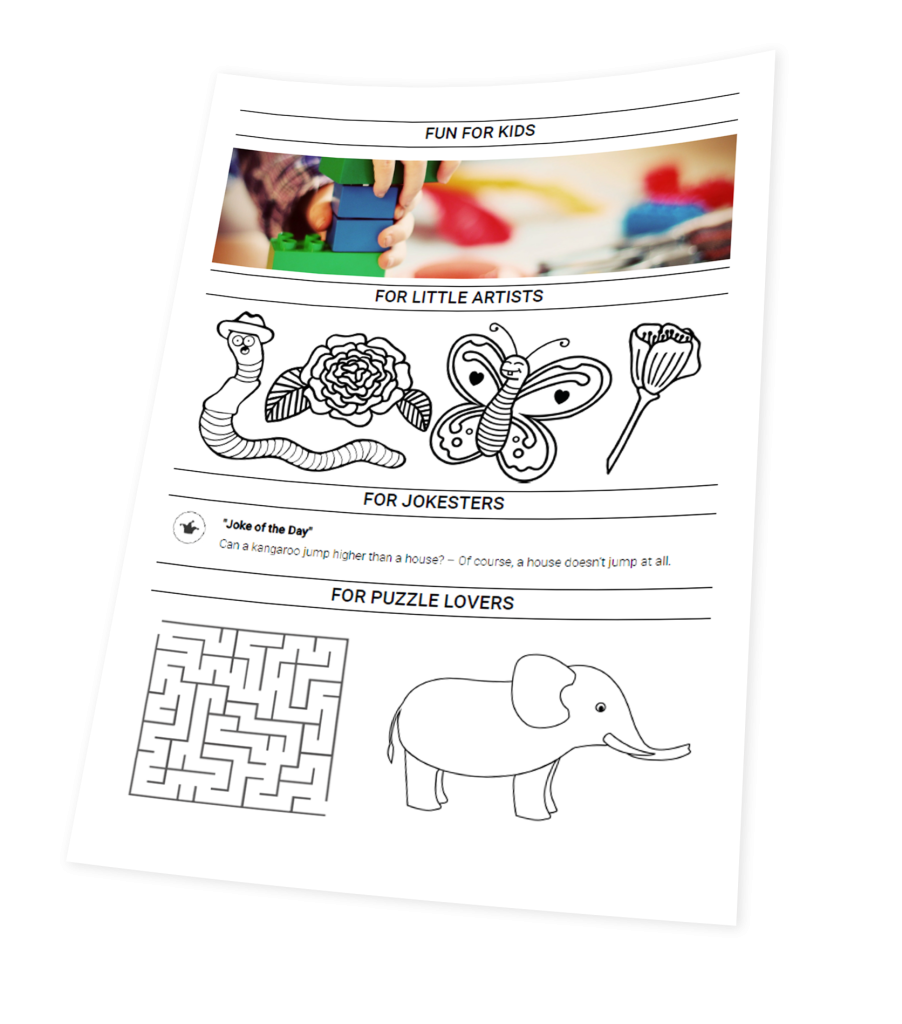 Children's newspaper or puzzles and colouring templates for children
View complete example as PDF
Find more tips and inspiration for your Hotel Newspaper in our blog post "Your Hotel Newspaper: tips for the all-rounder".
---
This text has been translated automatically.