A hot coffee or a glass of orange juice is simply part of breakfast. And of course, the newspaper on the table should not be missing. That's exactly how more than half of the German-speaking population sees it and browses through the daily press several times a week.* As a host:in with a Hotel Newspaper, you benefit from this habit of your guests. We will show you how you can create your own Hotel Newspaper offer your guests added value, create long-term customer loyalty and increase your turnover with little effort.
The content at a glance
1. Develop a concept for your Hotel Newspaper
The first question is how often your Hotel Newspaper will be published. Is there a new issue every day, every week or once a month? Develop a regularity that your guests can rely on. Also think about the size of your newspaper. Here you decide how many pages you need to present your hotel and the promotions in the best possible way. Limit yourself to the minimum, because it is well known that brevity is the spice of life.
Basically, the be-all and end-all is varied content. For example, excursion tips, guest information, tempting offers at the hotel as well as entertainment for young and old.
2. Your own newspaper in no time
Now that you have laid the groundwork, it's time to get down to business. Sure, you could start your word processor now and list your offers of the week, but that would be neither efficient nor visually appealing. To bypass this step, we have developed a modular system that makes creating your own Hotel Newspaper a breeze.
Thanks to the online editor, you simply drag and drop to add individual content, such as images and texts, or move them to the right spot. You will also find a large selection of ready-made elements, e.g. excursion tips, tour suggestions or the current weather forecast. We will start by assigning these to your region so that you have the right information about your accommodation directly at hand for your guests. We have also prepared colouring templates, Sudoku puzzles, quotes and much more for your entertainment. Of course, there is also space for your events.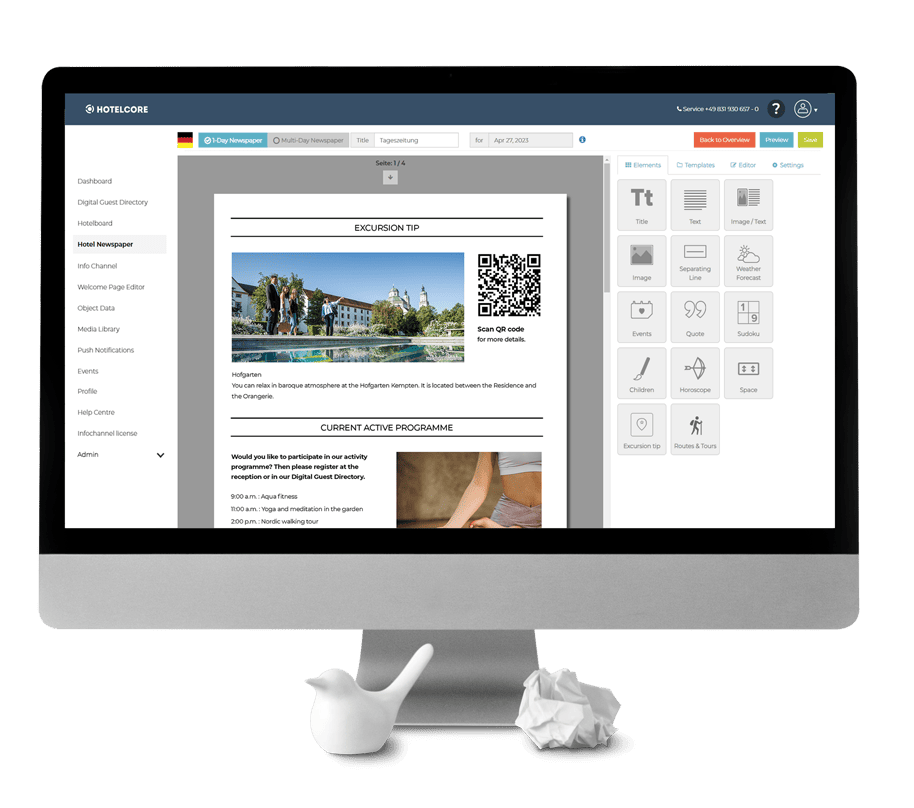 To give the newspaper your own look, you can add your logo and customise the fonts and colours. Once you have created your first newspaper, you can save it as a template for future editions. This way you will be even faster in the future!
3. Printed and as e-paper
Now it's time to deliver the finished Hotel Newspaper to your guests. Our system offers you two practical options for this:

🖤 Print the newspaper in the classic way and put it out at the reception, the breakfast table or in the hotel room. For many people, it takes a piece of paper in their hand to get the feeling of reading the newspaper right.

🖤 Present your Hotel Newspaper digitally as well – on your website, your social media channels or in the Digital Guest Directory. Here, your guests and also potential guests can access it at any time and from anywhere. In this way, you even do something good for the environment and save heaps of paper. You can easily get the link in the online editor for your Hotel Newspaper.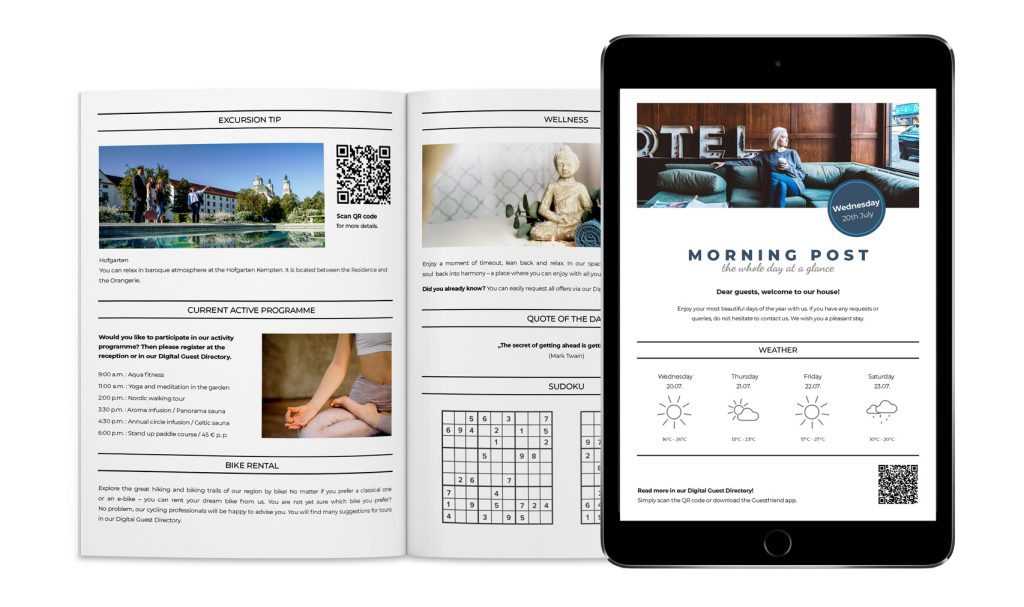 4. More than just a Hotel Newspaper
With the online editor, there are no limits to what you can create, so why not get a little creative? Use the modular system of the Hotel Newspaper for further content and create, for example, food and drink menus, weekly programmes, staff newspapers or colouring booklets for children. With a uniform look in all areas of your accommodation, you create a recognition effect and inspire your guests with professional documents.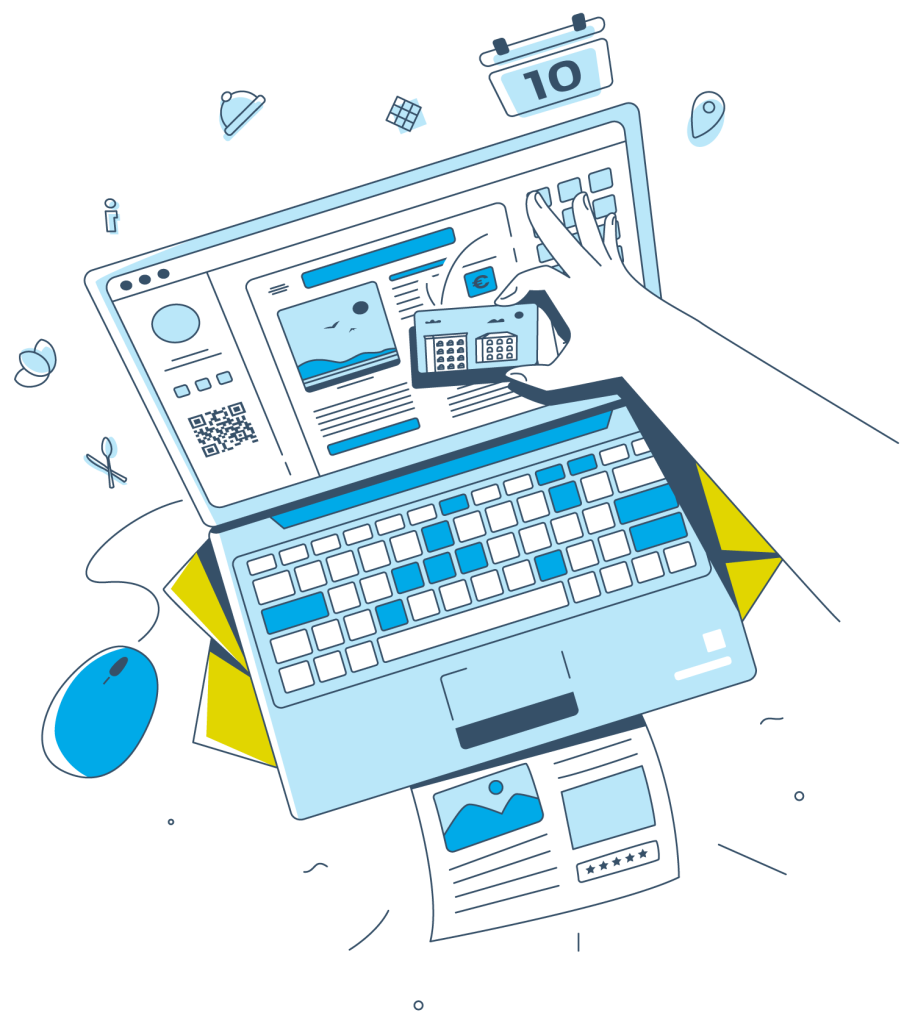 5. The key to success
With the help of your own Hotel Newspaper, you advertise your offers personally and individually. In addition, the guest newspaper offers you a smart advertising platform for even more visibility. Whether it's a wellness treatment, a guided hike or a 4-course menu: With the newspaper you convince your guests of your promotions already at the breakfast table. Full participant lists as well as increasing sales figures are the result.
The added value for your guests is also not out of the question. They are always up to date and can see your information, offers and tips on accommodation at a glance.
Place additional QR codes in your Hotel Newspaper. This way you will also reach all guests who prefer to inform themselves and book offers on their own on their smartphone or tablet.
6. Unbeatable together: Digital Guest Directory and Hotel Newspaper from Hotelcore
The combination of Digital Guest Directory and Hotel Newspaper is ideal. Since you use the same editorial system for all our products, numerous contents are available to you across all products. This means that you only have to upload or create pictures or events once. This saves you a lot of time! In addition, the Hotel Newspaper boosts the use of your Digital Guest Directory. QR codes in the footer direct your guests directly – e.g. to further information or an online booking form. The codes are simply scanned by your guests or clicked on in the digital edition. At the same time, the Hotel Newspaper can also be perfectly integrated into your Digital Guest Directory. In this way, the two products give each other a greater reach.
7. Your advantages at a glance
Use the online editor of Hotelcore for your own Hotel Newspaper and benefit from many advantages:
✅ Improved service
✅ Increased turnover
✅ More time
✅ Less work
✅ More sustainability
✅ Enthusiastic guests and employees
Get started right away with your own Hotel Newspaper and learn more
about our all-round talent.
info@hotelcore.io | +49 831 930 657-0
---
* Consumption and Media Analysis (VuMA) 2022 VuMA Report Volume, p. 52

This text has been translated automatically.