You see them more and more often in everyday life: QR codes. On advertising posters they promise more information about the product, in restaurants they direct you to the menu and during COVID19 they played their part in checking people's vaccination, test or recovery status. Everyone now knows what to do when they see such a code. Pull out your smartphone, scan it with your camera and off you go! In the following article, you will learn why the smart squares are also practical for you as a host and how you can increase your turnover with QR codes in your hotel.
Small square – a lot behind it: That's why QR codes are so ingenious
You can find them on advertising posters, flyers, stickers or on product packaging. Black and white squares that themselves consist of many small squares. To human eyes, QR codes seem cryptic. But if you point an appropriate scanner or the smartphone camera at them, you recognise the ingenious concept behind them. Because most QR codes lead directly to websites, apps, videos, photos or documents. Basically, anything that can be digitally displayed on the internet can be hidden behind such a square. The advantage over a printed link: Typing is not necessary. You scan the code in a few seconds and avoid typing errors right from the start. In this way, the QR code lives up to its name, because "QR" stands for "Quick Response".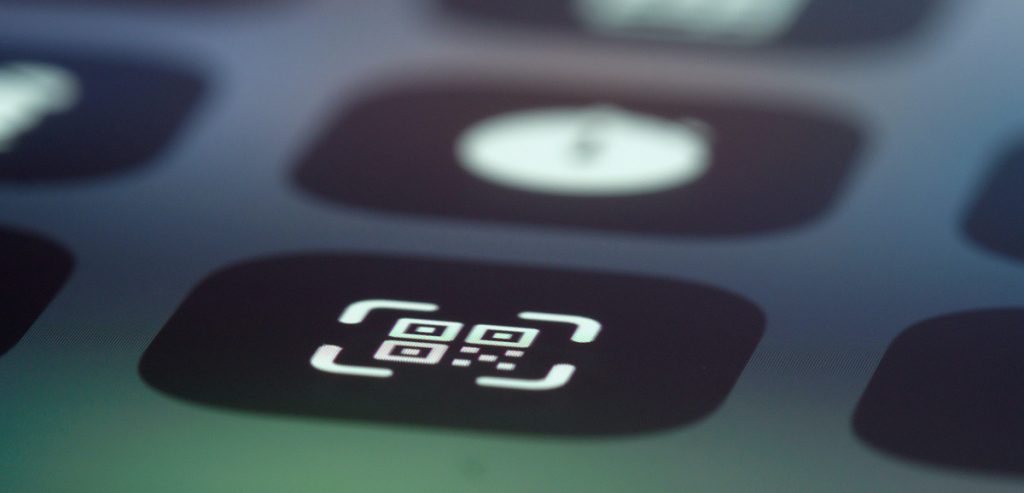 A QR code scanner is now one of the standard functions of smartphones and tablets. Most devices with current operating systems even have a function integrated into the camera that automatically recognises QR codes. After all, who hasn't experienced it: everyone knows in their sleep how to open the camera on their own smartphone. But where was that scanner again?
Digital transformation artists: Advantages of QR codes in hotels
So there can be a lot of information behind a small square and every guest with a smartphone or tablet has access to it. Many hosts have already recognised the opportunities this offers for everyday hotel life. They use QR codes in the hotel and refer their guests to the restaurant menu, the Digital Guest Directory, the weekly programme and much more. Especially practical: Compared to printed information folders and flyers, QR codes not only save space on the table, in the hotel room, etc., but also paper. In this way they contribute to the sustainability in the hotel.
QR codes are also economical in terms of effort. Because you update the content behind them at any time. The code will still work without any problems – as long as the link does not change. You can also make use of this advantage when you use Hotelcore: Whenever you want, you can change the content of your Digital Guest Directory in the online editorial system. The QR code that leads your guests there remains the same. So if you have it printed on flyers, posters or similar, these materials are consistent even if you completely revise your digital guest information.
Useful locations for QR codes in hotels
This makes it clear what exactly can be hidden behind QR codes. But which places in the hotel are best suited for QR codes so that your guests will see and scan them? There are many possibilities here.
On promotional materials
Your Digital Guest Directory, the menu as a PDF or the travel guide for the region: if you want to draw your guests' attention to extensive information, table displays or posters with the corresponding QR code are useful, for example. Simply place them in spots in the hotel where your guests cannot miss them, such as in the rooms, on the tables in the restaurant, at the bar or at the reception.
Especially for the Digital Guest Directory, which contains important information from A to Z, it is a good idea to give your guests an additional flyer or business card as a hint at check-in. This will draw even more attention to your digital service. Do you use keycards as room keys? Then card cases with the corresponding QR code might be just the right thing.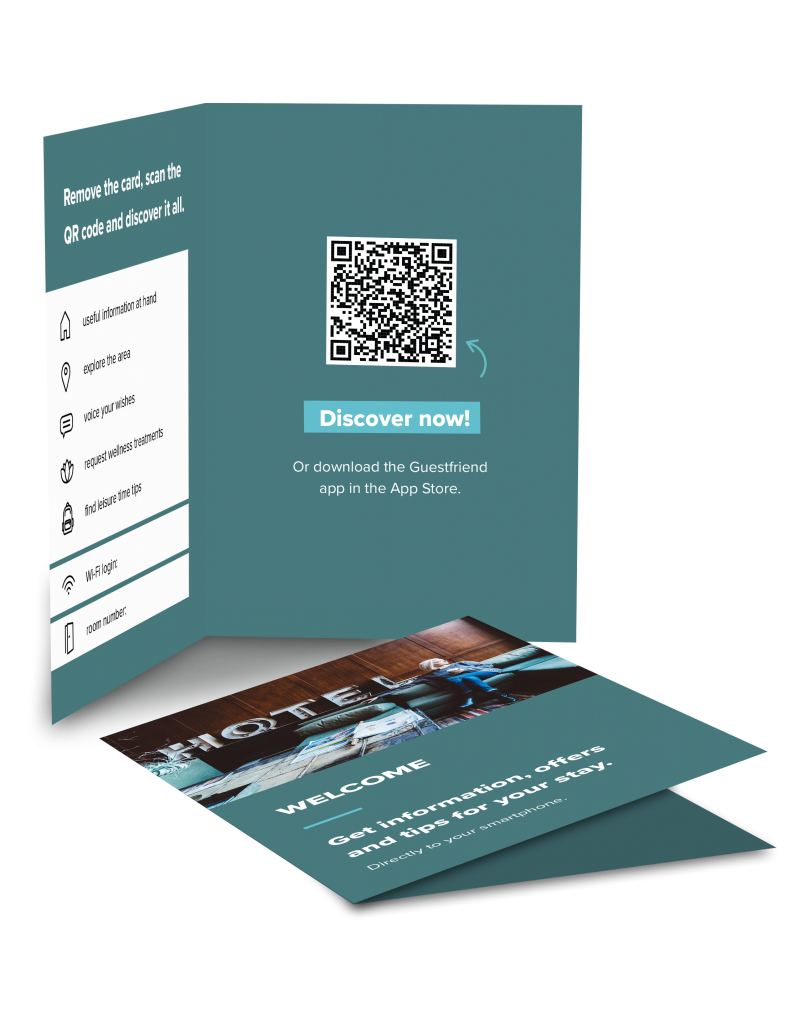 On the Info Channel on hotel TV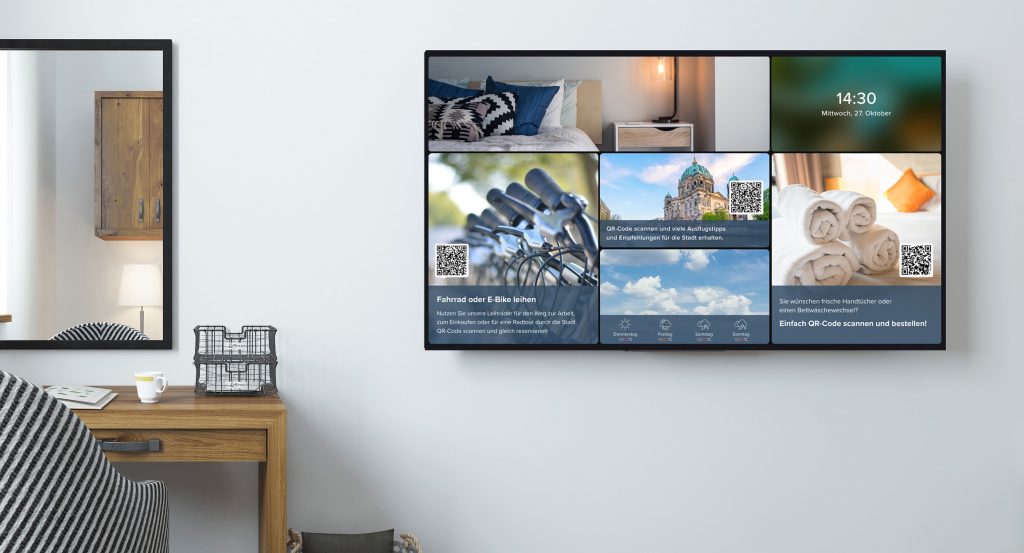 With the Hotelcore Info Channel you can easily refer your guests to offers such as wellness, bike rental or the menu in the restaurant on the hotel TV.
QR codes are often useful not only in print, but also on screens. For example, do you use monitors or TVs all over the hotel and advertise your wellness offer, bike rental or similar on them? Then make booking as easy as possible for your guests: integrate a QR code on the screen that leads directly to the appointment selection in the Digital Guest Directory. Tip: With the Info Channel by Hotelcore this is a piece of cake. In the online editor, you can insert a QR code with just a few clicks. All you need is the appropriate URL to which you want to direct your guests.
In the Hotel Newspaper
At the breakfast table a guest newspaper with excursion tips, weather forecast and events is simply part of your hotel? Perfect! Thanks to QR codes, you can give your guests a whole tour description to go with your recommendation. Or you can direct them straight to the ticket booking for the event in question. This is a practical added value for your guests and a great opportunity to market your offers.
Everywhere in the hotel: there are no limits to creativity
As you can see, QR codes are suitable wherever space is limited or text is no longer sufficient. If you prefer something more inconspicuous, a small sticker with a QR code and the appropriate call to action will do. For example, on the hotel room doors you can remind your guests that they can cancel the daily room cleaning with just a few clicks. Or you could stick a QR code for the digital menu directly on the tables in the restaurant
There are countless different possibilities. In the Koncept Hotels, QR codes can also be found on pillowcases or even on toilet paper, for example. The hotel group draws attention to its sustainability concept in all the relevant places. For example, it points out to guests that the toilet paper is made of 100% recycled material or that the bed linen is made of fair cotton.[1]
5 tips for the use of QR codes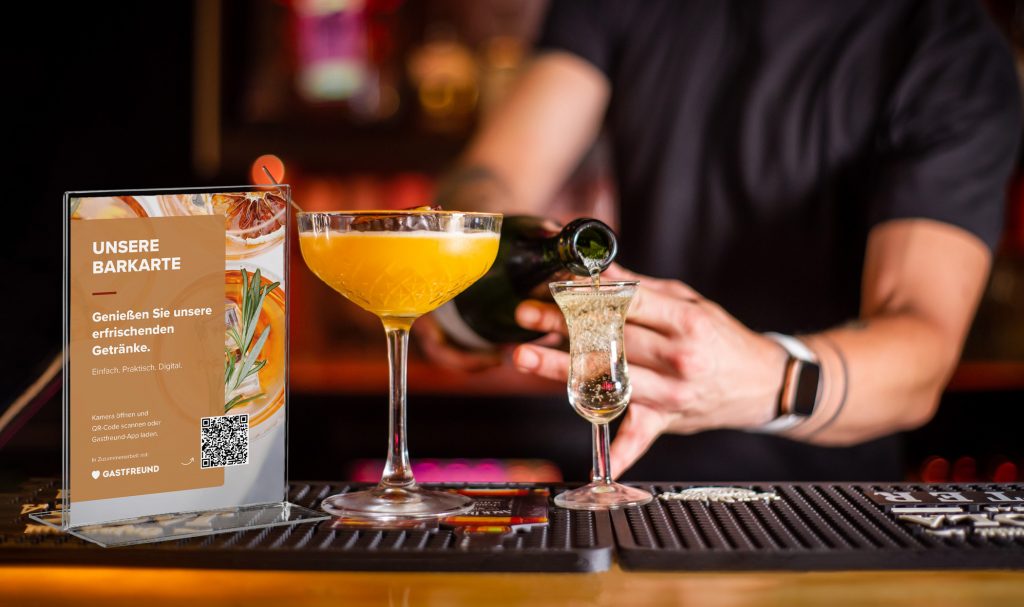 QR codes are usually useful for digital menus and drink menus. However, there are a few things you should keep in mind when using them.
Choose the right size: How big your QR code should be depends on the complexity of the code as well as the distance from which guests scan it. For flyers, displays and business cards, a size of at least 2 x 2 centimetres is usually recommended so that all devices recognise the code straight away.
Ensure good print and image quality: Blurred or pale QR codes are usually difficult for cameras to read and may not be recognised as a code at all. So make sure you have good print quality or display resolution and sufficient contrast to the background. If you want to be on the safe side, use a black code on a white background.
Choose suitable positions: Especially with larger posters, screens or similar, a well thought-out placement of the QR code is important. Is the code possibly obscured by something in front of the poster? Do your guests have to reach up or bend down to even hold the camera on it? If so, you'd better reconsider the position and always test the scanning yourself.
Don't forget the call to action: Even though most people now pull out their mobile phone camera just at the sight of a QR code – remeber to include a prompt to scan. With a sentence such as "Scan now and book a spa appointment!" your guests will immediately know what to expect behind the square code.
Leave enough space: You should leave enough space around the QR code to other elements. This margin is called the "quiet zone". It is important for the readability of the QR code.[2]
Did you know? We gladly create your individual advertising material such as flyers, displays or card cases to go with your Digital Guest Directory by Hotelcore. The QR code on them always directs your guests directly to your Guest Directory or Hotel App.
Would you like to use QR codes to draw more attention to your guest information?
We will be happy to advise you.
---
Sources:
[1] KONCEPT HOTELS: QR codes as info openers: learn more about sustainability at the "quiet little toilet", 27 July 2022. https://www.koncepthotels.com/koncept-hotels-qr-codes-als-info-opener-am-stillen-oertchen-mehr-ueber-nachhaltigkeit-erfahren/
[2] www.explainthatstuff.com, QR codes and 2D barcodes, last updated: 18 March 2021: https://www.explainthatstuff.com/how-data-matrix-codes-work.html
Image source: ©Shisu_ka – stock.adobe.com
This text has been translated automatically.