The television, together with the smartphone, occupies the first place of the most used devices in 2020. More than 90 % of Germans switch it on at home and on holiday to relax*. Therefore, make sure to use the TV system in your accommodation. We will show you how to give your offers more visibility with your own hotel TV and what is new – on the info channel of Guestfriend.
Why should hosts rely on a own info channel for their TV system?
Guests want to be well looked after all round. This includes personal tips for the stay, interesting facts about the offers in the hotel and often direct contact. Getting all this under one roof is not easy, especially in times of the Corona pandemic!
The solution: Televisions and monitors attract attention and provide comprehensive infotainment and targeted marketing at busy locations. Whether in the entrance area, restaurant, fitness or common room: events, news and services are seen despite distance and hygiene rules. Contactless and digital, our hotel TV provides simple support for the personal care of your guests.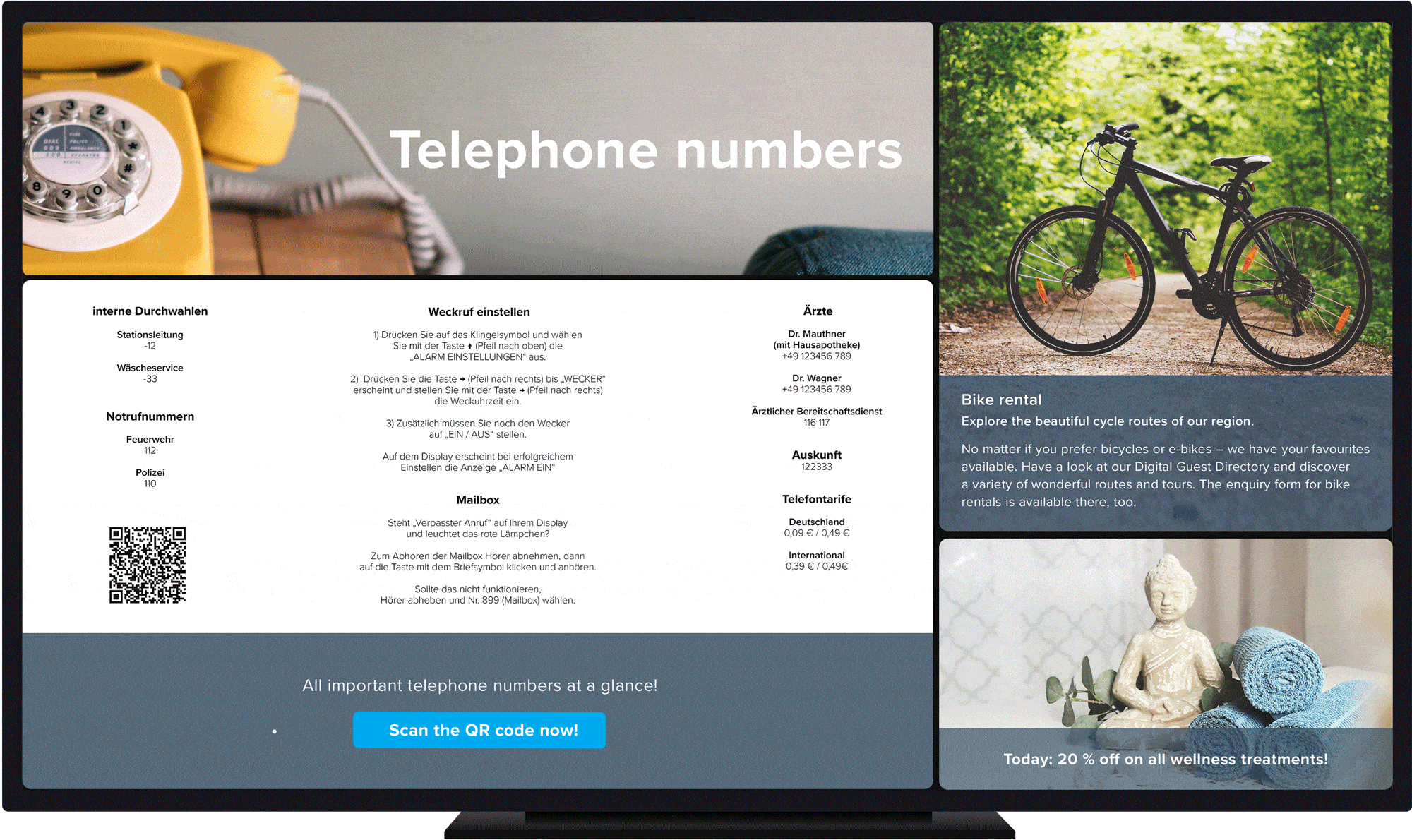 What content should not be missing on your own TV channel?
The info channel helps hotels, guesthouses, holiday flats, campsites, homes and even clinics to inform, communicate and sell. Accordingly, everything you want to communicate to your guests and visitors will find its place.
Category
Example
Information
• link to the digital guest directory
• guests A to Z
• food and drink menus
• picture gallery of the accommodation
• social media channels
• weather forecast
• time and date
Communication
• news
• weekly programmes
• excursion and shopping tips
• events in the region
Sales
• current offers and campaigns
• products
• in-house events
The Info Channel of Guestfriend
What functions are behind the new TV software?
Fast updating: The new info channel is equipped with an editor that allows independent maintenance of the content in real time.
Individual layout: Using the drag-and-drop principle, you can create several pages (and TV channels) in different designs.
Practical building blocks: Without extensive research, you can use ready-made elements that update automatically, such as weather, time and date.
What other benefits can the hospitality industry and the health sector rely on?
Sensible synergies: News and events stored in the Guestfriend editorial system can be played out simultaneously in the Digital Guest Directory, the Hotel Newspaper and via the Info Channel without additional effort.
No hardware costs: Use your existing monitors, TVs or distribution system with HDMI input and Internet access.
Easy installation: We supply the appropriate technology and undertake maintenance and technical updates completely free of charge.
Service from A to Z: We design your personal information channel for the start and show you how easy it is to keep your content up to date. Your personal contact person will be at your side as usual.
Welcome your guests in a new way – entertaining and informative at the same time.
We will be happy to support you and to make you an individual offer for your Info Channel!
www.guestfriend.com | info@guestfriend.com | +49 831 930 657-0
---
This text has been translated automatically.