Celebrate with us: This month Guestfriend officially turns 5 years old! What began as an idea has developed into a successful concept. 5 years ago we were still working on our prototypes. Today we already have more than 4,000 customers and enhanced and new products – in total five tools, which simplify the everyday life of hoteliers – and more are to come. We are very proud of what we have achieved together and would like to say THANK YOU with a birthday special!
How it all began …
On our travels we often faced the following situation: At the reception, we were flooded with information at the check-in. The hotel rooms were full of paperwork and worn out room maps so that we had to find relevant information for our stay ourselves or ask at the reception again. Neither for us nor for the hotels a satisfactory situation. So we asked ourselves how to make it better? In 2013 we had the answer:
A Digital Guest Directory which gives guests all important information about his stay and the holiday region and that enables the hotelier to highlight offers. That was a gap in the market! A short time later we founded Guestfriend and developed the first prototypes of our app – always in close exchange with some hoteliers and tourism organizations. One year later we had polished our app and won our first customers.
…and where we are today.
What began in the Allgäu region has now spread throughout Germany, Austria, Italy, Liechtenstein, Luxembourg, and Switzerland. And recently we even started operating in Scotland and the Netherlands. Within 5 years we have won over 4,000 customers, our team has grown to 95 employees and we have moved into another office in Berlin in addition to our headquarters in Kempten.

And the best is yet to come: through the intensive exchange with our customers, we have developed four additional products in addition to the Digital Guest Directory: the Hotel Newspaper, the Wi-Fi Landing Page, Info Channel and the Hotel-App. All five tools are now popular products that our customers love to use – after all, 95 % of our customers recommend us to others. This is insane!
"We were always convinced that we had a good idea and a great team. But nobody expected us to grow so fast and inspire more than 4,000 hoteliers within five years. We have to praise our team for taking on and mastering the challenges right from the start! But we would also like to thank our customers: It is incredibly fun to work with them, they help us to improve our products and to develop them further. Without our great customers and the motivated team, we wouldn't be here right now!"

Marc Münster, CPO/CEO of the Gastfreund GmbH
5 years of challenges and ambitious goals, hard work and determination are now behind us. Our mission is to digitize communication in the hotel industry, to improve the travel experience and to support the hoteliers in their work. But our journey is far from over! The last few years have shown us that we are doing a good job and that there is still a lot of potentials to make the hotel industry fitter for digitalization! So be curious about what you can expect in the next few years! Celebrate with us!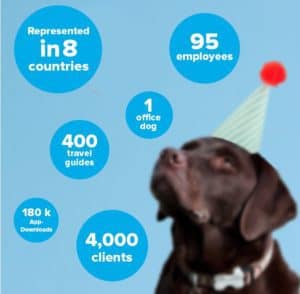 To make it short: Thank you for your support, help, loyalty, warmth and enthusiasm, dear hosts, hoteliers, partners, friends and last but not least dear Guestfriend team!
To make sure you all benefit from our 5th anniversary, there are great birthday presents for new and existing customers this month! Just call us on +49 831 930 657- 0 or send us an email to info@guestfriend.com and find out what to expect.
To many successful years to come!
This text has been translated automatically.