The host of the Appartements Ennemoser has expanded the personal care of her guests with a very special digital service: the Digital Guest Directory. Thanks to this digital travel buddy, her guests will find all the information they need for their holidays at any time using their own mobile devices: from the A to Z, to the bread roll service, shopping facilities on site or excursion tips in the region. This way they also receive answers to their questions even when their host is not there. For the host, especially the integrated online bread roll service turned out to be a great relief. As all orders are now recorded online and it saves a lot of time.
Digital services, such as the Digital Guest Directory, are not only suitable for hotels, but also for smaller accommodations that want to delight their guests on the one hand and work more environmentally conscious, modern and efficient on the other.
Find out our case study how the Digital Guest Directory …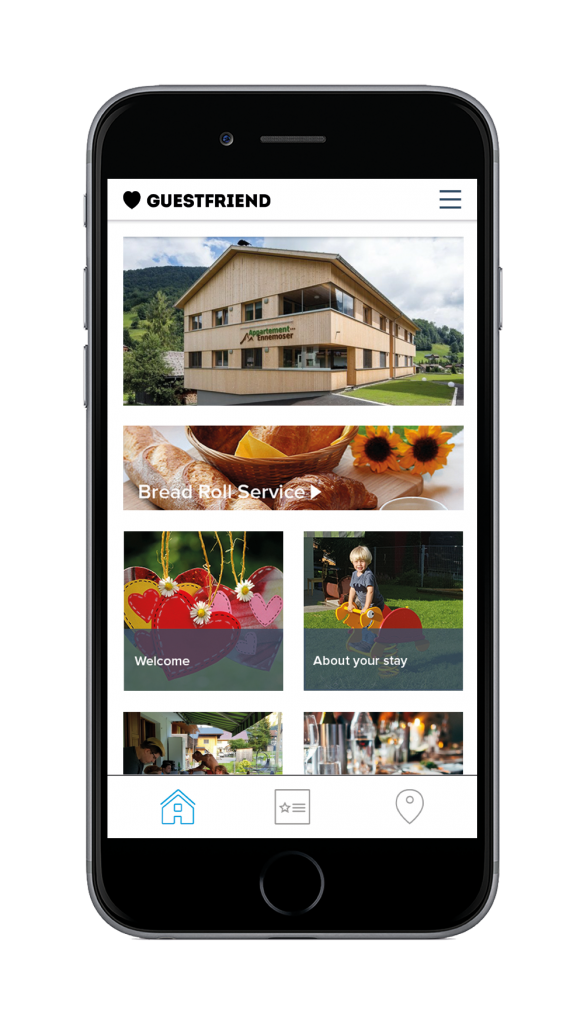 ✔ … speeds up the ordering of the breakfast service,
✔ … facilitates the daily work of the host,
✔ … minimizes paper consumption,
✔… delights guests and ensures positive feedback.
"My guests are delighted by the digital travel buddy. The bread roll service is definitely a highlight of the Digital Guest Directory for me! Guests can easily send their bread orders for the next day digitally until 8 pm. Before, I had to collect the slips every night. It was often the case that guests had forgotten to fill out a slip, and then they had no fresh bread the next day. As orders are processed via the Digital Guest Directory, it has become much easier and I can also go to bed an hour earlier from time to time."

Veronika Ennemoser | Owner of the Appartements Ennemoser
Benefit from the Guestfriend tools, too!
Benefit from the Guestfriend tools, too! Whether hotel, holiday home, B&B, guesthouse, 5-star hotel, hotel chain or campsite – we have the right solution for everyone!
Feel free to send us an e-mail to info@guestfriend.com or call us on +49 831 930 657-0 with no obligation, of course. We look forward to getting to know you!
---
More case studies:
This text has been translated automatically.