Do you want to strengthen your brand, improve guest loyalty and stand out from the competition? Then Guestfriend is the right place for you. As an expert in digital guest services, Gastfreund creates a Digital Guest Directory for your house, as a stand-alone app and in a distinctive design. Hosts do not need any special technical knowledge for this, because Guestfriend takes care of the complete programming – from the concept to the download-ready app. What it means with the hotel app is all about, we will show you in this article.
Why have your own hotel app?
Whether at home or on holiday – when we have questions, the first thing we do is reach for our smartphone or tablet to get information. We search for answers on the web or use the appropriate app. They provide the right information in a flash and are equipped with numerous functions that make everyday life easier. No wonder apps are more popular than ever. According to The State of Mobile 2021 Report, app downloads worldwide increased by 7 % compared to the previous year. For the United States, this means 13.39 billion app downloads in 2020.* In the travel industry, apps for accommodation and urban travel in particular recorded the strongest growth in 2021, even surpassing pre-pandemic levels.**
So now is the perfect time to inspire guests with your own app.
What can a hotel app do?
The Guestfriend hotel app combines all the functions of a Digital Guest Directory and, as an independent app, receives entries in the app stores as well as individual branding – matching the brand. It supports hosts in their daily hotel routine, informs guests and promotes communication.
The main task of a hotel app is to provide guests with important information about the house, such as breakfast times, hygiene rules or special offers. With the integrated online library, guests are equipped with a variety of magazines and journals even on relaxed days. On top of that, the Guestfriend editorial team creates a free travel guide for the respective holiday region. Here, holidaymakers discover sights, events, tour tips and much more. And all this completely paperless on their own smartphones and tablets.
As a host, it is particularly important to be in contact with the guests – both personally and digitally. Of course, Guestfriend has also thought of this: via a chat, guests contact their hosts personally at any time and stay in touch. To complement this, hosts send news and offers directly to their guests' smartphones via push message.
But that's not all, because the hotel app can do much more! Guests can use interactive forms to book offers and services, such as a wellness appointment, order bread rolls, request a late check-out or reserve a table. This makes it easier for hosts to plan available allotments and boosts sales. Of course, Guestfriend adapts these forms to the accommodation – whether for small holiday flats or large hotels.
What advantages do hosts have with the Guestfriend hotel app?
Your brand in the foreground

You receive the app incl. app icon with your logo and in your colours. This is how you stand out from the competition

Accessibility for all

We publish the app for Android, iOS and as a web version and manage the entries in the Apple App Store and on Google Play

Fast programming

You save yourself lengthy and expensive app development and of course receive all technical updates free of charge

Strong guest loyalty

Thanks to the app, you will not only stay on the smartphones, but also in the minds of your guests.

Easy customisation without changeover

You manage the content conveniently in Gastfreund's simple online editorial system

Uniform appearance
Hotel groups and chains increase the visibility of their umbrella brand with a joint app.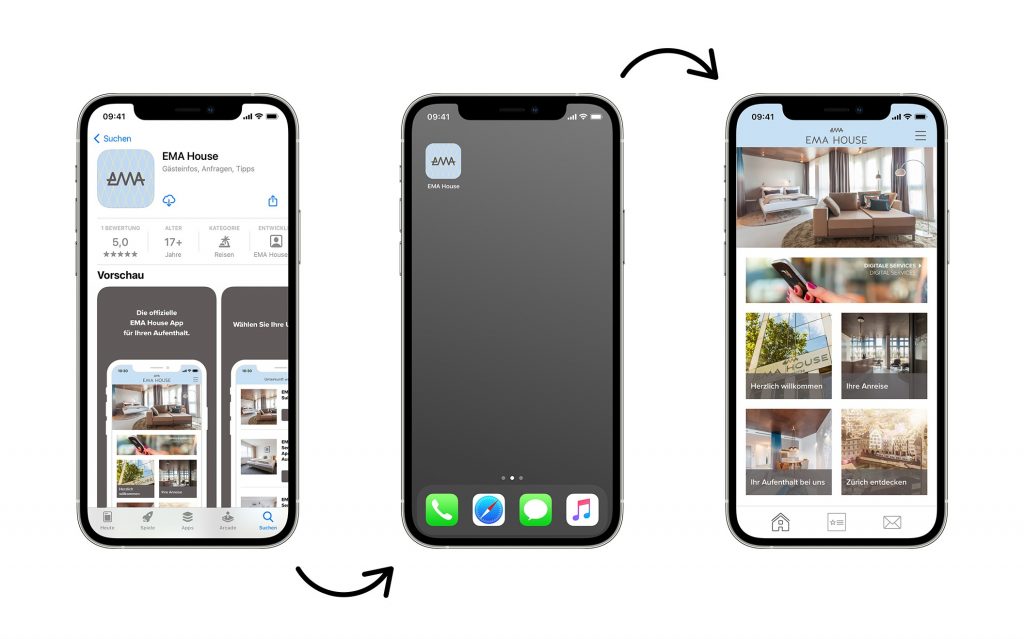 What does your hotel app look like?
We create a stylish app for you in your design that reflects your house. But what does that mean?
First of all, experts from the Guestfriend team create an individual design for you, personalised entries in the Google Play and Apple App Store and a unique app icon with your logo. This appears on your guests' home screen after the download. Just one click on the familiar logo and they will discover your Digital Guest Directory.
As soon as they open the hotel app, they will recognise your unmistakable branding including logo in the header and customised colours – a real eye-catcher!
? Good to know!
In principle, guests will use your hotel app on their own mobile devices. Their own smartphone or tablet is the most hygienic and cost-effective contact option. Guests decide for themselves whether they want to use your Digital Guest Directory as an app or via internet browser as a progressive web app.
For even more attention, present your hotel app at frequently frequented locations in your hotel. Use our touchscreen kiosk or stationary tablets for this purpose digital info points. Your guests will be thrilled!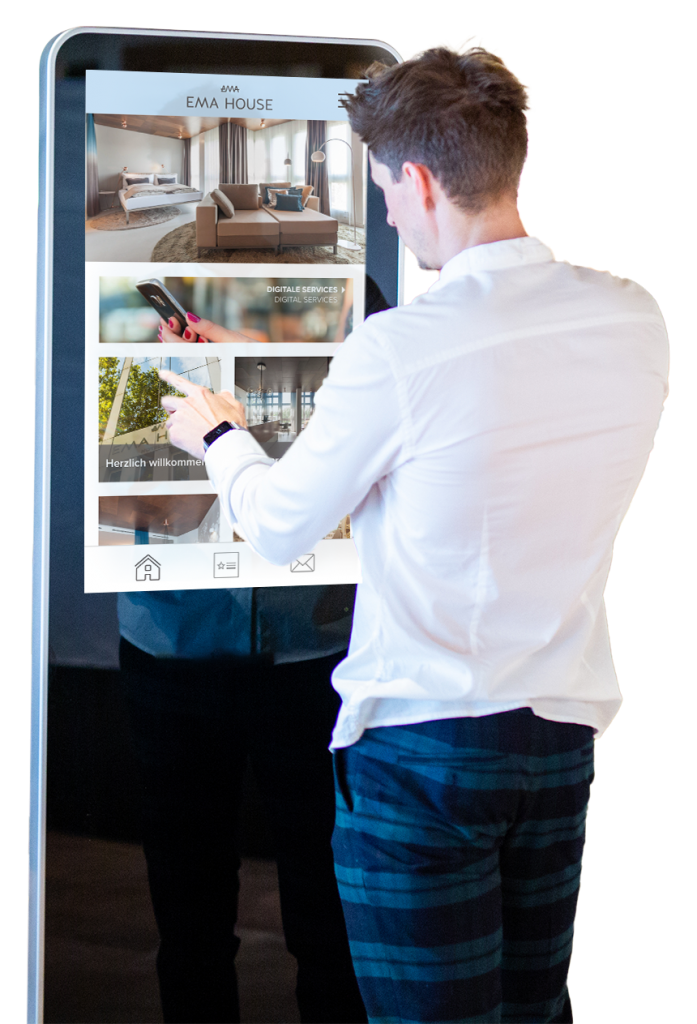 Take the next step now and put your brand in the spotlight with your own hotel app! We would be happy to advise you in a personal meeting.
---
*The State of Mobile 2021 Report, App Annie
** The State of Travel Apps in Europe 2021, Sensor Tower Inc.
This text has been translated automatically.