This year's summer season is slowly coming to an end and employees in hotels, holiday flats and campsites are breathing a sigh of relief. The last few weeks were often very challenging for the employees, marked by numerous arrivals and departures, stress and a lot of work. It becomes more difficult when staff is missing.
Nowadays, employers have to pay even more attention to ensuring that their employees continue to enjoy their work and take the pressure off them. Digital tools can help. We show you how they enable modern working, make processes more efficient and relieve the team.
Staff shortage in the hotel industry as a central problem
Even before Corona, the hotel industry suffered from a staff shortage. This developed into an even greater challenge, especially due to the pandemic, and continues to this day. This is a problem for almost 80 % of the tourism businesses. [1] In 2021, several lockdowns, little to no financial support and the hopelessness of the situation cost the industry 325,000 skilled and numerous unskilled workers. [2] In order to counteract the problem of staff turnover and continue to cope with the situation, employers must also relieve their team members in the long term. Digital tools help with this and counteract stress in everyday hotel life. They standardise recurring tasks and processes, even partially automate them. In this way, they simplify the work in front of and behind the reception desk and relieve the employees.
Exploit unused potential behind the reception desk through digitalisation
Within the team, digital solutions reduce effort and decrease workload. Time-consuming tasks, complex processes and complicated handovers distract from the essentials. Possible comprehension problems with non-German-speaking colleagues complicate the situation even more. Efficient work needs transparent, good communication. So it is not only about the members of the hotel team communicating at all, but also what and how they do it.
And this is exactly where digital tools like the Hotelboard provide support: they simplify complex processes and connect employees from different backgrounds. In this way, companies in which employees are well networked can increase productivity by up to 25%. [3]
Hotelboard – How does it work?
The Hotelboard connects all departments and brings the entire team together digitally in one place. Employees communicate via the tool, organise and complete tasks quickly and easily behind the scenes. They process all to-dos and guest requests that arrive via the Digital Guest Directory. With just a few clicks, employees assign the tasks to the responsible persons. For example, the caretaker receives his repair orders, the chambermaids see cleaning work to be done directly and the restaurant manager receives the new reservations in real time. Important handovers, checklists and required documents are easily transferred. All team members communicate smoothly within and between departments. Language barriers are no longer a problem thanks to automatic translation.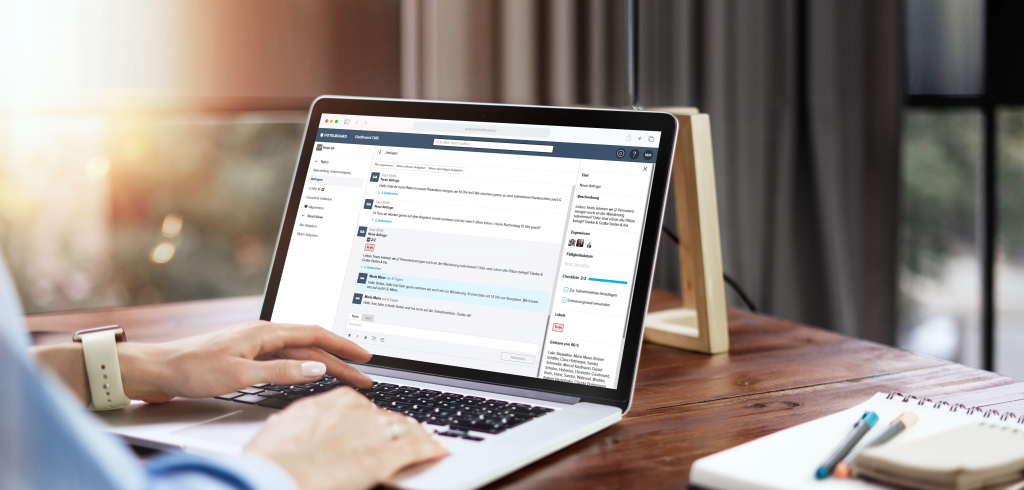 Hotelboard: communication, task management and knowledge management in just one digital place.
Relief through digitalisation in front of the reception desk
The reception is one of the central contact points for guests and therefore also one of the most labour-intensive positions in the hotel. Most of the interaction between staff and travellers takes place here. Therefore, there is great potential for digitalisation here in particular and a resulting relief for the staff.
Suitable software already supports classic tasks such as check-in, check-out or payment processing. But there is also support for guest services before, during and even after the stay. The Digital Guest Directory from Hotelcore is the perfect tool for communicating contactlessly with guests and providing them with everything they need to know.
Already before arrival, they inform themselves about the booked accommodation and the surroundings. When they arrive, they no longer have to go to reception for every request. They can make enquiries via smartphone and book additional services with just a few clicks. Guests can also find route and tour suggestions as well as excursion tips online at any time. As a result, the reception team has to answer fewer recurring questions and has more time for other to-dos. Employees gain flexibility. Even in accommodation without 24-hour reception, hosts are always there for their guests – even when they are not on site. As a result, guests enjoy a pleasant stay and hotel staff have less stress.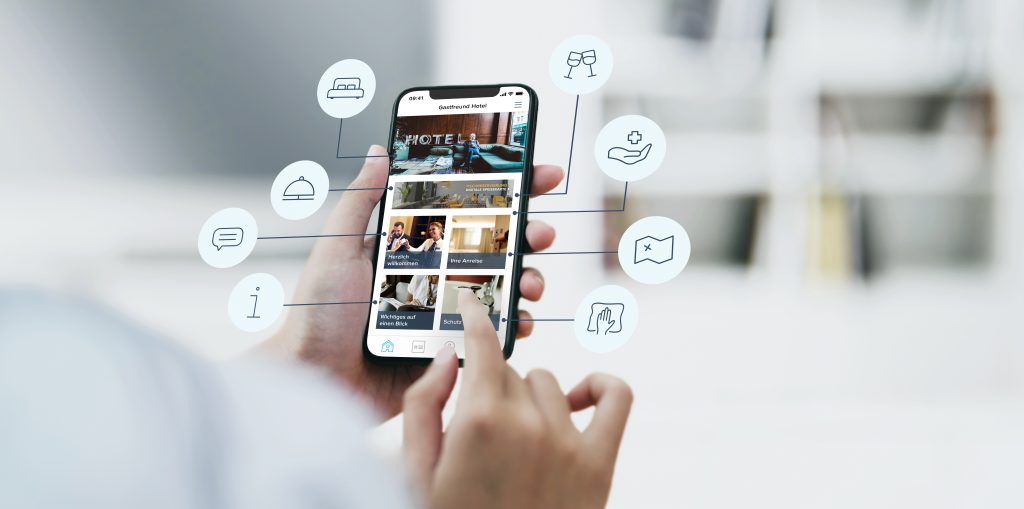 Digital Guest Directory: It combines many interactive functions that make it easier for you to inform and communicate with your guests, increase the upselling of your offers and at the same time relieve your team.
Digitalisation as a sustainable strategy against staff shortages
Thanks to transparent communication and simplified processes, hotel teams work in a more organised and structured way. In this way, the right hotel software increases the productivity of the staff, but above all their satisfaction, as they finally have less work stress. Hotels, holiday flats or campsites with digitalised processes use the relief potential for employees and position themselves as innovative and competitive. Not only for their guests, but above all on the labour market. The modern framework conditions increase the attractiveness of the hotel as a workplace. They help acutely in stressful situations, but also in the long term against challenges such as staff shortages and time pressure.
Reduce stress and relieve your employees. We support you in becoming even more efficient.
+49 831 930 657-0 | info@hotelcore.io
---
Sources
[1] https://www.tophotel.de/dehoga-fachkraeftemangel-fuer-fast-80-prozent-ein-problem-114502/
[2] https://mrp-hotels.com/de/die-personalkrise-in-der-hotellerie-status-quo-hintergruende-und-loesungsansaetze/
[3] https://www.speakap.com/de/insights/interne-kommunikationsstatistik-2021


This text has been translated automatically.