We can hardly believe it ourselves, but this year we can already look back on a whole decade of company history! in 2013, the "Gastfreund GmbH" was founded and it feels like yesterday that we were celebrated our 5th birthday. But so much has happened since then. It's time for a little look at the milestones of the last few years and a preview of our celebrations for the tenth anniversary!
2013 vs 2023: How Hotelcore and the world around us has evolved
It's been ten years since our founders laid the foundation for the company we know today. We've already told many times how this came about and what the idea behind it was back then, including the "About us" section on our website. If we look at our company then and now, one thing has quite obviously changed in the meantime: our name. So when you get right down to it, it's not Hotelcore that is turning 10 this year. It is the company that started as "Gastfreund" in German speaking countries and quickly expanded into different coutries over the years – first under the brand of "Guestfriend" and now known as "Hotelcore". But let's not wallow in nostalgia so much as celebrate how far we've come in the meantime!
By the way: You can read everything about our rebranding from Guestfriend to Hotelcore in this blog article.
Digital Guest Directory: from innovation to must-have
It all started with the Digital Guest Directory. It was Hotelcore's first product and, at the beginning, convinced especially open-minded and forward-looking hosts. In the meantime we have noticed: The Digital Guest Directory has become a must-have in the hotel industry. Not only hotels, but also guesthouses, holiday flats, serviced flats and campsites use it to take care of their guests, communicate digitally and sell their offers.
Software by Hotelcore: more diverse, more international and better than ever before
The Digital Guest Directory is not our only product and hasn't been for a long time. In recent years, it has been followed by the Info Channel, the Hotel Newspaper, the own Hotel App and since the beginning of 2022, the Hotelboard. The latter expands the offer beyond digital guest services and makes Hotelcore an all-in-one solution for accommodation. Thus, hoteliers now reach their guests at many different contact points in the hotel and also organise tasks as well as communication within the team with software from Hotelcore.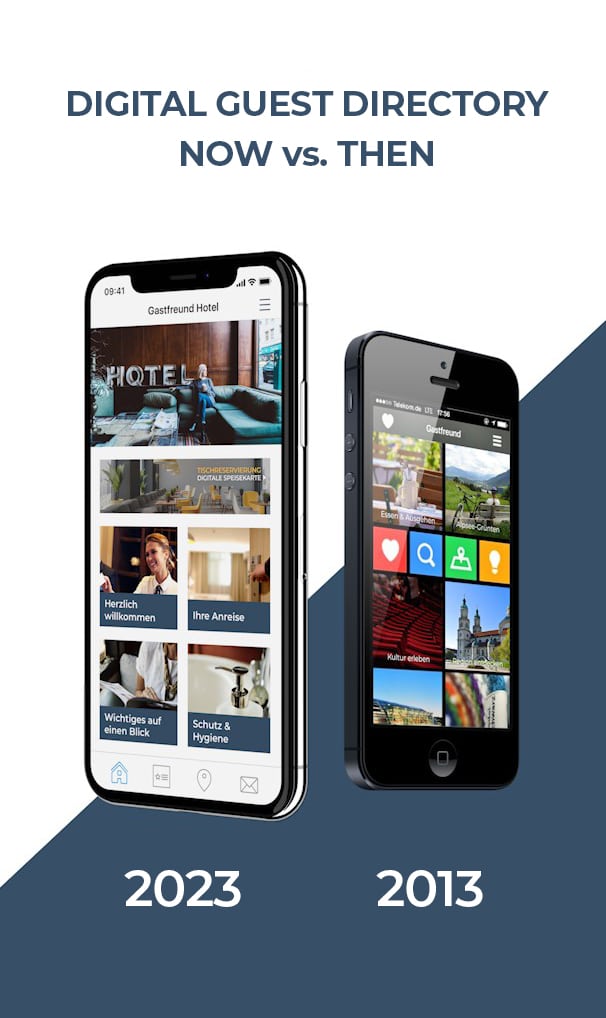 A look at the facts: These are the numbers we are proud of
When we look at what we have achieved in 10 years, there is really a lot to celebrate: For example, the fact that Hotelcore products are now used in 6,500 accommodations in 30 different countries. Or the fact that the Gastfreund app, together with its international counterpart, the Guestfriend app, has already been downloaded well over a million times! To this end, around 100 employees are constantly working on optimising the five products even further. Apparently with success, because the feedback from our customers and their guests is always very positive. On Google and in the app stores, they rate Hortelcore with an average of 4.8 out of 5 stars.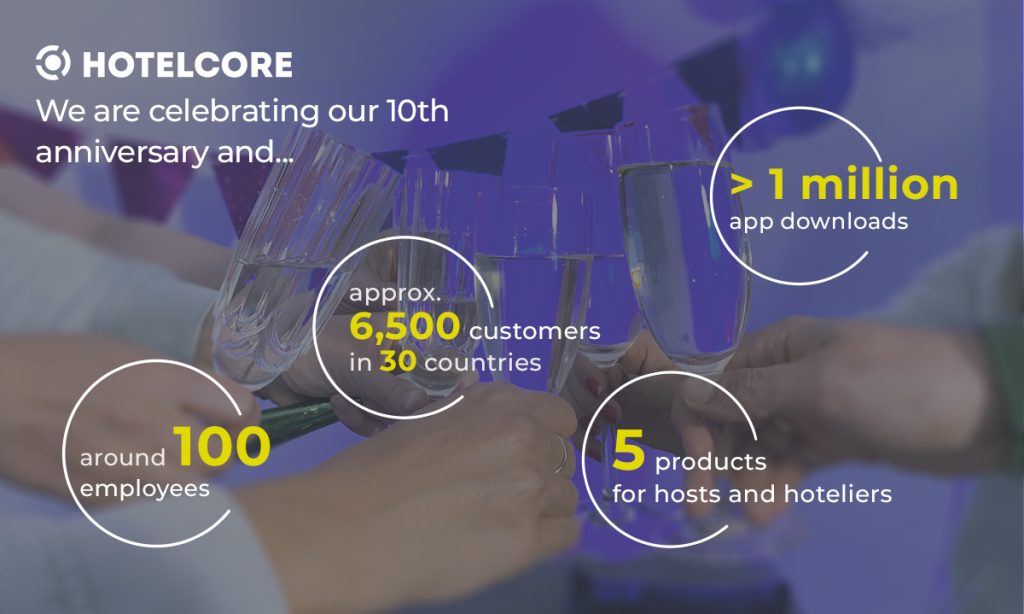 A hospitable "thank you"..
…to our customers,…
That Hotelcore is where it is today after ten years is thanks to various parties. One of them is the hosts who use Hotelcore products every day. Managing Director Daniel Schulze says in an interview:
"Our customers have developed the products together with us and have grown with us. I think it is great to see that the hotel industry has shown resilience despite the challenges in recent years. We have also noticed how important it is that hosts continue to grow both in the analogue world – which is of course most important – but also in the digital world."

Daniel Schulze, Managing Director at Gastfreund GmbH
…to our partners...
Our partner companies have also been extremely important companions in recent years. These include numerous technology providers in the hotel and tourism sector with whom we pursue a common goal: to make the hotel industry more digital and modern. One partnership in particular has influenced us in recent years, as Daniel Schulze tells us:
"We have achieved many different milestones together as a team. What made me particularly happy is the recognition since the end of 2019 by Swisscom, one of our partners, with whom we have further developed the Info Channel. […] It is certainly an honour that such a large traditional Swiss company has approached us and that we can develop a market together."

Daniel Schulze, Managing Director Gastfreund GmbH
…and to the team. 🖤
Last but not least, a big thank you goes to the employees of Hotelcore! They are the brains behind the products, the content and the service that our customers and their guests experience every day. Managing Director Daniel Schulze puts it in a nutshell:
"I am super proud of our team, because together we have already achieved so much in the last few years and we still have a lot ahead of us for the next few years. […] I am also proud of the fact that after ten years there is still an incredibly high level of team spirit and loyalty. Preserving this DNA of the company and carrying it forward – that's just a lot of fun!

Daniel Schulze, Managing Director Gastfreund GmbH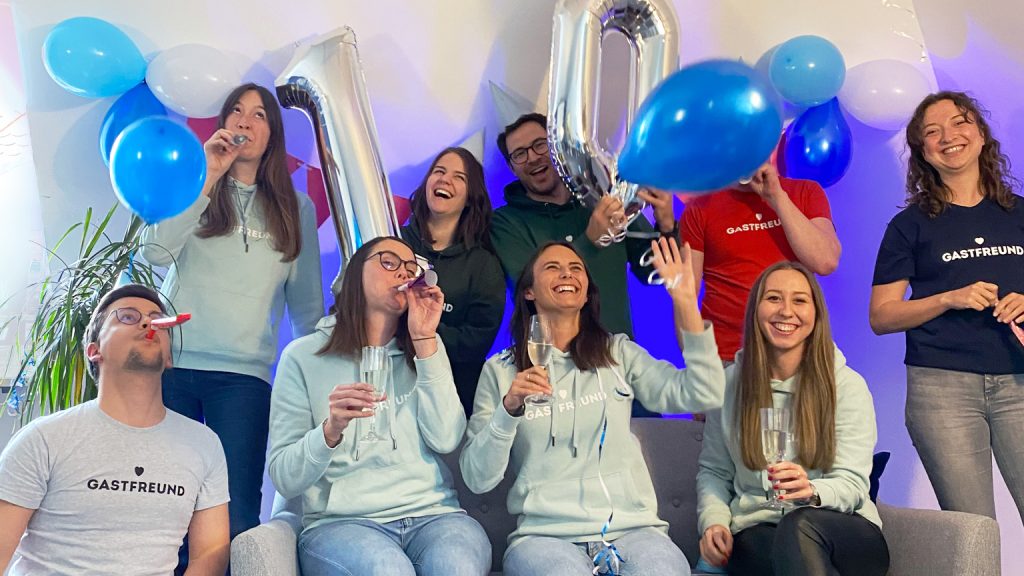 The Hotelcore team is celebrating: 10 years of valuable experience, great milestones and countless happy customers!
Of course we want to celebrate our anniversary in a fitting way. But not just on one day, but for an entire month: During the entire month of June 2023, we have great offers for our existing customers and everyone who is interested in digitalisation in the hotel industry.

The celebration will start soon. Just follow us on Facebook, LinkedIn and Instagram to make sure you don't miss our birthday promotions!