In our ten years of company history, we have gained a lot of experience in digital guest services and internal communication. We share this expertise with you here on our blog and on a daily basis with all our clients with whom we work closely: From the very beginning, we design all content in consultation with the hosts and are always there to help with tips and tricks. In this article, we give you an insight into the service you can expect from Hotelcore as a customer.
"Welcome to Hotelcore" – these are the services you enjoy right from the start
You have chosen a software solution by Hotelcore? Well, then things are just getting started! We don't just leave you in the lurch after the contract has been signed. Instead, we now set various places in motion within Hotelcore. If you are about to start with a Digital Guest Directory, for example, this is what you will experience:


1. Concept discussion and content creation
What content should not be missing in your Digital Guest Directory? How do you address your guests? And which offers do you want to make digitally bookable with the help of forms? We will clarify this and many more details with you in our concept meeting right at the beginning. Your images and an guest information from A to Z form the basis on which our editorial team will then design your entire Digital Guest Directory. Meanwhile, you simply sit back and relax.
As soon as our professionals are finished with the content, your Digital Guest Directory is ready for use. But don't worry, it is of course not "set in stone". If something changes in your guest information or images later on, you can update the Digital Guest Directory in no time at all. This is one of the great advantages over the classic paper information folder.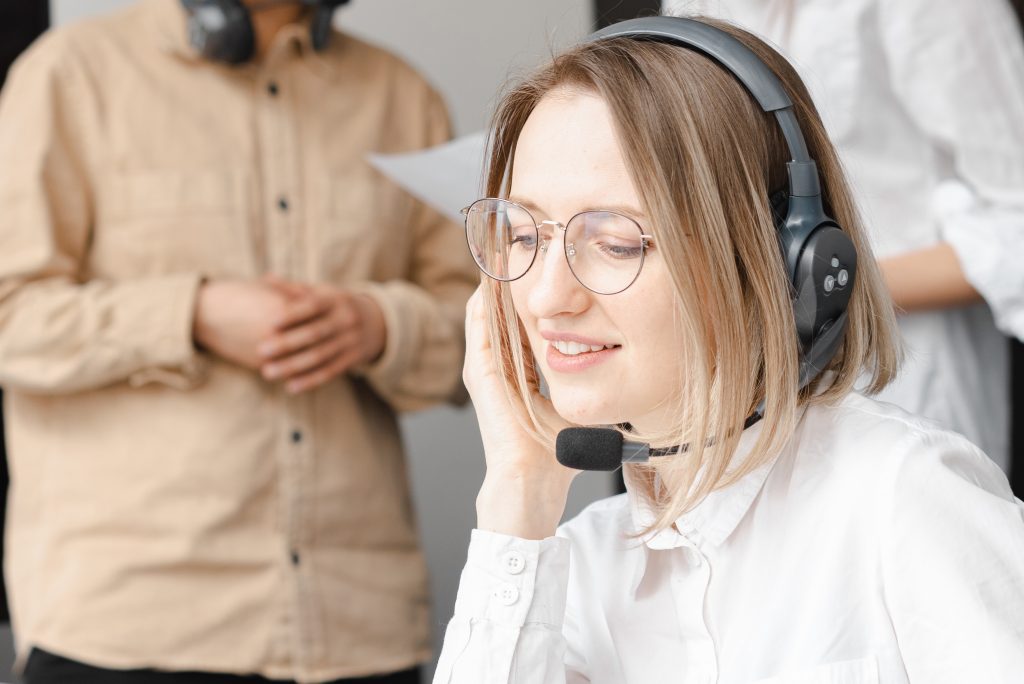 You can count on our experienced editors to design and formulate the content of your Digital Guest Directory. Of course, they will discuss all content with you in detail beforehand.
2. Advertising material to draw attention to your Digital Guest Directory
The "starter package" of the Digital Guest Directory also includes your individual advertising material. This ensures that your guests know about your digital service and actually use it. For this purpose, we create a digital banner for you, which you can integrate into your email signature, the automatic booking confirmation or your website. This directs your guests to the Digital Guest Directory with just one click.

On the booking confirmation, on the website or in the email signature: With one click on your digital banner, your guests are taken directly to the Digital Guest Directory, where you compile your information, services and offers.
In addition, you also receive analogue advertising material with the QR code to your Digital Guest Directory. This usually cointains of either flyers or sleeves for the room key cards. But we are also happy to create business cards, posters or stickers for you in your corporate colours.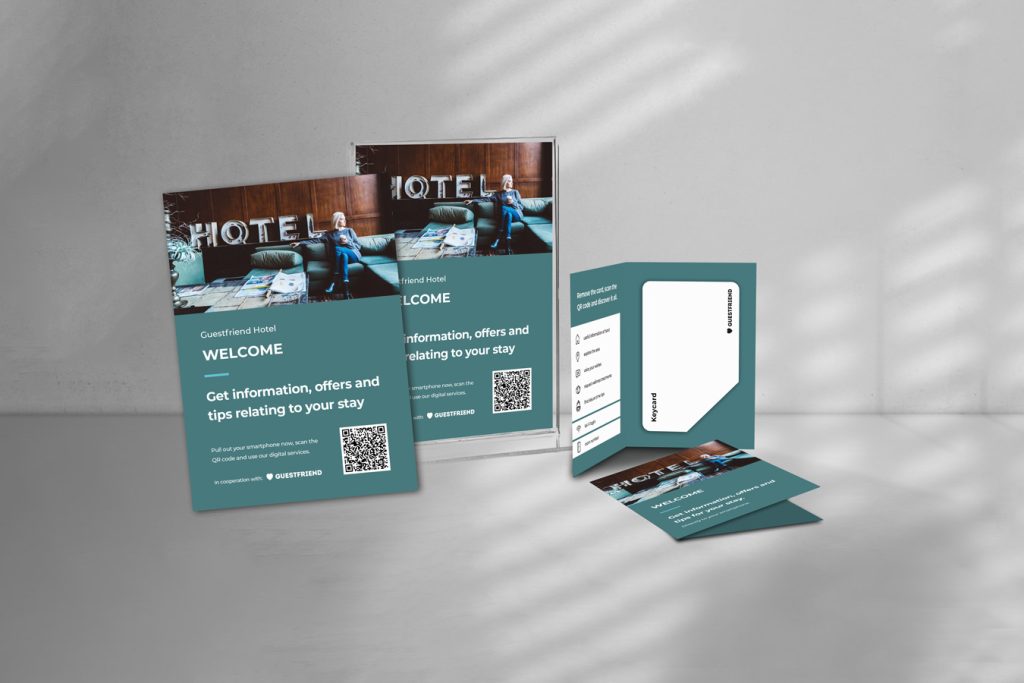 Included in the Hotelcore service: flyers or keycard covers that match your accommodation and refer to your digital guest folder via QR code as well as room stands to permanently showcase the information about your digital service.
3. Onboarding and training
The Digital Guest Directory is findished and your advertising material is ready as well? Perfect. All that's missing for a smooth start is a brief introduction to our online editorial system. There you can make updates, send push messages to your guests and enter event tips. Our Customer Care Team invites you to an online training session. Our tip: Bring all team members who will later work with Hotelcore to this appointment. Afterwards, you can start using the system right away!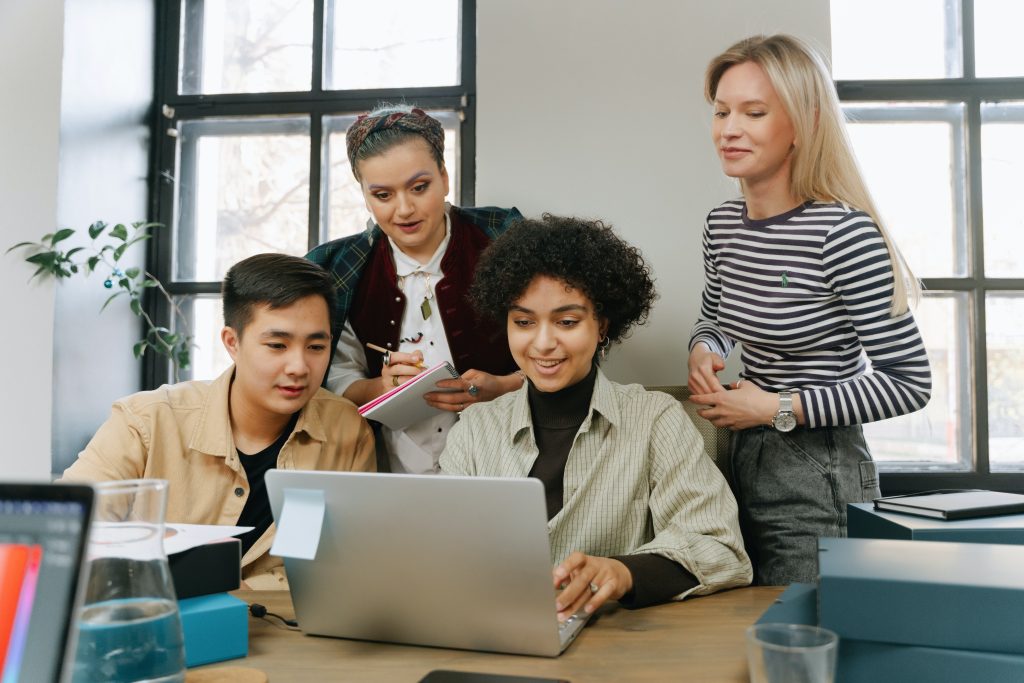 During the product training, our Customer Care Team will show you and your team members all the tips and tricks.
During the entire time: We are always there for you
Even after the official launch and the training of your employees, we will of course continue to be there for you. Throughout your contract period, our Customer Care Team will be there to help and advise you. Customer Care is your first point of contact for questions and requests, e.g. if you:
want to change content in your Digital Guest Directory or Info Channel and need help.
want to train new staff to look after your Digital Guest Directory, Info channel or Hotel Newspaper.
need help setting up your Hotelboard.
need more users for the online editorial system or the Hotelboard.
would like to further boost the use of your Digital Guest Directory.
need technical support for one of the Hotelcore products.
have questions about your contract or term.
and much more.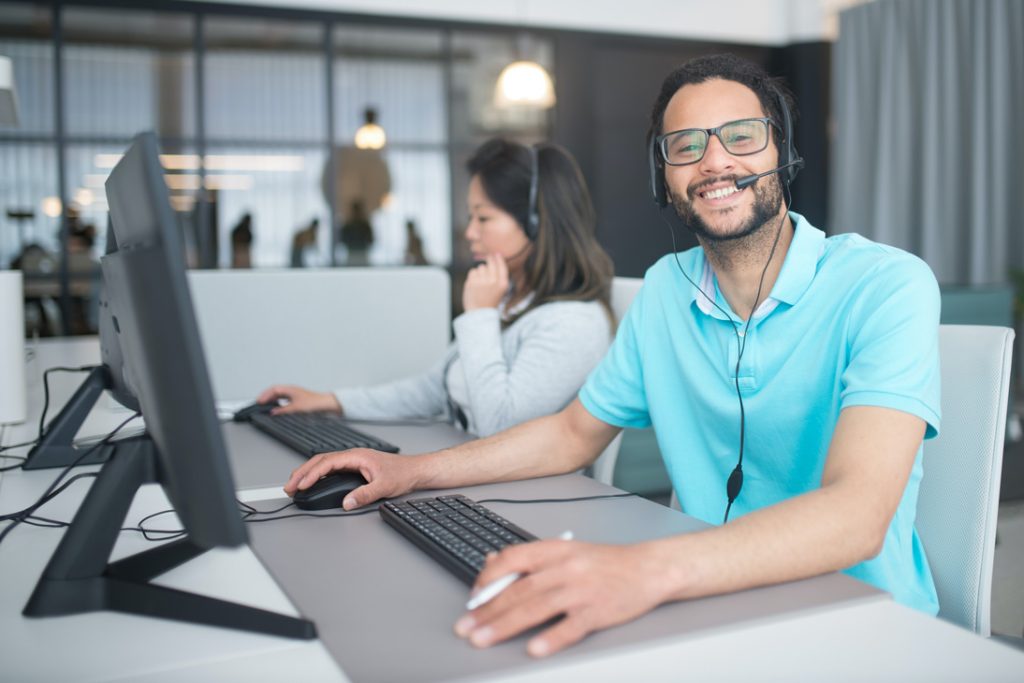 Our Customer Care Team will support you with your questions and requests: by phone, by email or in a detailed online product training.
If you have any questions outside of our business hours, you will also find helpful tips, instructions and explanatory videos in the Hotelcore HelpCenter at any time. Simply call it up via the menu item "Help" in the online editorial system or via the question mark symbol in the Hotelboard. And best of all: No matter how much support you need – the support is free of charge during your entire period of use.
Conclusion on the service at Hotelcore: The heart in the right place
A comprehensive and personal service for our customers is particularly close to our hearts – right from the start and without hidden costs. This makes us unique, because we repeatedly receive feedback that this support is an aspect that our customers particularly appreciate and that sets us apart from some other technology providers. We are very happy about this!
Are you a host and would like to experience the comprehensive service at Hotelcore for yourself? We would be happy to inform you about your options.
---
Image source: ©Blue Planet Studio – stock.adobe.com
This text has been translated automatically.