In the "5 questions to …" column, Hotelcore employees, customers, partners and industry experts answer questions in short interviews. This time we asked Florian Byliza, Chief Technology Officer at Hotelcore, about the latest product – the Hotelboard.
Until now, Hotelcore had specialised in digital guest services, but recently you have also been enhancing teamwork. How did this come about?

We work closely with hosts on a daily basis and have realised over the years that some of them struggle with complicated processes. Many different lists or handwritten notes for shift handovers, for example, are quite normal in this industry.
In the past, more and more customers have also approached us and asked for a suitable, digital solution for organising their tasks and communication in the team. And since they would prefer to have one solution for everything instead of several individual solutions and we already perfectly cover all other contact points with the guest, the decision to develop something suitable ourselves was not difficult. So we already started our research in 2020, created first designs and developed diligently. However, before we launch a new product on the market, we always get pilot customers on board first, so that our products can be tested and optimised under practical conditions. This is how we ensure that we really provide our customers with a helpful tool. And today we can proudly say that we have succeeded in doing just that since the market launch in February 2022!
Team communication and task management are the two keywords for the Hotelboard. What are the functions behind it?

Communication is the be-all and end-all. Without it, the distribution of tasks in the team would not work either. Everyone knows a kind of "notice board" hanging in staff rooms and covered with notes, or post-its stuck to desks. In the end, however, a lot of information is lost. And this is exactly what we want to prevent by digitising all information and connecting team members digitally – ideally even via the app version of the Hotelboard. The Hotelboard is virtually the most modern "notice board" there is, because it can do much more:
One function of the Hotelboard is the news feed, which can be opened for various internal topics or guest requests. Here, the employees write to each other, i.e. 1:1, but also across departments or the entire company, clarify open questions or assign pending to-dos to a person who is in charge of them in the end.
Here again, the connection to guest services is very special. Because guests can write messages or book offers online via the Digital Guest Directory. These enquiries now automatically appear in the Hotelboard and are conveniently answered and further processed by the team here. Finally, there is a simple workflow where certainly nothing gets lost anymore!
And there are other helpful functions such as creating deadlines, processing statuses, checklists or push notifications. They are extremely suitable for shift handovers, lost and found or organising guest requests, for example. But also the intelligent search function and the automatic translation save everyone involved a lot of time in the stressful daily routine.
Last but not least: the knowledge database. This is where employees record their knowledge, share birthdays or holiday plans and save important documents such as manuals or responsibilities. This in turn facilitates personal exchange within the team, but also, for example, the training of new employees.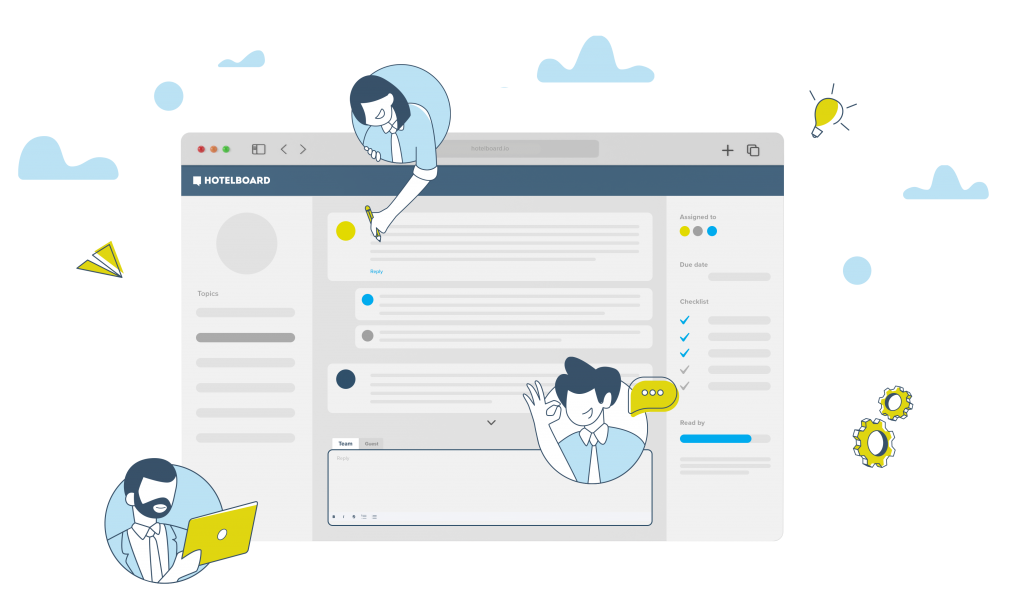 The Hotel Operations Platform by Hotelcore
Do I need the Digital Guest Directory to use the Hotelboard?

No, the Digital Guest Directory is not a must if you want to use the Hotelboard in full. Hotelcore's All-in-One Hotel Operations Platform is a modular system. This means: Our customers choose the products that suit them and their accommodation – whether individually or in combination.
However, it has to be said quite clearly that the combination of Digital Guest Directory and Hotelboard is unbeatable. Because as already mentioned, processing guest requests and messages in combination with both products is a breeze and saves some extra steps and working time.

How do hoteliers and staff use the Hotel Operations Platform?

We start with the setup for the Hotelboard, then train the team and give tips on how to use it optimally. And just as our customers have come to expect from us, we are of course always there to support them afterwards.

The Hotelboard can then be installed and used on smartphones, tablets or computers – either via the browser or in the app. Of course, it also works on your own device or business devices. The big advantage is that employees without a fixed workstation, e.g. housekeeping, can always be reached.

The documents stored in the Hotelboard or sensitive content are not meant for everyone. Is the data really safe?

Right from the start, data security has been particularly close to our hearts. Thanks to encrypted communication with the server and encrypted database, the Hotelboard is GDPR-compliant, confidential and secure. In addition, the server is located in Germany, no data flows abroad.

But to make sure that the data is also secure internally and can only be read by certain people, different user rights can be distributed in the settings. This way, everyone only sees what they are supposed to see.
Florian Byliza in conversation with Corinna Willer, Gastfreund GmbH
Would you like to learn more about the Hotelboard? We would be happy to give you a personal presentation of the Hotel Operations Platform.
This text has been translated automatically.