Baby Boomers, Millennials and Generation Z – Only those who know their target group are able to reach them successfully. In times of globalisation and digitalisation, the values, expectations and wishes of generations change, as do their travel behaviour. Especially the Millennials and Gen Z are travelling much more, farther and more flexible than their predecessors. Hotels have to adapt their strategies in order to remain competitive and gain the two generations for themselves. We have compiled a few facts about the much-discussed Millennials and Generation Z for you and give tips on how hoteliers can get them excited about their accommodation.
Millennials vs. Generation Z
Generation typology is about naming and summarizing the main characteristics, values and goals of a generation according to the years of birth. These attributes are directly related to formative experiences and different influences of their lives, e.g. wars, economic miracles, crises, globalisation, internet boom or the educational level. The exact years of birth at which the boundaries between two generations lie often differ depending on the definition. Sociology, youth research and the media do not agree on the exact distinction. In addition, of course, each person remains an individual with their own views, values and goals.
What is clear is that Millennials and Generation Z are now among the most important buyer groups worldwide. Generation Z alone accounts for as much as 30% of the world's population. [1] It is therefore all the more important that hoteliers understand this target group, know their wishes and needs and respond accordingly.
The key facts at a glance:
Millennials
Generation Z
Birth cohorts 1980 – 1995
Birth cohorts 1995 – 2010
Also known as:
Generation Y, Gen Y
Also known as:
Gen Z, Generation YouTube, Post-Millennials, Zoomers
Millennials have consciously experienced the turn of the millennium, witnessed the internet boom and globalisation, and are characterised by a high level of education. They live in the here and now, attach importance to free space and a balanced work-life balance. They are also the first "digital natives", as they have grown up with many new technologies. They communicate with each other almost exclusively online.
The Generation Z was born directly into a digital world. Internet and smartphones are part of everyday life at work and at home. The generation experiences the effects of globalization and global warming and therefore wants to improve the world. Clear structures and the separation of work and private life are also very important to the Gen Z.
Prioritised values:
Networking, self-actualisation, teamwork, optimism, health, reliability, family
Prioritised values:
Development, authenticity, honesty, personal self-realisation, diversity, health, freedom, friendship
Builds trust on:
Personal recommendations
Builds trust on:
Likes, online recommendations, ratings and rankings
Sources: [2,3,4]
As different as the two generations may be, as much they have in common. For Millennials and Generation Z, technologies, internet and digitisation are part of their everyday life. This means strong networking with the rest of the world and access to a large amount of information in real time. In addition, they are flexible, socially open-minded and attach great importance to their leisure activities.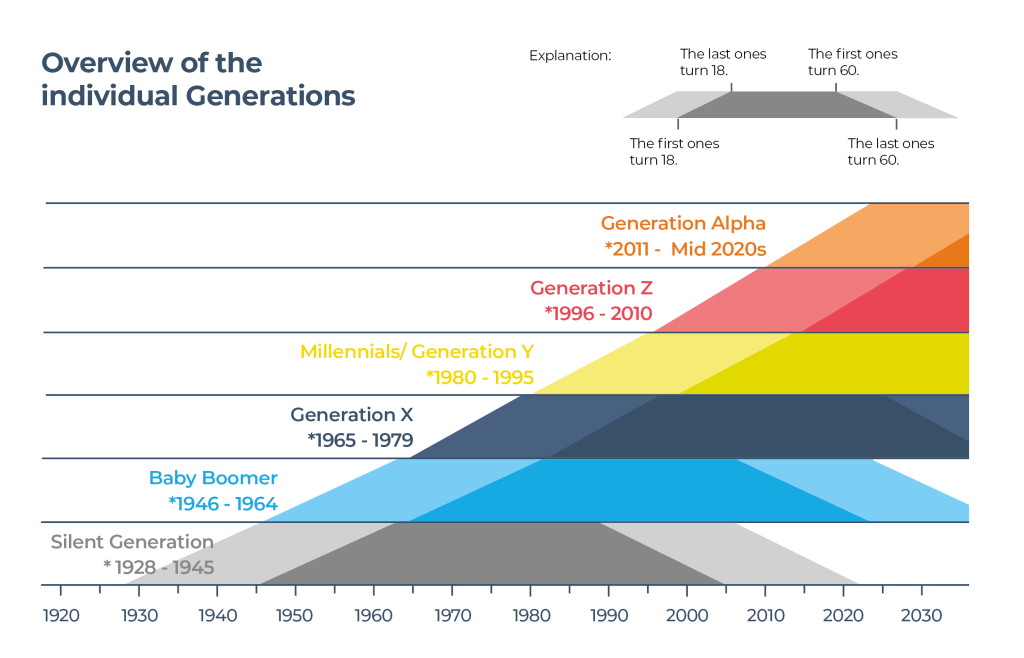 Overview of the different generations over time. [Diagram based on: Cmglee / Wikimedia Commons]
How do hoteliers reach the Millennials and Generation Z?
Social media
The be-all and end-all to be found by Gen Y and Gen Z: mobile first! This does not only mean that a hotel's website must also work well on smartphones and tablets, but also that social networks play an important role: Millennials and Generation Z spend a lot of time here. They get inspired for their next trip, communicate with their friends and followers and share their holiday experiences with them directly via their smartphone or tablet. Hoteliers should therefore definitely be active on the well-known social media platforms and regularly publish relevant, authentic content. Especially on Instagram, the most popular and fastest growing social network.
Tip: Create "instagramable places" in your hotel, meaning beautiful motifs that offer "perfect" images for Instagram. This will get you even more attention from your target group and ideally free advertising. Did you know that many young people choose their holiday destination according to how "instagramable" it is?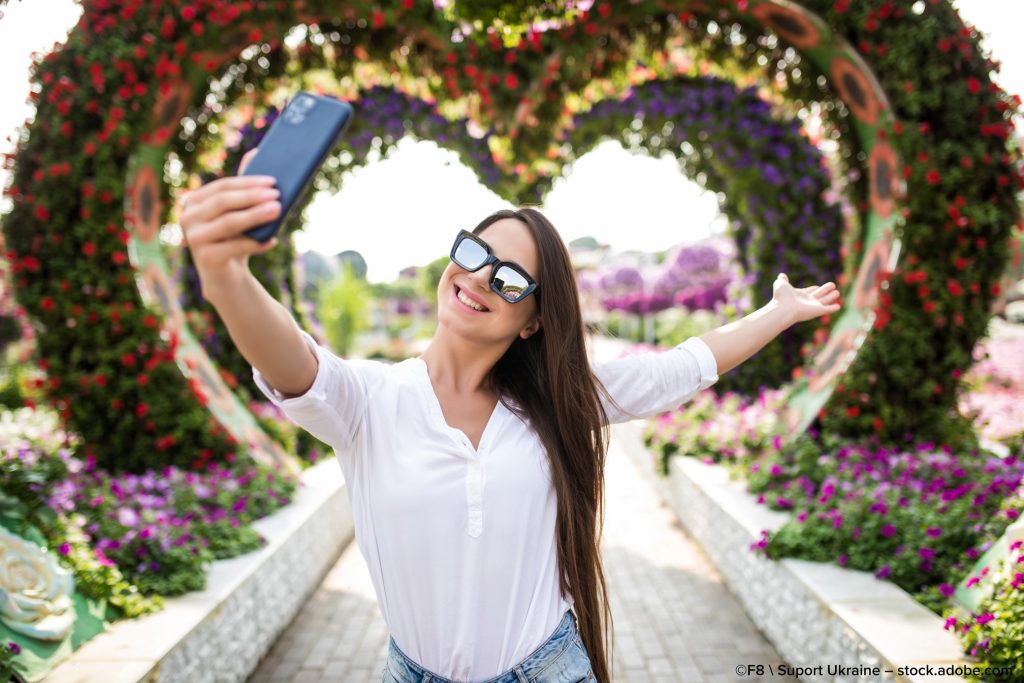 Many hoteliers nowadays purposely create places that serve perfectly as photo motifs. The aim is to get as many guests as possible to post their photos on social media, thus creating more visibility for the hotel.
Digital communication
These two generations are used to be online at any time. That's why they expect to be able to communicate with their accommodation using their smartphones, tablets & Co, too. Be it a chat function, a messenger or free Wi-Fi to get in touch with friends and family.
So when guests log in to your hotel's Wi-Fi network, you should use a "redirect" to automatically refer them to a personal landing page that provides your guests with the most important information and links your social media channels, too. At a glance, your guests will have all the information about your accommodation and connect directly to your social networks. Another popular contact point for young guests is the Digital Guest Directory. Thanks to this, your guests will have everything they need to know about the hotel and the region on their own mobile devices at all times. And thanks to push messages, they will always be up to date about news and offers.
One thing is for sure: Hotels that connect the online with the offline world have a great advantage in successfully addressing and attracting the Millennials and Generation Z!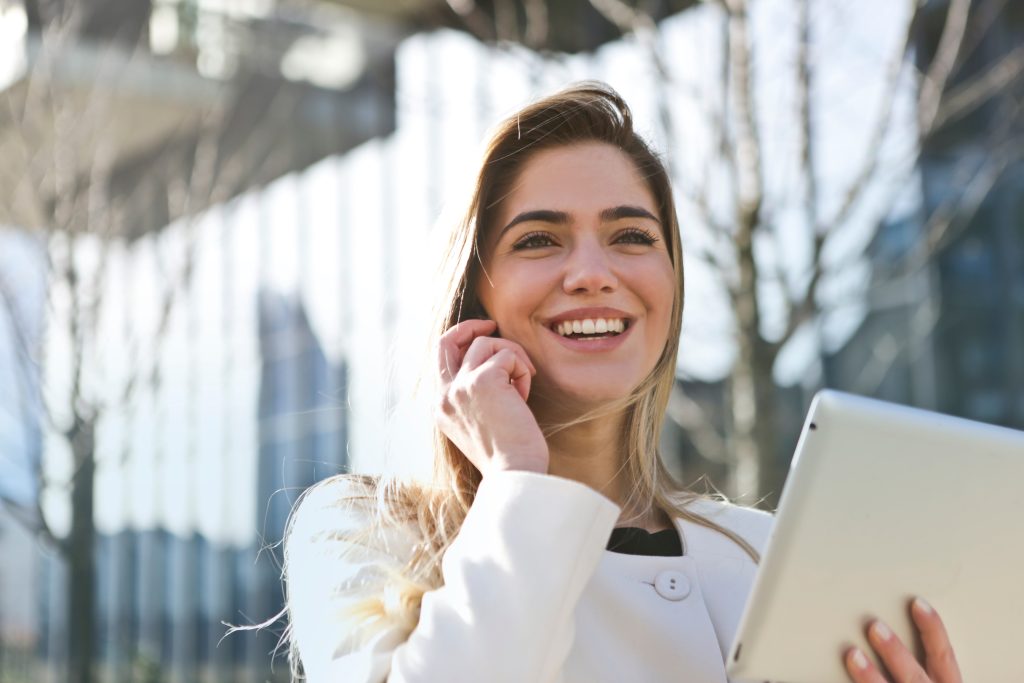 For millennials and Generation Z, the smartphone is a constant everyday companion. Communication via digital channels is therefore standard for these target groups.
Technologies
The internet and constant accessibility have ensured that the demand for digital tools for holidays is growing. Travellers use technology to plan their holidays and make them more seamless and individual. More and more hotels are responding to this need and offering their guests, for example, Digital Guest Directories or stationary information terminals in the hotel. More flexibility, faster interaction, more individualised action, more up-to-date information and less research are just some of the many advantages for guests. But there are also remarkable advantages for hoteliers: Guests are delighted, sources of errors are reduced, their additional sales increase and, on top of that, their employees are relieved.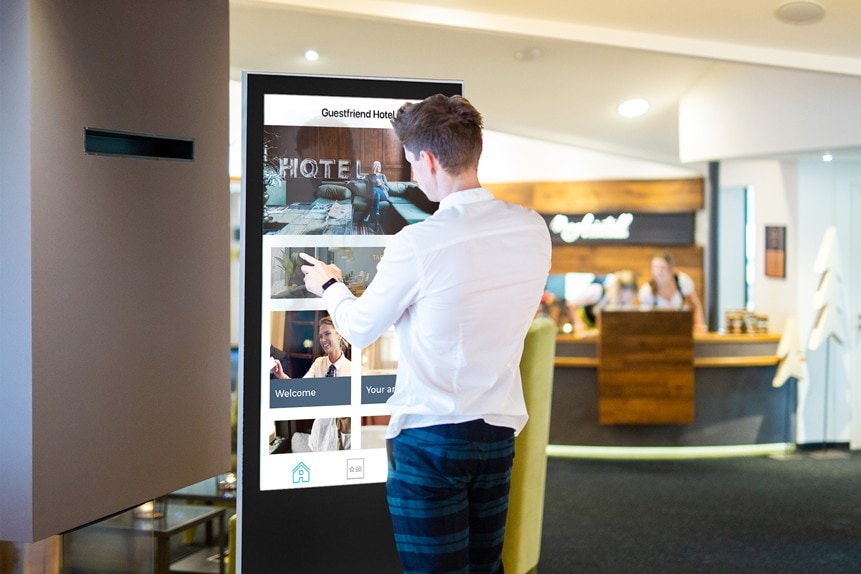 Technology, such as a touchscreen kiosk with guest information, is readily accepted by Millennials and Generation Z guests. Just like their own smartphones, they operate such devices intuitively and derive added value from them.
Fast & flexible processes
Fast and straightforward processes are essential today. Anyone who risks long loading times on the hotel website, complicated booking procedures or an information overload at check-in may annoy his guests or, in the worst case, lose them. In addition, young people want to remain flexible when it comes to booking or organizing their holidays. To provide them with a better experience and faster processes, hoteliers should rely on technologies that save valuable time and nerves. A fast website, mobile booking processes, spontaneously bookable offers and additional services as well as good Wi-Fi on-site are standard features today. Further advantages are offered by processes that speed up check-in and simplify communication, such as digital tools for guest communication.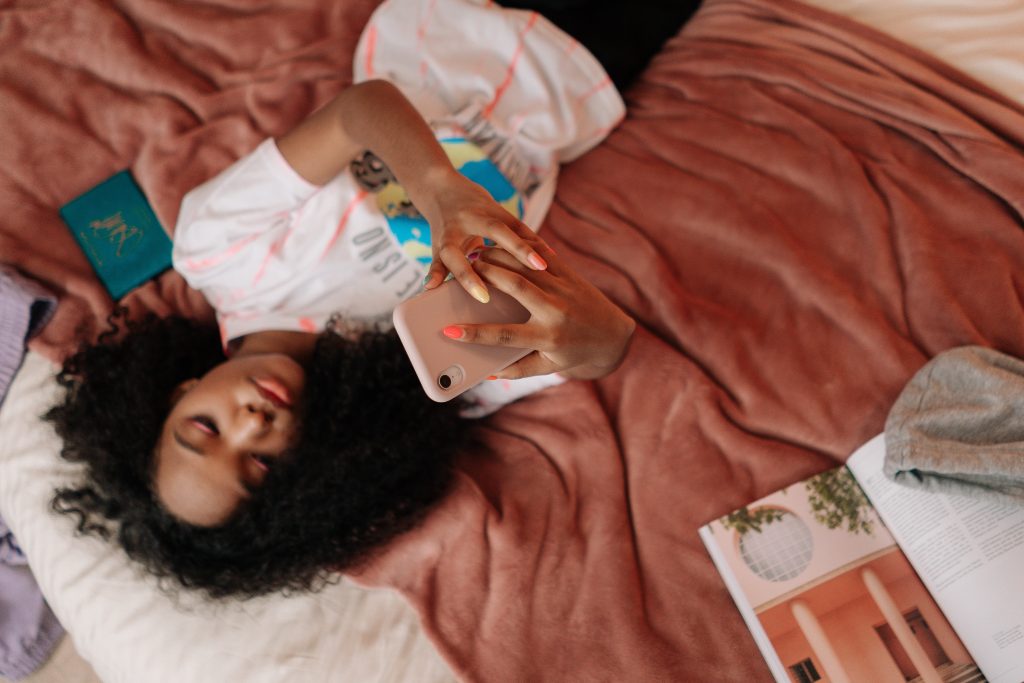 Quickly booking your next holiday on your smartphone, finding out about your accommodation or checking in directly online: it has to be as uncomplicated as possible for generations Y and Z.
Personal, authentic & local
The success of online platforms such as Airbnb or Tripadvisor illustrates how much young people value authentic holidays and others' experiences. They want to get insider tips, personal opinions and feel like locals rather than tourists during their holidays. Generation Z in particular is often associated with the pursuit of individuality.
Therefore, accommodation that has good but also honest online reviews as well as authentic and regional features scores highly with the representatives of this generation. This applies not only to the room furnishings, but also to the catering and offers during the stay. Hosts therefore also recognise great potential for cross-selling among the younger guest groups: 90% of Generation Z are willing to spend money on additional services when travelling. [6]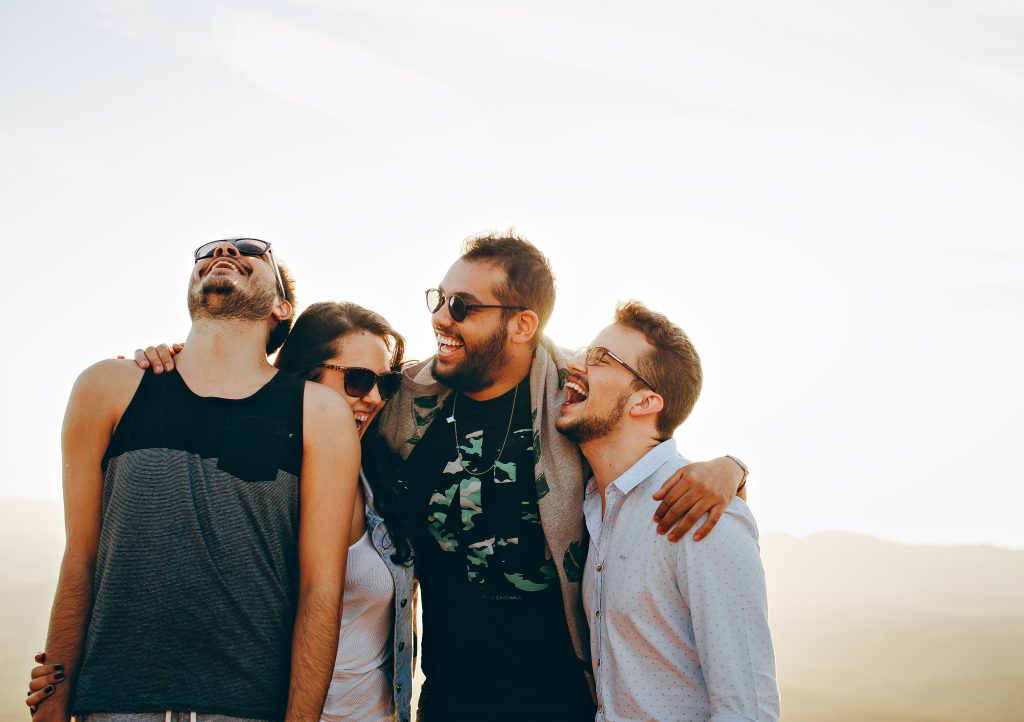 For their very individual, unforgettable moments, Millennials and Generation Z are prepared to spend more money during a trip. In any case, the experience should be authentic!
Have you already adapted your strategies to the expectations of generations Y and Z? We show you how to reach these important guest groups thanks to the right communication strategy.
www.hotelcore.io | info@hotelcore.com | +49 831 930 657-0
---
Sources:
[1] OC&C Strategy consultants, Eine Generation ohne Grenzen, Generation Z wird erwachsen: https://www.occstrategy.com/media/1904/eine-generation-ohne-grenzen_.pdf
[2] Gründerszene Lexikon, January 1, 2019: https://www.gruenderszene.de/lexikon/begriffe/generation-y
[3] Gründerszene Lexikon, January 1, 2019: https://www.gruenderszene.de/lexikon/begriffe/generation-z
[4] https://simon-schnetzer.com/, GENERATION Y UND GENERATION Z IM VERGLEICH, https://simon-schnetzer.com/vergleich-generation-y-und-generation-z/
[5] SiteMinder Changing Traveller Report 2022, https://www.siteminder.com/r/siteminder-changing-traveller-report-2022/
[6] TopHotel, December 7, 2022, Studie: Wie macht die Gen Z Urlaub?, https://www.tophotel.de/studie-wie-macht-die-gen-z-urlaub-160608/
This text has been translated automatically.