Living without social media? That is hard to imagine these days. Worldwide, almost 5.3 billion people are online today, of which about 4.76 billion currently use social media.[1] German users spend an average of 1.5 hours on social networks and have more than five different accounts.[2] Reason enough to take a closer look at the topic of social media for hotels: How important is social media marketing for hotels and is it worthwhile at all?
The contents in brief:
Why social media for hotels?
The rapid development of social media and its influence on users
The concept of social media has developed rapidly: While the first social networks were mainly about private users getting in touch with their friends and acquaintances online, [3] the platforms today have become extremely important communication channels for companies and brands. This is because people not only use social media to interact with each other, but also collect specific information about products and services.
For example, social media users get inspiration for their own travel plans: In a survey, 97 millennials stated that they share impressions of their holidays on social media. Approximately 40% also said that such content on social media influences their booking decisions.[4] This of course changes hotel marketing and the entire communication between hotel and guest. Guests expect an accommodation to be present on social media and to find information and insights there 24/7.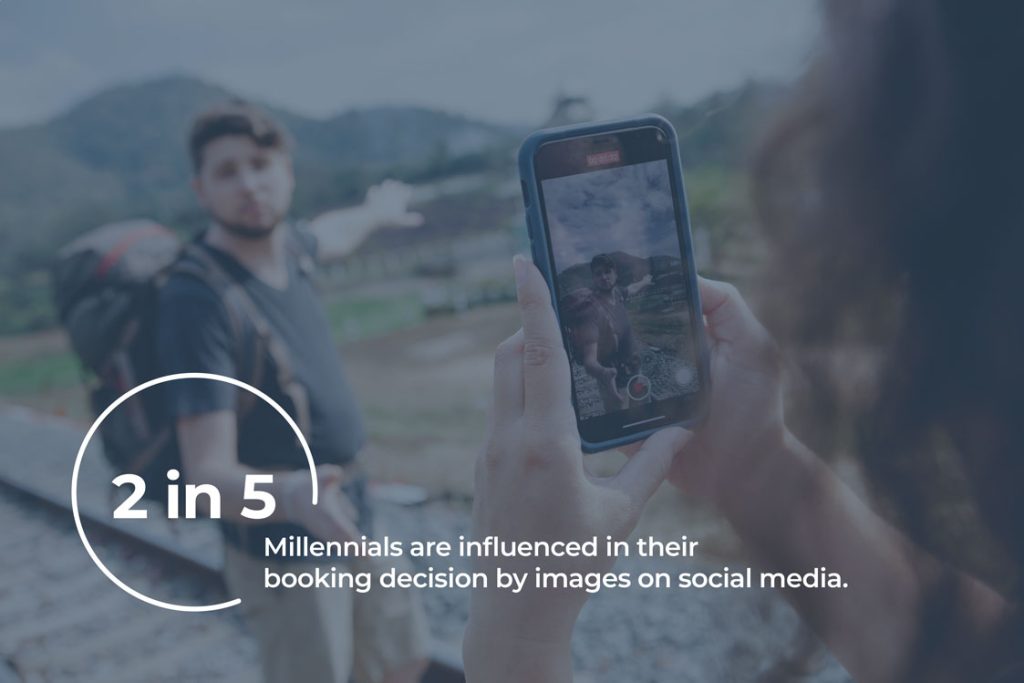 Among Millennials, who are people born between 1980 and 1994, 2 out of 5 people are influenced by holiday images, according to a survey. Source: SiteMinder Resources [4]
Why social media marketing is important for hotels
The hotel industry is all about memorable experiences, memories and emotions. And that's what makes social media so perfect for hotel marketing. It allows hosts to build personal relationships with guests, strengthen guest loyalty and get great hotel reviews. Ultimately, they also gain more guests and stand out from other accommodations with their presence on Facebook, Instagram and the like. Thanks to social media, hotels, guesthouses, holiday flats and campsites get in touch with their guests at eye level.
You see: First ask yourself what you want to achieve with this account. Do you want to build a community? Generate followers? Increase the visibility of your hotel? Enhance your image? Or find new employees? And which channels does your target group use at all? Only when you have the right answers to these questions can you find the appropriate channel that suits you and your goals.
Visibility, image cultivation and recruiting
First of all, hoteliers should get an overview and check which platforms are relevant for them. We have listed the most important social media channels, in descending order of their number of monthly users in Germany [2]:
WhatsApp
Whether WhatsApp as a short message service actually counts as a social media platform or not is a matter of definition. But the fact is: almost everyone uses WhatsApp by now and it is well suited for digital communication. Then it is obvious to include it in one's own marketing strategy, isn't it? Thanks to messengers like WhatsApp, hoteliers stay in touch with their regular guests and inform them personally about news and offers.
Especially for business relations, there is also "WhatsApp Business". It is extremely important here to find the right measure of messages. What is clear is that WhatsApp will play an interesting role in the future and will need its own strategy.
Facebook
For years, Facebook has been the global all-time favourite among social networks. According to the "Digital 2022 Global Overview Report", the world-famous platform by the Meta Group will remain the world's most popular social media portal in 2022. Hotels have not been able to avoid having their own Facebook page for a long time. The most important thing for page operators on Facebook is: The posts must have added value, otherwise they will get no reach and thus zero visibility due to the complex algorithm.
In terms of worldwide use, Facebook is at the top of the social media. If hosts want to limit their social media marketing to one or a few networks, they should definitely consider Facebook.
Instagram
Instagram is also becoming increasingly important for hoteliers. For many travellers, it is THE platform for travel inspiration. They want to discover new places, see cool spots and beautiful pictures of hotels. Especially in "influencer" circles, it has become common for guests to report directly from their hotel to their Instagram followers, post photos and videos and share their experiences. In the best case, they mention and link to the respective accommodation. This creates reach and has even become a real business model for professional content creators.
With a well thought-out concept for their own Instagram page and frequent content, accommodation owners also quickly build up their own following. Various formats, from the classic post consisting of a picture and accompanying text to live video broadcasts, offer almost unlimited possibilities for hosts to get in touch with their followers and attract new guests.
Comparison of the giants: Facebook vs. Instagram
Facebook
Instagram
Monthly active users (as of April 2023):
2.91 billion worldwide
1.48 billion worldwide
Average time of use per month/person:
19.6 hours
11.2 hours
Largest user group in Germany:
30-49 year-olds
(Facebook is thus the "oldest" social network in terms of its users)
14-29 year olds
(Instagram is the most used social network in this age group, excluding messenger services)
Content focus/formats:
Posts usually consist of text and images, less frequently also videos; official company pages incl. information, ratings etc.
mainly pictures and videos, also: "Stories" (only visible for 24 hours)
Sources: "Digital 2022" [5] | ARD/ZDF Onlinestudie 2022 [6]
Pinterest
Whether for holiday planning, baking recipes or home furnishings – around 444 million users regularly go to Pinterest in search of inspiration.[5] Some even see the platform more as a search engine than a social network. The main function is that users collect suitable articles, photos and videos on a topic and save them on a digital "pinboard". For hotels, for example, it makes sense to advertise their own Pinterest presence with attractive pictures of the accommodation and helpful travel recommendations for the region. In the best case, they expand their reach and lead interested people directly to their pages. In addition, advertising on Pinterest is also possible.
TikTok
TikTok is the youngest of the platforms listed here. This applies both to the users, the majority of whom are between 10 and 29 years old, and to the platform itself. The now well-known TikTok was created in 2018 through the merger of two existing social networks. Since then, it has been growing at breakneck speed and, according to its own claims, cracked the one-billion-user mark faster than any other social media ever before.[7] The main focus of the platform is on short videos with a maximum length of 60 seconds. For hosts, a presence on TikTok can be worthwhile if they want to target a very young audience or use it to recruit young employees or trainees.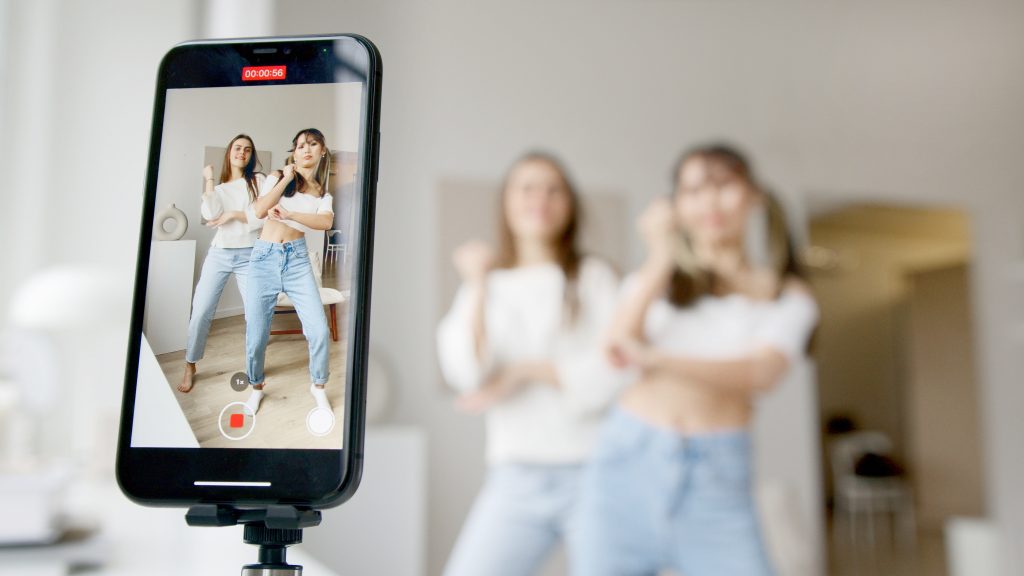 TikTok is very trendy. The Chinese short video platform is particularly popular among young women and girls under 30. Typical content includes, for example, dance videos or lip-syncing to existing audio. [7]
X – formerly Twitter
X is – just like Twitter before it – a microblogging service through which users publish short messages with a maximum of 280 characters. Characteristic of Twitter or "X" are the hashtags "#", which link all posts in which the corresponding hashtag appears. All major newspapers, magazines and news sites thus spread relevant topics and events at an extremely rapid pace. Hoteliers therefore tend to benefit from fast news on Twitter, stay up to date on developments in the hotel industry and communicate relevant content to the press, for example.
Xing/LinkedIn
Xing and LinkedIn are business platforms. Xing is particularly represented in the DACH region (Germany, Austria and Switzerland) whereas LinkedIn is more international. As these two platforms are primarily about business contacts, industry-specific topics and job advertisements, they are particularly suitable for networking and recruiting. With their own company page, hotels can post job offers and search for employees – keyword "employer branding". There are also many groups here where industry professionals exchange information about current – hospitality topics as well as events and network with each other.
Comparison of the business specialists: Xing vs. LinkedIn
| | | |
| --- | --- | --- |
| | Xing | LinkedIn |
| Monthly active users: | 21 million | 950 million (21 million in the DACH region) |
| Main market: | Germany, Austria, Switzerland (DACH) | worldwide |
| Largest user group in Germany: | 14-29 year olds | 14-29 year olds |
Source: ARD/ZDF Online Study 2022 [6] | XING Marketing Solutions, as of August 2023 [8] | LinkedIn Pressroom "About Us", as of August 2023 [9]
Conclusion: social media for hotel marketing
Social media is becoming increasingly important – especially for hotel marketing. It plays a crucial role in the communication of a brand. Nowadays, potential guests expect to get advance insights into an accommodation on Facebook, Instagram and Co. and partly search for it specifically. In addition, social media offers opportunities for staff recruitment and public positioning as an attractive employer, which can be a great help in times of intense staff shortages.
Our tip: Don't let social media take a back seat in your marketing strategy. First evaluate which platforms are suitable for you and then invest some time in a well thought-out social media presence. This way you will create more visibility for your accommodation. In a nutshell:
Boost your hotel marketing with social media!
But what can hotels do on social media to get noticed in the first place? Take a look at our next post where we give you some ideas for your accommodation's social media accounts.
---
Sources:
[1] Statista, Statistiken zum Thema Soziale Netzwerke: https://de.statista.com/themen/1842/soziale-netzwerke/#topicOverview
[2] OMR Reviews, Überblick über beliebte Social-Media-Plattformen 2022: https://omr.com/de/reviews/contenthub/social-media-plattformen-potenziale-nutzungsverhalten
[3] Zweidigital, Die Social Media Entwicklung: https://www.zweidigital.de/die-social-media-entwicklung/
[4] SiteMinder Ressourcen, Der ultimative Social-Media-Leitfaden für Hotels: https://www.siteminder.com/de/r/social-media-leitfaden-hotels/
[5] We are social & Hootsuite, DIGITAL 2022: GLOBAL OVERVIEW REPORT https://datareportal.com/reports/digital-2022-global-overview-report
[6] Wolfgang Koch, ARD/ZDF-Onlinestudie 2022: https://www.ard-zdf-onlinestudie.de/
[7] TikTok Werbung, Was ist TikTok?: https://www.tiktok-werbung.com/was-ist-tiktok/
[8] Xing Marketing Solutions, Zielgruppe & Media Daten: https://werben.xing.com/de/wissen-cases/zielgruppe-media-daten
[9] LinkedIn Pressroom, About Us: https://news.linkedin.com/about-us#Statistics