Your own internet presence, comparison portals or digital marketing – the online world is extremely important for every host nowadays. But the competition is also strong there: all hoteliers and holiday apartment owners want to attract as many guests as possible and persuade them to book their accommodation. So does this "battle" always end up being won by whoever spends the most money on online advertising? Fortunately not! We show how you can stand out from the competition even without a big marketing budget and give you tips on how to get started with content marketing.
What is Content Marketing?
Content marketing is a marketing technique in which companies offer their target group added value with the help of informative, creative or entertaining content. [1] In the hotel industry, this means that classic promotional messages such as "We have the most beautiful hotel" or "We offer the lowest prices" move into the background. Instead, hosts convince with photos, videos and texts, for example, that arouse the emotions of their potential guests, advise and inform them. This has a less intrusive effect and aims to make guests keep the respective accommodation in mind and book it out of their own conviction.
4 Tips for Content Marketing in Hotels
Really every accommodation can use content marketing. You do not necessarily need an advertising agency for this. All you need is a little creativity and an understanding of your guests' needs. And who knows them better than you? The big advantage of this marketing technique: Even with a small budget, you can effectively create content for your hotel marketing if you keep a few things in mind. Therefore, we have compiled four tips for your start with content marketing:
1. Know your target group
Bevor Sie Ihre e Before you start your first content marketing measures, you should define your target group. First ask yourself the following questions: What kind of guests do I want to address? What topics are my guests interested in? On which topics do I often receive queries? What is particularly important to them when choosing a hotel and also during their stay at the hotel? Everything that comes to your mind as answers to these questions will help you find topics and create content later.
2. Find suitable channels
Choosing the right channel is important because it will ensure that your content reaches your potential guests. To do so, take into account the insights you have gained about your target group (tip 1). For example, if you want to target younger guests, social media such as Instagram and Facebook are perfect.[2] If you tend to have an older target group, it is better to choose your website or a blog. Below we listed for you, which channels are well suited for content marketing in the hotel industry.
3. Tell a story
An important part of content marketing is storytelling. As the name suggests, it is all about telling people stories. Whether they are funny, dramatic or touching, stories evoke emotions and your target group will retain them much better than pure facts and figures. So, for example, keep your guests up to date on the latest gossip, tell the story of how your accommodation came to be or report on a problem from everyday work that you have masterfully solved.
4. Involve your team
Together you are more creative! So that the search for content does not cause you headaches, organise a brainstorming session with your employees. After all, they work with guests every day and know which topics are relevant to them. Perhaps the reception team already has the perfect packing list for arriving guests? Or housekeeping lists a number of curious items that guests have already forgotten in their hotel room. The British hotel chain Travelodge, for example, now publishes the latter annually – and regularly entertains the online media world with it.
What Content Marketing channels are suitable for hotels?
Your own website
The most important medium for marketing measures of all kinds is your website. It is the flagship of your hotel and often the first point of contact for guests. The first impression is decisive for booking. Therefore, convince visitors to your website with informative texts, appealing, high-resolution images and entertaining videos. Because this content stays in mind!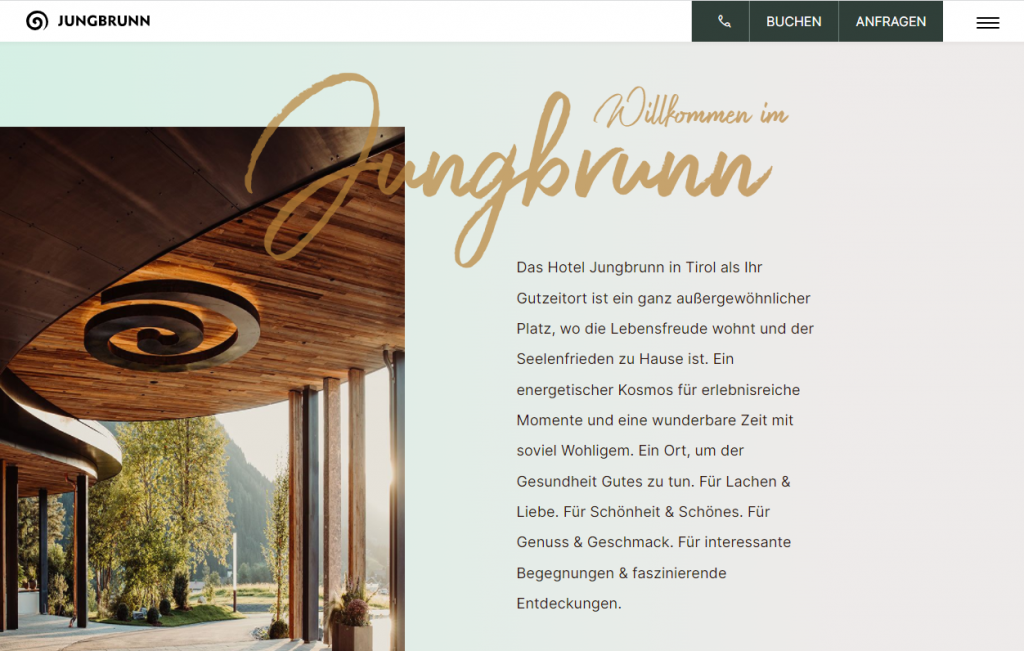 Example: The Hotel Jungbrunn uses a lot of high-quality photos and videos for its website, which arouse positive emotions. In this way, the hosts achieve that visitors to the website can already picture themselves relaxing in the wellness area or having a drink at the hotel bar. The emotions are intensified by storytelling, for example in the introduction of the host family and their values.
Source: www.jungbrunn.at
Digital Guest Directory
Offering your guests added value – that is the core competence of your Digital Guest Directory! The diverse content complements your website perfectly. Because while the website ensures the best possible first impression, the Digital Guest Directory contains more in-depth information for the stay, excursion tips, booking and reservation forms for room service, table reservations and much more. With a chat feature and push messages, it also ensures that guests and hosts are in contact at all times – if they wish to be.
As the Digital Guest Directory is available as an app, but also on the web (as progressive web app), a link on your website, in your email signature or a QR code in your hotel newspaper, for example, is all that is needed to inform guests. Those who have already booked will be pleased – also thanks to the digital forms and the integrated travel guide – to plan their stay conveniently. Potential guests may find that knowing about this practical digital service gives them the final push to book this particular hotel.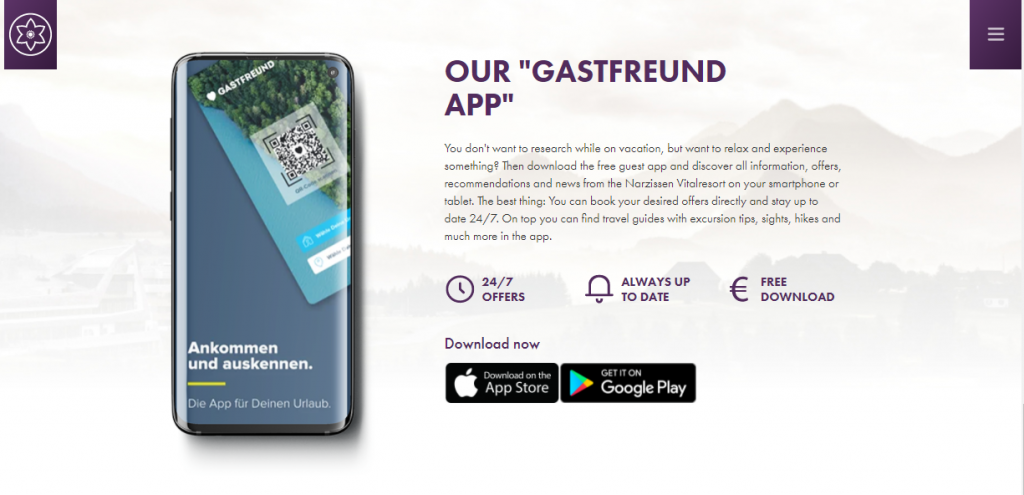 Source: www.vitalresort.at
The Narzissen Vitalresort Bad Aussee points out the Digital Guest Directory to visitors of its website and thus to its own modern service.
Social Media
Instagram, Facebook, YouTube, Pinterest or TikTok – social media are perfect for content marketing. Post pictures or videos with short texts on them regularly and point your guests to your social media presence. This way you will quickly reach more and more people and gain attention. Ideally, your guests will create content themselves and link to your accommodation in it. After all, everyone likes to show how great their holiday is! So use this opportunity and share their authentic content. Because this is free advertising for you and at the same time the respective guests are happy.
It's true: on social media, the possibilities for content marketing are almost limitless! Some accommodations land a real hit with their own content or that of their guests. This shows the example of a Swiss hotel that became famous in summer 2021 because of a guest's TikTok video. The video of an extraordinary bathtub in the hotel went "viral" on the internet.
Blog or Online Magazine
Admittedly: Having your own blog or magazine sounds like a lot of work at first. But it doesn't have to be! A few short, well-written articles on relevant topics are sufficient for successful content marketing. This way, you provide your guests with interesting content and improve the findability of your hotel on search engines like Google.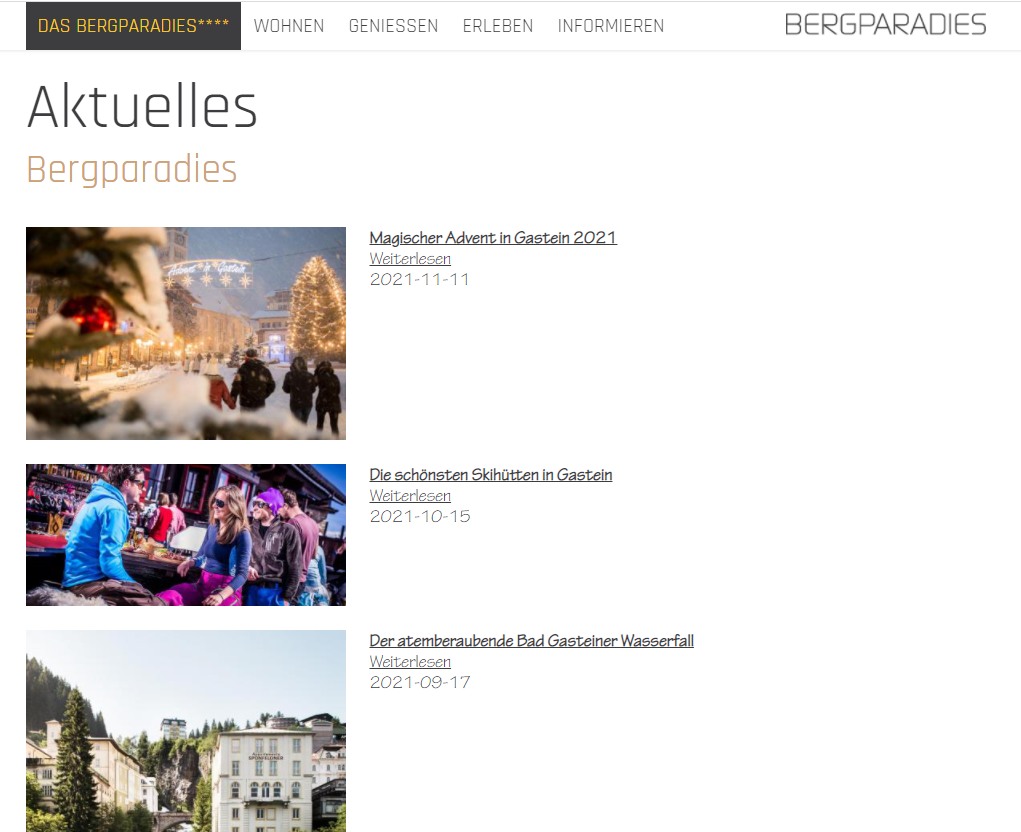 The Apartment complex Bergparadies shows how it's done: on the accommodation's blog, guests and interested people regularly receive tour tips and insider knowledge about excursion destinations in the area. So if you search the internet for tips on how to spend your holiday in the Gastein region, you might end up on the Bergparadies blog. So it's not far-fetched that readers will stay on the site right away and book an overnight stay in one of the apartments.
Quelle: www.bergparadies.at
Podcast
Last but not least, let's take a look at a channel for content marketing that is becoming increasingly popular: the podcast. Almost a third of Germans already listen to podcasts [3] – many of them as entertainment "on the go", for example on the way to work or while cooking. Unlike radio, listeners decide for themselves which content to listen to and when. And the selection is huge! There is audio content for every conceivable topic – also in the hotel industry. Independent hotel experts as well as hotel chains and individual hotels regularly publish podcasts. In doing so, you score points with your target group through the personal and likeable way in which they convey industry knowledge or travel inspiration, for example.
You are also sure to find interesting topics to talk about in your accommodation: For example, tell stories from everyday hotel life and wonderful experiences with your guests. Or start first with a guest appearance in an existing podcast, like the Wellnesshotel Kessler Meyer. In the "Wellness Podcast", owner David Meyer reports on the hotel's "Well & Wine" concept, the Mosel region and the therapeutic effect of grapes. Interested parties can listen to the episode directly on the hotel's website or via the streaming service of their choice. In this way, the host personally gives them an insight into the hotel and information about the particularities of the stay there.
Let your creativity run wild and start content marketing for your accommodation now!
Would you like to learn how to convince your guests with informative content even after their booking? We will show you how.
---
[1] Content Marketing: https://onlinemarketing.de/lexikon/definition-content-marketing
[2] ARD/ZDF Onlinestudie 2020 – Social Media Nutzung: https://www.ard-zdf-onlinestudie.de/files/2020/Kacheln/16zu9/ARD-ZDF-Onlinestudie_2020_Infografik_16-9_06.jpg
[3] Online-Audio-Monitor 2021, p. 16: https://www.online-audio-monitor.de/wp-content/uploads/Praesentation-OAM_2021_Webversion.pdf
This text has been translated automatically.