In our section "5 questions to …", employees of Guestfriend, customers, partners or industry experts give insights into their work and business. Suzann Heinemann, managing director and sustainability expert at GreenSign tells us what role sustainability certificates play in the hotel industry and whether it is possible to act environmentally friendly despite COVID-19.
How do hoteliers benefit from a sustainability certificate?
The issue of sustainability has experienced a real upswing in the last five to ten years. From Fridays for Future to the booming electric car industry – people are developing an ever greater awareness of the consequences of their actions. This is why they are increasingly switching to environmentally friendly products in their everyday lives. These include certified organic food, fair trade clothing and vegan cosmetics. But also when travelling, consumers increasingly question their own climate impact. After all, the conditions of your accommodation, such as small packages at the breakfast buffet or the constant washing of towels and bed linen, often raise doubts as to whether sustainable holidays are even possible.
At InfraCert – the Institute for Sustainable Development in the Hotel Industry – we have experienced that there are definitely possibilities for hoteliers to manage their business in a resource-saving way and that more and more hoteliers are looking into it. And for precisely these hotels, which want to act sustainably and operate a green hotel, a sustainability certificate is essential.
On the one hand, a label like this can act as an eco-management system and support hoteliers in implementing their sustainability measures. In many cases they even save costs directly by conserving resources. On the other hand, a certificate proves quality and responsibility towards guests and employees. As more and more travellers are opting for sustainable accommodation, hoteliers are attracting new groups of guests and may achieve higher occupancy rates. Even job seekers and employees increasingly prefer environmentally and socially responsible employers.
What are the requirements for hotels to obtain the GreenSign sustainability certification?
Given the density of sustainability certificates on the market, it is particularly important for hoteliers to choose a reliable, transparent and, at best, industry-specific certificate. The GreenSign certificate for hotels combines all these features. This is because it was developed as a scientific paper in 2015 specifically for the hotel industry and covers the entire hotel operation in the pillars of ecology, economy and social responsibility. The certification catalog consists of almost 100 measures, of which only a handful of criteria are mandatory for certification.
This is where the GreenSign stands out from other certificates on the market: it focuses much more on sustainable development over the years than on simply passing an examination. The current status of sustainability is evaluated according to the certification process and a corresponding GreenSign Level 1 to 5 is awarded. This makes the GreenSign a great certification for both beginners and more experienced hoteliers and facilitates their further development in terms of sustainability.
New hygiene standards determine the daily work in the hospitality industry. Hotels clean many areas more frequently, use up countless disposable masks and gloves and reintroduce portion packed food at the buffet. So how can eco-friendliness be reconciled with the Corona regulations?
Clearly, in times of the pandemic, sustainability has been cast in a completely different light. Understandably, hoteliers have other things to worry about at the moment, but sustainable hotel management remains incredibly important. Especially now, when the future is uncertain, we should be dealing with tomorrow right now and act sustainably.
Despite the new hygiene measures, it is not impossible for a hotel to continue operating in a resource-saving way. For example, instead of disposable masks and gloves for employees, hotels can also provide reusable cotton masks and gloves. Floor markings to make guests keep their distance can be applied with biodegradable adhesive tape or replaced by reusable stands with arrows and signs. Hoteliers could print these signs on recycling paper, for example. Meanwhile, there are also numerous manufacturers who offer packaging made of renewable raw materials such as bamboo, palm leaf or sugar cane for portioned food at the buffet.
So I think that combining environmental friendliness with Corona regulations in hotels is quite possible and strongly recommended for maintaining a good climate footprint. This is supported by InfraCert's Green Clean & Safe certificate for events, which provides an excellent guide to safety and sustainability for event organisers and hoteliers. More information about Green Clean & Safe can be found here: https://www.greensign.de/en/certification/green-clean-and-safe.
What potential does digitalisation offer for the implementation of ecological measures in the hotel industry?
In my opinion, digitalisation and sustainability are going hand in hand. In the hotel industry, too, digitalisation has picked up speed in recent years and showed how resource conservation can be achieved through the use of technology. Automated processes and solutions such as digital guest directories not only simplify communication with guests and employees, but also contribute to environmental protection and help saving costs. Less paper is wasted and at the same time internal hotel processes are simplified and accelerated.
Another example are the card holders in hotel rooms, which only allow the power supply in the room if the key card is inserted. This electronic mechanism prevents the waste of electricity because guests can no longer forget to switch off the light when leaving the room. The possibilities of digitalisation for hotels are certainly far from exhausted. I am curious to see the further potential for sustainability in this area.
Do sustainability labels also make sense for smaller accommodation providers, campsites or holiday home owners?
In general, a sustainability certification makes sense for every business that is environmentally conscious and wants to communicate this to its guests, employees and partners. An external institution that checks and evaluates these sustainable efforts ensures a certain transparency and credibility among guests and avoids "greenwashing". In case of campsites and holiday homes, the inspection criteria are of course slightly different from those of hotels. Nevertheless, every business should consider the issue of sustainability in its corporate strategy in order to remain successful in the market long-term. Sustainability is fun and I hope that many more hoteliers will join us on this green path. The motto is: Just start because every hotel can be sustainable!
Suzann Heinemann in conversation with Sandra Schneider, Gastfreund GmbH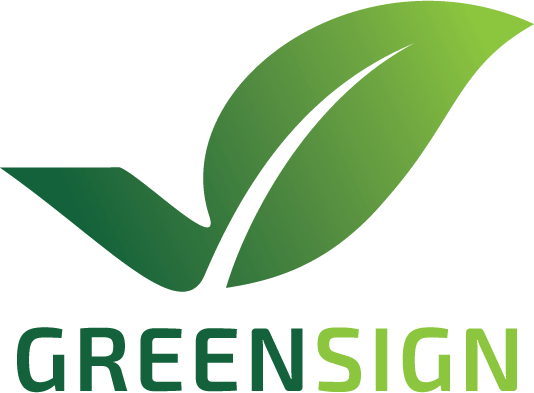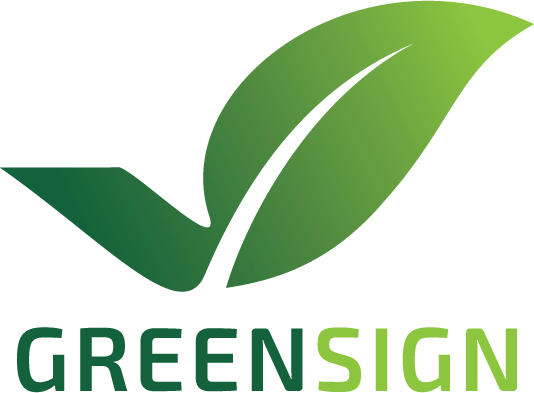 GreenSign logo: Hoteliers recognise their GreenSign certification
from this. ©InfraCert GmbH
---
Read more about sustainability in the hotel industry in our article "Environmental protection and sustainability in hotels – Tips to run your hotel in a sustainable way".
Image: ©InfraCert GmbH
This text has been translated automatically.