Prices for gas, oil and electricity have skyrocketed in recent months. In the hospitality industry, too, the exorbitant cost increases are hitting virtually all businesses. At this time, many wish to be independent of gas and oil. But the alternatives, namely photovoltaic systems, storage batteries and heat pumps are expensive investments. Therefore, we have 7 tips for you to save energy in your hotel, with which you can tackle the rise in costs immediately and without major investments.
The tips in brief:
Tip 1: Optimise lighting
There is usually an extremely high potential for saving energy when it comes to lighting in hotels. The Hotel Estrel in Berlin, for example, already saves 40,000 € a year just by replacing the classic fluorescent tubes in all corridors with energy-saving LEDs. [1] Those use up to 90 percent less electricity. On top of that, some of the LEDs last 50 times longer than the traditional luminaires. [2] So if you rely exclusively on LEDs, you will not only save on electricity costs but also on maintenance costs and do something good for the environment. This change is worth it in any case!
You should also check which lighting is really necessary. For example, are the lights on during the day even though there is enough sunlight? Or are cellar rooms, corridors and outdoor areas lit up even when no one is there? Take a tour of the hotel and check where you could switch off the lights more often. Then make the team aware of this or solve the whole thing with the appropriate technology. [3] For staff rooms, corridors and publicly accessible toilets, for example, motion detectors are usually worthwhile, allowing the lights to be switched on only when needed.
Tip 2: Avoid devices in stand-by mode
Computers, printers, coffee machines, kitchen appliances, televisions, etc.: An incredible number of electrical appliances are used in a hotel every day. Of course, you can't do without them. But did you know that these devices are real power guzzlers even when you are not using them? Make sure, for example, that you switch off the coffee machine and the like completely after use instead of only switching them into stand-by mode. Ideally, you should also only switch them on again shortly before the first guest wants to drink coffee.
Many hotels already use a clever system for their guests' rooms: they only receive electricity when the key card is inserted in the corresponding power switch. When leaving, the guests remove the card. In this way, it is no longer possible for the light or television to be on for hours even though the guests are not around. Even appliances that are permanently plugged into the socket, such as kettles or hairdryers, no longer consume electricity unnecessarily. Calculated for all rooms, this saves a lot of energy.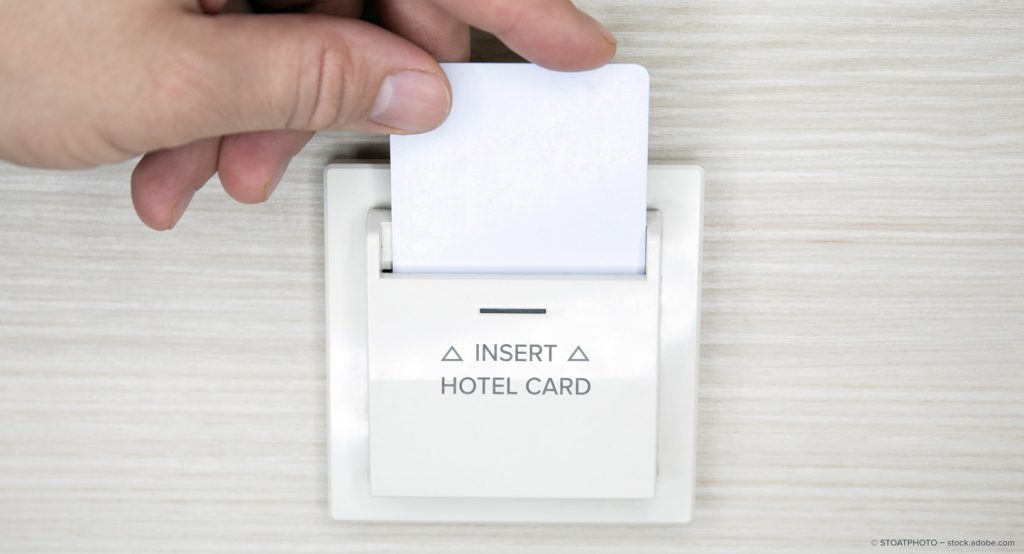 Room cards are not only a practical substitute for keys, but also help to save electricity in the hotel. Picture: ©STOATPHOTO – stock.adobe.com
Tip 3: Raise awareness among employees
Saving energy in a hotel is a team effort. No matter how meticulous you are about turning off all the lights behind you and turning down the heating when you air the rooms, all employees need to pull together for truly effective savings. Communicate and justify all measures clearly. In this way, you sensitise your team members to act more energy-efficiently on their own initiative.
A checklist can be a good help: For example, draw up a checklist for your cleaning staff, who go through the individual points and tick them off every time they clean a room. This could look like this, for example:
Is the heating set to 0 after the guests have left?
Are the windows closed?
Is the TV switched off?
Are the lights in the bathroom off?
Is the hairdryer unplugged?
Is the kettle unplugged?
Are the lights in the room off?
Is the minibar switched off?
…
At best, you should distribute this list in the team so that everyone is guaranteed to see it. This means: Instead of an inconspicuous notice on the notice board, it is better to use a digital platform such as the Hotelboard. This is specially designed for easy communication in hotel teams. Here you can send the information to all employees with just a few clicks as a document or even as a checklist to be ticked off. Notifications and read status ensure that the information reaches everyone.
Tip 4: Eliminate the minibar
The minibar in every room, which is constantly cooling, naturally needs a lot of electricity. In the end, only a fraction of the guests really use the drinks and snacks in it. Is that worth it for you? An alternative would be to only switch on and fill the minibar when the individual guests explicitly ask for it. Or you could even do away with the refrigerators in the room altogether and instead rely on a well-stocked snack vending machine in the lobby.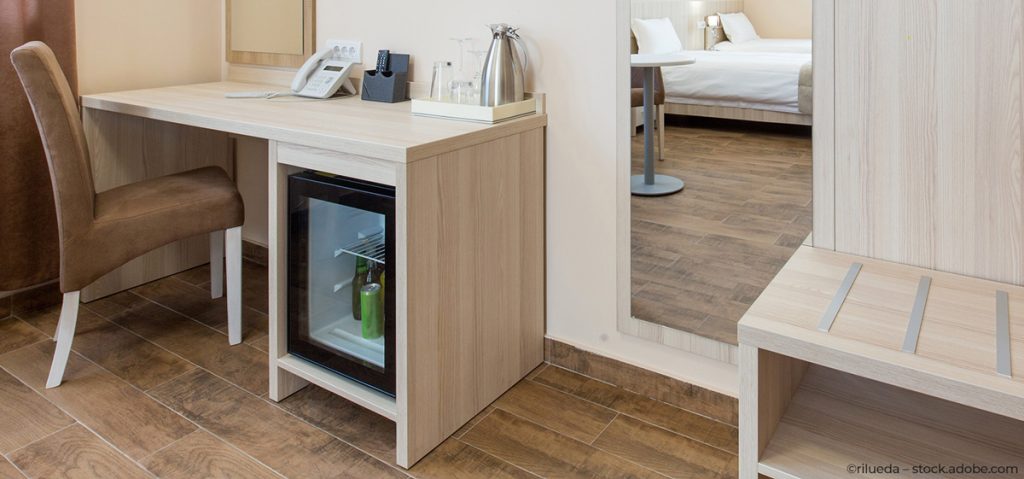 Minibars in continuous operation are real power guzzlers. That is why more and more hotels remove them. The trend is also reflected in the hotel star classification: for four-star hotels, a fridge with drinks and snacks used to be obligatory, but since 2015, a "maxi-bar" in the corridor or 16-hour room service has been sufficient here. Picture: ©rilueda – stock.adobe.com
Tip 5: Regulate hot water consumption
If you want to save energy in your hotel, you should not only look at your electricity consumption, but also at the hot water. First of all, check the water consumption of the showers and washbasins in your house. Shower heads today should not use more than 9 litres of water per minute. Energy-saving taps get a maximum of 6 litres per minute. [3] If yours use more than that, you might want to upgrade. This will save you energy without your guests noticing a difference.
For heated pools, every degree less in water temperature can already make a big difference in terms of energy consumption. Also make sure that you cover outdoor pools well at night, for example. Just like a pot with a lid, less heat is lost and you save on heating costs.
Tip 6: Check your heating system regularly
There is also potential for optimisation when it comes to heating. For one thing, you should check heating systems regularly. If you clean the boiler, for example, it will use up to 20 percent less energy! [4] Our tip for the periodic maintenance of your heating system in the hotel: organise all to-dos with the Hotelboard. There you can create tasks including checklists for your caretakers and check the current status at any time. And if you wonder next year when the last boiler cleaning was, you can always find the information again thanks to the search function in the Hotelboard.
Also check all the radiators in the house. For optimal heating performance, the air in front of them must be able to circulate freely. Coverings, decorations or curtains in front of the heaters only disturb this process. It is best to remove them if possible.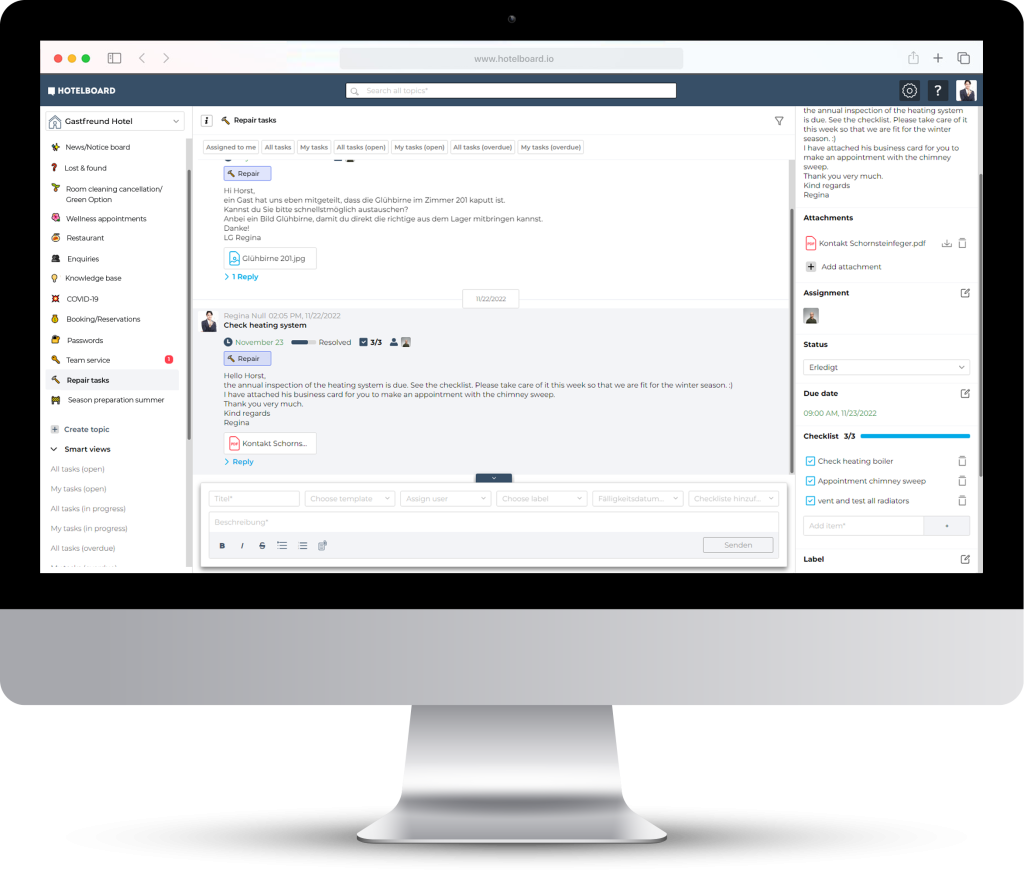 The Hotelboard makes it easy to organise important maintenance work. Assign the task to the responsible employees, add checklists and documents and check the current status at any time.
Tip 7: Inform your guests about measures and reward economical behaviour
Not only the behaviour of the hotel team, but also that of the guests naturally contributes to energy consumption. Similar to your team, the same applies here: Inform your guests and sensitise them to the topic. If you explain, for example, why you only offer a towel change and minibar in the room on demand – namely because you want to save water and electricity – the guests will certainly understand this immediately. They will then not perceive this measure as a restriction, but rather as a positive aspect of your accommodation.
The perfect place for such explanations is your Digital Guest Directory. It informs your guests about everything they need to know about their stay. Simply include the topic of "energy saving" here. Regardless of the current crisis, you can show your guests that you care about saving resources. At this point, you can also integrate a form with which your guests can cancel the daily room cleaning. Because if your guests opt out, you save water, cleaning agents, staff costs and electricity for vacuuming etc. Especially now that all this is becoming more expensive, the so called "Green Option" makes sense. If you want to give your guests an extra incentive, reward every cancelled room cleaning, e.g. with a free drink at the hotel bar.
Conclusion: Many small steps lead to the goal – for cost savings and environmental protection alike
Our tips show: If you want to noticeably reduce your energy costs, you don't have to spend large sums of money right away. Start with simple measures first and see how they are reflected in your electricity and heating bills after a few weeks. However, it is important that you always set yourself further energy-saving goals, which you can work towards together with your team and your guests. After all, this is a hot topic not only because of the energy crisis, but also for environmental reasons.
You will find inspiration for this, among other things, in the UNESCO programme for sustainable travel. Within the framework of this project, accommodations worldwide set themselves goals regarding energy savings, resource conservation and more. Interested parties can follow the individual goals and progress of the hotels at any time on the project's website. Here you can find out which concrete steps have led to the goal for other hosts.
---
Sources:
[1] Deutschlandfunk Kultur: https://www.deutschlandfunkkultur.de/hotel-estrel-berlin-energiesparen-100.html
[2] MVV Energie AG, Stromfresser Beleuchtung: So sparen Unternehmen Energie ein: https://partner.mvv.de/blog/stromfresser-beleuchtung-so-sparen-unternehmen-energie-ein
[3] ÖHV: https://www.oehv.at/themen-recht/nachhaltigkeit/energie-sparen/tipps-energiesparen-im-hotel/
[4] Handlungsempfehlungen zur Senkung der Energiekosten: https://www.dehoga-bundesverband.de/fileadmin/Startseite/01_UEber_uns/11_Aktionen_Initiativen/Dehoga_Sofortmassnahmen-Liste_220331.pdf

Image source: ©994yellow – stock.adobe.com
This text has been translated automatically.