E-mails have been around for over 50 years. As early as 1978, the first company recognised its potential for marketing and sent out the world's first newsletter.[1] Today, e-mail marketing is indispensable for companies – especially in the hotel industry. In communication with guests, e-mail is considered a tried and tested classic. And although many alternative contact points have emerged in recent years with social media, chats and the like, you should definitely not neglect them for your hotel marketing. We explain why and examine the various opportunities for e-mail marketing in your accommodation.
Tried and tested, cheap and reliable: The advantages of e-mail marketing in the hotel industry
From furniture manufacturers to mail order companies, from tour operators to hotels: almost every company uses e-mails as a marketing tool nowadays. But why is e-mail marketing so popular?
An important plus for most companies: E-mails reach the recipients directly in their inboxes and can even be personalised with the help of the right data. This means that you address each of your contacts personally. Neither typical online advertising nor social media can compete with this. For you as a host, this means that, thanks to mailings, you can stay in contact with your guests even after they have left, thus strengthening guest loyalty and increasing your turnover. The ingenious thing is that e-mail marketing doesn't even cost much money. Some programmes for sending newsletters are even free. Only when you exceed a certain number of recipients or mails is a monthly flat rate due.[2]
E-mail marketing for accommodations – before, during and after the stay
The booking confirmation
Yes, you have read correctly. Even the confirmation e-mail directly after a booking is already part of e-mail marketing. The typical information such as booking number, arrival and departure dates, number of travellers etc. is of course a must. But why not supplement your e-mail with additional content that will really whet your guests' appetite for their stay with you?
For example already refer to your Digital Guest Directory in the booking confirmation. Here, guests will not only find all the information they need about your hotel, but also practical tips and exciting hints for planning their trip in advance. This includes, for example, the digital travel guide with excursion tips around your accommodation as well as events in the region. A big advantage for you: Your guests arrive well informed and have fewer questions when they arrive. This takes work off your reception employees' hands.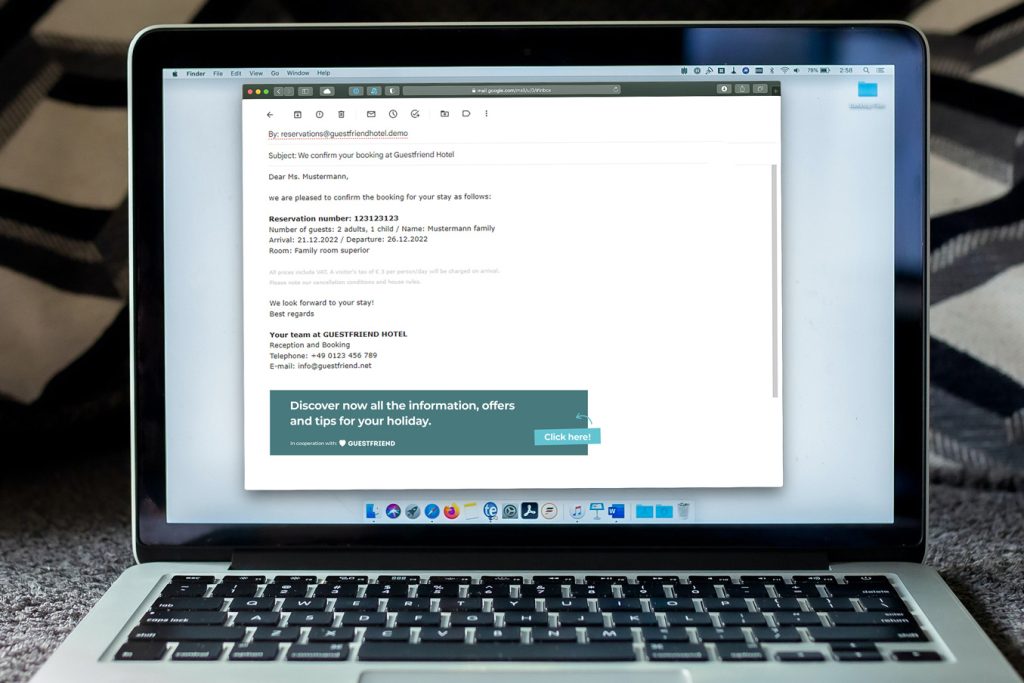 Increase the anticipation: an eye-catching reference to your Digital Guest Directory already in the booking confirmation. It's best to include a link directly to the Digital Guest Directory so that guests can explore it without any detours.
The pre-stay mail
Shortly before arrival, your guests' anticipation is usually at its highest. For you, this means that there is great potential for upselling and cross-selling! So point out specific offers in the pre-stay e-mail, such as a room upgrade, a wellness treatment, an upcoming event or bicycle rental. If all these offers are bookable in your Digital Guest Directory, it makes it all the easier. All it takes is a link or button. For a quicker and easier check-in, also point your guests to the digital registration form so that they can fill it out before they arrive. This way, not only your guests will have a pleasant arrival, but also your reception staff will have a less stressful working day.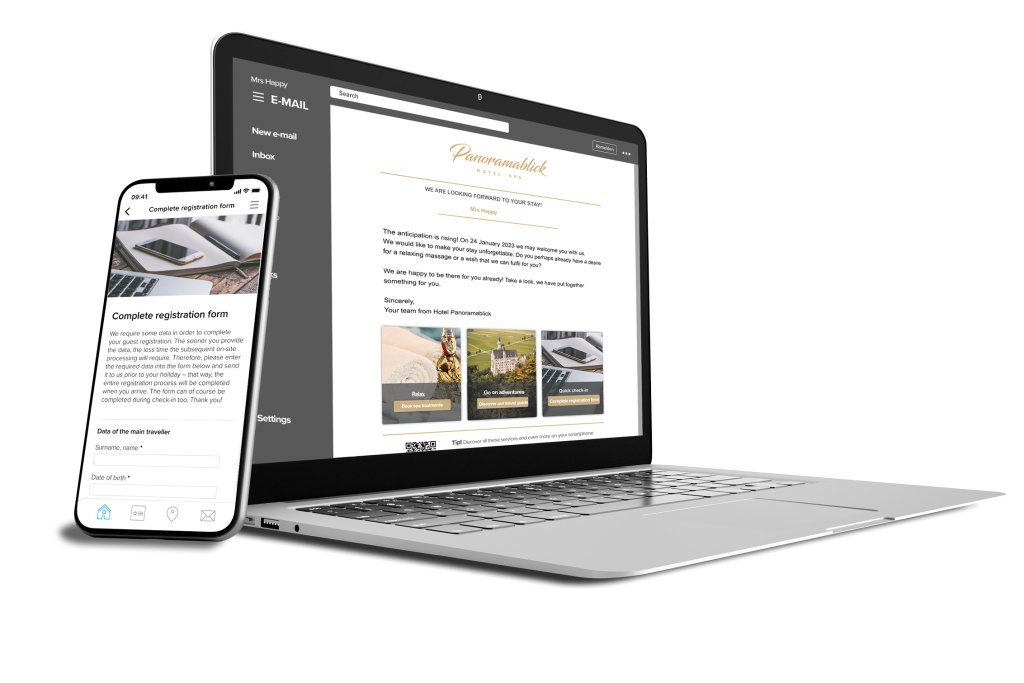 In the pre-stay mail, you remind your guests of the most important information for their arrival and give them tips for planning. This is also exactly the right moment to refer to the digital registration form. This way, your guests can fill it out at home and take their time instead of doing all the paperwork at arrival.
The post-stay mail
You can round off the guest experience with an e-mail shortly after departure. Thank them for their stay and create incentives for your guests to come back. You can do this, for example, with a discount on the next direct booking. In addition, the post-stay e-mail is exactly the right moment if you want to actively ask for feedback from your guests: The memories of the stay are still fresh, the holiday feeling still lingers. It is particularly accommodating if you give your guests a choice here. Perhaps they would prefer to fill out an anonymous feedback form instead of a public evaluation on an online portal. The simplest solution: link to a specific page of your Digital Guest Directory where you list different review options. If they are allowed to decide for themselves in which way they give their rating, more guests are usually willing to do so.
After their stay, ask your guests for their feedback. Give them the choice between an online rating portal and your own feedback form directly in your Digital Guest Directory.
The classic newsletter
The first thing you think of when you hear the word "e-mail marketing" is probably a regular newsletter. Surely you have subscribed to one or two of these yourself and know the typical contents. As the name suggests, the newsletter contains news from the company. It also informs the recipients about special offers, discounts or events. If possible, divide your subscribers into different segments and then adapt your campaign exactly to the respective target group. For example, send an exclusive booking discount to your loyal regulars or specifically promote the new lunch menu to locals who often visit your restaurant. This increases the chances of success of your e-mail campaign enormously.
Used correctly, a newsletter becomes an extremely effective marketing tool. However, there are still a few things to consider. We will show you these in part two of our blog article.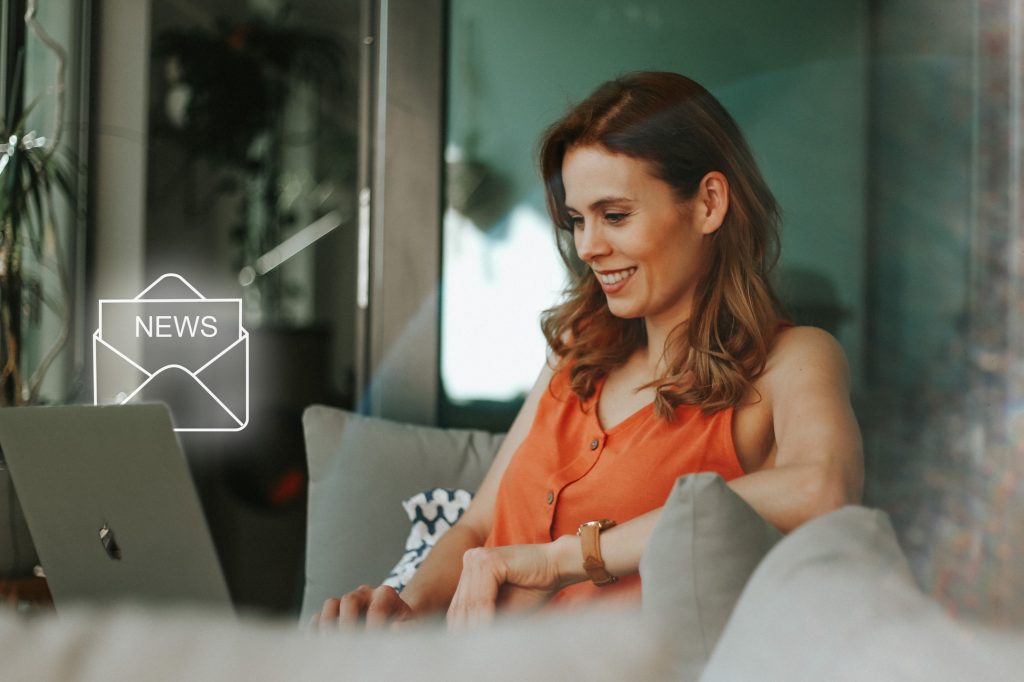 With a newsletter you stay in contact with your guests in the long term. If you create incentives for the next booking, e.g. with the help of exclusive offers or discounts, your newsletter subscribers may soon become regular guests.
Check your booking confirmation templates, pre- and post-stay e-mails and your latest newsletters now. Are you already exploiting all marketing potentials?
---
Sources:
[1] Rapidmail, 50 years of email marketing history: Happy birthday, email! https://www.rapidmail.de/blog/50-jahre-e-mail-geschichte
[2] OMR Reviews, The 7 best free newsletter tools: https://omr.com/de/reviews/contenthub/newsletter-tool-kostenlos

This text has been translated automatically.