The expectations of guests are constantly changing. If you follow the current hotel trends you will come across the topic of personalisation and individual travel experiences again and again. Most guests want their stay at the hotel to be be something very special. Therefore, they book experiences, activities or certain services on site. Some hosts have recognised this trend early on and offer a wide range of additional services. We will show you what these can be and how the hosts can benefit from them.
The trend towards a travel experience that is as individual as possible may at first sound like higher demands on the part of guests. But it is also an opportunity for hosts – in concrete terms, the desire brings great potential for Cross-selling. For example, offer your guests a comprehensive wellness experience including a back massage, sauna and detox welcome drink. Or recommend your personal favourite bike tour to your guests and rent out bikes and helmets to match. Your guests, who strive for individuality, will be thrilled. And you will increase your turnover at the same time.
We have compiled some examples of exciting additional offers. One thing is clear: many of the hosts that use Hotelcore are real pros when it comes to cross-selling in the hotel industry. From the classics like room service to very special highlights like dolphin swimming in the Caribbean, it's all here. But see for yourself.
The best ideas for cross-selling in hotels
Culinary delights
Does your accommodation have a restaurant? Do you offer a breakfast buffet? Then the following classic enquiry forms should not be missing from your Digital Guest Directory: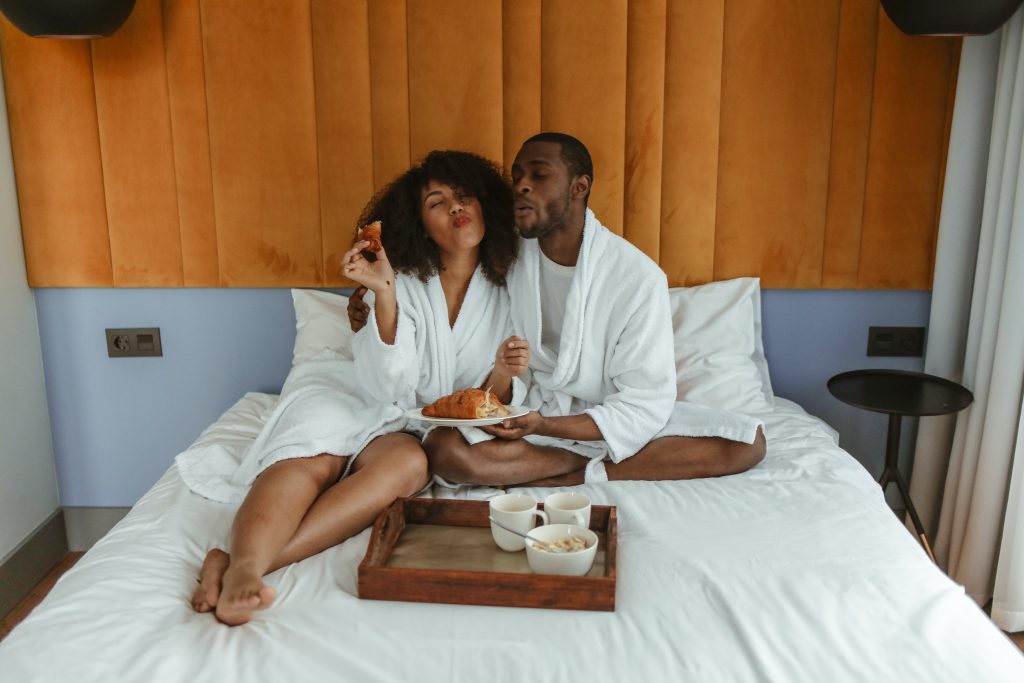 For some guests it is breakfast in bed, for others perhaps rather the elegant 5-course dinner in the evening. In any case, culinary delights play a major role in creating an unforgettable guest experience.
But tastes are different – just like the culinary offers of some hosts:
At Domizil Vochera in Styria, guests not only order a "Frühstückkisterl" (breakfast hamper) with little effort, but also an "Bio-Jause" (organic snack box) with many regional delicacies. The recommendation where to enjoy them is included: Of course on the beautiful terrace of the holiday home with its panoramic view.
If you don't want to do without your favourite kitchen appliance – the Thermomix – during your holiday, you can simply book it during your stay in the apartments of quartier 39. You can do this using a dedicated request form in the Digital Guest Directory.
More than just a packed lunch: At the Seezeitlodge, guests receive a ready-packed picnic backpack including a blanket, food and drinks. The beautiful surroundings of the Saarland hotel also simply invite you to a picnic!
Sports and activities
Do most of your guests come to you for an active holiday? Then the following offers in your accommodation might be useful:
Reserve a ski pass
Request initial instruction for the fitness room
Register for a guided hike
Register for a fitness or yoga class
There is certainly something for every active traveller. But some accommodations go one step further and offer very special experiences:
Guests at the Paidion Hotel in the Harz Mountains can easily request a private swimming lesson for children or adults using a digital form.
The Hotel Hermitage in Lucerne not only offers a hotel fitness room, but also various options for sports fans: guests can book personal training or a free fitness box with equipment for the sports session in their own room.
At the Dolphin Suites & Wellness on the Caribbean island of Curaçao, guests can book an hour of dolphin swimming with just a few taps. The best thing about it: the offer is also available for people with disabilities – as a "accessible tour". Incidentally, accessible tours of the island and a diving course are also available.


The yoga class, the swimming course or the accesible island tour – for many guests, these bookable activities make the difference between a simple hotel stay and a special experience.
Wellness and relaxation
For some guests, the search for a unique experience means treating themselves to some time off. Wellness offers or services that provide the perfect relaxation come in particularly handy for these guests. Classics in accommodation with a spa area include, for example:
Request a massage or wellness treatment
Book a private spa or sauna
However, some hosts are really creative and offer their guests the following services for optimal relaxation:
For the perfect night's sleep, Seezeitlodge offers its guests an extensive pillow menu. From the classic Neck roll to the so called Betonika dream pillow – for a good night of sleep you can get everything there!
There is certainly no fight over the best loungers by the pool at the Hermitage Hotel: at least if guests reserve a daybed digitally in advance. You can choose between a reservation for 3 hours or a whole day.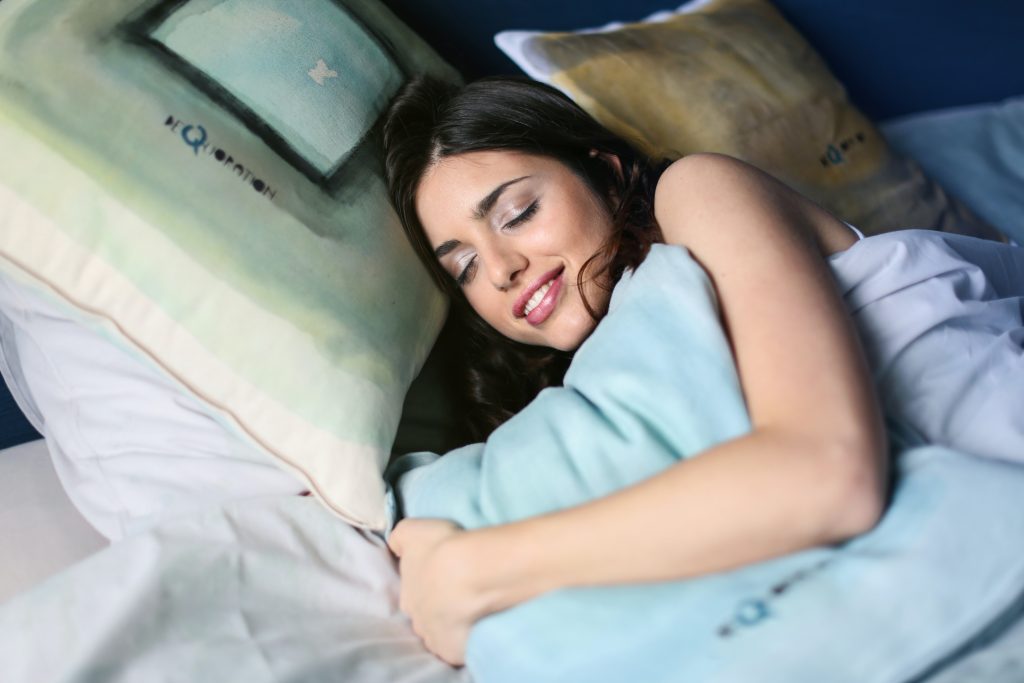 The perfect pillow for the most restful sleep possible: Some hosts give their guests a choice and thus ensure more sleeping comfort.
Sustainability
Environmental protection is an important topic for more and more guests. Therefore, many guests are also thinking about sustainability when it comes to their holidays. Unlike the other examples of cross-selling, the focus here is not on increasing sales. Instead, it is about setting a positive example in terms of climate protection. As a host, you can support your guests by offering the following, for example:
The Hotel Rehlegg goes one step further. In the Digital Guest Directory, it gives guests the opportunity to make their travel carbon-neutral. This is done by guests paying a voluntary compensation depending on the kilometres they drive. The donations go to an aid organisation and the settlement is made via the room bill – on a voluntary basis, of course, when guests fill out the corresponding digital form.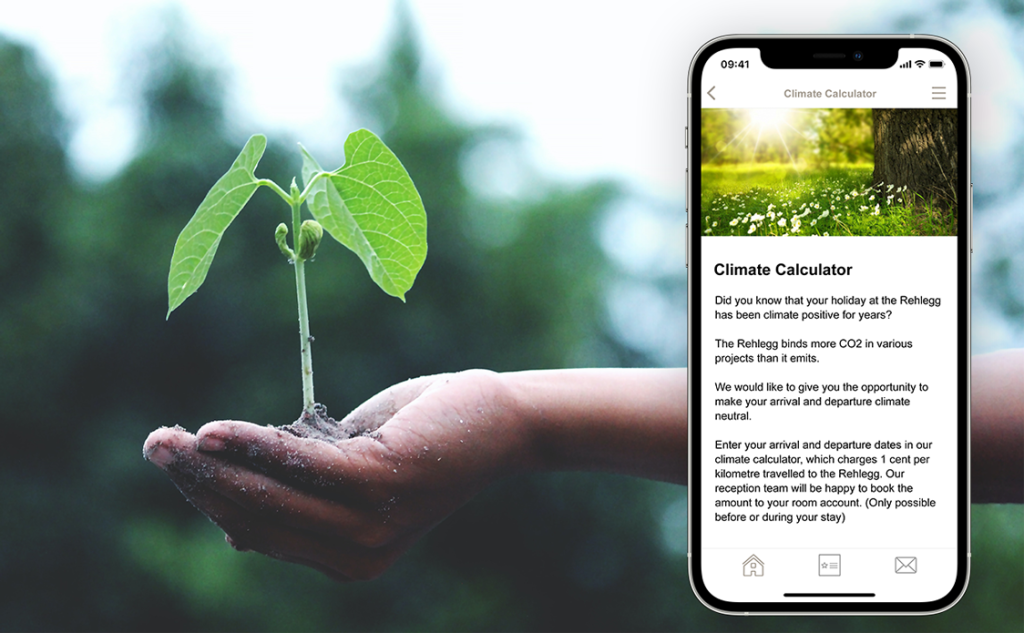 In the Hotel Rehlegg app, guests can voluntarily offset 1 cent per kilometre driven upon arrival. The hotel calculates and collects the amount and passes it on to an environmental protection organisation.
More ideas for additional services and cross-selling offers:
Buy a gift voucher
Reserve a spot in the underground car park
Request an event or a conference
Digital enquiry forms as optimal helpers for cross-selling
Once you have decided what you would like to offer your guests for their unforgettable stay, it is of course a question of implementation. After all, it is important to advertise the cross-selling offers appropriately and to make booking as easy as possible. The simplest and best way to do this is via the digital forms in your Digital Guest Directory. In addition to the information about your house, your guests can also see the various offers at a glance.
Regardless of whether they are still at home and book the first activities in advance or whether they make a spontaneous reservation during their stay – your guests fill out the digital request forms with just a few taps on their smartphone or tablet and send them off. This means: you receive the bookings digitally – either all bundled at a fixed time or each time immediately after a guest has booked. This reduces the workload of your recpetion staff and is convenient and efficient for both guests and team.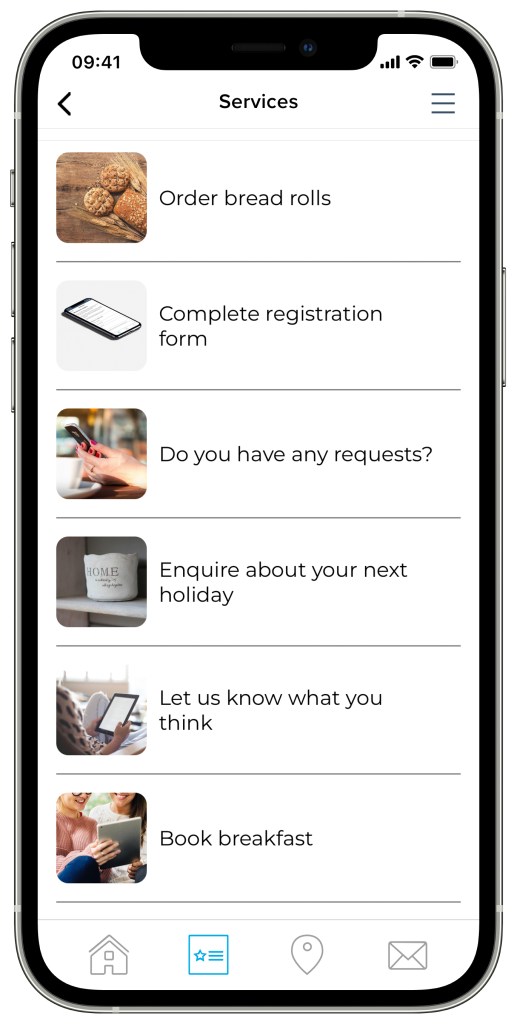 You want to offer your guests very special experiences and are looking for a way to make your offers bookable? We will be happy to advise you.
---
Image source: ©rh2010 – stock.adobe