For many guests it is a habit to switch on the TV in the evening to relax. And they want to feel at home even on holiday. Therefore, the TV in the hotel room should not be missing. But even if guests usually don't even notice, hoteliers should definitely have some things on their radar. Because a hotel TV must meet different requirements than the TV in your own home. No matter whether you are considering purchasing new TVs or want to optimise the existing ones: We have compiled a checklist for you with all the functions that your hotel TV should offer.
What is the difference between a hotel TV and a TV for private use?
Constantly changing users
The main difference between hotel TVs and those for private use, i.e. so-called "consumer TVs", is the fact that in a hotel the people who use them are constantly changing. On average, new guests move into the room every three to four days. [1] If the previous guests have changed the language settings, channel list, volume, etc., this can be annoying for the next guests or an additional workload for the hotel staff. Moreover, no one likes to read long instruction manuals while on holiday — a TV set in the hotel room should therefore be intuitive to operate.
Data protection with smart TVs
Two thirds of Germans now have a smart TV in their living room. [2] This means that they can browse and stream films, series and programmes from the internet directly on the TV. The classics are, for example, streaming services such as Netflix, Amazon Prime and Co. However, this usually requires logging in via a personal account. If your guests do not log out again before they leave, in the worst case scenario future guests could read out some of the login data or share the other person's account. So while a messed up channel list is "only" annoying, real data protection problems could arise here. You can avoid this if you provide suitable equipment or carefully and completely delete the data after each departure.
More than just entertainment: take advantage of the opportunities
Unlike at home, the TV in an accommodation has more tasks than just entertainment. For example, it supports the reception: with the right software, such as the Info Channel by Hotelcore, you can inform your guests on the screen about the house and the surroundings, the weather forecast, meal times, menus and co. At the same time, you can market your additional offers such as sports programs, wellness treatments, products from the hotel shop, late check-out and many more on the hotel TV. Because the TV attracts the guests' attention and is therefore a real talent in terms of cross-selling.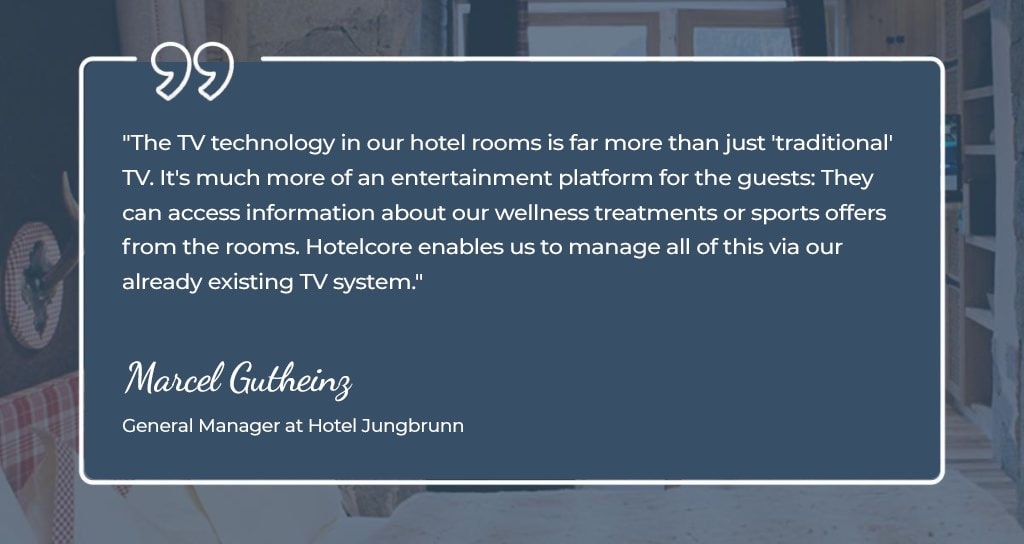 The Hotel Jungbrunn presents offers and services via the hotel TV.
Checklist: Must-haves and practical additional features for your hotel TV
There are some features you should look out for when purchasing and installing new TV sets. In addition, some devices offer additional features ("nice-to-haves"). Those are not a must, but will delight either your guests or your staff.
Must-haves for your hotel TV
Hotel mode
Many modern TV sets offer this feature. You activate the mode with a certain key combination or a PIN and thus restrict the setting options for guests, for example. You can find out how to activate the hotel mode on your own devices in the user manual or on the web.
Different languages
Guests in hotels are often international. So, both in terms of TV channels and in terms of the TV's system language, it is important that you provide different languages
Pre-programmable channel lists
No one wants to spend hours digging through TV channels until they find a suitable programme. With a preset channel list, you can therefore save your guests time and effort.
Simple operation
Crossed out speaker icon to mute, right and left arrows to switch between channels, etc: The buttons on the remote control should ideally be simple and self-explanatory so that all guests can find their way around straight away.
Welcome page with hotel information and services
A large proportion of guests use the hotel TV in their room. Some are magically drawn to screens. For you as a hotelier, the TV is an important point of contact with the guests. Welcome your guests there with your own content:
on your Info Channel
. Common contents besides the "Welcome" are time and weather, tips for excursions, important contact numbers as well as offers and services of the hotel. The best thing: you can determine the content yourself and adapt it at any time.
Appropriate size for viewing distance
When choosing your TV sets, consider the distance between guests and the screen and then carefully select the appropriate screen diagonal. Rule of thumb: If you divide the screen diagonal in inches by ten, you get the maximum distance between viewer and TV in metres. For a 30-inch TV, for example, this is a maximum of three metres. If in doubt, choose a larger size. In addition, the centre of the screen is best at eye level with the viewer. [3]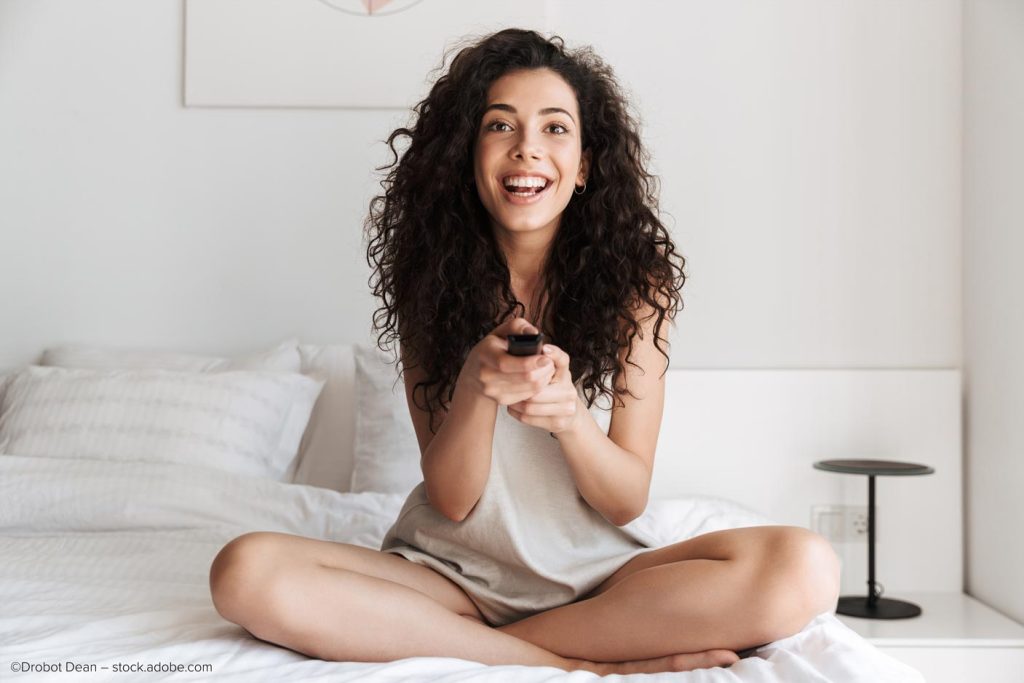 The guests in a hotel room are constantly changing. No matter what language they speak, whether they are tech-savvy or not, the TV should be equally understandable for everyone.
Nice-to-haves
Alarm clock
This feature is something for all guests who like to be woken up by radio music or breakfast television. Guests set the desired time in advance. At the wake-up time, the TV then switches itself on autmatically.
USB-Cloning
The TVs in all rooms should of course have the same basic settings and channel lists. Some devices allow you to determine the settings once and then transfer them to the other devices with the help of a USB drive. Especially in hotels with many TV sets, USB cloning is a real relief. [3]
Streaming via smartphones and tablets
More and more people no longer watch linear TV programmes, but "stream" series, movies and TV shows on demand from the Internet. We have already described
the data protection risks that can arise with standard household smart TVs.
However, there are smart solutions for hotels: guests stream the content on their own smartphone or tablet and only transfer it to the TV screen. This means that the login directly on the TV is not necessary.
Many people prefer streaming to the classic TV programme. With the appropriate technology, you can also offer your guests this service during their stay.
Case study Swisscom blue TV Host: complete package for hotels and care homes
With its blue TV Host offer, Swisscom is probably the largest provider of hospitality TV solutions in Switzerland. The package is aimed specifically at hotels and homes and, if desired, even includes the leasing of TV sets. The package includes more than 300 TV and 300 radio stations, which the hosts organise in up to 5 channel lists. In addition, guests can use private streaming services via their own mobile devices without concerns for data protection. Four different languages are available. In terms of usability, Swisscom not only relies on an intuitive remote control, but also makes it possible and easy for hotel guests or residents to use voice control.
Another central component of the offer is the Info Channel, for which Swisscom is collaborating with Hotelcore. Thanks to this, the television becomes a central communication platform. The hosts use it to send their guests a personal welcome message, inform them of everything important and, for example, let them cancel room cleaning with a click directly on the TV. Read more about Swisscom and the blue TV Host concept in our blog post:
"Digital TV for hotels and care homes – '5 questions to' Swisscom".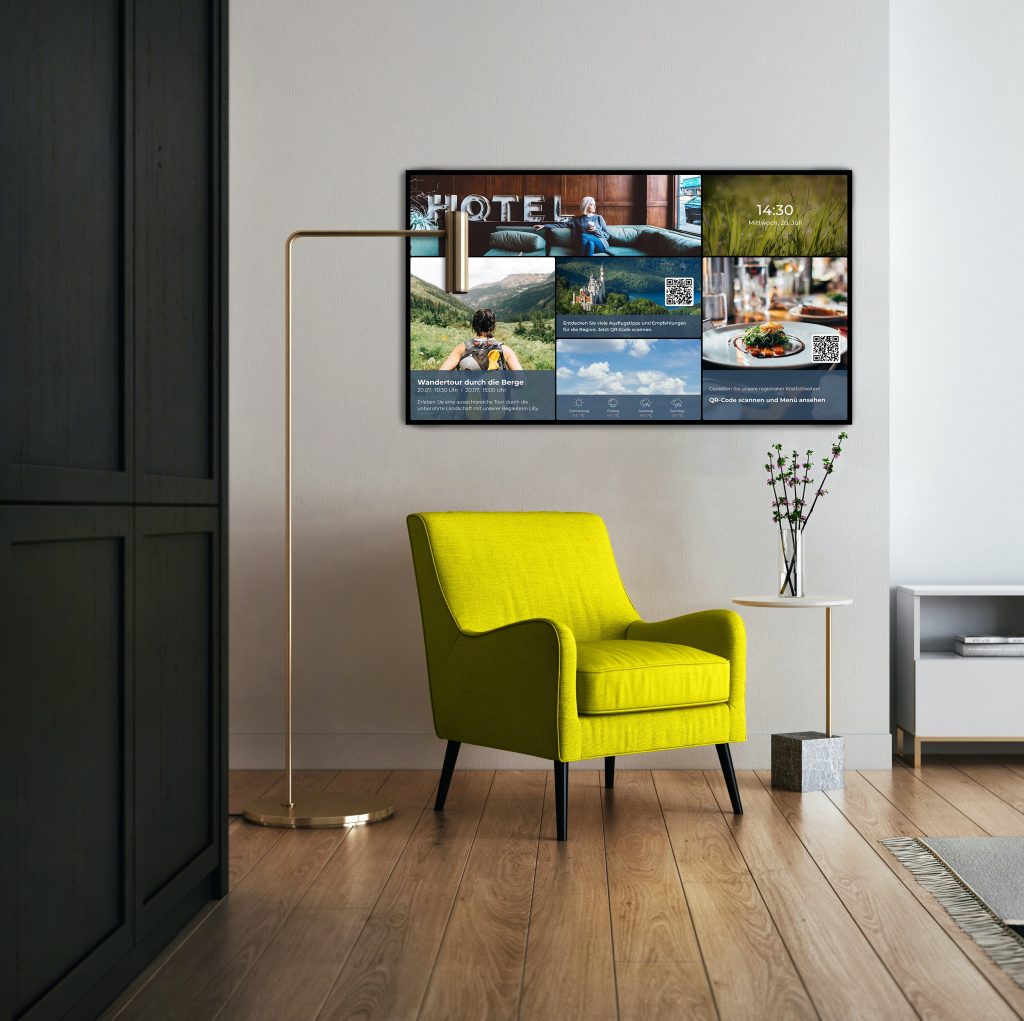 Tip for even more infotainment: digital signage in busy places
Hotel TVs not only entertain and inform in the hotel rooms. For even more effective infotainment, also use monitors in the lobby, at the reception, in the fitness room or at the bar. In short: everywhere where there are many guests. Because digital signage works particularly well there.
By the way: With the Info Channel by Hotelcore you tune the content of your hotel TV to the respective location of the TV. With several different channels, it is possible to inform about the check-out times and the weekly programme at the reception, to advertise the room service in the hotel rooms and to showcase the massage offer in the spa area. This way you reach exactly the right target group for all services and information.
Would you like to get more out of your hotel TVs and offer your guests the best infotainment? We would be happy to show you your options.
---
Image source: ©Drobot Dean – stock.adobe.com
Sources:
[1] Federal Statistical Office (Destatis) 2023, https://www.destatis.de/DE/Service/EXDAT/_Interaktiv/gaeste-aufenthaltsdauer.html
[2] Statista 2023, https://de.statista.com/statistik/daten/studie/325527/umfrage/anteil-der-tv-haushalte-in-deutschland-mit-smart-tv/
[3] RedSam.de, Hotel-TV Ratgeber, https://www.redsam.de/hotel-tv-shop/hotel-tv-ratgeber

This text has been translated automatically.