Social media is often one of the first contacts points between hotels and guests. However, many social media accounts tend to be poorly managed and do not convince their subscribers. Social media posts are all about added value for the user – regardless of the channel. In our last article, we briefly explained which social media channels are suitable for hoteliers. Today we tell you what is important when it comes to social media.
1. React and create a community!
Get in touch with your guests and interact with them. They will be happy if you repost, comment and like their pictures. Respond to hotel reviews or posts written by your guests and react individually to each one. And post your guests' pictures into your story, for example. Another positive effect on your image results from good reviews and experiences of your guests, which they share on your site. Use this so-called user-generated content for your hotel!
2. Be personal!
There are no other industries in which personal contact with guests is as important as in the hotel and tourism industry. Be human and let your followers look behind the scenes. Take your subscribers, for example, to the wholesale market or the farmer around the corner and show them where you buy fresh fruit and vegetables. Introduce your team and post pictures of company parties or team events on social media. It's easy to build an authentic image for your company!
Fantastic side effect: This content may also convince potential applicants who are looking for a new, attractive job.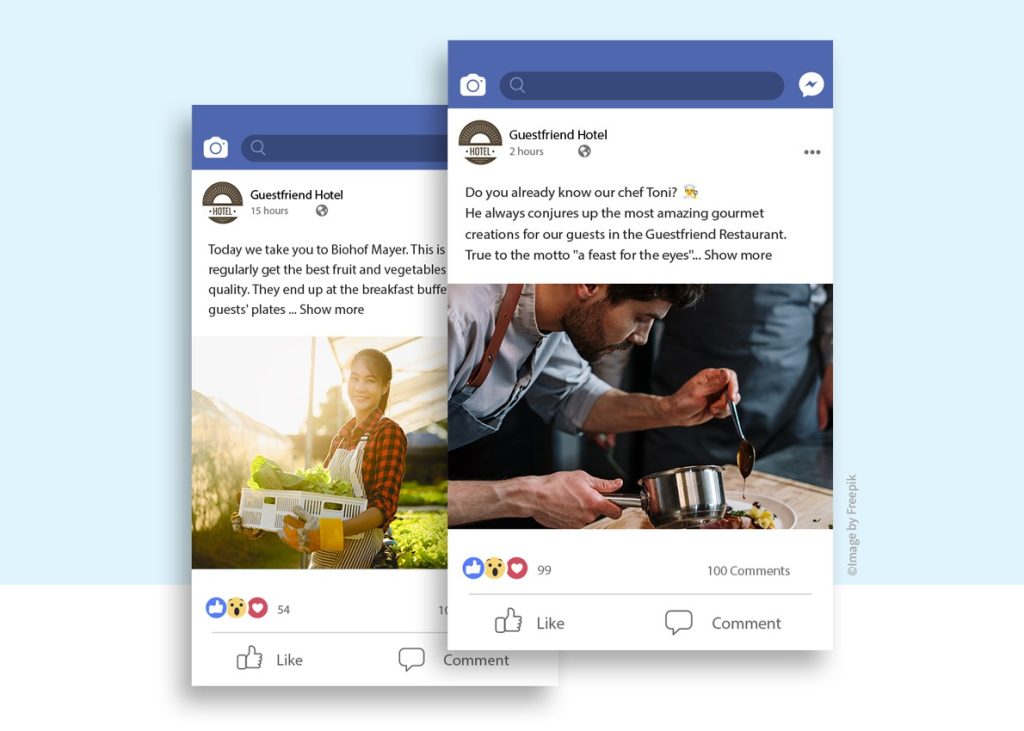 Score points with personality: Show insights into your team or interesting facts from your daily hotel life. This will help you to win over both guests and potential employees.
3. Tailor content to your target group!
If you want users to follow your hotel on social media, provide them with relevant content regularly. Ask yourself the questions: Which content interests your target group? Who would you like to convince? Are your guests mainly business people or families? Are they interested in wellness or sports? Do you have a younger or older guest structure? Make sure you use the right social media channels to reach these people. Also, adapt your posts to the respective platform. With a little trial and error, you will quickly find out which text length, which image format or even which chosen hashtags work best on which medium.
4. Link your social networks!
Attract your guests' attention to your social media sites in your accommodation as well, so that they can connect with you. Link your social accounts in your Digital Guest Directory, mention them on your Info Channel as well as in the digital edition of your Hotel Newspaper. And of course don't forget to include them also on your website and in your e-mail signature.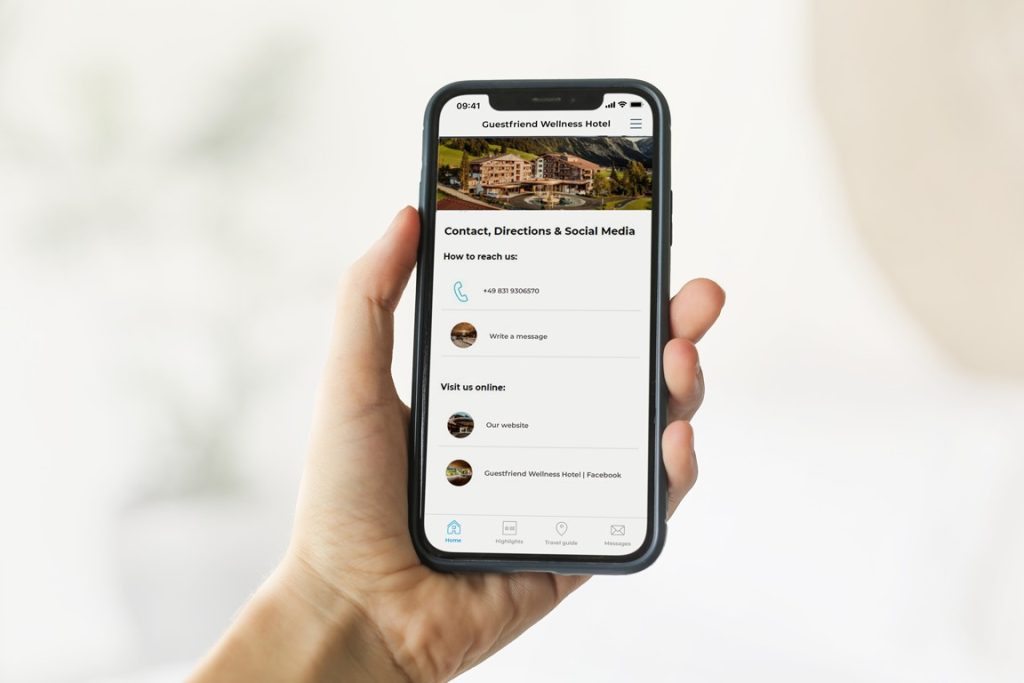 The Digital Guest Directory is a great place to list your social media channels – of course directly with the respective link. This way, guests will land on your Facebook page or follow you on Instagram with just one click.
5. Give your guests tips!
Not all your post should be a direct advertisement. Otherwise, your guests may be annoyed and actively hide your posts or unfollow. Instead, provide them with useful information and help. Depending on the target group, current restaurant, nightlife or event tips might be suitable. Just as interesting are regional tips regarding sights, concerts or cultural highlights. Give your followers an incentive for their next wellness holiday, city trip or hiking trip.
6. Show what is special about your hotel!
Do you have a gorgeous infinity pool, a huge wellness oasis, own merch products or a gourmet kitchen? Then show your followers! For example, post a recipe from the chef or take a tour through the spa area. Or take the camera with you on the next guided hike. You can offer all of these for an attractive price.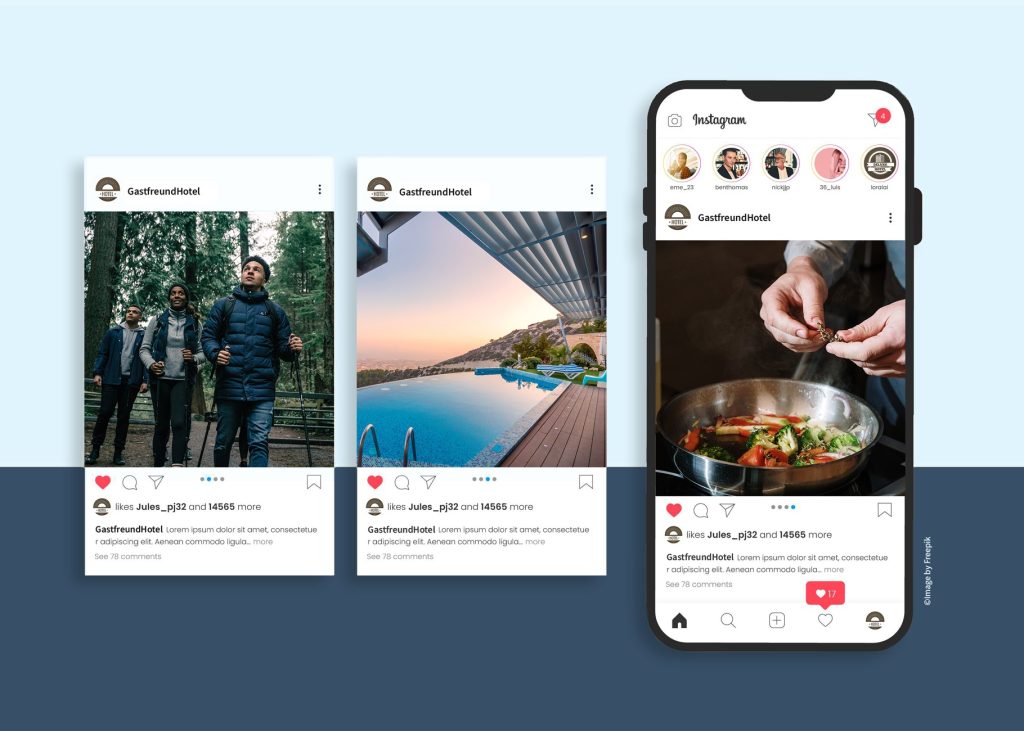 Great offers, the inviting hotel pool or a delicious recipe from the chef – content like this makes your followers want to visit you!
7. Stories, videos, pictures!
Stories are now standard alongside permanent posts, especially on Instagram. They are only visible for 24 hours but get much more views than posts in the timeline. Those include simple pictures, short videos, stories and live videos. But consistent videos and images in the timeline are also extremely important. However, permanent videos and pictures in the timeline are also extremely important. They generate much more attention than pure text and stay on your profile, whereas stories disappear again. It's all in the mix!
Of course, only the platform operators themselves know how the algorithms of Facebook, Instagram and co. work in detail. However, it is no longer a big secret that videos, or "reels" on Instagram, are currently very important for a high reach. TikTok, the youngest social media platform on the market, for example, uses exclusively short videos.
8. Be creative!
Engage your guests to post pictures of your accommodation, introduce your own hashtag and raffle, for example, a wellness massage among all participants. Advertising couldn't be any simpler and more authentic for you.
Social media is one of the most powerful tools a hotel can use to attract as many people as possible. Use our tips and make sure that you benefit from the huge social media power!
Stand out from the crowd with your social media content!
This text has been translated automatically.